Mexico's Vibrant Economy and Strong Peso Make Investing in Mexico Particularly Safe
With its growing GDP, a higher level of foreign direct investment than any other Latin country, and a current political climate that is more pluralistic and open to investment than any other of the last seven decades, investing in Mexico today offers high rewards with limited risk.
The peso is strong. Direct foreign investment is at an all-time high. It all bodes well for your investment in Mexico. You don't have to worry about radical revaluation of the currency, or that social unrest will unseat the government. Mexico is well positioned for growth.
Why Investing in Mexico Makes so Much Sense Right Now
Investing in any foreign country comes with certain risks. There's the strength of the country's currency to consider, the health of its economy, its openness to foreign investment, its relative political stability, and the transparency of its laws. In many places around the world, the risks are high in nearly all of these categories.
Expanding Global Trade Relations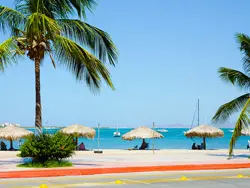 Mexico shares more than a 2,000-mile border with the United States. Yet many people have strikingly outdated conceptions of Mexico. The fact is that since the passage of the North American Free Trade Agreement (NAFTA), Mexico has been, and continues to be, a major player in Western Hemisphere and world politics and economics.
Post-NAFTA Mexico boasts an incredibly resilient economic environment. In the 16  years NAFTA has been in effect, foreign investment has almost doubled, from $5–6 billion to $10–12 billion a year. In 2001, inflation in Mexico fell to a 30-year low, and the flow of foreign capital into the Mexican stock market rose more than 6%, helping make it the seventh best performing stock market on the planet. In 2002, Standard and Poor's and Fitch and Moody's upgraded Mexico's sovereign debt to investment grade, and foreign direct investment rose almost 11% over 2001 levels, totaling more than $30 billion in June of that year. And in 2003, JP Morgan added Mexico bonds to its Government Bond Index, making them attractive to institutional investors.
Also in February 2003, The Wall Street Journal published an article entitled "Mexico Real Estate Is a Haven for U.S. Institutional Investors." Here's an excerpt: "War anxieties abroad, sluggish returns at home, and Mexico's recent recognition as investment-grade by all three major U.S. credit-rating agencies are behind the surge of U.S. institutional cash seeking a haven in Mexican real estate. According to industry analysts in both countries, more than $1 billion has washed into Mexico from U.S. institutional investors over the past eight months, and a lot more is on the way."
Mexico Retirement; Mexico's Strong Peso
Mexico's peso is strong and has remained so against the dollar over the last few years. The peso has been buoyed in part by the significant foreign investment in Mexico and also by recent capital flight from Argentina. A strong local currency bodes well if you're considering a direct investment in Mexico. You won't have to contend with the wild swings in property pricing that you might find elsewhere.
Infrastructure Improvements Further Facilitate Mexican Investment, Trade, and Tourism
The last two presidents have seemed committed to allocating funds for new and expanded roads, ports, and telecommunication infrastructure. This goes hand in hand with increased privatization, which will allow concessions in the national airport network and the telecommunications sector. The idea is that all of those improvements will further encourage and facilitate commerce.
Following in the footsteps of Acapulco and Cancún, the Costa Maya project is the newest government-backed tourism initiative. Located along the last undeveloped swath of Mexico's Caribbean coast, just north of Belize, this project is already attracting private investors, both large and small. A privately owned pier at Majahual is welcoming cruise ships, and work is underway to bring electricity and better roads to the region.
Why You Should Consider Investing in Mexico Real Estate
Although the Mexican government does not offer any direct incentives to promote investment in Mexico, there are many benefits to purchasing real estate in Mexico. The property taxes in Mexico are miniscule compared with the U.S. and Canada, usually costing just a few hundred dollars per year. It is also very easy to be exempted from paying the capital gains tax—you just have to prove that you resided in the property for at least six months. The appreciation in many areas, especially on the coasts, can be very high, with 50% or more per annum being a realistic number. And above all, buying Mexican real estate is safe and easy, with more and more financing sources available to U.S. and Canadian residents through both U.S. and Mexican banks.
The Best Places in Mexico to Invest in Real Estate
Wherever you go in Mexico, the friendly people will charm you, the natural beauty will seduce you, and the remarkably affordable cost of living will entice you to stay. As is true in any country, real estate in some areas is more affordable than in others. And different places, of course, appeal to different people. If you want extensive infrastructure, ease of access, an established expatriate community…you can have all that. On the other hand, if you're looking for a little slice of deserted Mexican beach away from it all, you can find that, too…and all of it at surprisingly reasonable prices.