Guide to Mexico City - Safety, Things to Do and Best Places to Visit
By Mary McCarthy
Mexico City, for many visitors, is one of the most vibrant and exciting cities in Mexico—and for a country that contains many fascinating cities, that says a lot.
Many visitors think of Mexico as a country of tropical beaches and resorts, where sipping margaritas and sunbathing is the primary pastime. But tucked into the plateau of central Mexico sits Mexico City, a large, thriving, and cultured city. There are so many activities on offer that choosing what to do next is the dilemma most visitors face. The city has been shaped by both pre-Columbian civilizations and the Spanish. And, around every corner, the evidence of these two cultures is reflected in the architecture, food, and local people. Mexico City offers a variety of adventures, arguably some of the world's best cuisine, and endless options for entertainment.
While here, take some time to walk through the central districts of the city. Coffee houses, restaurants, and unexpected parks allow the traveler to take a moment to enjoy the city's energy. From Condesa, a very elegant neighborhood with excellent nightlife; Coyoacan, home to Museo Frieda Kahlo; Polanco, the Beverly Hills of Mexico City; and El Centro, with government buildings and the Zócalo, Mexico City's main public square, there is an area for all preferences. These neighborhoods are just a taste of what the traveler can explore in this vibrant city.
Where is Mexico City?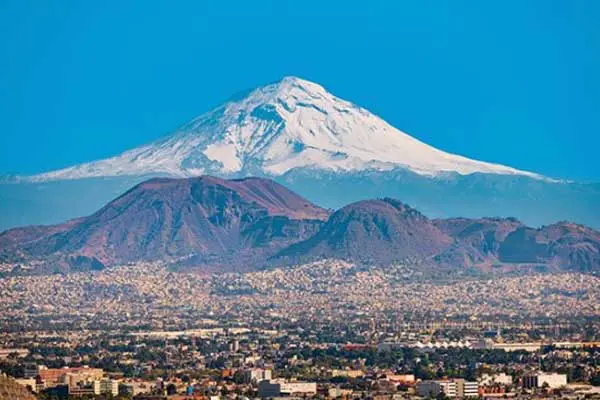 Mexico is such a mountainous country that if it were flattened out it would be bigger than Asia. Mexico City is a high mountain city located in the plateau of the Sierra Madre, as many of central Mexico's major cities are.
The highlands of central Mexico boast an almost-perfect year-round climate. The latitude would make Mexico City hot if it were not at a high altitude (7,349 feet), an elevation a good deal higher than Denver. Winter temperatures are around 68 F, summers are about 83 F. Many people consider this an ideal temperature range.
It is easy to get to Mexico City from the United States, Canada, and Europe. Delta, AeroMexico, and many other air carriers fly directly to the city. The city is the air hub of Mexico, and to get to most other cities in Mexico you will pass through Mexico City's airport. With public transportation, ride-hailing services like Uber and Didi, and conventional cabs, travel around the city is effortless.
Is Mexico City Safe?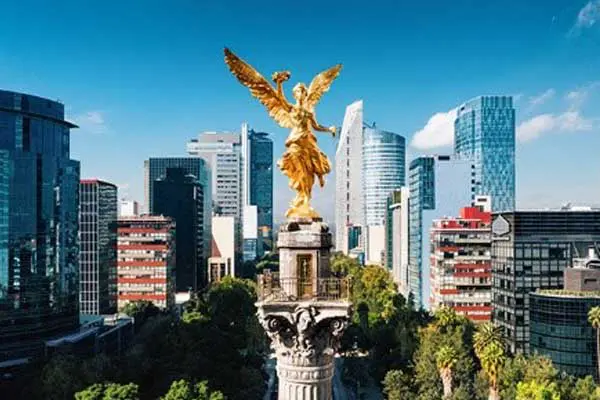 The first time I visited Mexico City, then popularly known as DF (Distrito Federal), was in 1996. I was studying Spanish at the Instituto Allende in San Miquel de Allende and proposed a trip to a Canadian friend. We were both a bit ambivalent as Mexico City was known for kidnappings and bad air. Or so we thought.
We took a four-hour bus trip to the main bus terminal in Mexico City. As we were heading for the Zócalo, Mexico City's main public square, it seemed reasonably simple to navigate the subway. We walked into the station and were promptly approached by a very tall man who gave us both tokens and then proceeded to tell us how dangerous men are and how we must follow him to the "pink train." We had no earthly idea what he was talking about, but we followed him down several levels and arrived at the platform. In front of us, there was a brilliant, Barbie-pink subway train. Every six feet or so, a young man armed with large guns stood guard.
It was like entering a tearoom, quiet, civilized, not crowded. There were only women on the train. We looked at one another and burst out laughing. The combination of the tall man so concerned for our safety, the armed guards, and the quiet tearoom atmosphere set us off. This little adventure began my first visit to Mexico City and my continued fascination and love affair with the city.
I am from New York City, so I admit my perspective on safety in cities is likely to be skewed in the direction of an urban person. Mexico City is an enormous city. Its sprawl is not upward but outward, so the city is a big place not just in population but in area. Even for me this was somewhat daunting. Like all cities, there are times and places that are less safe. During my first visit to Mexico there was a rash of kidnappings of the very wealthy, as I understand it. Evidently, neither my Canadian friend nor I qualified. The situation was clearly dangerous for some people but as with all cities, not a danger for all.
In all the time I've spent in Mexico, in several different neighborhoods, I have never experienced any problems. This said, I don't spend time in dicey neighborhoods, which I would not choose to do in any city. All large cities have more dangerous areas, it is my responsibility to learn what I need to about a city before I travel there. It is also true that living in New York City taught me something of an intuition about what is to be avoided. If I feel uncomfortable somewhere, I do not stick around.
Mexico has been a fun place to visit. It is a city with an ancient history, and I will continue to travel in the city. After five trips to Mexico, I have only scratched the surface of all the places to see and things to do.
Get Your Free Mexico Report Here:
Learn more about Mexico and other countries in our daily postcard e-letter. Simply enter your email address below and we'll send you a free special report - Why Millions of Americans Are Moving to Mexico.
This special guide covers real estate, retirement and more in Mexico and is yours free when you sign up for our postcards below.
Best Places to Visit in Mexico City
There are so many things to do and see in Mexico City. Mexico is a vast city. As of 2020, Mexico is the fifth-biggest city in the world. The actual land size of the city is 573 square miles and feels every bit as big as this. Below are my favorite places to visit in Mexico.
Around the Zócalo, Bellas Artes, the Museum, and the Cathedral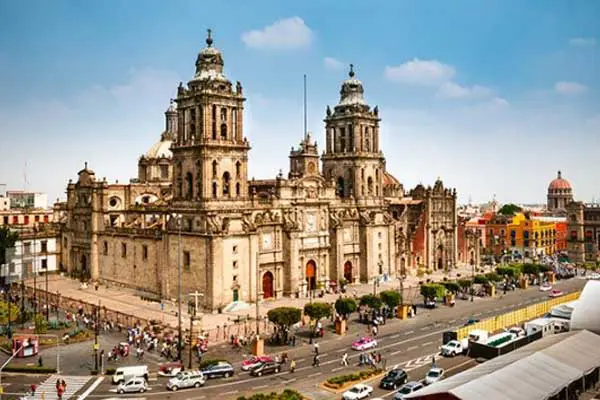 On that first trip, my friend and I took a horse-drawn carriage ride around the city center, seeing the Zócalo (the central Plaza) which was near our hotel (La Cathedral). We were walking distance from El Teatro de Belles Artes, the Museo Nacional de Antropologia (Anthropology Museum), and the Metropolitan Cathedral. We took nearly a day in the Museo Nacional de Antropologia and needed a second day. We took hours in the Palacio de Bellas Artes, with its incredible Art Nouveau and Art Deco architecture, unique architectural details, and murals by Jose Clemente Orozco, David Alfaro Siqueiros, Diego Rivera, Jorge Gonzalez Camarena, Roberto Montenegro, and Manuel Rodriguez Lozano. But the capstone of the palacio was the "curtain" on the main stage, made of nearly a million pieces of stained glass. The curtain weighs twenty-four tons (imagine moving this!). The entire building is a work of art.
The Metropolitan Cathedral is not far from the Zócalo. The cathedral is one of the oldest and biggest in Latin America. But that is where the story begins. In 1978 electrical workers discovered a structure underneath the cathedral. The Templo Mayor (Great Temple) was the original building on top of which the cathedral was built. Much of Mexico City rests on the structure of the Aztec world. Underneath the cathedral is a site that can be visited, the Temple of Tonatiuh, the God of the Sun. It is worth the trip. As the law in Mexico favors archaeology, archeologists continue to excavate the area surrounding the cathedral and central Mexico City. It is fascinating to realize that underneath this large and modern city are the remains of another culture and a culture readily accessible to the tourist.
History in Mexico is everywhere. A day spent at the Museo Nacional de Antropologia offers an exploration of the cultures that preceded the Spanish (pre-Columbian). These cultures were not primitive. For example, the Aztecs had running water in their central city, and baths were common and routine, unlike the Europeans (of the same period) who believed that bathing made one sick. Imagine that? The cultures of Mexico displayed at the museum highlight the art and culture of many pre-Columbian worlds. As a friend of mine said to me in the 1970s, "You must see the museum, it is one of the wonders of the Americas." Today, you can tour the museum with a historian and learn more about these cultures. The museum opens at 10 a.m.
The Zócalo is more than worth a mention. Officially known as the Plaza de la Constitucion, it is the gathering place for many public events and has been since Aztec times. If there is a festival, musical performance, or political rally, it will be held in the Zócalo. The location of the founding of Mexico City is just south of the Zócalo and is marked by a statue that is emblematic of Mexico (it is on the flag). The statue is of an eagle and serpent perched on a cactus branch, the appearance of which to the Aztecs signaled exactly where to found the city. Facing the Zócalo is the Palacio Nacional, the center of government in Mexico. The recent Dia de Muertos celebration was held here with displays and traditions from many different states and regions in Mexico. Dia de Muertos is the perfect time to visit the capital.
Our whirlwind tour of Mexico City ended too soon, and I promised myself I would return. It was years until I did, but I wanted to see Casa Azul, which was my driving motivation to return.
Casa Azul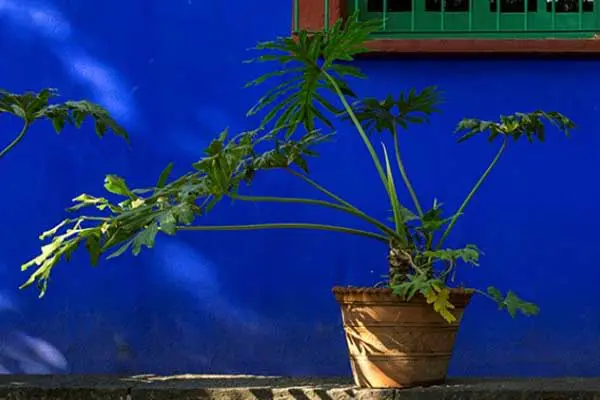 In 2020, I returned to the capital. I was in Mexico City just before the lockdowns. I was returning from a trip to Puerto Vallarta and transiting through Mexico and decided to run (or take a fast taxi) to Casa Azul in the brief layover time. Why Casa Azul?
Casa Azul was the family home of Frida Kahlo and the home in which she died. I have long been fascinated with her and her life. She was an independent spirit and a political activist long before most women chose that path. At 18 years old, she was severely injured in a bus/streetcar accident and spent the rest of her life in severe pain. But given this, she became an artist (she initially was planning on being a doctor—also a novel choice for a young woman of her time). Frieda was half German and half mestizo, and in her life she honored her native roots. Her choice to do this was also novel in a time when people preferred to be recognized for their European heritage. She married muralist and artist Diego Rivera, with whom she struggled and loved until the end of her life. Frieda never gave up on her talents, spirit, and dreams. For these reasons and more, I wanted to visit her home.
The home is referred to as Casa Azul. It is a bright, vivid-blue color and was designed in a traditional style with the rooms around a central courtyard. Inside the home is the artwork of Frida Kahlo and Diego Rivera, her personal possessions, the routine artifacts of her life, with some very special furnishings, for example, her easel, both a sitting easel and her overhead mirror (over her bed) that she used to work when she could not sit (think of her motivation and drive to do this!). In addition, Frieda collected sculptures from the pre-Columbian period of Mexico. It is a fascinating journey back into the life of one of the most interesting people of the 20th Century. I was glad I took that fast taxi.
The Pyramids and the Basilica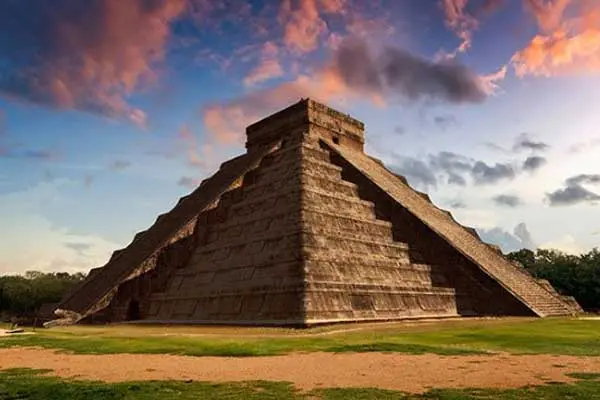 On my last trip to Mexico, I visited the Teotihuacan Pyramids. This was a long-awaited trip that began with a delicious breakfast at Delirio in the Zona Rosa. Zona Rosa is another area worth exploring. It is a very upscale neighborhood in central Mexico City. Delirio was energetic and peopled with a lively crowd at nine in the morning. The food was delicious. Mexico City has excellent restaurants with food from many cultures and locations. Eating in Mexico City is one of the delights of a visit. From street food to fine dining, the city is a treat.
From breakfast, I went on to see the Basilica de Nuestra Senora de Guadalupe at the foot of the hill of Tepeyac, one of the most visited churches in the world. The Basilica and tilma (cloak) are pilgrimage sites for about 3 million people a year. This is the church in which the cloak containing the image of Our Lady of Guadelupe is housed. There is significant history in Mexican culture about this cloak. The hill of Tepeyac is where Juan Diego Cuauhtletoatzin first viewed the Virgin Mary, in her cloak of stars, and thus signaled the Aztec conversion to Christianity. The modern Basilica replaced the old Basilica, which had been damaged by a bomb planted by an anti-clerical terrorist. The old Basilica has been reopened after a repair that took many years. We were lucky enough to arrive at the (new) Basilica as the choir sang and enjoyed their magnificent voices. Next, we explored the plaza outside the church and viewed the sculptures and other churches there.
Then we were off to the ancient site of Teotihuacan, the valley in which the pyramids were built, known as the holy "City of the Gods", 50 miles north of Mexico. This site is one of the most explored and culturally significant in Mexico. This City of the Gods is a model of urban planning in the ancient world. We were advised to wear our walking shoes, and this was a good suggestion. The Sun and Moon Pyramid and the Temple of Quetzalcoatl are the largest of the pyramids. It was impossible to climb them on this trip due to the pandemic, and they were letting only 1,000 people in per day. In some ways, this may have been an ideal time to visit. The site was not overcrowded, so there was ample room to wander. The pyramids are a great place to visit for those interested in history, ancient cultures, and wide-open spaces.
Xochimilco Ecological Park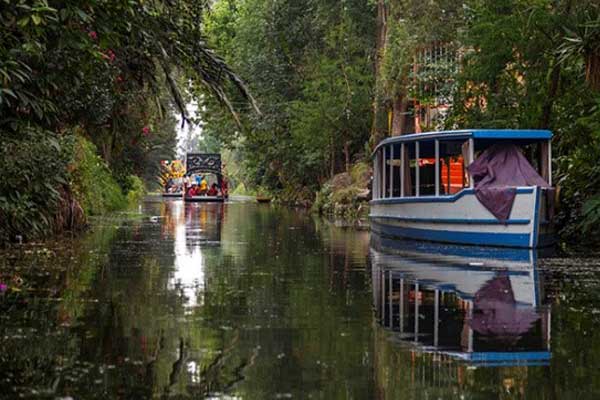 In the south of the city is the Xochimilco Ecological Park, in which some fascinating developments are occurring. The area is home to chinampas (waterways) which are part of a method of farming dating back to Aztec times. The Aztecs were expert engineers and had to feed a large population in the Valley of Mexico. Mexico City was a city of waterways, and the Aztecs used these waterways to farm, thus producing food for the population. Currently this area is being cleaned up and the farmers are using these ancient techniques to farm this area again. This area is a UNESCO World Heritage Site and is well worth exploring.
Get Your Free Mexico Report Here:
Learn more about Mexico and other countries in our daily postcard e-letter. Simply enter your email address below and we'll send you a free special report - Why Millions of Americans Are Moving to Mexico.
This special guide covers real estate, retirement and more in Mexico and is yours free when you sign up for our postcards below.
Top 10 Things To Do in Mexico City
By Di Minardi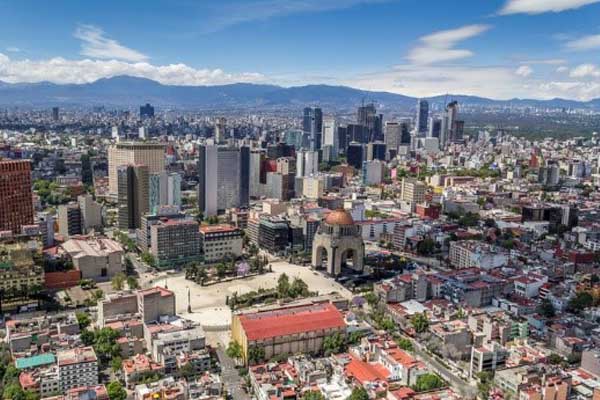 Mexico City isn't the most popular expat or vacation destination in the country, but it still has plenty to offer. Whether you're just passing through on your way to the beach or settling down for a couple of years, this guide to the top 10 things to do in Mexico City will help you plan an action-packed adventure through the capital.
1. See an Active Volcano at Izta-Popo National Park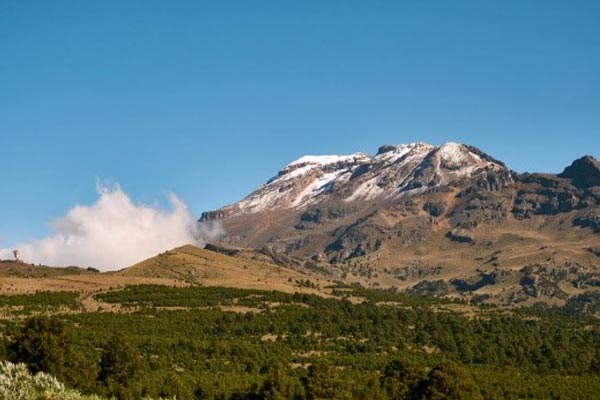 Izta-Popo National Park is about 55 miles from Mexico City and is home to the country's second and third tallest mountains. Iztaccíhuatl is a dormant volcano but her neighbor Popocatépetl is still active. To see them, enter the park at Paso de Cortes, where a short hike will bring Popo and her puffing smoke into view. Trek a bit further and you'll get a stunning view of Izta as well, who looks like a woman reclining on her back from afar. Adventurous travelers can also camp in the park and climb all the way to Izta's summit at 17,160 feet.
2. Try Local Mexican Cuisine
Did you know Tex-Mex and Mexican food are two different cuisines? If you've chowed down on burritos and nachos outside of the country, you may be surprised to find that the food in Mexico isn't quite the same. While in Mexico City, make sure to eat like a local and try tamales, chilaquiles (breakfast nachos), pozole (hominy soup), elote (grilled corn), and more, all of which are guaranteed to leave your mouth watering from the memories for years to come.
3. Drink Local Craft Beer and Cocktails
The fantastic flavors of Mexico don't stop with the food—the city also has multiple breweries putting their own spin on craft beer. In the popular Roma and Condesa neighborhoods, you can visit Graciela, Escollo, and The Tasting Room breweries on foot because they're all within walking distance of each other. For a lighter drink on your night out, try some Mexican cocktails like the Michelada, a spicy beer cocktail, or the Curado de Pulque, made from the fermented sap of agave plants that's known as "the Aztec drink of the gods".
4. Catch a Lucha Libre (Mexican Wrestling) Show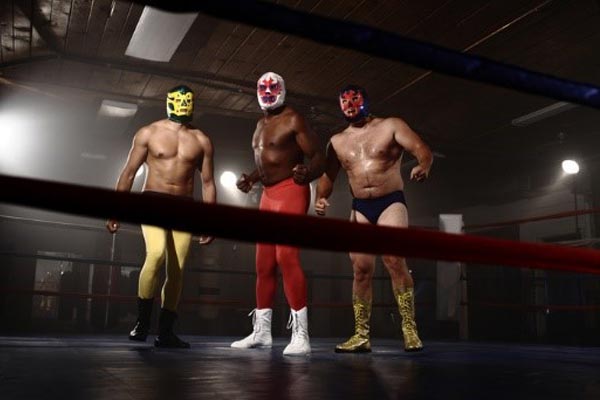 Show locations and times vary but you can typically catch a Luca Libre match at Arena Mexico every Friday evening. Grab a ticket at the door and then settle in to watch the colorfully masked luchadores (wrestlers) battle it out on stage where the moves may be fake but the fun is very real. Join the crowd in cheering on your favorites and you just may become a lifelong fan—this is the second most popular sport in Mexico after all.
5. Watch a Soccer Match
Mexico City is home to three of the most popular clubs in the country: Club América, Cruz Azul, and the Pumas de la UNAM. Club América and Cruz Azul both play at Estadio Azteca, the largest stadium in Mexico, while the Pumas play in a stadium on the National Autonomous University of Mexico (UNAM) campus. Despite their name and location the Pumas are also a professional club in Liga MX and share a healthy rivalry with both Club América and Cruz Azul.
6. Visit Chapultepec Park and the National Museum of Anthropology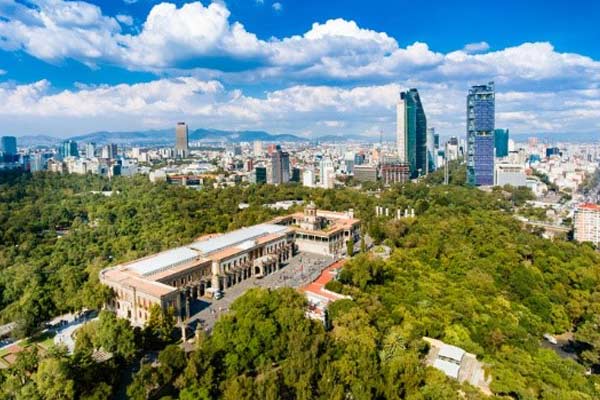 The National Museum of Anthropology is Mexico's most visited museum and conveniently sits inside another one of the country's top attractions: Chapultepec Park. The massive city park sprawls across 1,700 acres and encompasses a theme park, zoo, lakes, trails, galleries, and even a castle with stunning views over the greenery and the city skyline from above.
7. Explore the Roma, Condesa, and Coyoacán Neighborhoods
Roma and Condesa are two of the most desirable neighborhoods to stay in for tourists and expats alike. They're home to some of the city's trendiest shops and restaurants along with plenty of beautiful galleries, museums, and libraries to while away your time inside. However, the Coyoacán neighborhood is also worth a visit. Although it's situated a bit off the beaten path (about 6 miles from Roma and Condesa) the colorful architecture and quaint central squares offer their own unique charm to travelers who make the time to pass through.
8. Check Some Cultural Sites off your to-do list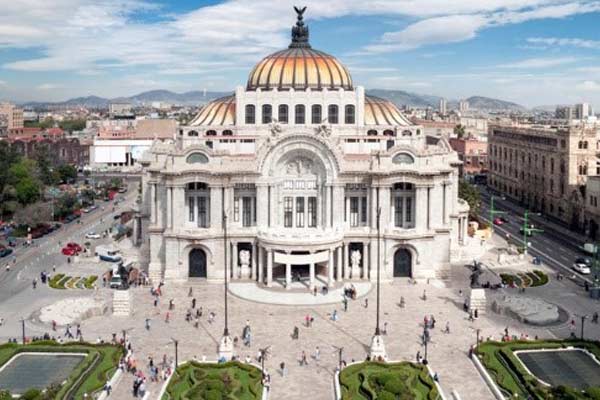 Did you know that Zócalo, the historic square in downtown Mexico City, was used as the ceremonial center of the ancient Aztec city of Tenochtitlan? It still exists today, and a stroll around the large open space will take you past the Metropolitan Cathedral, the National Palace, and more of the city's most essential cultural sites. Afterward, catch the latest show, ballet, or exhibition at the nearby Palacio de Bellas Artes and, if you can, make time to stop at La Casa Azul. The blue house that Frida Khalo called home in the Coyoacán neighborhood is now a museum dedicated to her life and art.
9. Visit the City's Most Iconic Churches
While many churches might catch your eye while wandering through Mexico City, the two most iconic are the Mexico City Metropolitan Cathedral and the Basilica de Guadalupe. The Basilica de Guadalupe is located at Tepeyac Hill where an apparition of the Virgin Mary is believed to have appeared to Saint Juan Diego. She directed him to gather roses in his cloak, which was then miraculously adorned with the now-famous image of Our Lady of Guadalupe. The church still contains the 500-year-old cloak and has become one of the most-visited Catholic sites in the world today.
10. Explore the Ruins of Teotihuacan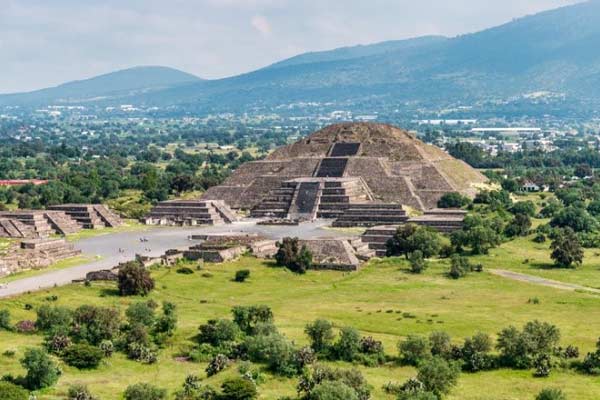 The Teotihuacan ruins are only 25 miles from Mexico City but will take you back in time almost 2,000 years. The sprawling city was inscribed as a UNESCO World Heritage Site in 1987 and offers visitors some of the most impressive views from the Pyramid of the Moon, the Pyramid of the Sun, and the foreboding "Avenue of the Dead" that runs through the ancient complex.
Featured Image Copyright: ©bpperry