Zihuatanejo: Mexico's Hidden Jewel
Crossed by the Sierra Madre del Sur mountain range and the mighty Potosi river winding through the state of Guerrero, lies one of the most important seaports and tourist destinations on the Mexican Pacific coast. Made famous by the forever popular movie "Shawshank Redemption" …welcome to Zihuatanejo (pronounced zeewatt-an-a-hoe").
In the 19th century, this sleepy fishing village was a favorite port of the Spanish explorers, as they returned from the shipping routes of Asia. The region was introduced to the coconut palm tree that was brought over from the Philippines, and was considered a top producer in that region of Mexico for years in the future.
This sleepy little fishing village was almost untouched for another century, but in the mid 1970's the Mexican Department of Tourism (FONATUR) created a luxury resort masterpiece, just 15 minutes up the coast. Ixtapa includes the white-sand beach of Playa El Palmar, an 18-hole championship golf course, and a sprinkle of luxury hotels.
Adding a wonderful blend of Mexican heritage and the snappy touch for a more modern visitor, it's no wonder this area is a favorite among nationals and globetrotters alike.
Retire in Zihuatanejo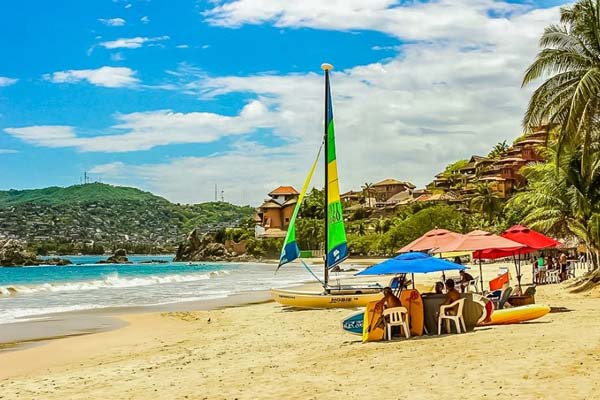 This area has become more and more popular because of the expats and baby boomers that are retiring at an alarming rate. The wonderful climate is a big advantage, especially for the "snowbirds" of the northern U.S., and of course the Canadians. The temperature is perfect from November to May.
Many come down for seven months or so, and then retreat to a milder climate back home, or up in the Mexican highlands, such as San Miguel Allende or Guadalajara.
As far as ownership, some visitors will try out the area first without committing to buy. Rentals for a fully furnished two-bedroom condo can start for as little as $350 a month, and as you go up the hillsides overlooking the bay, you can find a great place with a spectacular view of the bay, starting at around $600. A couple can really live a wonderful life here for around $1,500 a month.
Buying a place is a real bargain if you want to make something more permanent. The process is a piece of cake, with an average range for a two-bedroom condo can start at $60,000 all the way up to a four-bedroom home in the $250,000 range with spectacular views of the bay and mountains.
Lifestyle in Zihuatanejo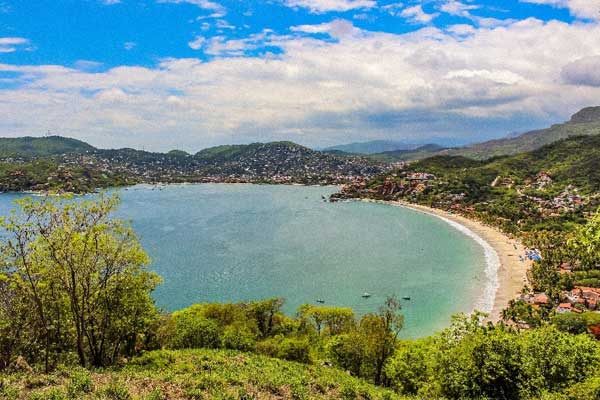 I visited an old friend many years ago in this sleepy fishing village. I have to tell you… until I looked it up, I didn't even know where Zihuatanejo was. How would I have ever guessed that after spending 20+ years in the real estate industry in Southern California, that I would live in this wonderful spot. My friend's invitation to come down and catch a marlin, certainly changed my whole life. Who knows, maybe learning about this magical place might change yours too.
My very first day in "Zihuat" was awesome. We went into El Centro, and visited the fresh fish market, where $15 paid for a BBQ on the beach for six people. Visitors have their choice of dozens of eateries in town to choose from. Ranging from $5 to $10 for two people with drink. The taco carts are even cheaper, with all your favorites including fish, chicken, carne asada, and a local favorite chapulines (fried grasshoppers you've just got to try them).
A typical day for me is to go down to the local fruit and vegetable stand and get a fresh juice drink of my choice (I like carrot, celery, and apple). This sets me back about $1.50. I can have a nice breakfast for $3, or skip it, and wait till lunch and have my favorite choice of fish tacos with all the trimmings for about $5.
I was amazed at the dozens of fresh meats, fish, and produce stores that cost pennies on the dollar. Trendy restaurants, galleries, and the seemingly endless window shopping make this an easy choice. If you want a little fancier dining experience, I recommend the trendy Espuma that is high above the bay.
Ristorante IL Mare restaurant is another great choice. Situated next door, perched high above the bay, the views are amazing, and the service is great. Try the shrimp seafood platter, served in a hollowed out pineapple. Dinners are modestly priced around $10 to $15 per person.
For all you sun worshipers, the beaches that surround Zihuatanejo are a blessing. Go down to Playa Ropa and rent a jet-ski ($20 per hour) or take out a Hobie catamaran. This palm tree-lined beach was rumored to have inspired a James Michener novel.
The sand bottom and gentile wave action is ideal for the casual swimmer to enjoy the sights of the beautiful homes and boutique hotels that cover the lush, green hillside.
With Mexico City 45 minutes away by jet, or Acapulco five hours by car, Zihuatanejo has something for everyone. Come visit the smiling faces and see for yourself.
Cost of Living in Zihuatanejo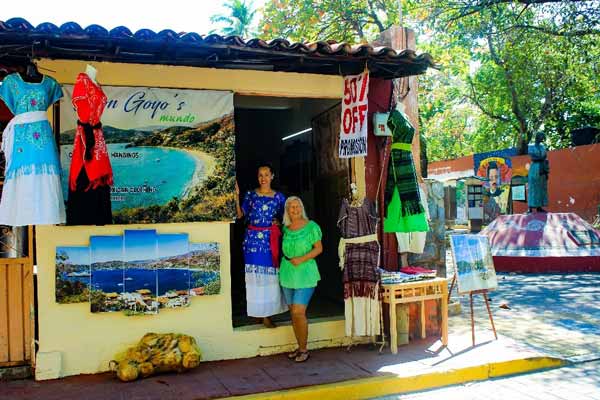 As this area grows, year by year, the expats that reside here have a wonderful saying: "If you have ever lived here…you can't spend money."
Depending on the choices you make, here is an example of a monthly budget for a couple living in Zihuatanejo:
| | |
| --- | --- |
| Expenses | Cost $USD |
| Housing | $475 |
| Utilities | $60 |
| Groceries | $250 |
| Entertainment | $200 |
| Housekeeping | $80 |
| Medical | $175 |
| Public Transportation | $55 |
| Transportation (car, fuel, and insurance) | $120 |
| Total | 1,415 |
Featured Image Copyright: ©iStock.com/arturogi