Visa and Residency Options for Expats in Belize
Compared with many other countries, Belize makes it easy for expats to select the type of residence that works best to their advantage. As you'll see, for some residents, the advantages can be substantial.
As with many other countries, Belize requires visitors to have sufficient funds to support themselves, a return ticket, and a passport valid for at least three months beyond the date of arrival. As a citizen of the U.S. or Canada you can stay in Belize for up to one month without a visa. If you want to stay longer you'll need to go to the immigration office for an updated visitor's permit or tourist stamp. If you can show proof of long-term renting or other documents showing why you are staying in the country, you can be granted a 60-day or a 90-day permit. Currently, it is $100 for each 30 day extension.
In the video below, IL Belize Correspondent Laura Diffendal discusses the many ways you can live, work, and stay in Belize. Throughout this in-depth video Laura will outline the different visa and residency options available to potential expats in Belize.
Residence and Citizenship in Belize
Many expats apply for permanent residence in Belize. The primary reason is that as a resident you can work in Belize without needing a work permit. Work permits cost $1,500 per year for U.S. citizens. Having your residence also makes it easy to travel in and out of the country.
You must live in Belize for 50 consecutive weeks before you can apply for permanent residence. To do this, enter the country on a tourist visa and then renew your visa every 30 days until you reach 50 weeks. At that point, you can submit your application for permanent residence. It can take anywhere from a few months to over a year to receive approval and your residence stamp in your passport.
If you want to apply for permanent residence, talk to the local immigration official early in your trip. Explain that you plan to live in Belize for 50 weeks so that you can apply for permanent residence.
To become a resident, you must pay a non-refundable fee of $2,000 for U.S. citizens and $1,500 for Canadians with your application. Most other nationalities pay a higher amount that covers the cost of a return ticket to their country of origin.
Once you complete the residence application form you'll submit it to the Immigration and Nationality Department. The application must include: two passport photographs, a copy of your entire passport, an original birth certificate, proof of financial stability (recent personal bank statements), and current medical and police records (from both Belize and your last country of residence). The medical exam must be performed in Belize. To minimize delays, be sure that all required documentation is included with the application.
After you've been a permanent resident of Belize for a minimum of five years you can apply to become a Belizean citizen.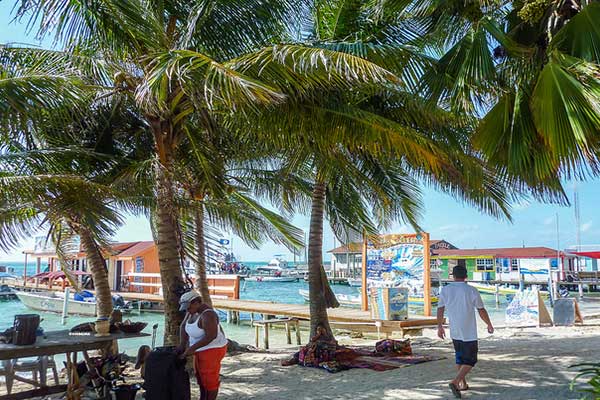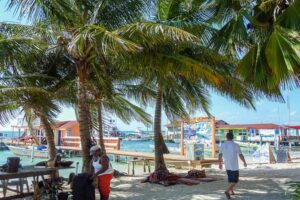 Retirement Program in Belize – Belize Retired Person's Incentive Program (QRP)
Many expats opt for the Belize Retired Person's Incentive Program (QRP). This program provides special residence status to those who are accepted. QRPs can come and go as they please and only need to spend one month per year in Belize. Note that you can include your family in your application, with additional fees. QRPs are allowed to bring their personal goods into Belize, during the first year of residence, duty free. That includes a vehicle, boat, and plane.
Despite the QRP Program's name, you need not be retired to qualify. If you don't have a pension or annuity but do have adequate savings in IRAs, 401(k)s, or other investments, explain this to the BTB representative. Their main concern is to obtain proof that you have adequate resources to transfer into a Belizean bank.
To take advantage of the QRP program you must be at least 45 years old. You will also be required to prove that you can move $2,000 a month, or $24,000 per year into a Belizean bank account. Proof of a pension or annuity (such as Social Security) is the preferred approach to show the required income stream. If you don't have a pension plan, it's acceptable to prove that you have adequate savings and investments (such as in 401Ks or IRAs) to generate $24,000 per year.
The non-refundable QRP application fee is $150. Once accepted into the program, a sum of $1,000 is payable to the Belize Tourism Board. And an initial fee of $200 is due for the QRP residence card.
Each December you must renew your QRP status. The fee for a new card is $25. At that time, the QRP provides documentation to prove that you spent one month in Belize during the year, and moved $24,000 into the country. A new card is then issued, for the coming year.
QRPs come into Belize as special status retirees and aren't allowed to work for a Belizean company, or to own or manage a company in Belize. Some QRPs do work outside of Belize, however. For instance, it's possible to work online as an independent consultant, providing services to clients outside of Belize.
The ability to bring your personal goods to Belize tax-free and the fact that you don't have to pay Belizean taxes on any foreign-earned income are some of the major advantages of the Qualified Retired Persons Program.
It's not difficult to fill out the QRP paperwork. But some expats choose to retain an attorney or consultant who is familiar with the QRP Program to assist them with their application process.
QRP Application Requirements
To apply for the program, you must submit an application, which can be downloaded from the BTB website here.
In addition to the application, you must submit the following documents:
1. Birth certificate.
2. Marriage certificate (if applicable).
3. A police report from your most recent place of residence, issued within a month before submitting the application and stating that you don't have a criminal record. (The QRP officers have tended toward leniency in regard to the one-month time frame. They have accepted police reports prepared within six months before the application…)
4. A copy of each page (including blank ones) in your passport. Retain a notary public to certify the copy with his or her seal and mark how many pages are in the passport, the passport number, and your name. (See form for details.)
5. Proof of income. This can be in the form of a statement from a pension or annuity company or from your bank. The statement must show that your income is at least $2,000 a month or the equivalent of at least $24,000 a year. Another option is to provide a financial statement from a financial institution, bank, credit union, or building society in Belize certifying that the applicant's investment or deposit will generate the sum of a minimum of $2,000 per month or the equivalent of $24,000 per year.
6. Medical exam results. Applicants must undergo a complete medical examination, including an AIDS test. The medical exam is usually done in Belize. A copy of the medical certificate must be attached to the application to show that you are in good health and free from contagious diseases.
7. Four recent front-view and four side-view, passport-size, color photographs of yourself and of any dependents included in the application. These must be notarized or certified. (Please note, while the application says two photos are needed, it is recommended that you bring four due to past experiences applicants have had with some inconsistency in this requirement).
Free Webinar: Belize, The Last Affordable Caribbean Paradise
This Special FREE Online Event, The Caribbean's Last Affordable Paradise will show you where you can...
  ➢ Recapture the carefree, contented days of time gone by...spend your time playing in the sea, fishing, swimming, sunning...
  ➢ Rent a luxuriously furnished two-bedroom condo just steps from the beach for just $1,200 a month. Or buy one—furnished—for as little as $139,000.
  ➢ Live all in...rent, utilities, groceries, fun and entertainment included...on as little as $1,700 a month—less than $20,000 a year—and vastly reduce your overall tax burden.
All in a friendly and welcoming English-speaking haven just 2 hours from Miami.
Your Hosts...Two of the Most Qualified Caribbean Experts are ready to share all their insights and first-hand knowledge about this often overlooked, low-cost paradise.
Sign up for our daily postcard e-letter and you'll get FREE and INSTANT access.
Upcoming Conferences
Make 2023 Your Best Year Yet. Discover Panama with International Living

Panama has it all: beaches, mountains, a world-class capital city, top-notch, low-cost healthcare and the "World's Best Retirement Program" that makes the already low cost of living even more affordable.
Join us for International Living's Fast Track Panama Conference to see all that Panama offers. There's no better place to be and no better way to make 2023 your best year.
Most Popular Products