Find Your Dream Property in Belize
For a small country, barely the size of Massachusetts, Belize has a lot to offer. Idyllic Caribbean beaches, crystal-clear waters, diving, sailing, snorkeling, and ancient ruins hidden deep in the jungle.
In 2018, Belize had over 1.5 million tourists—a 14.6% increase on 2017. More folks are choosing to retire there too, thanks to Belize's easy retirement program. It's long been popular as a second-home destination, and it's favored by tech billionaires and celebrities looking for a discreet bolt hole.
As a British Commonwealth country, English is the primary language, making it easy for expats to transition. It's also well known for its open-arms attitude toward expats who wish to become residents or open a business.
Where to Buy Real Estate In Belize
With 239 miles of coastline and 200 islands and cayes, it's easy to find a property to buy in Belize. However, to find a place where you'll love to spend time in—and one where you can make attractive capital gains and great rental returns—you need to know where to look.
Ambergris Caye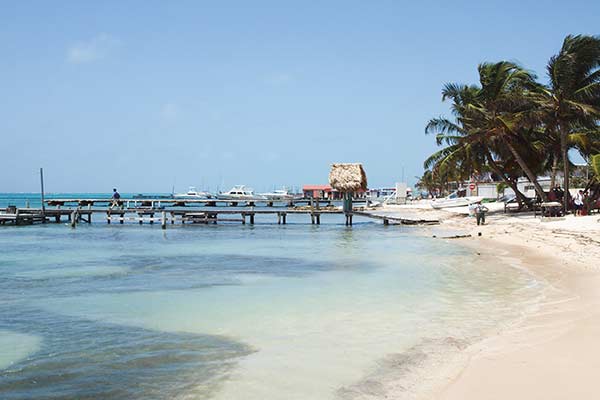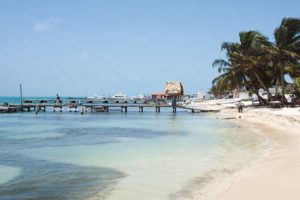 Ambergris Caye is Belize's most popular tourist and expat haven. It is commonly referred to as the "Isla Bonita," a term of endearment made popular when Madonna released a song about the island in 1987. But a lot has changed since then, and not all of it has been for the better.
If white sands and aquamarine waters are what you're seeking on an island paradise, you'll find it all here. However, sprawling development over the past two decades has spoiled much of Ambergris Caye's former fishing village charm and made it less attractive to real estate investors.
In the early 2000s, as Ambergris Caye became a renowned jet set destination, developers began to scramble to build anything they could sell. Sprawling blocks of ugly condos went up right next to the beach. The style or visual appeal didn't matter. By 2010, it had lost its idyllic island feel. It had rapidly become overdeveloped and overpriced.
While Ambergris boasts a bustling tourism scene, with lots of amenities, and stunning turquoise seascapes, the uncontrolled pace of development will warn off many real estate investors.
Property samples in Ambergris Caye:
A one-bedroom, one-bathroom condo in a planned community. Located in the North Island Area, the unit is 640 square feet and comes with beach access. List price: $180,000
A two-bedroom, one-bathroom condo in a beach community. The unit comes with a pool view, is 1,100 square feet, and is located just a stone's throw from the beach. The community includes salt-water pool with slides, a swim up pool bar, and Jacuzzi. List price: $314,000
Get Your Free Real Estate Report Now
Sign up for our free daily Postcard e-letter and get a valuable free report on the The 5 Best Places to Buy Real Estate In 2023.
Placencia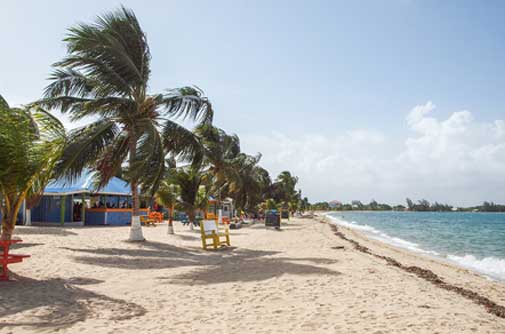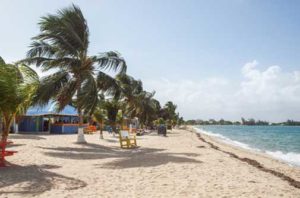 Placencia in southern Belize is a 16-mile peninsula rimmed by stunning white-sand beaches on one side and a protected lagoon on the other.
Often referred to as the "caye you can drive to," Placencia is blessed with the same beauty and activity of better-known Belizean destinations at a more relaxed pace. The palm tree lined beaches are unspoiled, a beach-lovers delight.
Placencia retains more of a Caribbean atmosphere than you'll likely find in other parts of Belize. Food, entertainment, and the area's general appearance all have Caribbean flavor. Beaches are wider, whiter, and in many places, almost empty except for the occasional egret or ibis.
Despite its incredible location, the lack of proper access kept Placencia off the radar for years. In fact, it only hooked up to electricity in the 1970s. When pioneer expats and tourists eventually started to come, the quickest route was a puddle-jumper plane from Belize City. The drive to Placencia was a disaster. The road was little more than a dirt track that got washed out in heavy rain.
But because of the challenges in getting to Placencia, the peninsula developed in a different way than other destinations in Belize. It escaped the high-speed development seen on Ambergris Caye. It has remained charming, low-key, and the perfect escape from the rat race. There are no big-brand hotels on the peninsula, and those that exist are small and boutique—most have no more than 10 rooms.
When the road was finally upgraded in 2011, it was a game changer. The challenging journey became an easy three-hour drive from the international airport in Belize City. With accessibility came a surge in tourism.
Folks go to Placencia for outdoor activities such as sport fishing, kayaking, snorkeling, and diving. They hike or horseback ride in the mountains or explore Maya ruins. They take wildlife tours to spot jaguars, macaws, and anteaters. Boating is a big attraction here, too. There are countless docks and little marinas and boat slips. The lagoon's calm waters are ideal for mooring boats.
But Placencia can deliver more than sun, sea, and surf. It's still very much in the early days of its tourism surge. If you know the right plays to follow and the right deal to buy, there is serious profit potential.
Property samples in Placencia:
A modern home just a short walk from Maya beach. The two-bedroom, one-and-a-half-bathroom home is 1,520 square feet with an additional 300 square feet of loft space. The lot is located on a canal, with direct access to Placencia Lagoon, where you could build a dock right in your backyard. List price: $299,000.
Two homes on one lot, with canal access and only two minutes' walk from the beach. The main building is a two-story home with two separate living quarters; each floor is a one-bedroom, one-bathroom unit with and kitchen. The second home is one-story with a large master bedroom, two bathrooms, and sundeck. List price: $245,000.
A treehouse-style home close to Maya beach. Located 13 feet in the air, this one-bedroom, one-bathroom nature lover's home is perfect for checking out the local wild-life. The home has 684 square feet of indoor/outdoor living, and is just a short walk from the beach. It also has room for a ground-level apartment underneath if the buyer chooses to build. List price: $99,000.
A Guide To Buying Property In Belize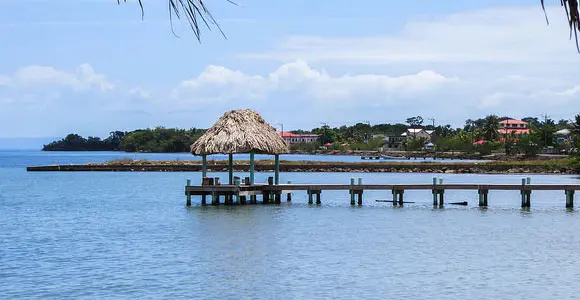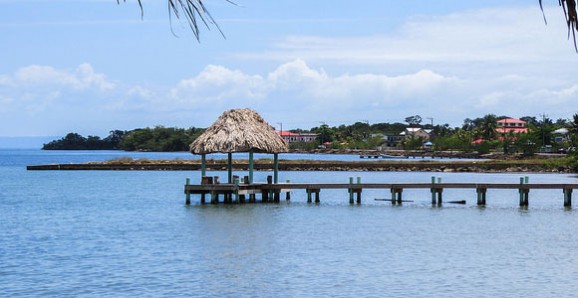 Purchasing property in Belize is similar to buying back home. Belize's legal system is based on common law (as is most of the U.S and Canada), and the official language is English, making the buying process relatively easy to maneuver.
Here are the steps you need to follow:
Step 1: Agree a price. It can be tricky to determine fair market value in Belize. There is no MLS (Multiple Listings Service). And there's no equivalent of Zillow. You should talk with local real estate agents (and even your attorney) to get an idea of current market values. Figure out fair market value on the property you're interested in before you make an offer. Never offer full list price. There's usually flexibility on the asking price so put your negotiating skills to the test (and, if you don't have those skills, get your real estate agent to negotiate the best possible price for you).
Step 2: Confirm the title. Your attorney in Belize can check in the registry to make sure that the property you're buying has good, clean title. The attorney can also tell you from that search the size of the property, the boundaries, if there are any liens or mortgages on it, or any restrictions.  Your attorney may recommend a survey to clearly mark the boundaries of the property you're buying. Check that the owner of the property in the public registry is the person selling you the property or is legally authorized to sell it for the owner. Ask your attorney if you're getting titled (also known as fee simple) property, which is the most complete and secure form of ownership.
Step 3: Enter into a promise to buy/sell agreement. Once you're satisfied your property has clean title and free of debt or liens, you can sign a purchase agreement, which should lay out the terms and conditions of the sale and set a date for closing/transfer of title.
Step 4: Central Bank approval. Then, your attorney or real estate agent may need to send the sales agreement plus some information about you like a copy of your passport to Belize's Central Bank. This applies if  you are buying from a Belizean or someone resident in Belize (and you are not resident in Belize yourself). You won't have to do this step if you are buying from a non-resident foreigner. It is almost a rubber-stamp scenario but adds a little time to the purchase process.
Your attorney should advise you not to pay a deposit to the seller until Central Bank approval has been given.
Then, once you have approval, you pay a deposit to the seller (usually at least 10% of the purchase price). Normally, the agreement calls for a penalty if either party backs out at any stage post signing the contract. Try to make the penalty reciprocal—if you stand to lose $50,000 for backing out, so should the seller.
Step 5: Closing. At closing, your attorney should conduct an additional search to ensure that nothing has materially changed with the property since they first researched it. You will now have to pay the outstanding balance of the purchase price; the safest way to do that is using a Belize bank for escrow services. On payment of the balance, the property title transfers to you. This process is registered in the Belize Lands Registry and the title deed given to the buyer.
Real Estate Agents & Their Fees
Real estate agents in Belize are not licensed by law. The typical real estate agent fee varies from 6%-10% of the purchase price of the property. The real estate agent fee is paid by the seller.
Get Your Free Real Estate Report Now
Sign up for our free daily Postcard e-letter and get a valuable free report on the The 5 Best Places to Buy Real Estate In 2023.
Ownership Issues in Belize
There are no restrictions on foreign buyers in Belize.
Forest Land is not available to buy or lease except if you plan to carry out forestry activities and have a license from the government to do so.
National Land is usually first leased to an individual or group that proposes to develop the land. The government may then sell the land to the individual or group if they meet all the requirements outlined in the lease. National Land can be sold to foreigners under these conditions:
The development must contribute significantly to the Belizean economy;
There must not be suitable private lands available for the same project;
The land must be confined to underdeveloped regions of the country.
National Land includes land within 66 feet of any major body of water (a river, lake or the sea). This is sometimes known as "Queen's Land". It is public land, and even if your property faces it or backs on to it, you cannot fence it off, build a permanent structure on it or block anyone else's access to it.
If you buy a home with a dock or pier, check that it has the appropriate permit in place. And, if the dock or pier is damaged or washed away, don't assume that you can rebuild it; you will likely need to re-apply for a permit to do so.
One other thing to look for is roads adjacent to your property. You might see a tiny single-track unpaved street—but legally the road might be much bigger than that. If the road gets widened to its legal limit, you may lose parts of your yard. Get a survey done to mark your property boundaries and determine exactly where the road limits lie.