Everything You Need to Know about Placencia, Belize
Placencia is a charming little seaside town found at the tip of a peninsula off the coast of mainland Belize.It's fast becoming Belize's most desirable location as it fronts the gorgeous Caribbean Sea to the east and a resplendent freshwater lagoon, full of wildlife and with a view of the gorgeous Maya mountain chain, to the west.
The Placencia Peninsula, a 16-mile spit of land that parallels the mainland, offers scenery of vivid blue waters and pure white sandy beaches.
Often referred to as the "caye you can drive to", Placencia is equipped with the same beauty and activity of the other Belize islands at a more relaxed pace. The palm tree lined beaches are nothing less than exquisite.
The central and southern coast of Belize is breathtaking, and despite the many new resorts, condo developments, and sophisticated restaurants, the area hasn't lost its rustic charm. Remnants of this former fishing village are still apparent. Keeping the authenticity and natural beauty of the area is important to residents and newcomers alike. The relaxed, Caribbean ambience of the town is one that will delight.
Only one of three villages on the entire peninsula, Placencia is still largely seen as a vacation spot, but has all you would need to build a life, including supermarkets, brightly painted restaurants, a small domestic airport, and a medical clinic.
The Placencia Peninsula has a population of less than 5,000, and many of these are expats.
The combination of relaxation with adventure makes Placencia a perfect beach paradise.
Retire in Placencia, Belize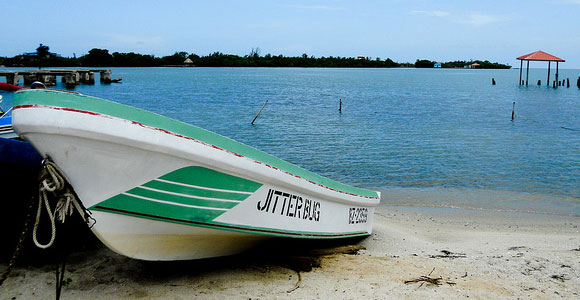 Placencia, with its relaxed Caribbean lifestyle and vivid beauty is a popular retirement destination for many reasons.
The cost of living here is still much lower than in the U.S. You can rent a property for $500 a month, if you are looking for a simple wood cabin on the beach, for beachfront luxury you are looking at around $850.
The weather is near perfect. With high temperatures of 79 F to 86 F, and lows of between 71 F and 79 F, the climate in Placencia is ideal. The idyllic surroundings has also made Placencia one of Belize's most sought after places to retire.
Many expats have retired in Placencia. Doran and Kim Yount both wanted to retire as close to the ocean as possible. Having fallen in love with the warm climate, the friendly people and the less expensive lifestyle in Belize the Yount's decided to retire in Placencia. "We love it here."
Lifestyle in Placencia, Belize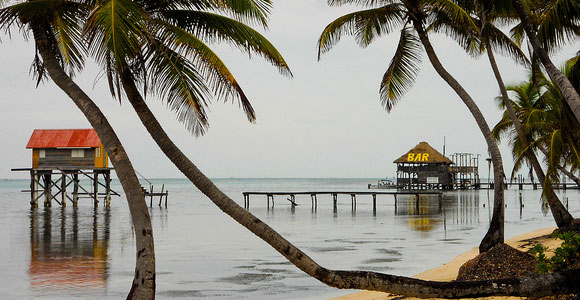 The relaxed lifestyle that Placencia offers is unsurpassed. This one time fishing village offers excellent fishing as well as diving, snorkeling, and boating. Pristine sailboats glide through the turquoise waters alongside local fishing boats. Fresh seafood is available year-round, as are healthy fruits and vegetables…
Placencia retains more of a Caribbean atmosphere than you'll likely find in other parts of Belize. Food, entertainment, and the area's general appearance all have Caribbean flavor. Beaches are wider, whiter, and in many places, almost empty except for the occasional egret or ibis. And while you occasionally hear Creole or Garifuna, English is the official language in Belize.
If you're looking for a thrill in Placencia you can swim with the whale shark, the largest fish in the world. Several day diving packages can also be arranged for the highly adventurous.
Real Estate in Placencia, Belize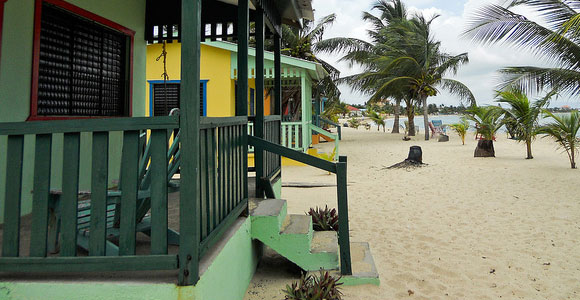 Placencia has always been a popular area for expats. Life is easy and property was inexpensive. Although life is still relaxed, property prices have risen due to high demand.
There are however, still reasonably priced properties to be found and here are a few examples of some we found recently:
Placencia, Surfside area: A quarter-acre ocean-view lot with direct access to the beach and Caribbean sea; it's a 10-minute drive to the airstrip and Placencia Village. Price: $112,000.
Placencia Peninsula: A one-bedroom, one-bathroom home in a complex with shared tropical gardens, a sundeck, and swimming pool. A short drive to Placencia Village. Price: $169,000.
Placencia Peninsula: A two-bedroom, two-bathroom condo is available in the Villas at Cocoplum development. The fully furnished home features custom mahogany cabinets, granite countertops, and stainless steel appliances. Price: $379,000.
Cost of Living in Placencia, Belize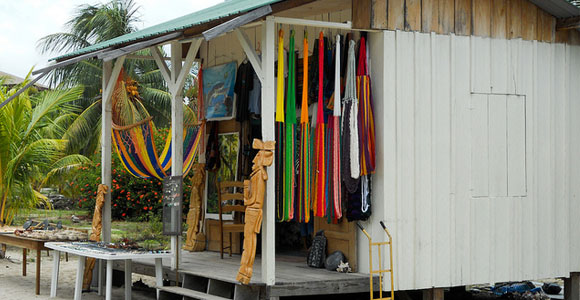 Placencia is one of the more expensive places to live in Belize due to its popularity with tourists and expats alike. Living a modest lifestyle and avoiding imported goods help to keep the cost of living in Placencia down. A couple can still live comfortable here for $2,500.
There is no need for a car here…a bicycle will do. The near perfect weather also ensures that you'll save on heating and air-conditioning costs. Here are some examples of the cost of basics in Placencia:
Here is a sample monthly budget for a couple living in Placencia:
| | |
| --- | --- |
| Expenses | U.S. $ |
| Rent | $900 |
| Utilities (Electricity, Water, and Garbage) | $350 |
| Groceries | $500 |
| Cable TV and Internet | $85 |
| Cell Phone(x2) | $50 |
| Miscellaneous—gym, medical, housekeeper, etc. | $250 |
| Dining and Entertainment | $300 |
| Total | $2,435 |
Video Tour of Placencia Beach
The Weather in Placencia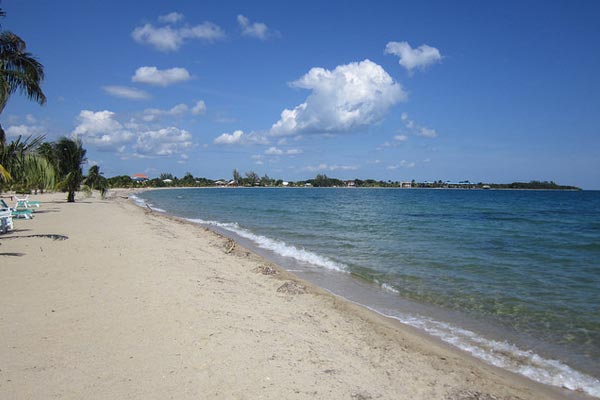 Placencia, in southern Belize, sits on a 16-mile peninsula, in the relatively undeveloped area of Stann Creek. The whole peninsula is home to 6,000 people with the village of Placencia on the southern tip home to 1,500 of these residents. Despite being only a small area, expats and visitors alike have been flocking to Placencia for years, paying testament to how special Placencia is.
Placencia is a laidback, palm tree-lined stretch of beach, with everything from simple beach shacks to mansions on the water. The pedestrianized Placencia sidewalk is a charming, funky stretch lined with coffee shops, art galleries, shops, and restaurants. The excursion options are second to none—from experiencing a National Geographic worthy outing to Monkey River, to hiking in the tropical forest at the Jaguar Preserve, to Maya ruins, waterfall swims, and snorkeling with sharks. You can have the ultimate combination of relaxation and adventure in Placencia.
What is the Weather Like in Placencia?
Many people wonder about the weather, and the best times to visit Placencia, as the tropical weather is one of the main draws to this rustic Caribbean paradise.
Belize is considered as having a "tropical" climate. Tropical climates are places where it never freezes, sunlight is intense, and there are two distinct seasons; dry and rainy. The mean annual temperature in Belize is about 80 F
In Placencia, sunlight is intense all year round, with the peak of the intensity usually around August, and although there are frequent mini-droughts at this time of year it is still a great time to visit.
Placencia also experiences year-round sea breezes, the peninsula is relatively narrow in places, and you can see the lagoon on one side, and the Caribbean on the other. This amount of sea access leads to a continuous airflow. This gives residents the option to leave their windows open and enjoy the breeze as opposed to using air conditioning, even in the hottest months. Plus, with the proximity to water, and many open-air thatch roof bars with welcome shade, steps to the sea, you can find countless ways to cool off even on hot days.
Placencia gets substantially more rain than the north of the country, with southern Belize getting up to 170 or 180 inches of rain in a year compared to around 50 inches in the north.
Belize has what is known as rainy season and dry season—but these are more complicated than they first appear.
"Dry season" is said to be around November through May, and "rainy season" is said to be about June through October. But year on year, there can be deviations in what you can expect. For the past several years, the spring and summer months have been relatively dry with many occurrences of mini droughts right in the middle of rainy season. September is a time where you typically start to see more rain, and this reaches a peak in October. Although October is a fun time to visit as Halloween is huge in Belize, you will find that this is the time of year that has the most rain.
Rain in Belize is not like rain in the northern U.S., the rain in Belize is usually in quick bursts, mostly at night comparable to south Florida. In the northern U.S., it is common to have fronts that come in and lead to drizzly, cloudy skies for days, but this is rare in Belize. You can have a few cold fronts come in one after another, occasionally it can be rainier in dry season than in the rainy season. These cold fronts are not predictable, and can last up to three days, but in Belize "cold" has a different meaning. The cold fronts bring the temperatures down to about the low 70's F, or even 60's F at night, and the additional cloud cover is often a welcome, refreshing respite to the tropical temperatures. Even with a cold front, it is rare to have a day where it rains all day.
Often, people get concerned about traveling to tropical climates because the weather forecast will show rain every single day, even in dry season. However, the bursts are usually at night, or dissipate within an hour, leading to a sunny day that dries up to the point where you can't even tell it rained.
A downside of rainy season in Placencia can be puddles, because of the shifting sand and natural, non-paved streets, you will find that sometimes the rain can create little ponds that can be a nuisance. However, when you are enjoying the sun, sea, and Caribbean adventures, some ponds on the walkways are a small price to pay. It should also be noted that the dry/rainy seasons can be significant enough that certain cave adventures can be limited to times where the rain is at a certain point.
For those wanting year-round summers, ample sunshine, enjoyable night time tropical storms, and rarely ever having to put on long sleeves, Placencia is a great place to live. And, Placencia has outdoor enjoyment nailed with hammocks everywhere, and the world's largest pool almost always steps away, making Placencia a fantastic place to experience the tropics.
A No-Shoes Lifestyle in Low-Key Placencia Village, Belize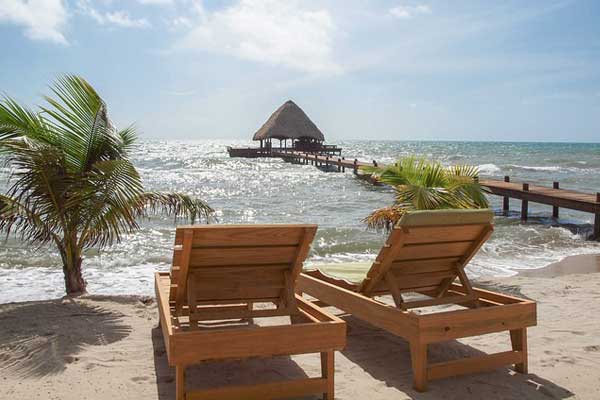 By Laura Diffendal
Placencia Village looks like a postcard. Jauntily colored wooden Caribbean homes, beach bars, and coffee shops abound, and little stores sell wood carvings and Mayan souvenirs. All the while, you can see the Maya Mountains on your right and the sparkling Caribbean Sea on your left. There are palm trees and endless beach.
Expats report that when they make the move to Belize, their lifestyle changes drastically.
Sue Vasquez, a seven-year resident in Placencia, says, "I no longer drive anywhere. I take my bike or just walk into the village for my shopping. I love to shop at the local farmers' markets instead of at a huge grocery store for produce."
Affordable costs also mean that Sue now eats out several times a week at the restaurants that specialize in authentic local foods. "My favorites in the village are Mim's for the $5 stewed chicken lunch, Dawn's for local fish for around $10, or barbecue at Mr Q's for $5 to $8." Sue finds that, at these prices, eating out can cost less than cooking. "There are upscale places in the village that have prices close to the U.S., but we generally save those places for special events. The food at the local places is just as good, just in a less fancy setting."
One of Placencia's big draws is its marked lack of materialism. As Sue says, "I rarely spend money on things besides entertainment and food. I go months wearing flip flops and casual clothes, and these are acceptable everywhere. When I return to the U.S., I feel really overwhelmed by the materialistic culture."
Expat life in Placencia revolves around swimming, kayaking, walks on the beach, and hanging out at the local beach bars. There are events every night to draw the crowds in, and it's easy to meet other visitors or expats. "I recently had a friend visit," Sue says. "And there was so much to show her. On Monday we had an exotic dinner, Tuesday we played trivia, Wednesday we checked out some local Garifuna drumming, Thursday we listened to a reggae band, and Friday we got together for a barbecue at a local tiki bar. We were able to do most of these activities for the price of a drink or two."
Although some costs in Placencia can be as much as or more than in the U.S., most expats here find they can live on much less than in the States. Many couples only have one car, if they have one at all (the preferred transport is a golf cart, bike, or on foot). A three-bedroom, three-bathroom condo with beach views can be rented in the village for about $1,300 a month, including air conditioning and laundry.
Utilities won't break the bank, as long as you're sensible. Water is affordable in Placencia, at about $25 a month for a one-bedroom. You can expect to pay about $100 a month for electricity if you use air conditioning, and less if you don't. You may hear complaints about the internet connection in Belize, but the average user is not going to experience much difference from that in the U.S. Internet and cable TV cost about $80 a month, and cable includes all the premium movie channels. Gas is cheap, and most people use propane tanks, which cost about $20 a month. Sometimes rental rates will include these services, as well.
Sue says of her life in Placencia, "Now that I experience summer year-round, with less pressure to keep up with the Joneses, it has allowed me to live a simple, relaxed life on the beach. When I hear about the winter back home and catch up with friends, I remember the stress-filled life in the U.S., and I could never go back."