Everything You Need to Know about Placencia, Belize
By Laura Diffendal
Placencia is a charming little seaside town found at the tip of a peninsula off the coast of mainland Belize.It's fast becoming Belize's most desirable location as it fronts the gorgeous Caribbean Sea to the east and a resplendent freshwater lagoon, full of wildlife and with a view of the gorgeous Maya mountain chain, to the west.
The Placencia Peninsula, a 16-mile spit of land that parallels the mainland, offers scenery of vivid blue waters and pure white sandy beaches.
Often referred to as the "caye you can drive to", Placencia is equipped with the same beauty and activity of the other Belize islands at a more relaxed pace. The palm tree lined beaches are nothing less than exquisite.
The central and southern coast of Belize is breathtaking, and despite the many new resorts, condo developments, and sophisticated restaurants, the area hasn't lost its rustic charm. Remnants of this former fishing village are still apparent. Keeping the authenticity and natural beauty of the area is important to residents and newcomers alike. The relaxed, Caribbean ambience of the town is one that will delight.
Only one of three villages on the entire peninsula, Placencia is still largely seen as a vacation spot, but has all you would need to build a life, including supermarkets, brightly painted restaurants, a small domestic airport, and a medical clinic.
The Placencia Peninsula has a population of less than 5,000, and many of these are expats.
The combination of relaxation with adventure makes Placencia a perfect beach paradise.
Retire in Placencia, Belize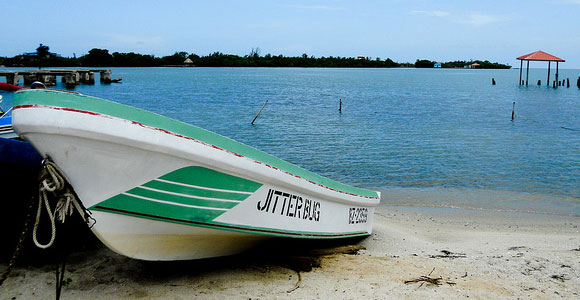 Placencia, with its relaxed Caribbean lifestyle and vivid beauty is a popular retirement destination for many reasons.
The cost of living here is still much lower than in the U.S. You can rent a property for $500 a month, if you are looking for a simple wood cabin on the beach, for beachfront luxury you are looking at around $850.
The weather is near perfect. With high temperatures of 79 F to 86 F, and lows of between 71 F and 79 F, the climate in Placencia is ideal. The idyllic surroundings has also made Placencia one of Belize's most sought after places to retire.
Many expats have retired in Placencia. Doran and Kim Yount both wanted to retire as close to the ocean as possible. Having fallen in love with the warm climate, the friendly people and the less expensive lifestyle in Belize the Yount's decided to retire in Placencia. "We love it here."
Lifestyle in Placencia, Belize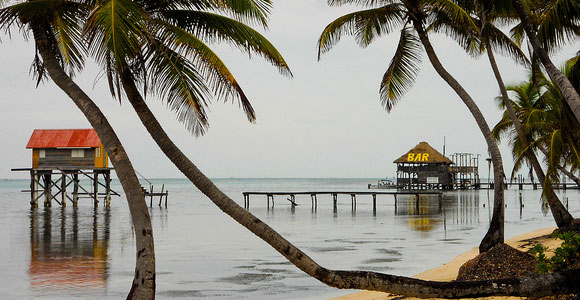 The relaxed lifestyle that Placencia offers is unsurpassed. This one time fishing village offers excellent fishing as well as diving, snorkeling, and boating. Pristine sailboats glide through the turquoise waters alongside local fishing boats. Fresh seafood is available year-round, as are healthy fruits and vegetables…
Placencia retains more of a Caribbean atmosphere than you'll likely find in other parts of Belize. Food, entertainment, and the area's general appearance all have Caribbean flavor. Beaches are wider, whiter, and in many places, almost empty except for the occasional egret or ibis. And while you occasionally hear Creole or Garifuna, English is the official language in Belize.
If you're looking for a thrill in Placencia you can swim with the whale shark, the largest fish in the world. Several day diving packages can also be arranged for the highly adventurous.
Free Webinar: Belize, The Last Affordable Caribbean Paradise
This Special FREE Online Event, The Caribbean's Last Affordable Paradise will show you where you can...
  ➢ Recapture the carefree, contented days of time gone by...spend your time playing in the sea, fishing, swimming, sunning...
  ➢ Rent a luxuriously furnished two-bedroom condo just steps from the beach for just $1,200 a month. Or buy one—furnished—for as little as $139,000.
  ➢ Live all in...rent, utilities, groceries, fun and entertainment included...on as little as $1,700 a month—less than $20,000 a year—and vastly reduce your overall tax burden.
All in a friendly and welcoming English-speaking haven just 2 hours from Miami.
Your Hosts...Two of the Most Qualified Caribbean Experts are ready to share all their insights and first-hand knowledge about this often overlooked, low-cost paradise.
Sign up for our daily postcard e-letter and you'll get FREE and INSTANT access.
Real Estate in Placencia, Belize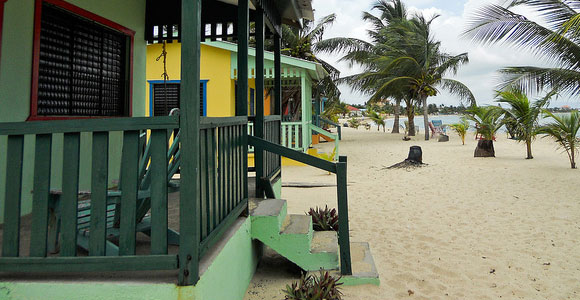 Placencia has always been a popular area for expats. Life is easy and property was inexpensive. Although life is still relaxed, property prices have risen due to high demand.
There are however, still reasonably priced properties to be found and here are a few examples of some we found recently:
Placencia, Surfside area: A quarter-acre ocean-view lot with direct access to the beach and Caribbean sea; it's a 10-minute drive to the airstrip and Placencia Village. Price: $112,000.
Placencia Peninsula: A one-bedroom, one-bathroom home in a complex with shared tropical gardens, a sundeck, and swimming pool. A short drive to Placencia Village. Price: $169,000.
Placencia Peninsula: A two-bedroom, two-bathroom condo is available in the Villas at Cocoplum development. The fully furnished home features custom mahogany cabinets, granite countertops, and stainless steel appliances. Price: $379,000.
Cost of Living in Placencia, Belize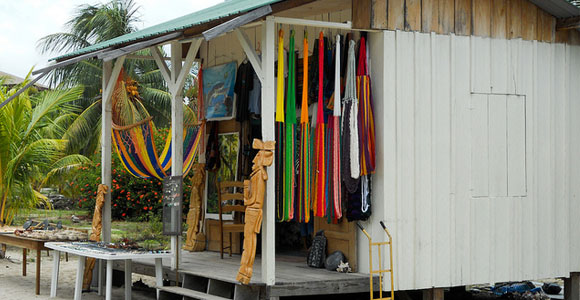 Placencia is one of the more expensive places to live in Belize due to its popularity with tourists and expats alike. Living a modest lifestyle and avoiding imported goods help to keep the cost of living in Placencia down. A couple can still live comfortable here for $2,500.
There is no need for a car here…a bicycle will do. The near perfect weather also ensures that you'll save on heating and air-conditioning costs. Here are some examples of the cost of basics in Placencia:
Here is a sample monthly budget for a couple living in Placencia:
| | |
| --- | --- |
| Expenses | U.S. $ |
| Rent | $900 |
| Utilities (Electricity, Water, and Garbage) | $350 |
| Groceries | $500 |
| Cable TV and Internet | $85 |
| Cell Phone(x2) | $50 |
| Miscellaneous—gym, medical, housekeeper, etc. | $250 |
| Dining and Entertainment | $300 |
| Total | $2,435 |
Video Tour of Placencia Beach
The Weather in Placencia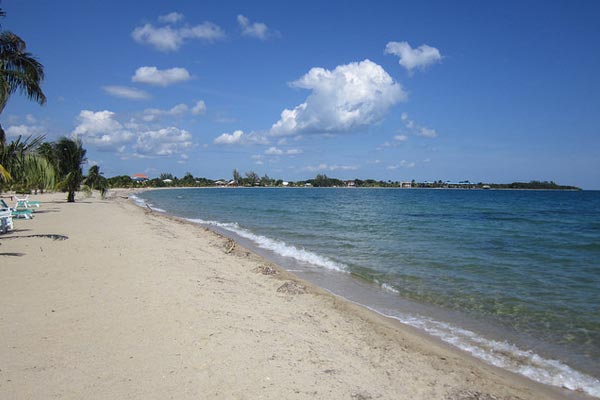 Placencia, in southern Belize, sits on a 16-mile peninsula, in the relatively undeveloped area of Stann Creek. The whole peninsula is home to 6,000 people with the village of Placencia on the southern tip home to 1,500 of these residents. Despite being only a small area, expats and visitors alike have been flocking to Placencia for years, paying testament to how special Placencia is.
Placencia is a laidback, palm tree-lined stretch of beach, with everything from simple beach shacks to mansions on the water. The pedestrianized Placencia sidewalk is a charming, funky stretch lined with coffee shops, art galleries, shops, and restaurants. The excursion options are second to none—from experiencing a National Geographic worthy outing to Monkey River, to hiking in the tropical forest at the Jaguar Preserve, to Maya ruins, waterfall swims, and snorkeling with sharks. You can have the ultimate combination of relaxation and adventure in Placencia.
What is the Weather Like in Placencia?
Many people wonder about the weather, and the best times to visit Placencia, as the tropical weather is one of the main draws to this rustic Caribbean paradise.
Belize is considered as having a "tropical" climate. Tropical climates are places where it never freezes, sunlight is intense, and there are two distinct seasons; dry and rainy. The mean annual temperature in Belize is about 80 F
In Placencia, sunlight is intense all year round, with the peak of the intensity usually around August, and although there are frequent mini-droughts at this time of year it is still a great time to visit.
Placencia also experiences year-round sea breezes, the peninsula is relatively narrow in places, and you can see the lagoon on one side, and the Caribbean on the other. This amount of sea access leads to a continuous airflow. This gives residents the option to leave their windows open and enjoy the breeze as opposed to using air conditioning, even in the hottest months. Plus, with the proximity to water, and many open-air thatch roof bars with welcome shade, steps to the sea, you can find countless ways to cool off even on hot days.
Placencia gets substantially more rain than the north of the country, with southern Belize getting up to 170 or 180 inches of rain in a year compared to around 50 inches in the north.
Belize has what is known as rainy season and dry season—but these are more complicated than they first appear.
"Dry season" is said to be around November through May, and "rainy season" is said to be about June through October. But year on year, there can be deviations in what you can expect. For the past several years, the spring and summer months have been relatively dry with many occurrences of mini droughts right in the middle of rainy season. September is a time where you typically start to see more rain, and this reaches a peak in October. Although October is a fun time to visit as Halloween is huge in Belize, you will find that this is the time of year that has the most rain.
Rain in Belize is not like rain in the northern U.S., the rain in Belize is usually in quick bursts, mostly at night comparable to south Florida. In the northern U.S., it is common to have fronts that come in and lead to drizzly, cloudy skies for days, but this is rare in Belize. You can have a few cold fronts come in one after another, occasionally it can be rainier in dry season than in the rainy season. These cold fronts are not predictable, and can last up to three days, but in Belize "cold" has a different meaning. The cold fronts bring the temperatures down to about the low 70's F, or even 60's F at night, and the additional cloud cover is often a welcome, refreshing respite to the tropical temperatures. Even with a cold front, it is rare to have a day where it rains all day.
Often, people get concerned about traveling to tropical climates because the weather forecast will show rain every single day, even in dry season. However, the bursts are usually at night, or dissipate within an hour, leading to a sunny day that dries up to the point where you can't even tell it rained.
A downside of rainy season in Placencia can be puddles, because of the shifting sand and natural, non-paved streets, you will find that sometimes the rain can create little ponds that can be a nuisance. However, when you are enjoying the sun, sea, and Caribbean adventures, some ponds on the walkways are a small price to pay. It should also be noted that the dry/rainy seasons can be significant enough that certain cave adventures can be limited to times where the rain is at a certain point.
For those wanting year-round summers, ample sunshine, enjoyable night time tropical storms, and rarely ever having to put on long sleeves, Placencia is a great place to live. And, Placencia has outdoor enjoyment nailed with hammocks everywhere, and the world's largest pool almost always steps away, making Placencia a fantastic place to experience the tropics.
A No-Shoes Lifestyle in Low-Key Placencia Village, Belize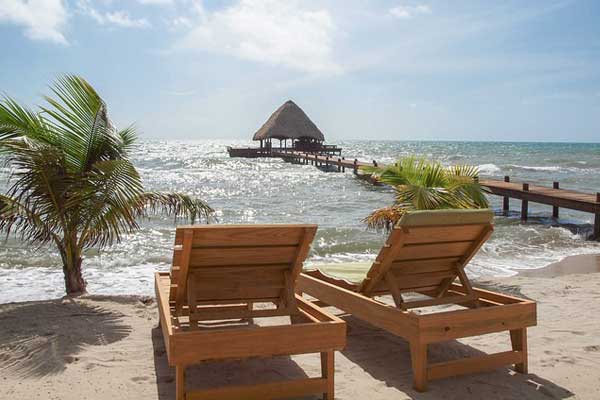 Placencia Village looks like a postcard. Jauntily colored wooden Caribbean homes, beach bars, and coffee shops abound, and little stores sell wood carvings and Mayan souvenirs. All the while, you can see the Maya Mountains on your right and the sparkling Caribbean Sea on your left. There are palm trees and endless beach.
Expats report that when they make the move to Belize, their lifestyle changes drastically.
Sue Vasquez, a seven-year resident in Placencia, says, "I no longer drive anywhere. I take my bike or just walk into the village for my shopping. I love to shop at the local farmers' markets instead of at a huge grocery store for produce."
Affordable costs also mean that Sue now eats out several times a week at the restaurants that specialize in authentic local foods. "My favorites in the village are Mim's for the $5 stewed chicken lunch, Dawn's for local fish for around $10, or barbecue at Mr Q's for $5 to $8." Sue finds that, at these prices, eating out can cost less than cooking. "There are upscale places in the village that have prices close to the U.S., but we generally save those places for special events. The food at the local places is just as good, just in a less fancy setting."
One of Placencia's big draws is its marked lack of materialism. As Sue says, "I rarely spend money on things besides entertainment and food. I go months wearing flip flops and casual clothes, and these are acceptable everywhere. When I return to the U.S., I feel really overwhelmed by the materialistic culture."
Expat life in Placencia revolves around swimming, kayaking, walks on the beach, and hanging out at the local beach bars. There are events every night to draw the crowds in, and it's easy to meet other visitors or expats. "I recently had a friend visit," Sue says. "And there was so much to show her. On Monday we had an exotic dinner, Tuesday we played trivia, Wednesday we checked out some local Garifuna drumming, Thursday we listened to a reggae band, and Friday we got together for a barbecue at a local tiki bar. We were able to do most of these activities for the price of a drink or two."
Although some costs in Placencia can be as much as or more than in the U.S., most expats here find they can live on much less than in the States. Many couples only have one car, if they have one at all (the preferred transport is a golf cart, bike, or on foot). A three-bedroom, three-bathroom condo with beach views can be rented in the village for about $1,300 a month, including air conditioning and laundry.
Utilities won't break the bank, as long as you're sensible. Water is affordable in Placencia, at about $25 a month for a one-bedroom. You can expect to pay about $100 a month for electricity if you use air conditioning, and less if you don't. You may hear complaints about the internet connection in Belize, but the average user is not going to experience much difference from that in the U.S. Internet and cable TV cost about $80 a month, and cable includes all the premium movie channels. Gas is cheap, and most people use propane tanks, which cost about $20 a month. Sometimes rental rates will include these services, as well.
Sue says of her life in Placencia, "Now that I experience summer year-round, with less pressure to keep up with the Joneses, it has allowed me to live a simple, relaxed life on the beach. When I hear about the winter back home and catch up with friends, I remember the stress-filled life in the U.S., and I could never go back."
5 Reasons to Move to Placencia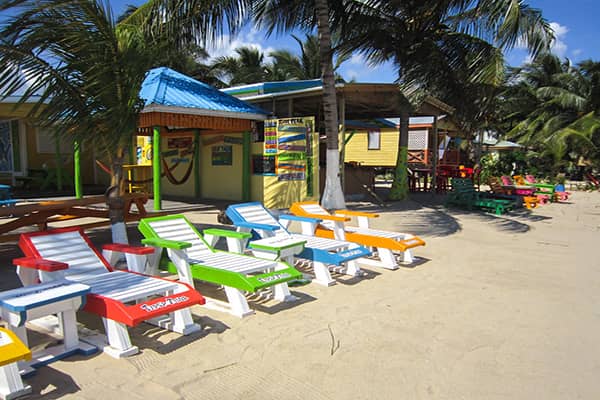 There are some specific reasons expats are flocking to Belize—and in particular the remote fishing village of Placencia. The peninsula is very special and unique.
The following are the top 5 reasons tiny Placencia has so solidly been on the radar for everyone, from Conde Nast to HGTV:
1. The Topography
 You will fall in love with the topography as you drive onto the peninsula from the mainland ….it happened to me! I purchased property in Placencia on my first trip— the very thing experts tell you not to do.
The drive is so gorgeous and special….you go from watching the Maya Mountains, which look like Hawaii, to driving through what feels like a North Carolina shoreline…..to arriving at Hilton Head-like homes (Plantation area and North)….to driving through Maya Beach, which looks and feels like 1940s Florida, to seeing authentic Belize culture in Seine Bight (this town is rough around the edges, but friendly, right on the water, and has tons of local character), to arriving in the village, which looks like a vintage postcard.
Caribbean-colored wooden cabanas….one cute restaurant and shop after another…and throughout this whole drive, you can see the lagoon and Maya Mountains on your right, and the gorgeous Caribbean the whole time on your left, and palm trees everywhere. I have never been in a place that has so many charming natural aesthetics.
2. Convenience
In Placencia, you will find some comfortable conveniences that make it very livable—in addition to the reasons expats already like Belize. It's close to the U.S., English speaking, accepts USD everywhere, low property taxes, all public beaches, and you can drink the water right out of the tap. This is one of the few places south of the border where you can do that, and the only place in Belize.
Placencia is a perfect mix of the inland experience and an island feel. No worries about "island fever". Here, you can get in your car and drive inland, get to stores, and fill up your car if needed, and it is cheaper than an actual island, because things don't have to be all shipped by boat.
3. Small Town Vibe
Placencia has just the right number of restaurants, bars, coffee shops, beach bars, and shops to be a quaint, small-town village, without being so small that you can't get what you need. One of the things I love best about Placencia is that I can walk the main road into town and feel like I am in a true Central American village.
Culture, local flavor, all of the wood-stilted houses you think of, the busy-ness of a downtown village, but then…I can turn the corner and walk the famous sidewalk…. which is right on the beach, and it transforms into a true vacation paradise. The sidewalk feels more like the Caribbean, while the main street feels like Central America. You will walk by one charming bed and breakfast, restaurant, ice cream stand, souvenir shop, and much more, all while looking at the ocean with this wonderful energy around you.
4. Entertainment
There are a remarkable number of standout activities/establishments here. If you feel a need for some resort-style living for a day, it's available. There are unique and spectacular restaurants here, from local-style dining to world class. Tutti Frutti has the best gelato I have ever had. From Placencia, you can snorkel in two unbelievable Cayes. Tipsy and Barefoot are perfect beach bars….and where you will find locals, expats, tourists, and dogs all having an awesome time, every night of the week, and they are right next door to each other. Brewed Awakenings has some of the best coffee and smoothies I have ever had. And, it is all walkable within the village, with views of the sea from almost everywhere.
5. Fitting In
The feel of it here. This is one that you simply have to experience. You have this feeling here that you are somewhere very special, and also you have a feeling that you are in a place that is about to explode, although it also feels like it never changes…there is a reason for that!
You may feel like you stumbled on a secret when you get here, and tourists repeat their trip year after year, despite all the other options in the world. Many expats report they feel at home right away, and the idea of living steps from the sea, or having a sea view, lack of materialism, and for so much less than you can in the U.S., makes Placencia irresistible.
10 Things to Do in Placencia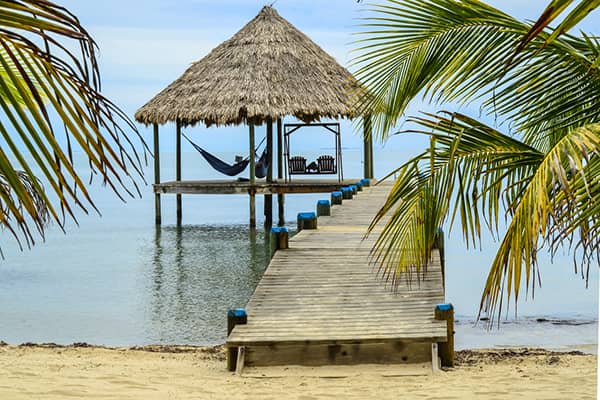 Walk the Loop of the Village
You can't get lost, follow the loop starting either on the main street or the sidewalk. This loop allows you to see the whole village and get a feel for the tour booths, shops, restaurants, and bars that draw you in.
As you are walking around, check out the local woodworking, have a coffee at Above Grounds (looks like a treehouse), stop and have a gelato at the famous Tutti Frutti, and have a look at all the farmer's market stands (I recommend purchasing some tomatoes, an onion, cilantro, a jalapeno, and a lime—mix these together with bit of salt [available in suite] and some tortilla chips from the grocery store—all for about $5).
Stop and check out the pier—a lot of good bird/people/fisherman/dolphin watching here. Walk by and see what is happening at Tipsy Tuna and Barefoot Bar; they advertise their activities on chalkboards throughout the village (and they are right next to each other, this is the heart of the village fun.) Enjoy the shops and art galleries all throughout the village. Try Brewed Awakenings for their excellent coffee, blended drinks, and seaweed shakes.
Enjoy the Beach
I would highly recommend that you set some time aside to just enjoy the beach. There are lots of activities from renting kayaks and paddleboarding to just relaxing and soaking in the sun.
You can rent kayaks etc. right by Tipsy Tuna, and have a drink and enjoy the views in the heart of town, on the loungers at Tipsy, or go a bit north to the Placencia Beach Club. You can walk as far as the eye can see, enjoy the sunrises, or hang in a hammock for a day.
Rent a Golf Cart
Rent a golf cart for the day—or a bike if you are more adventurous. You can drive/ride it all the way up the peninsula (you are allowed to take it as far as the Placencia Hotel—after that, only cars). You can rent a golf cart at Captain Jak's.
You can drive north through an authentic Garifuna village in Seine Bight (this is not set up for tourists, while it looks a bit rough, the locals are warm and friendly, and are very used to visitors—lunch at Vern's is one of the top-rated places for local food.)
Farther up, you will end up entering charming Maya Beach. Here you will find what looks like Florida from the 1940s. I highly recommend lunch or dinner at Bubba Q's BBQ, Maya Bistro, or Umaya. Park your cart, and walk around here on the beach, there are lots of little quiet beach bars. Another worthwhile stop to sightsee is Singing Sands— a very charming place for lunch. You can bowl at Jaguar Lanes, play mini golf at Inky's, or check out the Placencia Hotel for lunch and a swim.
Rent a Car
It's easy to rend a car from the village (Barefoot Rentals is a good one) and go to the Maya King waterfalls—this is a popular place to have lunch, swim, and picnic, just north of the peninsula. It is a relatively safe and easy drive. A bit farther away, but within an hour, there is amazing hiking at Bocawina (and ziplining.) A fun stop on the way home is Lost Reef, for a couple drinks and a swim. You can even check out a working Banana Farm, or do amazing hiking at Bocawina or Cockscomb if you are willing to drive a bit farther.
Do an Excursion
The excursions from water to land are world-class—from Maya ruins to swimming with sharks. These are easy to find at the numerous booths all over the village.
A Food Tour
You can eat with a Maya family, make Maya chocolate, or learn about Garifuna historical foods through places like Taste Belize.
Fishing and Diving/Snorkeling
The deep-water fishing and diving here brings people in from all over the world, not to mention the ton of cayes to visit on a sailing day trip.
Spa/Yoga
Get a massage beachfront, or try out the yoga vibe here. Check the Placencia Yoga page for current yoga classes.
Dine Out
Enjoy a world-class dining experience at 1981, Mare at Turtle Inn, Rumfish, or the new Ellysian restaurant…. these are just remarkable, unforgettable dining experiences from the setting to the authentic Belizean food.
Visit During a Festival
Come during one of the world-class festivals….Placencia is normally quiet—except for Lobsterfest weekend, Easter weekend, independence Day celebrations, The Sidewalk Arts Festival, and a few more—plan your trip around those times to see a different side of the village.
Day Trips From Placencia
The world class excursions available from Placencia are too many to list— but here are some of my favorites….
1. Monkey River
You will be picked up at the dock near MNM Hardware and taken on a fun boat ride through the Lagoon, over to the tiny village of Monkey River. You will take an exotic boat ride on a winding river, through the jungle, where wildlife sightings (birds, lizards, crocodiles, dolphins, manatees) are very common. The boat will stop at one point and take a tour through the jungle, where families of howler monkeys will appear in the trees overhead. You can have an authentic Belizean lunch in the village afterward, a town untouched by tourism, and on the way home, do a manatee watch.
2. Cockscomb Jaguar Preserve
You can drive in about an hour to the Jaguar Preserve, with some Maya and Banana Farm sightings on the way. You will take a walk through the tropical forest at the Cockscomb Jaguar Preserve, where you will taste and touch all kinds of exotic things. You can take a relaxing and unique long ride on a lazy river, on a tube, through the tropical forest. You can hike to a gorgeous waterfall, and with certain guides, even slide down some natural rockslides. The hiking here is world-class!
3. Snorkeling at Silk Caye or Laughingbird Caye
You cannot come to Placencia without doing one of these snorkels. Multiple tour operators do this tour, as it is one of the most popular, whether you are a beginner or an advanced snorkeler, this is unforgettable. There is about a 45-minute boat ride to Laughingbird Caye, or about a 60-minute boat ride to Silk Caye. Both are absolutely stunning islands, just like you see on a tropical calendar. You will snorkel with tropical fish and nurse sharks, and all kinds of exotic reef life at Laughingbird, or add in turtles and stingrays at Silk Caye. You can enjoy a beach barbecue for lunch on these tropical islands.
4. Actun Tunichil Muknal (ATM) Cave Tour
This is one of the greatest, most memorable cave tours available. It's a little bit further away than others on this list. You'll be traveling to San Ignacio but people from all over the world come to take this trip and it's consistently noted as one of the highlights of visitors' trips to Belize.
You will take a 45-minute hike into the jungle, where you will swim across a small pond to get to the ancient Maya sacrificial cave. The history here will astound you, complete with skeletons! But it is NOT for the faint of heart. It also involves some moderate rock climbing in the caves, and some degree of discomfort—it is worth it! If you are in San Ignacio, it is also recommended to visit Xunantunich Maya Ruins, which is the highest structure in the country and a Maya ruin you can climb to the top of, for breathtaking landscapes.
5. Private Island Tours to Mojo Caye, Ranguana Caye, or King Lewey's Caye
There are plenty of island options, but these three are some of my personal favorites. Ranguana looks straight out of a 1940s book, and is a pristine island that looks like a calendar. Mojo Caye is a newer option that is a lazy, rustic, gorgeous island where you can swim, lay in a hammock, and BBQ on a perfect island beach. King Lewey's Caye is all about the fun—this tiny island packs in a mountain of energy and great vibes for an unforgettable afternoon.