Here's what International Living readers have been saying about their monthly magazine:
"International Living magazine not only makes the idea of living in a foreign country exciting, it makes the whole concept seem attainable. The articles are great fun to read, and the insight provided by expats is fascinating…and often humorous. From anecdotes about cultural experiences to stories about starting a business, the magazine provides inspiration for those of us considering a major life change!" —Debra O
"Your International Living Magazine & Postcards are nothing short of life-changing! Since I've been a reader, I've become very clear about how I want to live by immersing myself in the cultures of the world. I am currently working towards that goal by putting my affairs in order before I fly out the door. Thank you for all the inspiration." —Gail M
"Has anyone told you how awesome you are? I can finally log into the site and will be spending a wonderful weekend looking at the amazing materials that you provided. There are so many people stuck in that 'dream' of wishing for a better life. I am CHOOSING to make it happen and will achieve that goal with the help of your materials. Gracías, Vielen Dank, Merci beaucoup, molto gratzi. Have a super weekend." —S. Ingolia
"I am a new subscriber to your magazine and wanted to express how pleased I am with your product. The quality of the magazine and the diversity of information that it provides, greatly exceeds my expectations. So often a purchase on line ends up being much less than what you had hoped. International Living is at the other end of the scale…so much more than you were expecting. Congratulations to you for your product and to me for having made a prudent and wise selection!" —David W
"I've subscribed to International Living since it was an 8-page newsletter in black and white and one other color. I'm delighted to see what it has grown into. I've also been a lifetime member for many years. I always enjoy the magazine. Keep up the good work!" —Deborah M
"Please start a section for letters to the editor as I am sure lots will flow to you with folks speaking the praises of such a great magazine. I signed up on a whim, what a fantastic magazine- educational insightful fun and not promotional…so very authentic. My biggest problem now is, how do you choose just one spot and this is after my first issue. Oh goodness, I need to go international now! Thank you for a great magazine.. You are helping the world be more global! Thanks" —Kevin R
"We appreciate very much all of the great information International Living provides and the conferences you make available to get first hand information from expats and others. " —Larry and Carolyn O
"Just a note to let you know how much my wife and I have enjoyed the magazine over the past few years. We are most interested in Panama, and appreciate the many informative articles and perspectives of expats who have made the move. Thank you for such great service to your subscribers. We look forward to many more years with IL." —Mark S
"IL is fabulous! All the information one could ever want and need is there in your publication. With your help and guidance I guess you could call it, I'll be making the jump soon. I began reading IL as a newly-wed and I just celebrated my 38th anniversary. I was far from ready then but I'm close now. I look forward to each new addition. Thank you for the heads up on retiring overseas." —Thomas D
"I'm really happy I subscribed to International Living Magazine. I feel like there is a lot of information and encouragement for people who are considering making a move or taking an extended trip from the country where they grew up. I really enjoy hearing details on how people are making their new lives work and how they adjust to different cultures. But I also like the more "pure travel" sections that are less about relocating and more information on an exotic travel destination. It's a good mix. Thanks for turning out an interesting read month after month!" —Bess K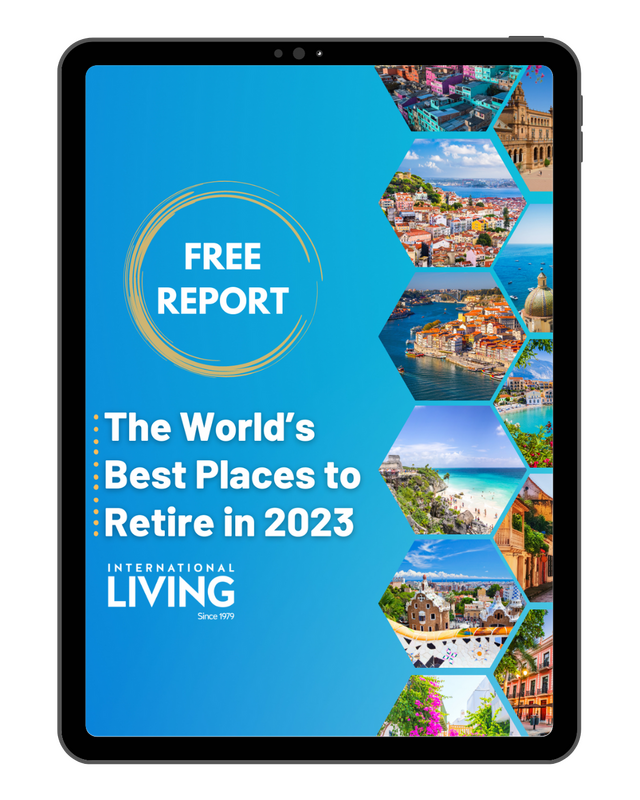 Get Your Free Report on the World's Best Places to Retire:
Learn more about the best places in the world to retire in our daily postcard e-letter.
Simply enter your email address below to sign up for our free daily postcards and we'll also send you a FREE report on The World's Top 10 Retirement Havens, plus access to over 10 more free reports. Our gift to you, on our favorite destinations.