I can't say I did it to avoid anxiety and stress. If anything, I became an international real estate investor lured by the promise of travel, adventure, and profit.
But since March 2020, when much of the world declared a state of emergency and we saw one of the most dramatic stock market crashes in history, feeling pretty relaxed has been a big benefit of owning a portfolio of income-producing properties around the world.
When I open a newspaper, check social media, or turn on the TV news I am happier than ever that I took this path. I feel blessed.
I own real, tangible assets. I am sitting on huge gains in value thanks to having bought at the right price in the right places.
Real estate. I just love it. It generates income. It's not subject to the same rapid and wild fluctuations as other asset classes. It can make you very rich. You can live in it.
Most importantly, I understand it.
I once owned stocks. But I realized I didn't know what was going on in the boardroom. I am an outsider. And I didn't want to play that game. So I sold any stocks I owned long ago and have owned no stocks since.
Now, at a time when the money-printing machines of the world are in overdrive, I am happy to double down on what for me is the one true asset class: real estate.
And if you love real estate, if you want to own a property overseas, create a life of ease, travel, fun, and adventure; insulate yourself from the ups and downs of the stock market; and enjoy more financial and personal freedom…
Then 2021 promises to be an exceptional year.
Fortunes are made during uncertain times.
The global crisis has some way to go. But economic uncertainty doesn't need to dictate our financial future. On the contrary, fortunes are made during uncertain times like this.
We have had some incredible buying moments in 2020 as a result of the crisis. From the first days of the crisis it was obvious that the global response to COVID-19 was acting as a massive trend accelerator. It's created big opportunities whether your goal is to own a bargain dream home in historic Europe for under $100,000 or build a sizeable portfolio of income-producing real estate.
In this report I'm going to walk you through some of the big trends I am following closely into 2021.
Work From Anywhere
Back in 2018, only 12% of Americans, given the choice, said they would choose to live in a big city. The majority said they wanted something more rural, with lower costs and a better quality of life.
As 2019 came to a close, it was reported that hundreds of workers were leaving the biggest U.S. cities every day. They left for places they could find lower taxes, no commute, cheaper housing, lower costs, bigger homes, yards.
The tools of the digital revolution were already in the hands of millions of people. The trend in Work From Home (WFH) was growing fast. And many people had long ago discovered it was really "work from anywhere." For years on my travels I've met mobile people with flexible jobs working online; a few months in Portugal, a few months in Mexico…
Only one thing stood in the way of anyone who could do their job remotely: the culture of work. You had to turn up, to physically be somewhere.
Then the coronavirus pandemic and lockdown happened. An emerging trend became a mass movement, the new normal for millions of people almost overnight.
Folks are waking up to the possibilities. Why pay thousands in rent and commute long hours when you can do your job after a daily morning jog on a Caribbean beach and save a whole lot of money living somewhere warm?
Because of the COVID-19 crisis millions more people are beginning to work from anywhere.
This plays into our hands if we buy the right real estate in the right places. For example, I predicted back in March that we were going to see a critical shortage of long-term rentals in Tulum on Mexico's Riviera Maya.
You didn't need a crystal ball. There already was a shortage. It's just been compounded by the acceleration of the remote work trend. Across my beat it's happening. People who can move to the world's inherently desirable destinations are doing it. Places with perfect weather, world-class beaches, fine dining, and almost every activity you can imagine. The increasing number of longer-stay folks look for international schools for their kids, gourmet supermarkets, and so on. And ease of getting there is critical: an airport and plenty of direct flights.
Find the right places, then the right property at the right price, and have renters pay you. Then spend time there when you want.
As for employers, why rent an expensive downtown office when you don't have to? There can be big savings and advantages to running a remote company if you do it right. (My team and I are all fully remote.)
At the start of this year the average monthly rent in the Bay Area of San Francisco sat at $3,680. In May, two-thirds of tech workers in the Bay Area told researchers they would move if given the choice. Now many of those workers have that choice. Twitter told employees that most of them would be allowed to work from home permanently. Coinbase and Square did the same. Facebook announced a decade-long plan for remote work. Google made arrangements. It's not just tech giants in San Francisco; go to any big city in the world and the same pattern is emerging. Let's take a few events from 2020.
• The venerable U.S. clothing brand Brooks Brothers filed for bankruptcy. You don't need a suit if you're not in the office. (The demise of the suit is another trend accelerated by the crisis.)
• Japanese tech company Fujitsu launched a plan for their 80,000 employees to work remotely forever.
• In the U.K. and Ireland manufacturers and suppliers of ready-built offices (the kind you can drop into your yard or outside space) couldn't keep up with demand.
The lines between work and vacation will blur.
Throughout 2021 the lines between work and vacation will blur. We'll see more folks take a few months to work from somewhere stunning. Slow travel with a laptop is going mainstream.
Get ahead of this boom. Own the property that these folks want to rent. Start looking in places people want to go (see box on page 27).
Get Your Free Real Estate Report Now
Sign up for our free daily Postcard e-letter and get a valuable free report on the The 5 Best Places to Buy Real Estate In 2023.
The Rise of the Rental
For years Airbnb has been taking market share from hotels. In the three years from 2016 to 2019 vacation rentals grew 105% in the U.S., according to analytic service AirDNA. Across the world the phenomenal growth of Airbnb, Homeaway, and VRBO has been fueled by demand. People wanted what they view as more authentic "live like a local" experiences.
There was, and still is, a generational divide, too. Younger folks opt for rentals, those who want hotels tend to be older.
That was before COVID-19. Today you'll find some "experts" suggesting that hotels will bounce back and rentals will suffer. They say hotels can implement deep clean policies in a way private rentals cannot.
I don't buy it. I see hotels struggling to make their business models work in a post-pandemic age where social distancing and limits on guests are required. There's less group travel and nowhere near as many business travelers either, both important markets for hotels.
Vacation rentals can be nimble. Yes, plenty of rentals will fail. But those with their act together will thrive. I stay almost exclusively in Airbnbs and will continue to do so. (I'm on the road six months out of any year.) With a rental you control your own space. You can avoid restaurants and bars and hotel lobbies. Airbnb has brought in deep clean protocols for hosts. And the new legion of "work from anywhere" folks are not interested in staying in hotels for weeks and months. They want a comfortable property, preferably with something special like a hot tub or a spectacular view. Like I say, slow travel with a laptop is the new normal. An Airbnb with a nice terrace to work from is desired.
Countries Want You
Barbados was one of the first countries to grab an opportunity from the pandemic when the prime minister announced a "12-month Barbados Welcome Stamp," which would allow visitors from overseas to stay for an entire year and work remotely.
More countries than ever are creating programs to lure masses of mobile people newly freed from the office. Countries have suffered economically, lost a tourism season, and are seeking longer-term travelers. Some just see how smart it is to attract talent and folks with an income.
In August, Bermuda created a similar program to Barbados. The little Baltic country of Estonia launched a digital nomad visa that will allow foreigners to live there for a year. The country of Georgia did likewise.
Still the best visa program for real estate investors, in my view, is Portugal's Golden Visa. Prior to the pandemic there were plans to roll this program back. Because of COVID the Portuguese government kept the program in place, which offers you the chance to secure Portuguese residence and free travel in the Schengen Zone through the purchase of real estate for as little as €280,000 ($328,841). It's the best option because the program gives you what you need, including eligibility for the Non-Habitual Resident Tax Regime (which can mean tax rates of between 0% and 20% depending on the type and source of income). And the real estate you buy could make sense as a lucrative investment worthy of my Real Estate Trend Alert (RETA) service even without the Golden Visa benefits.
Greece has an interesting Golden Visa. The biggest drawback to Greece's version is that if you're looking for a path to European citizenship, you're required to live in Greece for 183 days a year for seven years.
However, if you're not seeking citizenship, Greece is a great option. With a minimum real estate investment of just €250,000 ($293,608), it's the lowest investment threshold of any of Europe's Golden Visas. Plus, there are no restrictions on what kind of real estate you can buy.
Unlike its citizenship requirements, if it's just residency you want there is no minimum number of days you're required to be there. Another huge benefit of Greece's program is that it offers much more flexible terms for family. Once you meet the minimum investment requirements, your spouse, and all children under the age of 21, as well as parents and parents-in-law can be added to the application.
I've scouted real estate in Greece on several occasions and traveled through the islands. I don't consider it a particularly fertile hunting ground for real estate investors. The economy is so weak that rental income and capital gains are a very easy target for an insatiable taxman.
Having said that, the €250,000+ price range would get you a stunning property, definitely a sea view, and your pick of many restored village homes or modern apartments. And you have 227 inhabited islands to choose from, as well as the mainland.
Zero Interest Rates
Use leverage to create massive profits on real estate.
We are in a historic low interest rate environment and this means in some places we have the opportunity to use leverage to create massive profits from real estate.
I trace it back to July 2009 when Sweden's Riksbank was the first central bank in the world to implement a negative interest rate. That's right: they started charging to hold funds on deposit. It was a desperate policy response to the financial crisis. The idea was to encourage banks to lend more. And to create a system-wide disincentive to sit on cash.
The European Central Bank (ECB) soon followed. Now, a decade on, we are in an entrenched period of negative rates in Europe. In the U.S. mortgage rates are at a historic all-time low.
As real estate investors there has never been a better time to borrow money, to use leverage.
Leverage works by using someone else's money to buy a property, thereby minimizing your initial investment and freeing up your cash flow.
You need to be prudent, but with the right deal you can 5X…10X…even 20X your money using the miracle of leverage.
The right deal is key. I've looked at lots of deals that have 100% finance at less than 2% and not recommended them to RETA because the deals didn't stack up. Don't buy a bad deal just because of cheap and easy credit.
But there has never been a better time to borrow money in Europe. The ECB is offering us almost-free money, and we can use this to supercharge our returns.
And good news, North Americans can borrow in Portugal, France, Spain, Italy…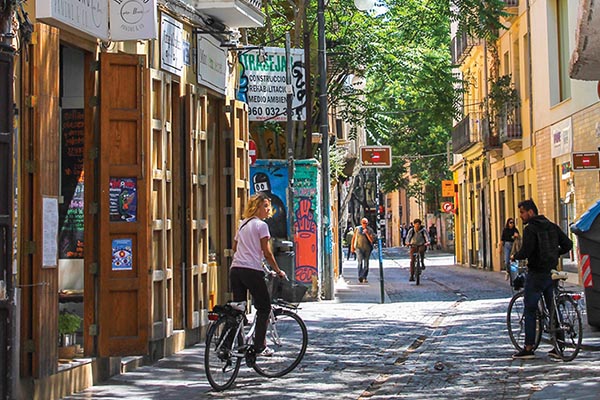 For example, in Portugal, North Americans can borrow up to 80% loan-to-value on a property at rates of less than 1% in some cases.
My contact on Portugal's Algarve is English and a good example of how you can use leverage to supercharge your gains.
He found an old and unloved villa of around 5,000 square feet. He borrowed 90% of this €420,000 ($492,262) property, so he paid €42,000 ($49,326) down, with repayments of just €830 ($974) a month.
After he refurbished the villa it threw off €30,000 ($35,233) in rental income while he and his family traveled and vacationed abroad during his kids' summer holidays. (Something he does every summer during that red-hot rental season.)
The villa's value is now likely €1.2 to €1.5 million ($1.4 to $1.76 million). Now he is selling this house and is set to buy two derelict houses to repeat the same play.
Last I heard he was in the process of buying two homes for €600,000 ($704,661). He figures he'll need €250,000 ($293,608) to €350,000 ($411,052) to renovate. He plans to move into one and rent out the other.
But get this, his mortgage is just €800 ($939) a month, and he figures the house he rents will bring in about €4,000 ($4,697) a week in high season, €1,200 ($1,409) a week in low season.
I absolutely love this play. And it's perfect for anyone who plans to live in the Algarve for just part of the year. With one good rental, you can create some impressive rental yields during the 10 weeks from late June to August. Then you're in positive cash flow, and you can use the place yourself the rest of the year or continue to rent it out if you like.
Get Your Free Real Estate Report Now
Sign up for our free daily Postcard e-letter and get a valuable free report on the The 5 Best Places to Buy Real Estate In 2023.
Buying in Fragile Europe
2021 will be the "year of the bargain" in many parts of Europe. If you ever idly dreamt of a hilltop village house, cottage, or historic mansion then my advice is dust that dream off and get busy.
We will see big falls in value of best-in-class real estate in Italy and Spain.
I'm figuring on 30% in Italy on prices that have been already been falling for 18 years. More in parts of Spain. In France and Portugal a combination of Brexit and COVID means we're already seeing motivated sellers in places popular with British expats.
The value of marginal real estate in the hills and empty villages in Spain and Italy will go to zero. You can already pick up turn-key village homes in some of Italy's most gorgeous regions for less than $70,000. Expect more, more, more…
Spain and Italy have been giving away free houses for years in an effort to re-energize depopulated hill towns. These are often historic, beautiful towns in stunning places, but there's no work for the young. All you need to do is renovate the place. To be honest, I don't see why you would when you can get something turn-key, sometimes even furnished, for very little money.
Tourism will bounce back in blue-chip locales. Venice will still be Venice. Rome won't lose its appeal. But the Italian hotel industry is going to be decimated by this crisis. When the bounce back happens, it will clear the way for our rentals.
In September 2018, I told RETA members how I'd found apartments in Venice and Florence for less than $200,000 that with the right approach could turn a gross yield of 15% or so. I believe that opportunity is going to be stronger post-pandemic. Tourists will come back. And right now we can prepare by snapping up something walking distance to all the attractions—say 10 minutes from the center of Venice or Rome—at a bargain price.
More Direct Flights
Pre-pandemic, the standard operating model for big airlines in the U.S. was to route through hubs. You got on a plane in your city and flew to that airline's hub where you connected to your flight.
Post pandemic, people won't want layovers nor connections. So big airlines are adding more direct flights to the most popular sun-and-sand destinations.
Gateway to Mexico's Riviera Maya, Cancún's airport was one of the first in the world to reopen its doors for international tourism back in June. As I write this, U.S. airlines have not only resumed flights, but added more direct flights. For instance, you can now fly American from Kansas City to Cancún.
Cancún saw over 25 million passengers in 2019. It's the start point for the Path of Progress that leads you on a smooth, modern highway to Playa del Carmen and down to Tulum.
New point-to-point flights from New York to Cabo San Lucas are set to run through the winter. That in itself is a Path of Progress event. With improved access we get more vacationers and more demand for rentals.
In the inherently desirable locations of the world, like the Riviera Maya and Cabo, accessibility is going to accelerate things already in play.
Get Your Free Real Estate Report Now
Sign up for our free daily Postcard e-letter and get a valuable free report on the The 5 Best Places to Buy Real Estate In 2023.
Related Articles
The Single Best Way to Profit in Real Estate