By Phyl Doppelt
A rich burgundy color, it is sweet, but not too syrupy, and generates a warm glow as it makes its way down into the belly. This is Ginja, a Portuguese liqueur believed to cure anything from tonsilitis to the blues. The full name is Ginginha, but it is generally called Ginja, and the best way to sample it is at a Ginja bar in Lisbon. One such bar, Ginginha do Carmo, dates from the 1930s. It's located at the foot of the heritage iron steps that lead from Rossio Station to Rossio Square.
An A-frame board lists the menu, which is limited to five items. There are no seats and patrons stand at little tables sipping their Ginja, chatting to whomever happens to be sharing a table.
The bar is tucked into space the size of a closet, with a counter, big enough to accommodate three people. The shelves are stocked with bottles of Ginja, which is the only alcohol served.
The liqueur originated in monasteries in the 17th century and is made from fermented sour morello cherries. Picked in June when ripe, infused with spices and lots of sugar, then soaked in aguardiente— a firewater Portuguese brandy—it is left to mellow for about five months. When the process is completed, the liqueur takes on a mellow velvety red color and has an alcohol level of about 18%.
This particular bar serves a brand called Espinheira Ginjinha, named after the monk Francisco Espinheira, who is said to have created the original recipe.
Ginja can be sipped slowly or knocked back in one gulp like schnapps. Served either with or without the cherries (in Portuguese con and sem) it is dispensed in a shot glass or in chocolate cups. I go for the chocolate cups. They are a little smaller than the shot glass, so a serving is two tots, and the chocolate and Ginja make for a flavorsome combination.
Ginja bars are part of the cash economy, so know before you pay, they do not accept credit cards. The chocolate cups cost €1.65 ($2) and the shot glass is €1.35 ($1.65) per serving.
An observation: To get the full "glow" of the Ginja, it may take more than one shot to cure whatever ails you.
Brush Up Your Dancing Shoes in San Miguel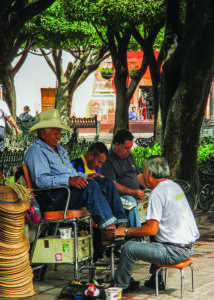 When visiting San Miguel de Allende, Mexico, escape on a Sunday afternoon to Zandunga, where the focus is on live music and energetic dancing. It's located in a picturesque countryside setting, nestled in the rolling hills of Jalpa. The venue is open-air, but with a protective roof for shade. Building and operating Zandunga has been a labor of love for musician Gil Gutierrez and his wife, Rebecca.
There are plenty of tables where you can relax while imbibing, eating, and listening to world-class music. Gil—an accomplished jazz and classical guitarist—performs on Sundays, mixing musicians and styles that include jazz, flamenco, Cuban, and Mexican genres.
Doors open at 1 p.m. and a Mexican buffet is served from 2 p.m. to 4 p.m.
Gil performs the first set at 3 p.m., accompanied by his band, and often has a special guest. On my last visit the guest performer was a spellbinding Russian violinist. I was delighted when they played several classic Piazzola tango pieces.
Next up are The Mavericks—a local rock 'n' roll band that picks up the pace. That's when it's time to step onto the dance floor and boogie. (During COVID 19, space has been provided to dance next to each table.) You'll find Zandunga 12 miles from town, on the road to Jalpa. Expect a 15-20 minute ride, by taxi or car. Entry is $30, buffet included.—Ann Kuffner. 
Dine in Italy's "Dying Town," But Be Quick
Cross a bridge to another world, where fog can swirl in without warning, where the atmosphere seems stopped in time. But this town isn't stopped, it's slowly slipping away—and I mean physically, not metaphorically.
Civita di Bagnoregio, in upper Lazio near the Umbria border, is plopped on a bluff, and pieces of it crumble away annually into the canyon below.
Despite its ominous-sounding moniker—"the dying town"—Civita di Bagnoregio is one of the prettiest villages in Italy, and a number of aspects particular to it alone make it worth visiting.
To reach the village, you have to walk across a 200-meter- (656-foot) long footbridge that spans the Valle dei Calanchi (Valley of the Canyons). Pass under the Porta Santa Maria gate and into a set-apart world of ivy-draped buildings, sliver-like lanes decked with color-splashed flower boxes, hidden courtyards, and spectacular overlooks.
The erosion formations below the bluff will already give you a clear idea of the phenomenal forces of nature that are whittling away at Civita, particularly if you're there when the river is in full pelt, but you can get a deeper glimpse into the destructive forces in action at the Geological Museum.
Enjoy lunch at one of the excellent trattorias, whose owners are simply heroic in their daily determination to haul ingredients across the bridge.
Just 11 folks reside in Civita year-round, most having made the move across to the bigger, more easily accessible Bagnoregio. But the hold-outs get a magical place that is suspended in the air—and in time.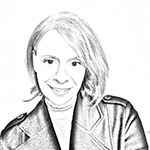 Valerie Fortney-Schneider, IL Italy correspondent, resides in the southern Italian region of Basilicata. [email protected]
Previous
 Next