Did you know that you can own an apartment inside a Roman Palace and just a short stroll from the Adriatic Sea for $144,402?
The palace is a UNESCO World Heritage Site and a living museum where the original arches and columns of the Roman walls loom above shops, restaurants, and cafes.
Narrow streets hide a maze of passageways and squares. You can bask in the Mediterranean climate with a $2 coffee. Or enjoy a mix of regional fare—pasta, gnocchi, and risotto dishes; smoked, cured ham with sheep's milk cheese; beef stews; and lots of fish.
For over a month, a member of my team has been slow traveling along the Dalmatian Coast, one of the most attractive regions of southern Europe.
It offers dramatic shorelines, encompasses enchanting medieval cities, sweeping mountains, and long stretches of sand and shingle beaches…
Best of all, it's a place where real estate prices go from decent value to downright cheap. And he has uncovered some of the very best deals available there right now.
Recently, he was in the city of Split, Croatia…
***
A Base in the Hub City of Split
By Paul O'Sullivan
Strolling through the city of Split I overhear a tourist asking a newspaper kiosk attendant for directions to Diocletian's Palace. In response, the attendant leans over the counter, makes a sweeping gesture with his arms and proclaims "You're in it!"
Split is perhaps the only city in the world where you can live inside a Roman palace. And you can do so for as little as 958,586 kuna ($144,402).
The city was founded by Roman Emperor Diocletian, who built his palace at the end of the 3rd century AD.
This wasn't any ordinary emperor. Diocletian wasn't even Roman. He was born locally in a town close to Split from a family of modest means. He then joined the Roman army and through valor and leadership rose through the ranks until opportunity handed him the throne.
Remarkably, he avoided the gruesome faith that awaited most Roman emperors, and remained ruler for 20 years, appointing a co-emperor to reign over the western part of the empire.
Then he did something completely unprecedented. He abdicated his throne, retired, and spent his remaining years lolling around Split and tending to his garden of cabbages.
It's hard to blame him. Split is a city that demands you to slow down, relax, and enjoy "fjaka," the Dalmatian art of doing nothing.
You can easily while away an entire afternoon on Split's Riva, a wide seafront promenade covered in palm trees and lined with restaurants and cafes. Linger in the warm glow of the Mediterranean sun while sipping on a $2 coffee and watch the world drift by.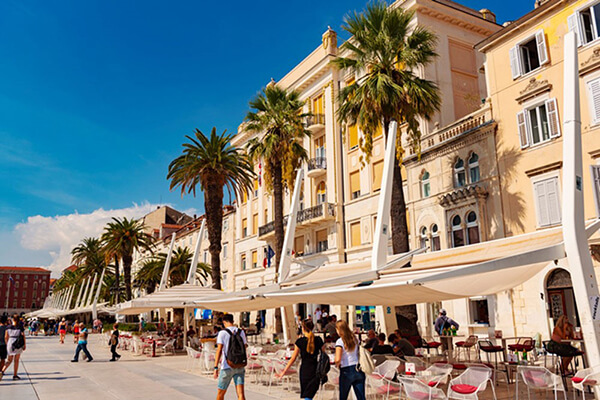 For lunch, I'd recommend going inside the Diocletian Palace, just back from the promenade. A few centuries after the emperors' death, people took refuge here from invading Slavs, building their homes inside its walls. It was ruled by the Venetians during the Early Modern Period for 300 years, even while it was surrounded by the Ottoman Empire. And despite it being a UNESCO World Heritage Site today, it remains crammed with restaurants, bars, cafes, and shops, as well as homes. The only thing that has really changed is the owners.
Split is a culinary delight, with a mix of traditions jumbled together within the city. You'll find traditional Eastern European food but with a distinct Italian twist. Pasta, gnocchi, and risotto dishes; smoked Dalmatian ham with sheep's milk cheese; beef stews; and lots of fish.
My recommendation is to simply follow your nose through the narrow cobbled streets until an aroma catches your fancy. That's how I discovered Villa Spiza, a simple hole-in-the-wall restaurant with zero pretentions and incredible seafood.
You'll occasionally catch a strong putrid smell in parts of the palace, but that's actually the sulphur springs beneath the city. It's said that the mineral rich water here is one of the reasons Diocletian chose this location—it helped him cure his rheumatism.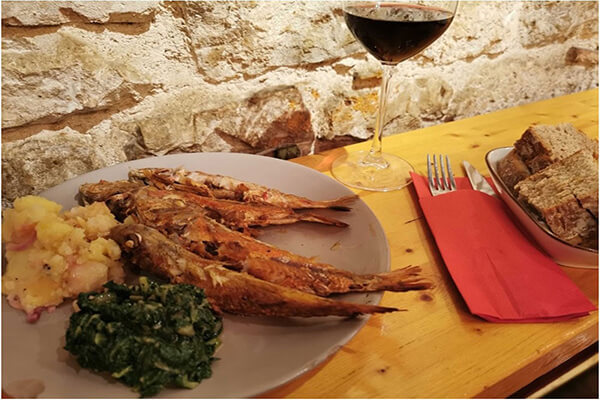 As I say, the palace is the beating heart of the city. It's a living museum where the original arches and columns of the Roman wall can be easily discerned above the shops and restaurants. The narrow streets hide a maze of passageways and squares. You'll find bars and cafes as well as quiet residential courtyard with citrus and olive trees and elderly neighbors chatting from their windows.
As tourism has grown in Split, so too have the number of Airbnbs, which has driven up prices within the palace walls. Twenty years ago, this was the poor area of the city, and before tourism had penetrated you could get a home here for $20,000.
Today, there are few properties on the market at all, and those that are, typically go for about $400,000 for a two-bedroom apartment.
However, I did come across one property that offers good value. It's a small, 323-square-foot, one-bedroom apartment that puts you within the UNESCO protected palace, and it costs just 958,586 kuna ($144,402).
The apartment has been renovated but it would need to spruced up. This could make a nice little bolthole and it could easily generate decent rental income. Figure on $100 to $150 a night during the summer season.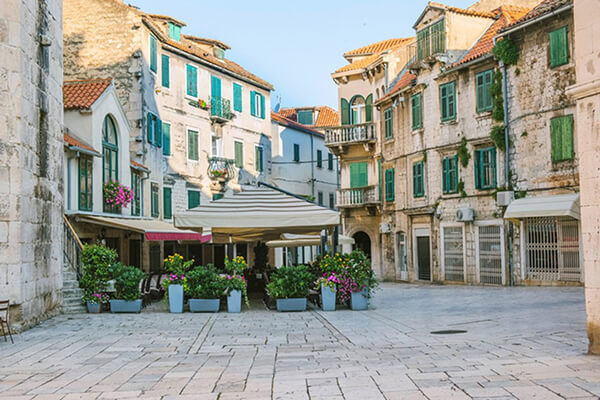 However, for value I'd look beyond the historic core of the city.
Manuš is quiet neighborhood just about a few minute stroll from the palace walls, yet you'll see a noticeable drop in prices.
For instance, when I sent my initial report from the ground in Split, I wrote about a two-bedroom apartment I found in the Manuš neighborhood, just a short walk from Diocletian's Palace. It has a large glass wall giving you great sea views and a lot more light that you'd get if you were on a narrow medieval street. It listed for 1,400,434 kn ($215,544) but has since been sold.
Another prospect I've come across is a 549-square-foot, two-bedroom apartment in Manuš with a large balcony and views of the city center and the Cathedral of St. Duje listed for 1,235,677 kuna—that's about $186,211.
You're just 15 minutes from Bacvice Beach, the closest sandy beach to the city center. And you're within easy reach of the port and bus terminal.
You can view the listing here.
If you're looking for a well-rounded experience of Dalmatia, you don't need to look beyond Split. It's a very affordable place to live. A lively town with access to numerous beaches. But most importantly, it's a highly strategic place to base yourself in the region. It has multiple ferry terminals right in the city that will take you directly to the numerous serene islands of the Split Archipelago, like Biševo with its famous Blue Cave, Vis, Pakleni islands, and Hvar.
Plus, Split has a well-connected international airport with low cost routes right across Europe.
I also suspect that these pull factors will see Split continue to grow as a popular location for remote workers. I met a number of digital nomads here who were availing of Croatia's new digital nomad visa, which allows non-EU residents to stay here for up to 12 months. These are long-stay renters who will fill out occupancy in the shoulder season and who are willing to pay more than the local rates.
Get Your Free Real Estate Report Now
Sign up for our free daily Postcard e-letter and get a valuable free report on the The 5 Best Places to Buy Real Estate In 2023.
Related Articles
4 Coastal Cities in Croatia Perfect for Part-Time European Living