International Living's Bigger Better World podcast delves into the stories behind the story. This week, the podcast features International Living contributor Bel Woodhouse, an infectiously enthusiastic world traveler and expat who currently calls Cozumel, Mexico, home.
The largest of Mexico's Caribbean islands, Cozumel is some 12 miles off the coast of the Riviera Maya city of Playa del Carmen. Regular ferries connect the island with the mainland, while cruise liners bring a steady footfall of visitors.
With two airports, a hub city, and great communications, Cozumel is not at all an isolated destination. Besides the white-sand beaches and lush jungle, there are hospitals, supermarkets, restaurants, bars, and much more. It's a perfectly viable spot for a full-time retirement, part-time snowbirding, or even as a temporary stop on a world tour.
That's how Bel first thought of it—as a stopover on her extensive world travels. But something about Cozumel has kept her there much longer than she originally planned. Perhaps it's the place where she'll finally settle down?
Join Jim Santos as he learns about the low-cost Caribbean island of Cozumel, and how one single-woman traveler has learned to adapt and thrive in this heavenly slice of Mexico.
Just how far can sign language and a smile get you on Cozumel? Settle in, press play, and find out as we welcome you to the latest episode of International Living's Bigger Better World podcast.
Read Bel's article here: https://intliving.com/podcastbel.
New IL Readers – Click Here for Special Offer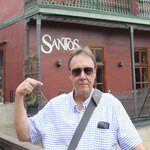 Our Host: Jim Santos is a freelance writer and voice over artist who spent 6 years living in Salinas, Ecuador on the shores of the Pacific Ocean, exploring that country and others in South America and Europe. He has written over 200 articles for the Wall Street Journal, Huffington Post, and International Living.
In addition to the popular "Living Abroad: Challenging the Myths of Expat Life", "Hiking the Inca Trail to Machu Picchu" and "The Galápagos Islands: On Your Own and On a Budget" he is also the author of "Ecuador Scouting Trip Itineraries and Travel Guide: An International Living Report". He has been a popular speaker at six International Living conferences held in Ecuador and the USA. More information can be found at https://jimsantosbooks.com/.
Get Your Free Mexico Report Here:
Learn more about Mexico and other countries in our daily postcard e-letter. Simply enter your email address below and we'll send you a free special report - Why Millions of Americans Are Moving to Mexico.
This special guide covers real estate, retirement and more in Mexico and is yours free when you sign up for our postcards below.
Related Articles
The Best Places to Live in Mexico as a U.S. Expat
5 Best Caribbean Islands to Live On… and 2 to Avoid
Popular Articles You May Also Like