You've just weighed anchor on another night of bliss, lulled to sleep by the gentle rocking of your sailboat in the calm sea. Before you is a small cove lined by craggy cliffs.
Clear blue waters end at a white-sand beach. You've had it all to yourself for the last week. It was supposed to be just an overnight stop. But it was so beautiful, you decided to stick around.
After a quick dip, you're enjoying a cup of coffee and a light breakfast on deck as you contemplate which island paradise you'll go to next.
This life could be yours. Plenty of everyday people are choosing to live on the water full-time—in their retirement, no less.
After a bit of training and hands-on experience at home, they're tying up beside mega-yachts in the Mediterranean…finding large floating communities of like-minded expat sailors in the Caribbean…and island hopping in the Gulf of Thailand, heading wherever their fancy takes them.
This lifestyle is more affordable than you might think, often costing folks less than staying at home. For under $100,000, you can buy a well-equipped, used sail boat around 40 feet in length—plenty of room for two people.
And you can live on it for as little as $1,000 to $1,500 a month, including marina fees. That fee usually gets you a full-service facility with water, power, WiFi, and other amenities.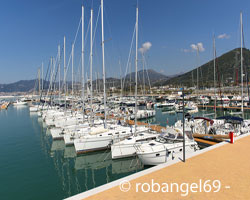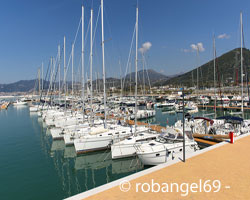 Of course, anchoring offshore is free—even in the most beautiful shores in the world. Carol and Kent Witt anchored throughout the Med during their sailing retirement. "We once anchored off Capo Palinuro, south of Italy's Amalfi Coast," says Carol.
"The water there is perfect for swimming and snorkeling, two of our favorite pastimes. On the cliff overlooking our anchorage was a hotel that charges $342 a night. Guests have to walk down a rickety network of several hundred steps to reach the cove that serves as the resort's beach. At night, we went ashore and enjoyed the fancy hotel's sunset views and ambience for the price of a cocktail."
A sailing life is easier and safer than ever before thanks to modern technology.
With GPS for navigation, you always know exactly where you are, a safe route to get where you're going and how long it'll take to get there.
You program in the destination just like with a land GPS. You have radar for monitoring weather. And there are even monitoring systems that help you avoid large commercial ships.
Age isn't much of a barrier either. Many current cruisers only got started when they retired. And if you want to be part-time rather than full-time on the water, that's okay, too. There is no one way to cruise. There are lots—it just comes down to what you want. The important thing is to get started. Wait until everything is perfect and you could literally miss the boat.
Most folks start with basic sailing classes. Gary Pierce knew nothing about sailing before he started. "But that wasn't going to stop me," he says. "Over the next four years my wife Julie and I prepared, taking the baby-steps approach to sailboat life. I read everything I could get my hands on about sailing and cruising. We started taking sailing lessons in Kemah, Texas, 90 miles from our home."
And once you buy your own boat—for as little as $89,000 for a seaworthy liveaboard—the world is your oyster…
Article first publish in 2016