What if, even in these crazy times, you could get paid to retire?
That's the tantalizing question at the heart of a new book by earn-from-anywhere expert and author, Winton Churchill, called: The "New" Retirement: The Rise of the Gig Economy and How You Can Profit From It.
The answer Churchill delivers in his book is straightforward: With more income in retirement, you could enjoy life more. And there's an easy, accessible way to do it today that almost nobody talks about:
"By earning a few hours a day (or a week) on your own terms—doing something you already know how to do, from the comfort of your home—you could fund a retirement that allows you to live 'life first,'" Churchill argues.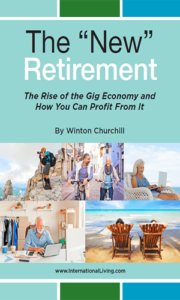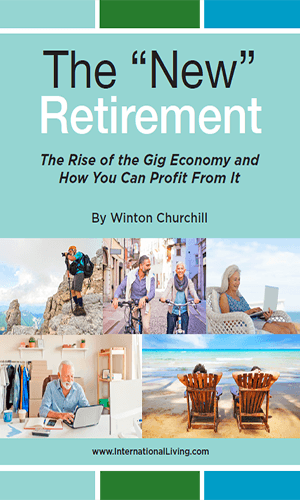 That is, you could make your own schedule, be your own boss, and enjoy a more comfortable and less stressful life, complete with travel and little luxuries…
In an era when so few people believe they'll be able to retire comfortably (or at all)—and the statistics bear that out—Churchill argues in his book that retirees can, in fact, wield more control over their situations than most realize.
"Lots of people believe they will simply have to take the retirement the world hands them (if they get one at all—it is what it is. But that's nonsense," says Churchill. "Baby boomers and GenXers have more online earning options right now than most realize.
"Most people point to what they've done in their careers as what they 'know how to do.' But that's a myopic way to look at a skillset. In truth, people have more abilities, knowledge, experience, and wisdom than they realize.
"And in retirement—with the technology available today—they can use those strengths to earn a side income freelancing online and fund a comfortable lifestyle that includes more comforts and fun than they ever thought possible. My book explains exactly how to do that."
From a retired teacher offering proofreading services to a retired receptionist answering phones remotely a few hours a day to a retired attorney giving business advice…the book is full of stories that show the varied ways people have taken what they know how to do and turned it into portable online income in retirement.
And older folks, Churchill argues, actually have an advantage earning as freelancers on the many job-and-project platforms available online today—platforms like Upwork, VIPKid, Cambly, or Arise, for instance.
"Boomers are seasoned," he explains. "They come to freelancing after a lifetime of earning in other ways. They have practice completing work on time and meeting project goals. They communicate effectively in both writing and speaking. They have a depth of knowledge—and life experience—that they can bring to their subject areas. These attributes make them valuable freelancers."
In The "New" Retirement: The Rise of the Gig Economy and How You Can Profit From It, Churchill introduces the reader to the world of freelance opportunities online, explains how to identify skills that are marketable, breaks down the keys to getting started fast, and explores the insider tricks for turning one-off assignments into regular, lucrative gigs.
What's more, the book is packed with useful resources and guidance for getting the most out of a portable income—and teaches readers the best ways to design a portable life, which can provide the freedom and flexibility to travel (and even live) abroad for extended periods.
You can control your free time in a way that's almost impossible to do in a 9-to-5 world where you 'work for the man.'
"When you earn like this, you're better able to blend and prioritize your interests, your family, and your passions," Churchill says. "You can control your free time in a way that's almost impossible to do in a 9-to-5 world where you 'work for the man.'
"In my case, I tell this story in the book—I have a daughter who lives in Shanghai, China, and another daughter who lives in southern California. And when I go visit either one, instead of them thinking, 'Oh, my God, dad's coming for three or four days—what are we going to do?,' now I go there for a week or two and I work in the mornings or at the same time they are working, and then we decide to do something together in the evenings or on the weekends.
"It's a much more relaxed and natural kind of visit when I'm not imposing on their work and regular life-activities time. It's much more enjoyable than the crash and dash—where a parent pops in for three or four days and the kids are expected to drop everything and have a whirlwind of activity planned, and then the parent leaves."
The book is a useful, in-depth Baby Boomer's guide to freelancing in retirement. Rather than be restricted by a low budget, or by a job that requires punching in and out, freelancing online a few hours a day puts the retiree in charge, providing a measure of freedom, engagement, and structure.
Instead of fitting in fun around work, this retirement solution allows Boomers to fit in work around fun. And with retirements stretching to two and three decades, that's a powerful strategy for a healthy, enjoyable, long-term retirement.
Inside The "New" Retirement: The Rise of the Gig Economy and How You Can Profit From It, readers will discover—
22 questions to answer that'll expose the income-earning skills a reader has, but may not realize is monetizable and available to them. These skills are there, they can be used to produce an income online, but some of them aren't obvious. (see page 57)
23 one-click online resources most people have never heard of where, at the simple click of a mouse, they can source paying clients looking to pay people to do all sorts of things: write, proofread, copy edit, teach English, be a virtual assistant, provide customer support, research, answer questions, transcribe audio files, complete surveys, moderate content, create spreadsheets, help kids with their homework, and lots, lots more. (see page 78)
4 essential apps that make a portable income simple to manage—so freelancers always have what they need at their fingertips, it's a cinch to keep track of projects, and it's possible to earn from anywhere—no high-tech skills required. (see page 90)
3 "portable-income enablers"—free tools to parlay a go-anywhere income into a go-anywhere life and earn with ease on the road. Find out how to make banking easy, anywhere in the world. The no-hassle secret to getting from point A to point B in almost any city on the planet without hailing a cab or getting a wallet out. And the insider trick to staying connected, plugged in, and in touch with friends, family, and clients no matter where a person might roam. (see page 93)
The vacation-rental strategy that makes it easier to book the right place at the right price—with special consideration for older travelers and with a choice of homes in 150,000 destinations around the planet. (see page 103)
7 must-know tips for a constant internet connection so freelancers remain plugged in online and don't pay too much for the service, even when traveling and away from home. (see page 106)
The best ways to turn on the "job faucet"—3 proven strategies that will help smooth the way to freelance success. (see page 113)
8 cool, free resources that connect freelancers around the world—so they can ask questions and get answers, discover new ways to succeed, learn from their mistakes, stay motivated, get excited, and even make like-minded friends. (see page 114)
Revealing, real-world examples that show readers exactly how a bunch of people from different backgrounds took their "careers" and translated their skills and experiences online—including an accountant, a marketing writer, a hairdresser, a mechanic, a doctor, a teacher, a housecleaner, a paralegal, and even a guitar-playing surfer from California. (see page 117)
How (specifically and truly step-by-step) it's possible to find clients today—the best clients—build a network of paying gigs automatically, and create a freelancing empire simply by doing things right and having fun. (see page 132)
And lots, lots more…
Ask the Author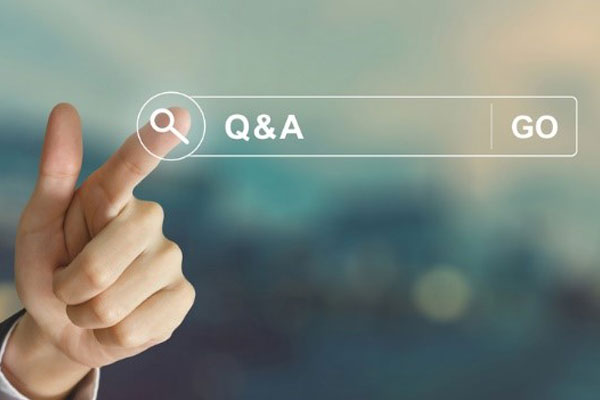 Q. What motivated you to write this book?
The conversation usually starts with, "Now that I am retired (or about to) I'd like to earn a little income, do something I enjoy, keep my brain sharp, but don't want to work 40+ hours a week, what could I possibly do?"
The answer is pretty big, most are shocked at the variety of good options, and I wanted to capture specifically what those options are and how you can take advantage of them.
Q. You make a powerful case for people retiring in a new way—in a way that allows them to create income and gain more control. Can you talk a little about why you think that's important?
Yes, ultimately we are the masters of our own destiny.
Living in retirement can too easily become your own personal "Groundhog Day" where you are doing the same things over and over.
If you just stumble into the old retirement, I have seen and heard from many that life can quickly devolve into stocking up at the grocery store, watching more TV than is healthy, and going to doctors' appointments.
If you want an amazing next decade you have to plan and take some action to achieve that plan.
But Baby Boomers know that if you don't plan, it usually doesn't happen.
Q. You make a strong case for retirees earning on the side as freelancers. You say it's time for the way we retire to change, that the traditional retirement is outdated. Why do you say that, and how do you see this new, better retirement playing out?  
My grandfather was a Minnesota farmer. He was on and off horses and tractors, tending crops, raising livestock, and when he reached his 60s he was ready to sit back, relax, and rest his sore knees, problematic shoulder, and all the other problematic things that go along with age.
Today we have options, whether it is knee and hip replacements or anti-inflammatory meds, or other miracle medications… as a generation we are living longer and healthier than ever before.
Retirement for us might last 20 to 30 years or more. Some Boomers will head to the couch and the remote… but many want to stay active, engaged, and productive.
The "New Retirement" is that balance of work and play.
Q. You say in your book that baby boomers are uniquely qualified to earn as freelancers —what makes that the case?
The number one thing is experience!
They have 30 to 40 years of work experience, solving problems, coaching Little League, helping fundraise at the charity, and hundreds of more skills they may be able to tap to work as a freelancer.
Second, they also have written and verbal communication skills that surpass the generations of younger "texters."
Third, they are prompt and responsible. A lifetime of showing up at work, PTA meetings, dentist appointments, and doing hard things has cultivated habits in many that are not shared by all generations working today.
Q. Is now—in this time of economic crisis—a good time for retirees to be thinking about this, and if so, why? It's a little counter-intuitive.
Yes, more than ever before in our lifetimes, we've got an economy to rebuild.
The employment rolls of many companies will shrink unfortunately.
The good news is that companies not just in the USA but around the world are increasingly turning to freelancing to get work done.
It stretches their dollar because it helps them easily adjust staffing for the ups and downs of the business cycle we are seeing today.
Freelancers from the "gig" economy are the practical way for businesses, non-profits, and government to recover and rebuild.
What—beyond the economic benefits of earning on the side—do you see as positives for the people who freelance in retirement?
First they earn an income.
For many that might be modest when compared to what they earned in their career but it can help push back that date when they have to tap their retirement resources.
If they can pay monthly expenses, fund a trip to their favorite vacation spot, or help the grandkids with college the income can be very rewarding.
Second, they keep their brain sharp.
Lots of research going on right now indicating that your mental engagement helps not your brain but your overall health and wellness as you age.
Some people say I do crossword puzzles and that's ok.
I feel better when I've been able to lighten the load off a fellow human being through my freelancing than I ever felt at the end of a crossword puzzle.
Third, you stay on top of technology because you use it every day to satisfy your clients.
It is easy to become isolated in this tech-oriented world if you don't feel comfortable at your computer.
About the Author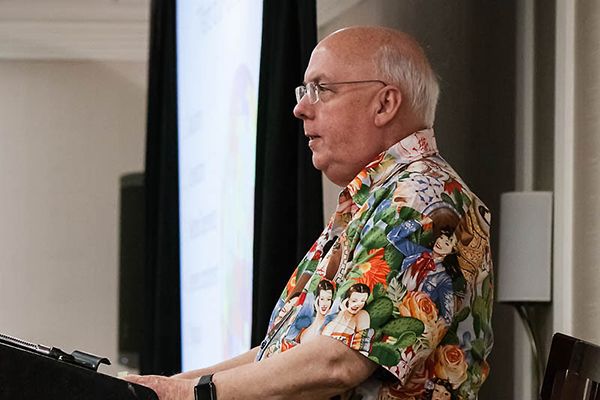 Winton Churchill is the founder of the Churchill Method, an international training and consulting company. His firm helps clients find ways to put their skills, services, products, and career experience on the global market by tapping into the 30% to 70% of opportunity most U.S.-only and Canada-only businesses and individuals leave on the table.
"By taking charge of their earning power, rather than waiting for governments, financial institutions, and employers to 'right themselves,' the baby boomer generation now has the power and access to put their skills and abilities on the global market regardless of where they live or work," says Winton.
In addition to consulting, Winton has written and lectured on a broad range of career and internet sales and marketing topics. His opinions are frequently quoted in a variety of publications including The Wall Street Journal, Entrepreneur Magazine, Marketing Sherpa, Inc. Magazine, SoftwareCEO, Sales & Marketing Management, Fox News, and a number of industry-related business, internet, and software-related publications. He is the author of the bestselling book Email Marketing for Complex Sales Cycles (Morgan James Publishing).
Prior to the founding of his own firm, Winton has been involved in a variety of senior sales, marketing, and management roles for Apple Computer, Oracle Corporation, Spinnaker, Contact Software (ACT!), and Sun Microsystems.
Winton is past President of the South Bay Association of Chambers of Commerce. The SBACC serves 18 Chambers and more than 53,000 businesses in coastal Southern California. In 2007, Winton made Huatulco, Mexico his primary residence and divides his time between Huatulco and San Miguel de Allende.
Check out the Table of Contents Below