The 1918 pandemic, also known as the Spanish flu, had a profound influence on real estate.
It was a time before antimicrobial drugs, when homes were dark, stuffy, and overcrowded—the perfect conditions for the influenza to flourish.
By the time it ran its course, an estimated 17 to 50 million people had died.
The collective shock was enormous.
In the world of real estate, it forced architects back to the drawing board. People no longer wanted to live in dark, enclosed spaces that reminded them of mausoleums.
What they came up with is what we now know as modern design. Modelled after the clean lines of sanitariums, homes became spacious and airy, with large windows and lots of natural light.
It's a design that I love. The real estate I own around the world today is all based on this design concept. And I'm reminded of how it all began every time I hear a discussion about what the post-COVID-19 world will look like.
COVID-19 is a different kind of pandemic, in a very different time. But how it changes the way we live and the homes we live in will be no less profound.
As I've said before, this is the great trend accelerator…
Before the coronavirus, we were already seeing the Work From Home (WFH) trend boom. At the start of this year, the amount of people who work remotely at least once per week had grown 400% over a 10-year period. Then the coronavirus pandemic and lockdown happened. An emerging trend became a mass movement, the new normal for millions of people almost overnight.
According to Stanford research, since March almost 42% of the U.S. workforce are working from home full-time. That's more than the amount of people who are traveling to a business premises. Remote workers now represent two-thirds of U.S. economic activity.
So, for all intents and purposes, the U.S. is now a WFH economy.
As the old revolutionist Vladimir Ilyich Lenin said, "There are decades where nothing happens; and there are weeks where decades happen."
We're now living though some of those weeks. And folks are waking up to the possibilities. Why pay thousands in rent and commute long hours when you can do your job after a daily morning jog on a Caribbean beach and save a whole lot of money living somewhere warm?
Because of the COVID-19 crisis, millions more people are not only working from home…they are beginning to work from anywhere.
This plays into our hands if we buy the right real estate in the right places.
For example, I predicted back in March that we were going to see a critical shortage of long-term rentals in Tulum on Mexico's Riviera Maya. A contact on the ground there recently messaged me to confirm my prediction:
"The rental market is crazy at the moment. One broker I know has been unable to find a property because either all properties are rented or owners are not willing to rent long-term because they are waiting for high season. Even with a budget of $5,000 a month, I know someone who can't find anything.
"Also, a friend of mine got a job in Florida as VP of marketing. Instead of moving directly to Florida he's coming to Tulum for three months to work remotely."
I didn't need a crystal ball. There already was a shortage. It's just been compounded by the acceleration of the remote work trend.
Across my beat, it's happening. People who are free to work from anywhere are moving to the world's inherently desirable destinations. Places with perfect weather, world-class beaches, fine dining, and almost every activity you can imagine.
They're looking for homes in the destinations where we have the inside track on the best real estate deals. Places where I've spent almost two decades establishing connections with developers, real estate agents, lawyers, and financiers… Places where RETA members can get exclusive access to opportunities that are available to no one else…
At the start of this year, the average monthly rent in the Bay Area of San Francisco sat at $3,680. In May, two-thirds of tech workers in the Bay Area told researchers they would move if given the choice. Now, many of those workers have that choice.
In the coming weeks, months, and years, we'll see slow travel with a laptop go mainstream…and we can make sure that we own the property that these folks want to rent.
The rental income will not only pay for it, but it will put some significant profit in your pocket…and you'll be sitting on a seriously valuable asset if you decide to sell.
Don't miss this once-in-a-lifetime chance to profit from this global mega-trend.
Real Estate Trend Alert members are already ahead of the game in Tulum.
In our latest deal, members locked down two-bedroom condos in a stunning community on Tulum's emerging Golden Mile from just $134,000…
I'm predicting gains of $56,000 three years after delivery. And we're set for handsome potential rental yields…I figure an annual income of $18,300. That's a gross yield of 13.6% on those condos from $134,000.
And at that, I'm being conservative… The influx of remote workers that Tulum is seeing today is just the tip of the iceberg. Its next stage of growth is only just getting started. And I have another RETA-only Tulum deal already in the works…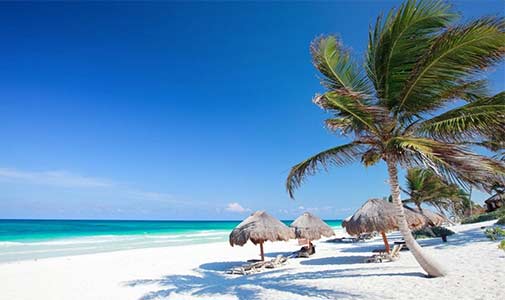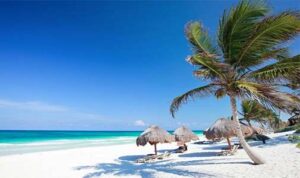 Likewise, the WFH trend will be an added profit driver for our recent RETA-only deal in Panama.
Members could buy steps from the sand, on the nicest, closest beach to Panama City from $219,000. This insanely low price gets us a plug-and-play deal on two self-contained luxury hotel suites. Fully furnished and equipped. Turnkey. Offering incredible income and capital appreciation potential…
I reckon that five years after delivery, our two suites together will be worth $364,700. That's a gain of $145,700. If you want to sell…
As a hands-off rental play, we're looking at exceptional returns. I figure net yields of 7% to 15.8% as the community becomes established.
It's the kind of place the WFH-set will want to be stay. It has the luxury of a best in class community, but with all the benefits of a global city on your doorstep…
Here's a picture a contact recently sent me while they were working remotely on the same stretch of the Pacific coast, but they were on a beach farther from Panama City than where we have our opportunity.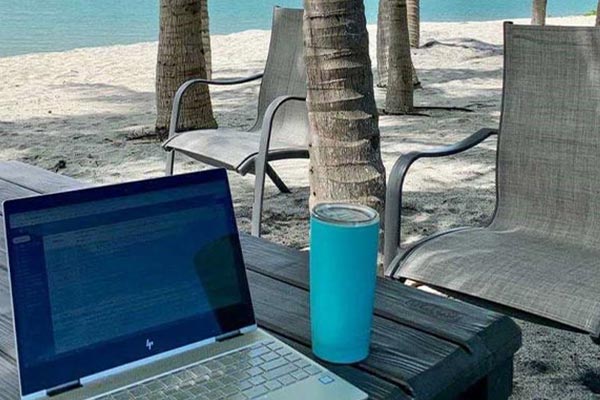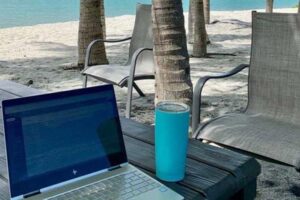 We're already out ahead on what is perhaps the biggest global real estate opportunity of the 21st century.
With our extended network of insiders, RETA members get exclusive access to off-market deals in destinations that most people only dream about.
We already have many more exclusive RETA deals in the pipeline. As I told you yesterday, I've just uncovered an opportunity to own in one of the most prestigious communities in Portugal's Algarve for €120,000 under market value and I'll be bringing it to members soon.
I'm on my way to Lisbon, an established hub for digital nomads and remote workers. I think the real estate market there is way overpriced and could crash. I'm meeting with banks and contacts to access the state of things and to position ourselves to pounce if there's a crash.
I'm working on RETA-only deals in the stunning Baja California Sur. In particular, around Todos Santos, Cabos San Lucas, and in the La Paz area.
We have something big coming in the city San Miguel de Allende in the next couple of months. San Miguel is a colonial gem in colonial highlands. An art-rich city and a long-established expat enclave. And I'm looking at a new opportunity for us to buy condos walking distance from the historic center from just $170,000.
I also have another opportunity coming up on Spain's Costa del Sol, where RETA members recently locked in luxury condos with sea views at a 50% discount.
And we've a lot more coming too. Deals in Uruguay, Costa Rica, Brazil, and more…
Tomorrow I've going to send you a video run-through of our upcoming deals. I suggest you tune in.
If you never want to miss a RETA deal…or see your subscription interrupted…get your invitation to Lifetime RETA Membership, for the best-value price, right here.
This offer ends on soon, so be sure to take this "set-it-and-forget-it" opportunity to guarantee you're always plugged in as this buying moment of a lifetime unfolds.
Lock in RETA Lifetime Membership here.
Get Your Free Real Estate Report Now
Sign up for our free daily Postcard e-letter and get a valuable free report on the The 5 Best Places to Buy Real Estate In 2023.
Related Articles
The 10 Best Places to Invest in Real Estate
Why Now Is A Buying Moment Of A Lifetime
European Homes From as Little as $33K