On my first visit to Gozo, it was festa time (there is always a festival going on in one of the local villages during the summer months). I gazed in awe as fireworks exploded above, watching the dazzling flash and waiting for the boom to arrive.
Then, cradling a cold beer, I wandered around the streets of the village where the festa was being celebrated.
Mixing with the local families that crowded the streets, and listening to bands made up of the baker, the butcher, and the local policeman murdering religious tunes and jazz classics alike, it was completely different from anything I had experienced.
And, like Gozo itself, it was magical.
It's also a great spot from a more practical point of view. Here's why…
1. Warm Weather
During the summer months, the mercury climbs toward the 80s F, and the sky is blue most days of the year. July is the hottest month, with an average temperature of 80 F. The coldest is January at 55 F, with the most daily sunshine hours at 12 per day in August, which is also the best month to swim in the sea, when the average water temperature is a comfortable 81 F.
In fact, Gozo enjoys around 3,000 hours of sunshine per year, one of the highest figures in Europe.
2. Bargain Real Estate
The real estate market is strong here and offers attractive tax incentives and cost savings to retirees from many countries.
New one- or two-bed apartments of around 1,300 square feet, located in a picturesque fishing village, sell for as little as $155,000.
Prices for a modest rented property can start from as low as $7,000 per year, and can go as high as your budget and expectations allow. There are fabulous properties here for the discerning long-stay visitor, and the longer the stay, the cheaper the rent.
3. Excellent Healthcare
A large, public hospital services the island—you'll find some of the best heart surgeons in Europe here—and a network of health clinics and pharmacies offer comprehensive healthcare. Non-EU citizens must obtain private healthcare insurance. But U.S. expats here say that the cost of private insurance is lower than back home.
I once stood on a black-spined urchin and had a deep spike in my foot. These can be dangerous. I visited the walk-in medical facility in the island's capital, Victoria, and was seen and treated within 20 minutes.
4. Easy Living
Local and international grocery stores stock everyday necessities such as milk, bread, cheese, meat, and fish, and they all come in under what one would pay in the U.S.
There's also a street market held each day in Victoria. Feast on red tomatoes smelling of the earth, jars of fat green olives, rich cheeses with thick rinds, fresh plump shrimp, speckle-skinned octopus, and red snapper fish pulled flapping from the sea that very day. Then there is the local wine, blood-red and full-bodied, filling your mouth with liquid sunshine.
5. Community Matters
You'll find First-World services here. The streets are swept and lit, there are public parks, good schools, shopping malls, 5-star hotels, Michelin-level restaurants, and friendly village eateries. Plus, the expat community is tight-knit and welcoming, and everyone speaks English.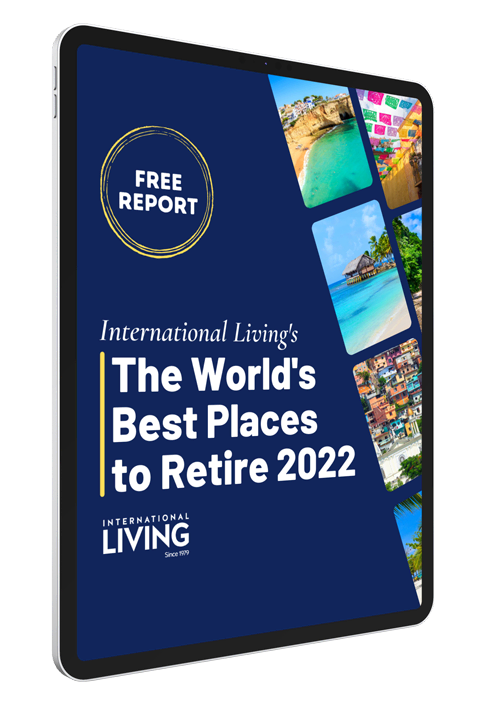 Get Your Free Report on the World's Best Places to Retire:
Learn more about the best places in the world to retire in our daily postcard e-letter.
Simply enter your email address below to sign up for our free daily postcards and we'll also send you a FREE report on The World's Top 10 Retirement Havens, plus access to over 10 more free reports. Our gift to you, on our favorite destinations.
Related Articles
In Pictures: The Best Of Mediterranean Malta
Three Great English Speaking Islands
Upcoming Conferences
Live Better, Spend Less, Retire Sooner
IL's Retire Overseas Bootcamp
October 21-23, 2022 in Atlanta, GA

In safe, warm, welcoming communities abroad, as little as $1,700 a month can bankroll a good life... this fall, our experts will show you where—and how.
Early Bird DISCOUNT—Save $100 When You Register by Sep. 29
Details Here IL's Retire Overseas Bootcamp
---
Registration Now Open for the Best of Europe Private Screening

In the Right Spots in Europe, You Can Retire in Style—in an Historic, Sun-Drenched Locale—for as Little as $2,300 a Month or Less—Especially Now With the Dollar and Euro at Parity for the First Time in Two Decades.
And We'll Show You How, October 1-2, During the Special All-Online Best of Europe Private Screening.
---
The Income Revolution Forum
What if You Had the Freedom to Enjoy the Good Life Anywhere in the World You Wanted to Be...and Get Paid While You're There?
We'll show you how—with hands-on guidance—you could beat inflation...secure your retirement...ditch your commute...and turn a skill you already have into a portable side income of $300, $600, even $3,000 or more a month.