For almost two weeks, my scout Eoin Bassett was wearing out shoe rubber in Portugal, trekking through hidden hill towns and uncovering the very best real estate opportunities in the stunning yet overlooked region of Alentejo…
His journey took him from Lisbon to the small, picturesque town of Castelo de Vide, through to the popular tourist town of Marvão, and down to the region's capital, Evora, and then Beja.
His road trip ended in the historic beach town of Lagos in the Algarve…
As Eoin says: "It's my favorite place on the Algarve and after the heat of the Alentejo plain, the Atlantic breeze was exquisite…"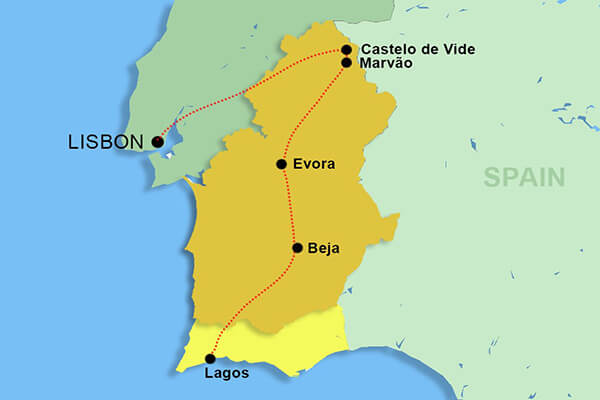 If you're a regular reader, you'll know that the Algarve is also where you'll find the most profitable real estate deals in all of Portugal.
The Algarve is indeed something special. It offers perfect weather, amazing beaches, and world-class golf. It's easy to get there, the cost of living is low, the food is great, and it's safe…peaceful.
Yes, you'll pay a higher sticker price than in the Alentejo, but the profit opportunity here is incomparable. Buy right and you can lock in huge gains from the get-go and set up an income stream in perpetuity.
The Algarve is the kind of place that does well in good times and bad. It attracts a huge mix of markets. It's what I call an "internationalized destination" that draws Northern Europeans, North Americans, and even folks from as far away as Asia…
It's a place where, no matter what happens, people always come.
In particular, I'm laser focused on the historic town of Lagos. It's a place where best-in-class property is in incredibly hot demand. By getting in early on the right condos, in the right locations, we can do very well. Demand is surging, supply is scarce, and there are constraints that put serious limitations on availability.
Last year, despite the lockdown, I hear some property owners in Lagos were still pulling in gross yields of 7%.
Given what was going on in the world, that's impressive.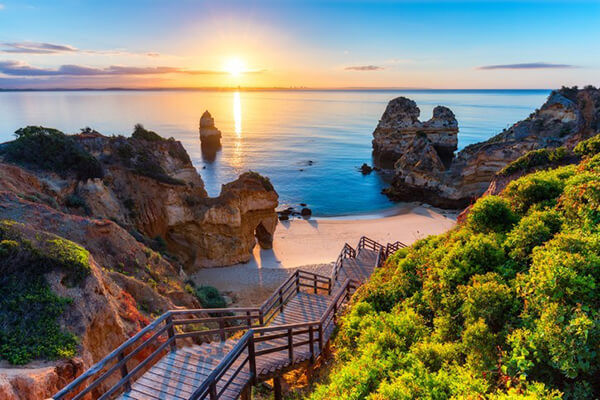 Lagos is booming and members of my Real Estate Trend Alert (RETA) group who have bought there are sitting pretty.
One RETA member bought two condos as investment properties in Lagos about five years ago for approximately €430,000 each. They rented them both, bringing in an average of about €30,000 (a 7% gross yield) a year each and recently sold one for €650,000. Those are some serious gains…
My scout has told me that he heard on the grapevine of someone recently selling a condo for a €275,000 gain. A condo they bought just two years ago in the range of €400,000.
And, when you figure we can borrow up to 80% of the purchase price at sub 0.9% rates, the return on cash invested is exceptional.
The trouble is, the best deals here go extremely fast and opportunity on the ground is getting scarce…
That's why I've gathered together some of the best, most profitable deals available there right now…
Deals you can act on now…
Including the chance to lock down a discount of more than $53,000 on stunning luxury condos in the Algarve's best beach town…
I've put all the details in my report Hot Opportunities on Portugal's Sunny Algarve.
These are the kind of high-quality construction and big, livable condos that renters are looking for. I figure we'll see 7% annual appreciation and a 7% gross yield from these two-bed condos…
The developer has already put his prices up, which makes this opportunity even more urgent.
When my scout was in Lagos two weeks ago, he spoke to a sales agent who told him condos in this community that listed for €600,000 18 months ago are now on the market for €800,000.
And the financing makes this even more attractive…
Using leverage supercharges all of our Portugal plays. Like I say, Portuguese banks are lending to foreigners at incredibly low rates—we're starting to see rates of 0.9% and under—with as much as 80% loan to value.
Get the full low down on the deal, along with contact details you need to act on this opportunity, in my special report, Hot Opportunities on Portugal's Sunny Algarve. You'll get a copy today, when you join Real Estate Trend Alert.
Along with this chance to lock down a discount of more than $53,000 on stunning luxury condos, in my report I've also highlighted more of the best opportunities available in the Algarve right now.
Including:
A 5% discount on a high-end condo with a premium Lagos address…
An opportunity to own something truly rare in the "authentic Algarve" with 10% off…
And a discount on two-bed condos in a low-key, Algarve surfing town.
Like I said, these deals will go fast. If you're interested, you need become a RETA member today and I'll send you a copy of my report straight away. All the details are here.
Get Your Free Real Estate Report Now
Sign up for our free daily Postcard e-letter and get a valuable free report on the The 5 Best Places to Buy Real Estate In 2023.
Related Articles