"I found this place while I was out riding on my motorbike," James Alred, 67, says, gesturing to a backdrop that can only be described as heavenly.
We're sitting in a small, beachside restaurant just yards from the Mediterranean, eating the freshest sea bream imaginable, brought to our table piping hot with golden sear marks crossing the white flesh. A glass of cold, white Albariño wine from the Galicia region of northwest Spain is a delectable accompaniment.
In a big city, a location like this would be unimaginably upscale and pricey. Here in the Spanish town of Dénia, our two lunches, with wine, mineral water, and coffee, come to around $40.
Even though James lives just outside a high-end resort in Spain, he and his wife, Claudine, 62, pay just $1,140 for their two-story, four-bedroom house with views of the Mediterranean, balconies, and the structure of a 700-year-old well in their back garden. "In Portland," James points out, "we'd be paying at least $2,000 to $3,000 for this."
For James, the best part of the property is the smaller apartment that comes with the rent, which he uses as a rehearsal room and recording area for his music projects. Under the moniker James Faretheewell, he recorded three albums in Portland. He also worked as a photographer. While he's retired from the photography business, true musicians never give up, and living on Spain's Costa Blanca gives him ample time to rehearse.
Claudine's work as a tour guide brought her to Europe repeatedly, and, tagging along, James realized over the years that the continent was a perfect fit for their lifestyle and values.
"We were happy in Oregon, but we got disillusioned with how things are in the U.S. It's so divided and angry. We were spending longer and longer on visits to Europe. Every year, we'd be here for two to three months. In 2018, we were visiting Claudine's family in France and decided to drive down south and explore Spain. We found Dénia by accident and loved it enough to stay."
The town has everything they need. Bars, restaurants, a daily produce market, a healthcare center, and a pleasant mix of locals and expats. "I love that it's so international here," says James. "You hear a lot of different languages when you walk down the street."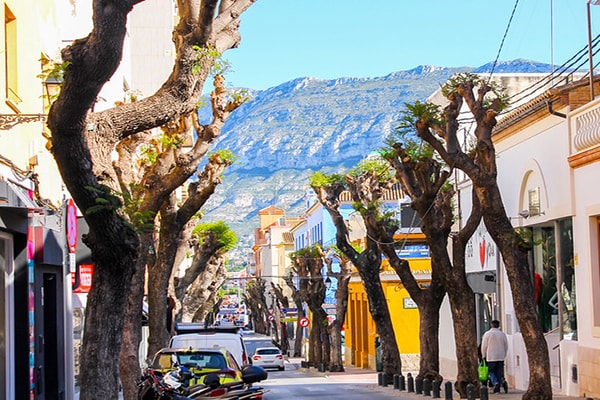 It clearly suits him, and it's doing him good. "It's partly the Mediterranean diet," says James. "But it's also due to the Spanish culture. In small towns like Dénia, businesses take long lunchbreaks, and I still haven't gotten used to that. I might be tempted to buy junk food, but the stores are closed when I go there!"
James laughs. "It's not as convenient as in the U.S., but it's probably better for me."
Related Articles
There Are Many Reasons for Moving to Spain
An Overview of Traditions and Culture in Spain
Valencia: Comfortable City Living on Spain's Mediterranean Coast