Who wouldn't want to live in Italy, Europe's most intriguing and seductive country? Just think of its warmth, style, and wonderful food…its excitable people and their zest for life…its art treasures and the architectural glories of its magnificent past.
Even if you've never been there, Italy is one of those places that tugs at the heartstrings. And once you have been there, you're always looking for reasons to go back.
Although Italy is not generally perceived as being a bargain location for property buyers, there truly is something for everybody. In these three Italian regions—Tuscany, Umbria, and Puglia—travelers find good value, rich Italian culture, and fewer crowds.
Tuscany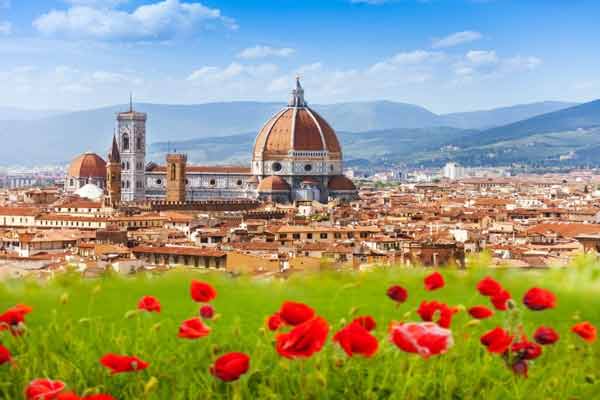 For many people, Tuscany embodies all that is Italy. Here you'll find the quintessential landscape of dreamy hill towns and cypress trees that seems to come straight from a quattrocento masterpiece. Tuscany is lovely, with an almost endless supply of towns and villages just begging you to linger.
Tuscany or Toscana (its name in Italian) is the fifth largest of Italy's 20 regions, located slightly north of the center of the peninsula, with a long stretch of Mediterranean coast. It encompasses 8,800 square miles and has a population of 3.7 million. The region is broken down into 10 provinces: Massa Carrara, Lucca, Pisa, Livorno, Grosseto, Pistoia, Prato, Firenze, Arezzo, and Siena.
The number of international visitors to this picturesque Italian region has now surpassed 90 million a year and keeps growing. However, they all tend to go to the same places, like Florence, but Tuscany is awash with hidden gems.
The city of Arezzo, 50 miles south of Florence, has everything you need: good shopping, excellent restaurants, lots of historical sites, and a beautiful park at the top of the town. The Piazza Grande is the heart of the medieval city. This sloping square is surrounded by magnificent buildings, including the apse of the church of Santa Maria della Pieve and the Palazzo del Tribunale, with its beautiful semi-circular staircase.
There are plenty of homes for sale for less than €200,000 ($231,710) in the old town center but look outside the historic center and the prices go down while the square footage goes up. There are dozens of apartments for rent at extremely reasonable prices, too—between $440 and $640—with many being furnished.
Umbria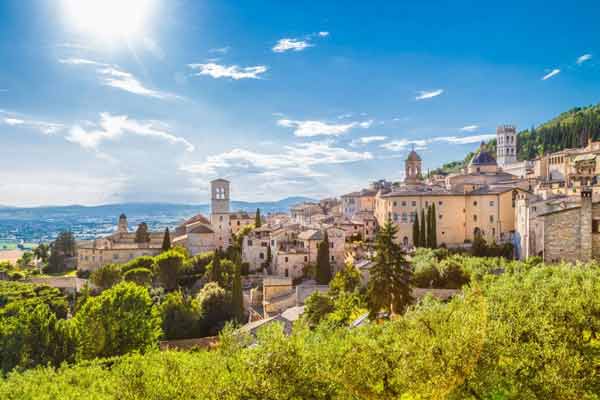 Umbria, the region that lies between Rome and Florence at Italy's geographic center, has an endless supply of utterly charming towns and picture-postcard landscapes.
It seems to encapsulate the best scenery and aspects of Italian life into one land-locked region. Here you'll find perfectly preserved hill towns at every turn, where villages have a sense of life and history, and enough services to satisfy daily needs. The vine-striped hills produce excellent wines—Sagrantino di Montefalco ranks up there among the most noted vintages by casual quaffers and wine snobs alike, and Orvieto is a white that is perfect for summer enjoyment.
From earthy truffles on pasta to hearty meats to abundant fresh vegetables grown in the region's fertile fields, the food of Umbria bears resemblance to its neighboring regions, Lazio and Tuscany, yet with its own flair that comes from using local products, like saffron, lentils, and exotic black celery.
Except for its lack of a coastline, Umbria offers everything that Tuscany does, but at a much more affordable price point. All told, retirees could have a pretty charming life in Umbria with a budget of €1,350 (around $1,560) a month.
The well-kept town of Todi, is one of those appealing places that is big enough to have everything you need, but small enough to maintain a sense of community.
Great food, great wine, and Rome just 70 miles away—there always seems to be something going on in lively Todi: antiques fairs, festivals of music, dance, and film. At the center of town is a piazza so perfect it almost looks as though it was made for a movie set.
"I'm not going to lie to you: It's steep," says IL Italy Correspondent, Valerie Fortney Schneider. "That said, I love Todi's overall atmosphere; it's got a warm aura to it and it gets my vote as the overall friendliest town."
Sitting above the Tiber River valley, Todi has maintained its agricultural economy. The valley is cultivated with grains, the hills with vines and olives. Thick Fiorentina steaks, game meats, and battalions of chickens slow-roasting over open fires are some of the mouth-watering delicacies to be savored here.
Puglia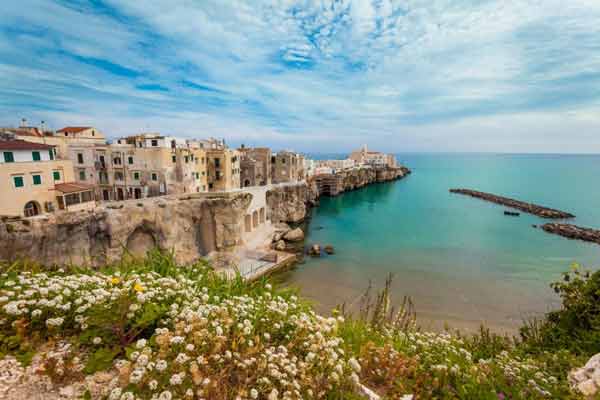 Puglia is the kind of place that invites superlatives. The best food, the friendliest people, the cleanest beaches, and the most fascinating architecture are common compliments that visitors declare after encountering this sun-kissed region.
Puglia (or Apulia, as English guidebooks write it) is practically a peninsula, with the Adriatic Sea on the east side and the Ionian Sea to the west. All told, there are about 500 miles of coastline, and even the most inland towns are not much more than a 30-minute drive from the sea. Puglia has the best choice of beaches in Italy.
It offers easily accessible stretches of soft golden sand when you feel like sunning, and low reefs and deep-water coves if you want to snorkel. Art treasures that will leave you speechless are hidden away in centuries-old churches.
However, it still gets far less attention than more popular parts of Italy like Tuscany, and so prices are correspondingly lower. You can live well here for about $1,600 a month, including rent of as little as $369.
With so much coastline, Puglia has plenty of seafront towns. Otranto, south of Lecce on the Adriatic, is one such town which offers great restaurants and the area's swimming coves and beaches are among the best in Italy. The seafront walkways and balconies are perfect for taking in the vast views and startlingly blue water.
Oranto is full of surprises—you cross a bridge to reach the old town, which is dominated by its massive castle and the plain facade of the cathedral doesn't prepare you for the riotous mosaic floors inside; they're truly astounding.
Related Articles
Live Your Dream Retirement in Italy