There are many reasons my wife Jen and I love living in Costa Rica. We enjoy the slower pace compared to the busy lives we led in the U.S. We enjoy the pleasant temperatures provided by living in the mountains of the Central Valley. But mostly, we love the abundance of nature and wildlife that exists all around us.
I enjoy taking a hike each morning. I usually do one of three hikes I have found that take me through coffee farms, over rivers, and up into the mountains that surround Poas Volcano, near where I live.
Ever since moving here, over two years ago, people in the area have asked, "Have you been to the waterfall?" Apparently, there is a huge waterfall in the valley between the ridge I live on and the next one over. I always assumed it didn't exist until a friend said he wanted to show me a "hidden treasure."
We set out early in the morning and after almost an hour of hiking we reached a seldom-used farm road, which eventually turned into a skinny animal trail. As we descended to the valley floor I could feel the temperature drop and after rounding a bend we reached a river and could hear a wonderful sound, the kind that people play at night to soothe them to sleep…the sound of a waterfall.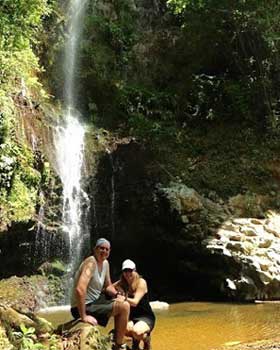 We walked a parallel path to the river for about 50 yards and the sound became deafening. We suddenly came out of the brush and there, towering before us, was a 120-foot waterfall, as tall as a 10-story building. And it was practically in my back yard, just a two-mile hike from my home.
Below the fall was a natural pool that we waded into. The cold water was refreshing after the strenuous hike. Not only was the water cool, but we were also cooled by wind created by the water falling from such a height. Standing in the pool we strained our necks trying to see the top. We were in awe.
Upon reflection on the way home, I realized that the reason I love living in Costa Rica is simply that; I am living. I live in a country where I'm surrounded by wildlife and natural wonders and now have the time to enjoy it all. My life before moving to Costa Rica was very busy and I had to travel outside the city to experience nature.
After returning from the waterfall I was sitting on our back porch and as if to put an exclamation point on this idea of beauty in my backyard, my wife Jen turned to me and asked, "Did you hear that?"
And I did hear it, a bullfrog-like croak that we knew to be the call of the keel-billed toucan. I sat my laptop down and ran inside to grab my camera. Returning outside we crept around the corner. There he sat in a tree on our property. A large bird with a black back, yellow chest, and a beak painted the colors of the rainbow. We watched the toucan and took pictures as he hopped from branch to branch. Soon a baby toucan joined him before the pair flew off to brighten someone else's day.
Yes, this is why we live in Costa Rica.

Get Your Free Costa Rica Report Here:
Learn more about Costa Rica and other countries in our daily postcard e-letter. Simply enter your email address below and we'll send you a FREE REPORT – Costa Rica: The Land of Pura Vida
This special guide covers real estate, retirement and more in Costa Rica and is yours free when you sign up for our IL postcards below.
Related Articles
Best Places to Live in Costa Rica: Five Top Expat Havens