For decades Costa Rica has been among the world's premier retirement destinations. You'll find established and welcoming expat communities all across the country. It's easy to make friends to explore the jungle with, or to share an ice-cold, two-buck Pilsen beer while watching the sun set from a beach. And, given the many English speakers here, you don't need fluent Spanish to fit in (though knowing some phrases helps). It all adds up to an easy, seamless integration into Costa Rican life.
Are you interested in retiring abroad? Yes | Not Sure Yet
Stick your toes in the sand and let the surf wash your worries away. Fill your days fishing, surfing, or scuba diving amid vividly colored tropical fish. Or settle in a mountain town where hummingbirds stop by your garden every day.
Stuff your shopping bags with a week's worth of delicious fruit, vegetables, bread, meat, and cheese from the local farmers' market for $40. And modern highways mean that access to big-city conveniences, U.S.-brand stores, and world-class hospitals is straightforward.
With so much choice, picking the right Costa Rica haven off your shortlist just depends on what you want. In the video below, IL Costa Rica Correspondent Kathleen Evans takes us through the top five retirement spots in the country.
Transcript: 
Hola, this is Kathleen Evans, International Living's Costa Rica correspondent. Today, I'm going to take you on a journey around Costa Rica and we're going to talk about the six most popular regions in the country.
Now, International Living has been covering Costa Rica since the inception of the magazine in 1979… so it has been a popular place for decades. But what that means to you is that if you come to Costa Rica, you're not going to be a pioneer. Everybody has done this already for you. So, you're going to find things like North American style amenities, better infrastructure, more paved roads, better schools (if you have kids), shopping at your fingertips. These are the sort of things you might not find in some of the less expensive or rustic countries that you might be considering.
So, let's start off with the number one expat region.
1. The Central Valley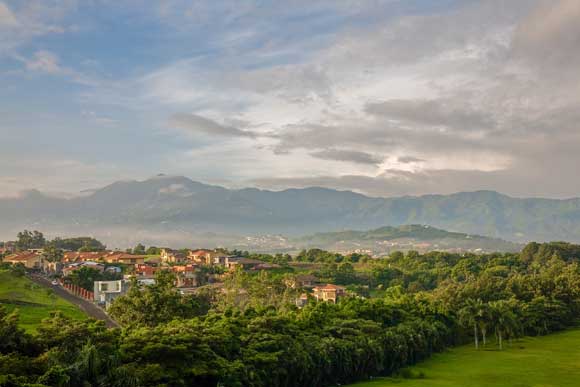 The Central Valley encompasses the capital city of San Jose and pretty much runs from San Ramon to Cartago, which is about 90 miles.
Now, the Central Valley is a bit of a misnomer because it's not actually a valley. It's an elevated plateau ranging from 3,000 to 5,000 feet. And because of that elevation, there's perfect weather there, and every expat will tell you that's one of the main reasons they chose to live there. Many of the homes don't even have heating or air conditioning, rarely getting above 80 F or below 60 F almost anywhere.
Now you can live big-city living in the middle of San Jose. That's going to offer you museums, art galleries, sports, entertainment, all kinds of shopping, big-box stores, and of course, the best medical in the country as well. Now, a lot of the expats who there choose to live in one of the suburbs, such as Santa Ana or Escazú, to name some of the most popular ones. This way, they can enjoy suburban living close to the city for anything, but also enjoy life a little bit outside the city with its spectacular mountain views all around.
But also, part of the Central Valley are other smaller towns like Atenas, Grecia, Cartago, or San Ramon, which is a little bit bigger than some of the aforementioned. Each of them has their own little personality, a very tight expat community, beautiful housing options, lovely developments, and that sort of thing.
They're nestled in the mountains and have gorgeous views. You'll find coffee plantations, sugar cane, and that sort of thing, so it's pretty much whatever your style is… if you don't want to live on the beach etc., you can find it in the Central Valley.
Some of the other things I wanted to mention. The Central Valley is also where our main international airport is. The airport code is SJO. It's in suburban Alajuela, right next to the city, and what's nice about choosing to live there is that you are right in the middle of the country. So, if you do like to travel around and explore new things, you're kind of right in the middle of the action. They're the reasons why about 70 percent of the population of the country choose to live in the Central Valley.
2. Arenal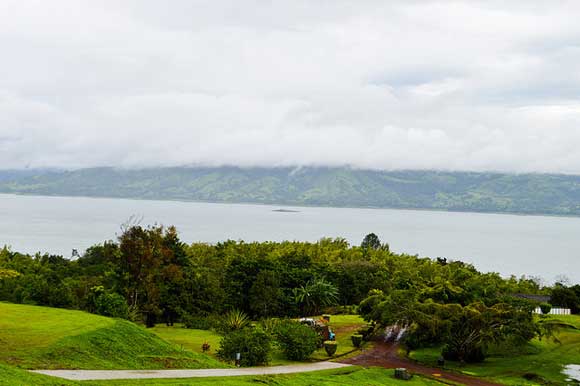 So next up, we're going to be talking about the Lake Arenal area. The lake is in the northwestern part of the country. It's the country's largest freshwater lake and it's nestled between the provinces of Alajuela and Guanacaste.
Now, why do people like to live in the Lake Arenal area? Well, for one, you're not going to find large scale development like you will in some of the other communities around the country. It sits on this beautiful thirty-three square mile freshwater lake and many of the newer homes that they're building in the small towns that top the lake comes with a boat slip so you can actually enjoy water sports or fishing out on the lake as well.
Now the most popular expat town on the lake is called Nuevo Arenal and it's small, rural country-living just like all of the other towns. But you will find everything you need for day-to-day living—gas stations, restaurants, shopping, pharmacies, banks, and that sort of thing. So, a lot of people are choosing to live there.
There's also a lovely community in La Fortuna, which is on the far side, actually closer to the volcano. There's a small airport there and a great multitude of different restaurants. Some of them are very high-end actually because it's a big tourist destination. Expats and tourists have been coming for years to take advantage of the beauty of the area and to enjoy this beautiful volcano.
There are lots of outdoor activities. There's the national park where you can enjoy everything from zip-lining, horseback riding, hiking, and whitewater rafting. So, there's a lot of outdoor activities available. There're also these beautiful waters so many of the hotels of hot springs. You can buy a day pass to go enjoy theirs or you can just go out in nature. The locals know where to find these beautiful springs. You can actually sit back in the rapids and enjoy the geothermal waters that are very healthy for the mind, body, and soul.
As I mentioned, there aren't large developments everywhere. This is country living. So a lot of people who like the big city activity might find it a little bit too quiet here. However, the expats who live there, enjoy that area because they're completely one with nature. There're mountains surrounding you and it's very quiet.
Now, as far as major medical, you're not going to find it right here. There are some small clinics in the area, or there is a town just of the lake called Tilaran, where you can find some larger medical centers. But if there's anything major, you would have to go to Liberia or San Jose.
The lake area is about an equal distance from both of the main airports, which is nice to have that choice if you want to fly in one and out the other. And as far as the weather, it's absolutely beautiful. You'll have no need for heat or air conditioning.
So, all of these reasons make it a great expat destination.
3. The Gold Coast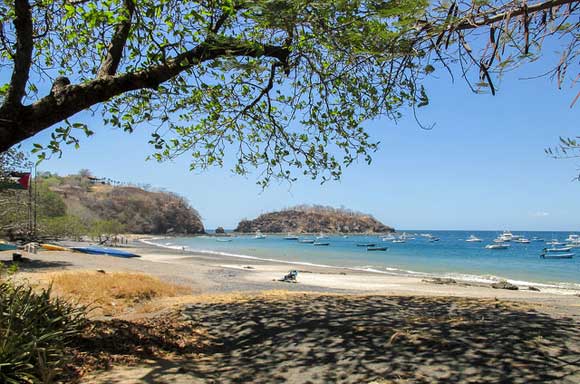 The popular beaches of the Gold Coast each have their own community, their own personality, their own color of sand and type of water, whether it's a great surfing beach or a quiet, calm cove.
We're looking at Playa Hermosa, Playas del Coco, Las Catalinas, Playa Potrero, Flamingo, Conchal, Tamarindo, on south to places like Nosara and Samara, and all the way down to the bottom to Santa Teresa and Malpais. We've got a lot of popular expat beaches all along the Gold Coast. So why do people choose to live there?
Well, for one, there's the least amount of rain in Guanacaste. So, if you like a lot of sunshine, this is the best place for you to be in Costa Rica. It's consistently warm to hot temperatures, rarely getting below 79 F at the coldest.
Once they opened Liberia International Airport, commerce really started exploding here because the folks that lived here didn't have to make that four-hour drive to San Jose anymore. So we've got an international airport, you have private and public hospitals, you've got big box stores that have moved in, you have an immigration office, and you have a drivers' license office. Even 10 years ago, you weren't able to do all those things you can do in Liberia now so it's made this beach area extremely popular. There are more championship golf courses in the Gold Coast area than the rest of Costa Rica. And there is excellent pacific diving off the coast of Las Catalinas' islands, which has gained a lot of popularity with divers.
Now, as I mentioned, every beach has its own personality. So, if you like a touristy international town with lots of restaurants and different food choices and things to do, you might want to look at a place like Playas del Coco or Tamarindo. But then there are also lots of little sweet, quiet communities, and the only way to discover it is to get in your car and drive the coast. So I do recommend doing that if you're interested in the beach areas of Costa Rica.
Now one other thing I wanted to mention about Nicoya, which is all part of this one peninsula, is that it's considered one of the world's only five "blue zones." Now, maybe you've never heard of that before, but this is something that National Geographic researchers have come across around the world. They noticed these five zones where there is an unusually large number of centenarians or people who are living over 100 years old. And the deeper that they dug into this, the more they found out that these blue zones share some really important things like abundant sunshine for Vitamin D, less processed foods, active lifestyles, living off the land, close ties with friends and family, and a deep faith. And that's one of the things you'll find in this region. You'll also find a lot of yoga studios, healing retreats, etc. So, it makes this part of the country a quite beautiful and unique place to live.

Get Your Free Costa Rica Report Here:
Learn more about Costa Rica and other countries in our daily postcard e-letter. Simply enter your email address below and we'll send you a FREE REPORT – Costa Rica: The Land of Pura Vida
This special guide covers real estate, retirement and more in Costa Rica and is yours free when you sign up for our IL postcards below.
4. Central Pacific Coast
The Central Pacific Coast stretches from Puntarenas to Manuel Antonio. The most popular expat places here would be Playa Herradura, where there is a large upscale development called Los Sueños, Playa Jaco, Esterillos, and down the coast to Quepos and Manuel Antonio.
The Central Pacific coast is the most established in the country. These are the beaches that are closest to the capital in San Jose. For people who want to be within an hour, or an hour or two of the city, they choose to live in this part of the country so they can get to San Jose easily. It is the heart of your best healthcare, shopping, and it's close to an international airport.
There are two big marinas there. One in Herradura at Los Sueños and one in Quepos, which has recently been expanded. So, you're going to see a lot of great sport fishing and that sort of thing because of these two excellent marinas.
The Central Coast is a little more topical and lusher. It's not quite as dry as Guanacaste so you'll see a bit more of a rainy season here, but the tradeoff is that everything is greener.
There are a couple of good surfing spots along the coast. One of those being Playa Hermosa, where we see a lot of international surfing competitions. There are also many housing choices. So, if you'd like something that is kind of like the "Vegas of Costa Rica" on the beach, you can find that in Jaco. There are casinos, there are all kinds of nightlife, shopping, and of course, beautiful beaches there as well. But then there's nice, quieter places like Esterillos Este where you can enjoy some affordable housing in the area and a quiet neighborhood.
The most visited national park is Manuel Antonio, which is absolutely stunning. Some of the prettiest beaches are there as well. It's also home to the largest LGBTQ+ community. So if you're looking for an alternative lifestyle, it is very gay friendly there. It's a big arts community as well. You can find lovely housing all along the coast and there is more clear title property in this part of the country, where you can actually own the title to the land on the beach, compared to some of the other places in the country.
5. The Southern Zone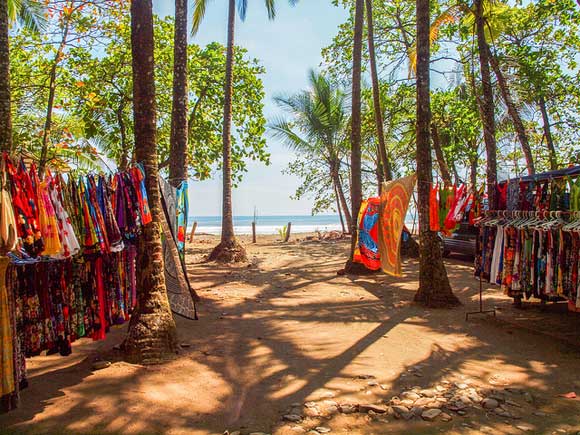 The Southern Zone encompasses this entire area on the Panamanian border. We're really looking at the Costa Ballena area, which is the Whale Coast, and the trio of cities—Playa Dominical, Playa Uvita, and Ojochal. You'll also find the Osa Peninsula and our main national park, Corcovado, which National Geographic researchers call one of the most biodiverse places on earth. So, it's pretty incredible.
Now, why would people want to live in the Southern Zone? Well, everything is eternally green. They do see a little bit more rain than the northern parts of the country. But it is absolutely stunning, unspoiled, and natural. It's much less developed. The road was paved down there, probably going on a decade ago now. Before that, things were kind of slow to develop because it took such a long time to get down there. But I can't say enough about the wildlife and biodiversity.
The real estate there tends to be a little bit less expensive than some of the other larger beach communities to the north because it is a little bit less developed. Now, in Golfito, there is a duty-free shopping zone and you can buy everything from tires to booze to furniture to linens, and so much more. And this is a very popular place for expats and ticos from all over the country to make a road trip to get major appliances and that sort of thing. Also, in Golfito, they've put in a new mega marina. They are working on phase 2 currently but this is the only marina on the Pacific side that can handle mega yachts. It has a giant refueling station and because of this new development, we're seeing this changing pace in Golfito, where we are seeing other new developments are coming and new infrastructure, better airport, and that sort of thing down on the southern side.
There's also a couple of islands off that part of the country, such as Isla del Caño and Isla del Coco, which are great for diving. In fact, the best hammerhead schools in the entire world can be found there. So, there are a lot of good reasons for people to feel a little bit more off the grid when they live in the southern zone.
Bonus: The Caribbean Coast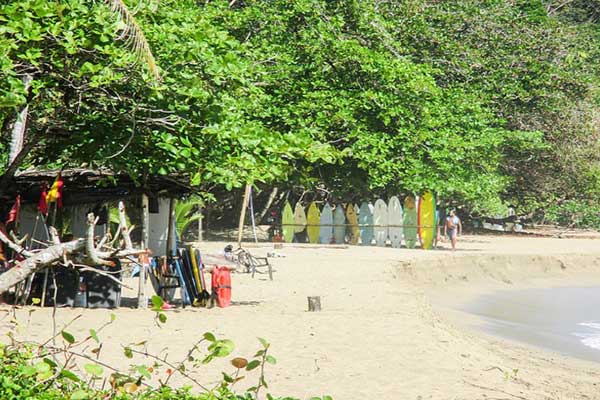 When we talk about the Caribbean side of Costa Rica, we're talking about the costs from the Nicaragua border to Panama. The top area of this coast is all protected land and also Tortuguero National Park so you won't find any development along here. The same can be said for Puerto Limon. Although it is a large city, it's a big port city and it's not really popular with expats. So, when you hear about expats talking about living in Limon, they are going to be occupying these tiny little beach communities along the coast, with the many city being Puerto Viejo.
The Caribbean side is often overlooked as a destination, partly because it's a little more difficult to get to, and there's no major airport there. You're flying into San Jose and it's a good four-hour drive down there over the Continental Divide, which is a two-lane highway, and in the rainy seasons, it's subject to mudslides. So, that area tends to be a little more isolated. They have consistently tropical weather and they don't really have a defined rainy season. In Costa Rica, our rainy season, or "green season" as we lie to call it, runs typically from May through November. Although many of those months you might not see much rain until you get into September or October. But on the Caribbean side, it's not unusual to see rain in February. But again, these are small tropical showers that happen and move away quite quickly.
Now, there is an Afro-Caribbean vibe there which is very unique, and you won't see it anywhere else in Costa Rica. You will see great influences in the food, for example. They will cook with more chilies. They've got a little more heat in the food, and they like to use coconut milk. It's also got the whole Caribbean vibe in the music. You'll hear steel drums and that sort of thing. There's also a Creole language that's spoken by many of the locals but you'll hear English there as well. It's definitely less developed. You're not going to see any large development, any large-scale hotels, or major marquee names. Everything is kind of geared toward eco-tourists, it's small and rustic, which is kind of nice since you've got less stress and it's easier to unplug there, and that's why a lot of people enjoy living there. It tends to be more free-spirited and youthful.
There are not any real big major medical centers. There are some in Limon. But for anything that you might have like ongoing treatments, it's probably not the best part of the country because you would have to travel all the way to San Jose for major treatments. But other things like shopping and that sort of stuff can be found in the port city of Limon.
The nature there is absolutely incredible as well, similar to what you would find in the Southern Zone. It's not unusual to have a sloth climbing a tree next to you, just out in nature. So, a lot of folks really love to get off the grid there and if that sounds like something you'd be interested in, I'd highly suggest checking out the Caribbean side.
Get Your Free Costa Rica Report Here:
Learn more about Costa Rica and other countries in our daily postcard e-letter. Simply enter your email address below and we'll send you a FREE REPORT – Costa Rica: The Land of Pura Vida
This special guide covers real estate, retirement and more in Costa Rica and is yours free when you sign up for our IL postcards below.
[kathleen-evans-bio]
Related Articles
In Photos: The Top 5 Beaches in Costa Rica
When is the best time to visit Costa Rica?
Upcoming Conferences
With just a laptop and an Internet connection—you could speak English and get paid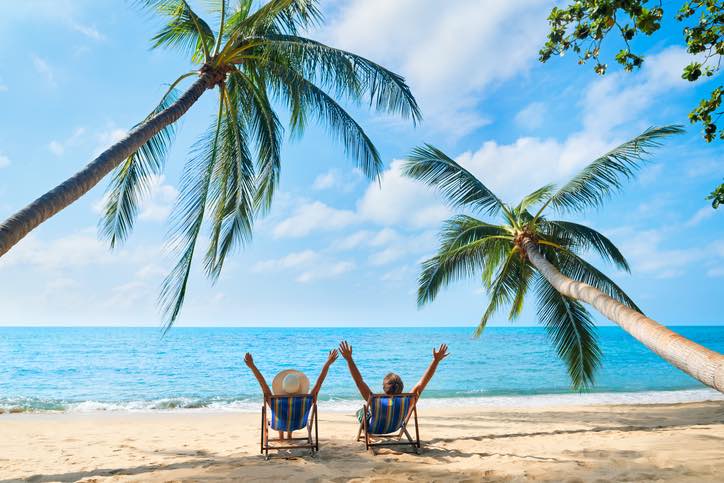 Register now and save!
Earn-with-English Online Masterclass
August 20, 2022
Over one power-packed day, discover how you can turn your native English skills into an online income you could earn from your living room—or anywhere in the world you want to spend time. Don't let inflation derail your retirement. This is a fun, flexible way to earn from anywhere—getting paid to speak English.