"There's something in the air that provides the deepest sense of peace. People laugh about the Pura Vida but it's true, it's really here. All you have to do is accept it." That's expat Chuck Mollenkopf talking about the elusive ingredient to the "pure life" he has found in Costa Rica.
"Pure life" is the literal translation. But that doesn't do it justice… "I actually enjoy everything more and appreciate the small things, such as trying a new fruit or vegetable each week from the farmers' market in town," says Denice Key from Colorado. "It's the Pura Vida everyone talks about."
It's a philosophy of favoring relaxation, friends, family, and fun above all else. It's about cherishing life's simple pleasures and not rushing to get things done. And it comes to infect everyone who calls this country home.
For decades Costa Rica has been among the world's premier retirement destinations. It still is. Chuck and his wife Anna launched their Pura Vida lifestyle in 2012. They sought a mild climate, better healthcare, amazing views, and lots to do…and all at a lower cost of living.
You'll find established and welcoming expat communities all across the country. It's easy to make friends to explore the jungle with, or to share an ice-cold, two-buck Pilsen beer while watching the sun set from a beach. And, given the many English speakers here, you don't need fluent Spanish to fit in (though knowing some helps). It all adds up to an easy, seamless integration into Costa Rican life.
Stick your toes in the sand and let the surf wash your worries away. Fill your days fishing, surfing, or scuba diving amid vividly colored tropical fish. Or settle in a mountain town where hummingbirds stop by your garden every day.
Stuff your shopping bags with a week's worth of delicious fruit, vegetables, bread, meat, and cheese from the local farmers' market for $40. And modern highways mean that access to big-city conveniences, U.S.-brand stores, and world-class hospitals is straightforward.
With so much choice, picking the right Costa Rica haven off your shortlist just depends on what you want… Here are the five top retirement spots in the country.
1. The Central Valley
By Greg Seymour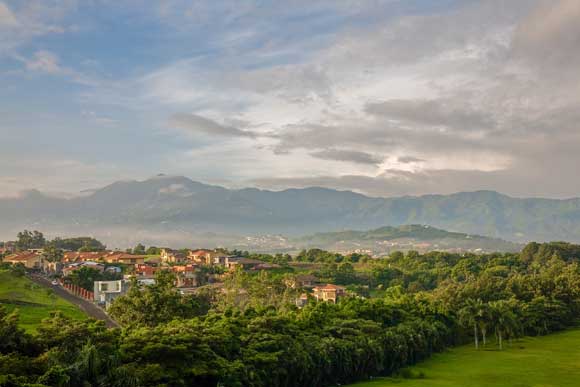 When they retired overseas, Jim and Irina Just wanted great weather and great views. They also wanted to be close to the airport, hospitals, and culture, and to have a vibrant expat community to mingle with. And they didn't want to depend on a car to get around.
And this perfect location comes in right at the couple's monthly retirement income of $2,000.
"This allows us to live really well," says Irina. "We had a terrific life in the States; we just couldn't afford it in retirement," says Jim.
"There is so much to do close to our home here. Irina walks to yoga, and even though we own a car, we often use the local bus. The bus stop is a short walk from our house, and is an affordable way to run errands in town or to take in some culture in San José (an hour away), like a museum tour or a theater performance."
Consistently cool weather is what Costa Rica's Central Valley is best known for: You can expect temperatures in the 70s F year-round. It's located in (you guessed it) the center of the country, surrounded by mountains. Elevations here range from 2,500 to 5,000 feet, giving you mountain views no matter where you settle. And as it's close to the capital, San José, it's also Costa Rica's most convenient retirement haven.
This convenience means the Central Valley is not the cheapest place to live in Costa Rica, although many expats (my wife and I included) can still live well on under $2,000 a month. You'll have everything you need—from modern healthcare to great shopping—within easy reach.
Jim and Irina moved here four years ago from the Pacific Northwest, and they find that their small retirement income goes a long way. Jim says, "We had the choice of living in penury in the U.S. or in luxury in Costa Rica."
"We chose luxury," Irina adds.
Their house sits at 4,500 feet on the slope of Poás Volcano, with expansive views of the coffee farms on surrounding mountains. The temperate climate ensures a small utility bill, as they need neither heating nor air conditioning.
Jim and Irina love the expat community in the nearby town of Grecia. They host frequent dinners with friends, as well as a monthly writers' group.
"Our calendar is full. Retirement is not sitting around doing nothing," says Irina.
You're guaranteed to find a Central Valley town that fits your needs. If you want the amenities and fast pace of city life, try the large towns of Alajuela, Cartago, and Heredia. If you'd rather slow things down, but still have a friendly expat community and great shopping options, you may prefer the farming towns of San Ramón, Atenas, and Grecia.
2. The Southern Zone
By Jason Holland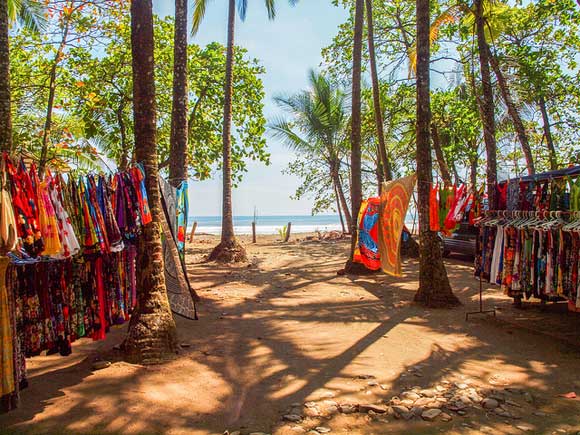 From my perch, I can see the splendor of the Pacific laid out before me in a 180-degree arc. Behind me, the tall, jungle-covered mountains reach up to the clouds. And on every side I'm surrounded by thick rainforest teeming with life. The sun is at its zenith, but I'm not too hot: Cooling breezes flowing down the mountain and off the sea make temperatures comfortable. It's quiet—only the wind rustling through the trees and the clink of ice, as I take a drink from my iced tea, break the silence.
I'm on the southern Pacific coast, popularly known as the Southern Zone, in the home of an expat friend. Only about three to four hours from San José, Costa Rica's capital and largest urban area, this region has a totally different landscape (unspoiled seaside wilderness), lifestyle (laidback beach living), and climate (warm and humid at sea level, but cooler on the hillsides above the water).
The Southern Zone stretches all the way to Panama. But most expats are concentrated in and around three main towns. Dominical, a small surf village, is the gateway to the region. Uvita is the commercial hub, with banks, hardware stores, and pharmacies. Ojochal is the jungle village famed for its gourmet restaurants, which are run by an international cast of expat foodies. Expats here relish the mix of natural beauty and off-the-beaten-path life, yet with modern conveniences at hand.
Californian Robby Anderson, 49, started coming to the Southern Zone 26 years ago for surf trips. Over the years, he returned regularly, until eventually he decided to make this his permanent home.
"There are wealthy people, middle-class people, poor farmers. But everybody hangs out together," says Robby, who lives in Uvita with his wife and daughter. "Nobody talks about what they have or how much they have. In the U.S., advancement is based on material things…bigger houses, bigger cars. Getting here slowed me down. In the U.S., it seems like you never have the time. Here you feel totally connected to the family."
Thanks to his wife's influence, Robby and his family have also adopted a healthier lifestyle, which is easy to do here.
"Here we've really gotten into organic living. We order from a farm in Tinamaste [a farm town about 30 minutes inland]. We eat mostly fish and vegetables," says Robby. "We love the medical care here. And the dental care is unbelievable in Costa Rica."
Completion of the coastal highway in 2010 really opened up this area to expats. But development is small-scale, and the region is still unspoiled. Access roads are dirt and sometimes in rough shape, so four-wheel drive is key. Houses are set among the trees and often have panoramic views of the Pacific. These have become hard to find for under $250,000. Still, deals are out there, especially if you go inland a bit or sacrifice an ocean view. A two-bedroom villa in the jungle can be bought for $99,000.
3. The Caribbean Coast
By Jason Holland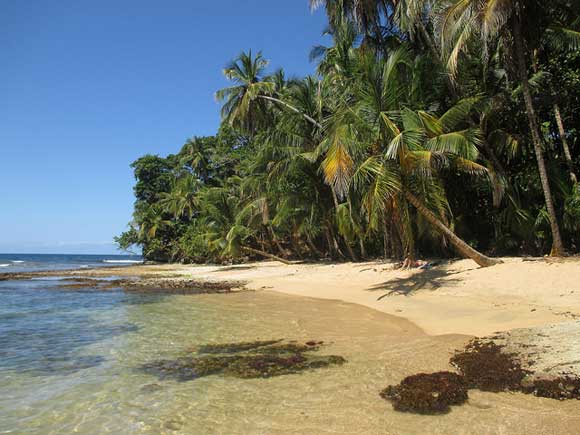 All Costa Rica is a land of Pura Vida. But the Caribbean coast takes this relaxed attitude to the greatest extreme. It's a place where beach bars play reggae as patrons knock back cold beers. Locals slowly ride bicycles rusted from the salt air down the winding coast road. And beach-goers doze lazily in hammocks strung between trees on the beach, pondering a dip in the clear blue water.
Settled by Jamaicans and other Caribbean peoples starting more than 100 years ago, the area still has a strong "island" vibe. The descendants of those original immigrants have retained a unique culture of food (lots of coconut milk and spices), music (reggae and calypso), and language (they speak an island-inflected English and an English creole).
The settled part of this coast starts in the port city of Limón and points south (to the north is a huge wildlife refuge). In towns like Cahuita and Puerto Viejo de Talamanca, and the communities around them like Playa Chiquita, Playa Cocles, Punta Uva, and Manzanillo, you'll find some of the most stunning beaches in Costa Rica: unspoiled stretches of white, black, and golden sand backed by palm trees and thick jungle.
Like most coastal areas in the tropics, it can be warm and humid—high 80s F to low 90s F most days. But sea breezes also help cut the heat, and temperatures cool down significantly after dark. Pamela Carpenter, 79, moved here in 1989. "I really wanted to live in the jungle…in the tropics," says Pamela, who worked as a teacher in North Carolina.
"I'm here sitting in my living room looking over my garden; the house is totally open. Hummingbirds fly in all the time," says Pamela, who has ginger, heliconias, and fruit trees like mangosteen, guanabana, and banana surrounding her home.
Like Pamela, most people here live in the jungle, usually within a quick walk or bike ride to the beach. A two-bedroom North American-style home, set in the jungle but walking distance to shops and the beach, runs $110,000. That's an average price for the area.
Businesses are small and locally run: boutiques, yoga studios, and seafood restaurants. Seafood is cheap, as many locals still go out every day on their boats, for tuna, snapper, and mahi-mahi—$6 a pound. Caribbean-style restaurants offering up spicy chicken and rice cooked with coconut milk will run you $5 to $6 a plate.
One drawback, since the coast is undeveloped, is that services aren't as reliable as in other parts of the country. You have short power outages a few times a week. Internet isn't as steady. And if you have a chronic medical condition or need to see specialist doctors often, this is a tough place to live. There is only basic medical care in these beach communities. The nearest hospital and emergency room is in Limón, more than an hour's drive away.
"There have been lots of improvements over the years and better services," says Pamela. "But even now, people who come here have to be flexible. You have to be relaxed…and be comfortable with the natural environment."
4. Arenal
By Jackie Minchillo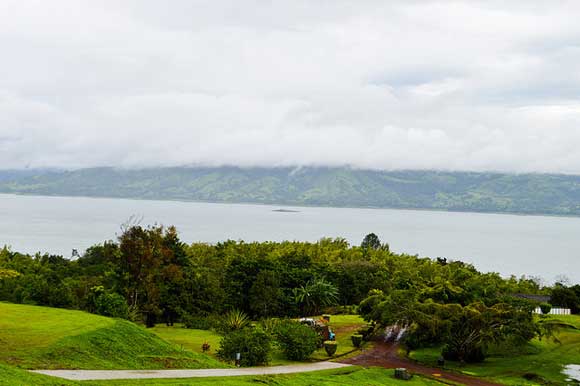 Home to both Costa Rica's largest volcano, Volcán Arenal, and its largest freshwater lake (18 miles long by three miles at its widest), this area is perfect if you're after a laidback retirement in a rural setting, surrounded by natural beauty. Here you can also enjoy a small-town vibe, while having fantastic lake views and a huge selection of water activities to choose from.
The surrounding mountains not only make for a serene escape, but also foster a pleasant climate. You'll enjoy temperatures averaging from the mid-70s F to the low 80s F year-round, with enough rainfall to keep the region lush and fertile. Rain can get heavy from May through November. But you'll still have more than enough sunshine to enjoy views of the volcano and lake in all their glory. The rich volcanic soils and pleasant weather also make this a superb place for your dream garden.
Arenal's expat community is tightly knit, meeting frequently for outdoor get-togethers at each other's homes. They have also set up organizations like the Homeless and Helpless animal rescue and Ladies of the Lake to give back to their new community.
"The living is very easy here," says Lynda Henry. "It's a much different pace. More like the 1940s or 1950s. You can be as social or as alone as you want."
Doris Luby and her husband Ken, originally from Minnesota, chose Arenal for their retirement for its climate and natural beauty. They now operate an animal rescue center in the area.
"Here in the rainforest, even the bugs are gorgeous," she says. "But what we really love about being here is that we've been able to discover the greater purpose for our retirement. Life here is very fulfilling; the harmony between locals and expats is beautiful, and there's been plenty of opportunity to connect with people and work together to make sure this remains a great place to live."
If you love the big outdoors, the possibilities here are endless. From hiking around volcanoes, natural hot springs, and mountain biking, to rock climbing, whitewater rafting, world-class windsurfing, and paddle boarding in the lake itself, you'll never lack things to do here.
Real estate prices, including rentals, tend to be lower than in the beach areas (particularly on the Pacific). Within walking distance to the center of Nuevo Arenal, a popular little town on the lake shore, you can rent a two-bedroom, two-bath house, with all utilities included, for $900 a month. You can buy a similar property even closer to town for $85,000.
While $2,000 to $3,000 a month is perfectly doable for a retired couple, some expats here report living on less. The Lubys say they are able to maintain a monthly budget under $2,000. That budget includes two vehicles, plus the added expenses of running and operating their animal rescue, as well as the utilities and maintenance of their three-bedroom, two-bath home, which they bought for $130,000.
Almost every town in the area hosts a weekly feria, providing access to budget-friendly fresh food. Most expats report lower energy costs in Arenal than you'll find on the coasts; you won't need air conditioning as often here, if at all.
5. Nicoya Peninsula and the Northern Pacific
By Jackie Minchillo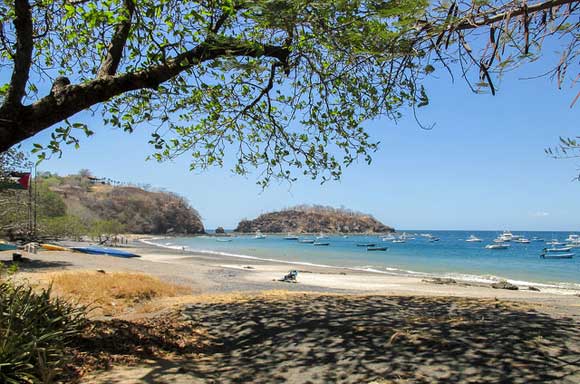 If you're after a warm climate, a healthy lifestyle, and proximity to the beach that won't cost a fortune, then the place for you is Costa Rica's northern Pacific coast and the adjacent Nicoya Peninsula. Both of these lie mostly within the province of Guanacaste, where golden sands feed into the Pacific. Here you'll find the ease and tranquility of beach living with enough modern-day amenities to live comfortably. And the locals may well have discovered the secret to eternal youth…
People have been drawn to this area for years for its healthy lifestyle. People here have a strong sense of purpose, as well as strong social and family networks that ensure they feel loved well into old age. The water has the highest calcium content in the country, helping to strengthen bones. Diets are high in fresh produce and low in processed foods. (You won't find streets lined with chain restaurants here, either.) And a family of four can buy enough fresh produce for a week for about $30.
Of course, you won't have all the conveniences of the Central Valley. But this corner of the country is developing all the time. The Daniel Oduber Quirós International Airport, located in Liberia, the region's largest city, announced a $10 million expansion this year. This makes the region easily accessible from North America. It's also close to one of the country's leading public hospitals, Hospital Clínico San Rafaél Arcángel in Liberia. This is important if you need regular access to medical care.
"Before we moved to Playa Langosta, we traveled extensively all over the Caribbean and all over Mexico," says David Weed from New Jersey, who lives in Playa Langosta with his wife Cathy. "The Tico people are the friendliest, and are well intentioned. We learned how to really relax and enjoy from the locals here at the beach, and we've been welcomed in this community."
Cathy says one of the things they like most is being removed from big business, while still being able to live in comfort.
"I really like that there aren't huge shopping centers, because it takes away the feeling of needing to get things done, and we also spend less money," she says. "At the same time, there's just enough of a town here, and access to really good cuisine, that when we do want to go out and have a good time with people in an upbeat atmosphere, we can."
In this part of the country, the climate is hot and dry, with sunshine nearly every day. Average temperatures hover between 80 F and 90 F all year. Even during the rainy season (May through early November), it's rare to have rain every day, and equally rare to have a day when it rains the whole way through.
Despite ongoing development and an influx of tourists to the beaches, living here remains affordable. For most couples, a budget of $2,500 to $3,000 a month will suffice, covering daily expenses, food, housing, healthcare, and fun.
Aside from rent, most expats here report electricity as their largest expense; you can't go without A/C here. If you'd rather buy than rent, it's common to find a two-bedroom home or condo within walking distance of the beach for under $200,000, even in popular beachside getaways like Nosara and Tamarindo.
Related Articles
What is the Meaning of Pura Vida?
When is the best time to visit Costa Rica?
---
You know more Spanish words than you think you do! And we guarantee you can be carrying on conversations...in Spanish...in just 20 Minutes. Special summit 'Speak Spanish in 20 Minutes' is now live!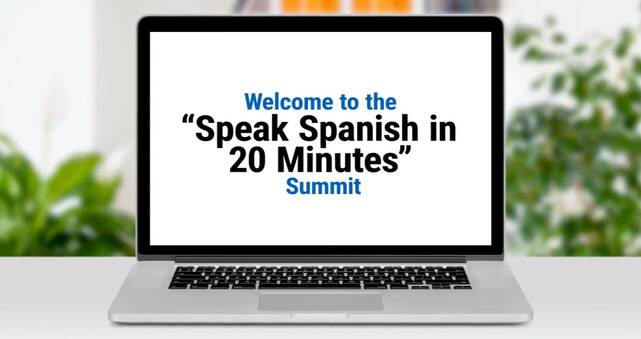 ---