By David Bohn
The best way to describe Ojochal is to say it's "glamping" on a permanent basis. Glamping, of course, is for people who want to enjoy nature outdoors but might still appreciate the availability of a gourmet room service menu and a spa treatment. Ojochal is the same in that it offers the best of both worlds, but it is no tourist town! It's fundamentally a bedroom community located on a mountainside in the jungle, just above some very nice beaches.
Four hours south of the capital, San José, Ojochal is far enough from modern civilization to still be truly wild, yet close enough to fulfill any serious needs which may arise. A wilderness when the first developers arrived some 25 years ago, modern infrastructure now serves hundreds of new homes with roads, electricity, water, and high-speed fiber-optic internet. The people who live here are mostly free spirits who are successful, don't require much civilization nearby, like to socialize with their neighbors, and enjoy eating at well-run, interesting restaurants. Let's unpack a little of what all that means…
Retire in Ojochal, Costa Rica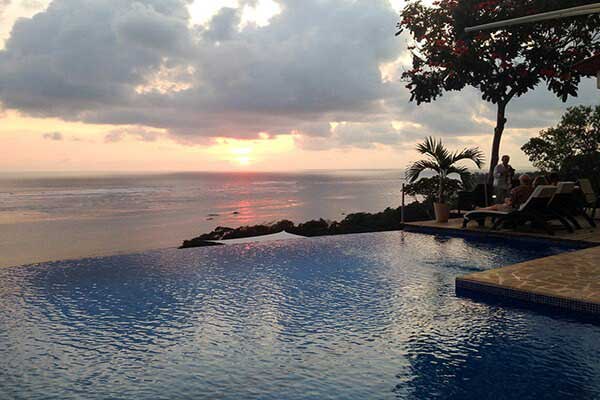 After you've made a few visits to Costa Rica and have decided Ojochal is for you (a very important step!), you'll be spending the next six months to a year organizing your life and getting rid of most of what you've collected over the previous years. The tropics are hard on everything, and anything organic (think leather and wood) or electronic won't be long-lived. Best to leave most of it behind, as you won't want it here.
While most residents are retired, this is by no means a retirement community. The original developers and homeowners were mostly English and French Canadian, but the current demographic includes sophisticated residents from around the world, making this an ideal place to expand your world knowledge over a great meal and a glass of wine. Dining out most evenings is the local custom, either at friends' homes or at the many eateries offering haute cuisine in Ojochal. Groceries are available at the charming Super Jucaloa convenience store, while gourmet ingredients and deli treats are at L'Epicerie. Two modern supermarkets are available 10 minutes north of Ojochal in Uvita, where most of the shopping and a few other choice dining spots are.
Things to Do in Ojochal, Costa Rica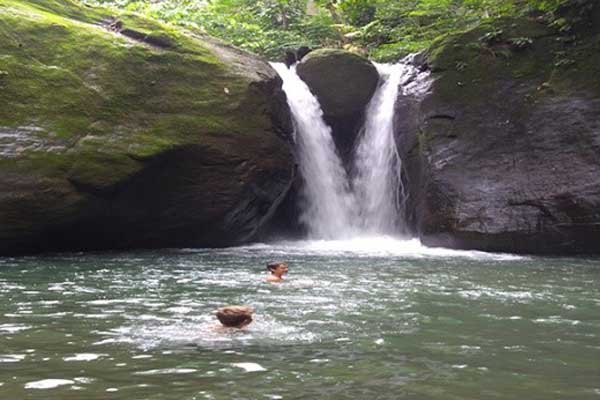 Many of the women of Ojochal belong to the Costa Ballena Women's Network, which not only provides networking at its monthly luncheons but works on a variety of projects in the area, mostly focusing on education and recycling. The men are left to amuse themselves at the nine-hole Osa Golf Course or fish just off the coast, where schools of local snapper and other game fish lurk on the reef. (The mighty roosterfish is a fine adversary!) There are many local beaches to explore, but Playa Ventanas ("playa" means beach) is the standout, with its great rock outcroppings and caves. The waves crash and howl up through the caves, which are accessible during low tide. Ventanas is a private beach, and the few dollars required to park assures that someone will be keeping an eye on your vehicle. Boat tours up the Terraba River, the largest in Costa Rica, are available, and a great resource for bird watching and spotting crocs, iguanas, and other river creatures crouching in the mangroves.
One of the best benefits of living this far south is your proximity to the Osa Peninsula, which protrudes into the Pacific at the bottom of Costa Rica. The Osa is one of the last unspoiled natural wonders of the world. Over 200 species, which don't exist anywhere else on the planet, live on the Osa! The good news is that you can drive 45 minutes south to Sierpe, a small village on the Sierpe River, and take an amazing boat ride down the river and out into the Pacific. After 20 minutes or so you'll be in Drake Bay, where you can spend the night in one of the many bay-front hotels and catch an early-morning boat to Corcovado, one of the entry places into the Osa. You'll have a guide with you who knows it well—most guides have a degree in biology. A four-hour walk through the jungle will show you things most people will never see in their lifetimes. Tapirs, sloths, anteaters, five kinds of monkeys, rare birds, and other colorful flora and fauna abound. A picnic buffet is included at the end, and then another boat trip back up the beautiful coastline. The roundtrip from Drake Bay will cost you about $95 each. Opportunities like this are why we moved to Costa Rica!
Lifestyle in Ojochal, Costa Rica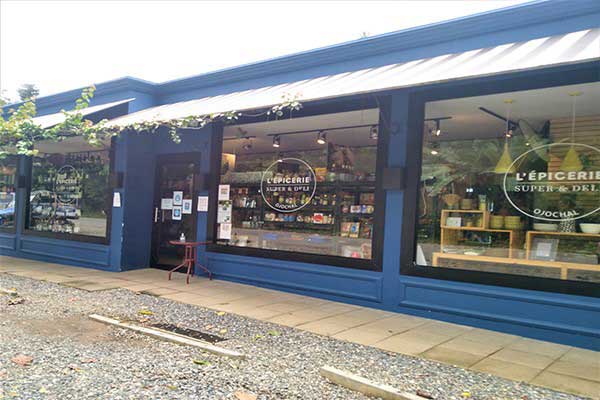 No mention of Ojochal is complete without including the luscious dining opportunities awaiting you. Start your day at the Pancito Café with crepes, croissants, or a full breakfast for less than $10 per person. Salads, quiche, and sandwiches are available at lunch. Restaurant Exotica offers open-air, gourmet dining from around the world, where entrees start with Spaghetti Bolognese at $12 and go up to filet mignon and shrimp for $46. Citrus is a similar restaurant, equally good, leaning more toward French cuisine. Fusion, another open-air affair, features seafood and sushi. One of the very best places for reasonably priced fine dining is Helaconia, a couple's venture where wife, and chef, Nancy runs the kitchen while her husband Edgar handles the front—here you'll find delightful people in a lovely, upscale jungle setting just off the coastal highway.
For live entertainment, visit Steve and Kerrie at Los Gatos Locos, where the food is a perfect combination of Mexican and their southwestern Arizona influences, and which features the best in local, laid-back acoustic music a few nights a week. The two-story treehouse is a great place to enjoy cocktails and features a real pool table! Another gem of a place is Villa Leonor, a few miles above Ojochal on the coastal highway. Villa Leonor is run by Cliff, his wife, and family, and features a beach club where you can park securely while you enjoy a fabulous beach adventure, then have a great meal at his restaurant. They have a wood-fired oven for perfectly cooked ribs and very fresh whole fish. The restaurant pool includes a swim-up bar! During the dry season, and other selected dates throughout the year, Cliff showcases local bands for his "Blues Series".
A fun culinary adventure awaits you a few miles below Ojochal at Tilapias El Pavon, another family affair featuring a full menu, but the specialty is tilapia, caught in the pond on site and cooked perfectly. You can park safely in their lot and walk down to the Cascada El Pavon, an easily accessible, no-charge waterfall just below the restaurant where you can swim.
Cost of Living in Ojochal, Costa Rica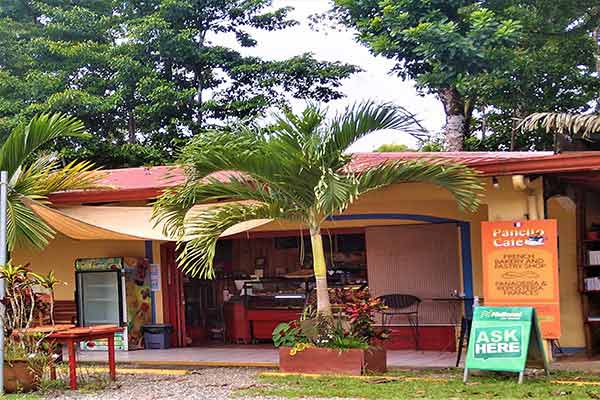 Housing
This is an owner-driven community. Rentals are available between $1,500 and $5,000 a month, but people usually only rent until they either buy an existing house or build. Existing houses can go from $300,000 to more than $2,900,000. Lots can cost $100,000 to $375,000, with custom-built houses starting at about $150,000.
Medical
A high point in the medical care available in Ojochal is Dr. Monica Alfaro. Practicing in the Ballena area for the past ten years, Dr. Monica has become the favorite of most locals for both everyday problems and medical aesthetics for aging and sun-damaged skin. For more serious medical needs, you can go to the Hospital de Osa in Cortes, just 15 minutes below Ojochal on the coastal highway. The newest public hospital in Costa Rica, Hospital de Osa has been treating people for ten years in the 88-bed facility. The hospital is also open to the public. The socialized medicine is quite good in Costa Rica. As a temporary resident, which is the first step to permanent residency, you will participate in their medical program for a monthly fee based on the amount of income you declare when you apply for residency. You must show a minimum income of $1,000 a month as a pensionado (retiree) to qualify as a resident, and at that level, you will pay approximately $75 for full coverage for you and your spouse. There is no copay or other fees. Most of your medications will also be included if they are on the approved list.
Transportation
You will need a car here. There isn't much in the way of public transportation. Buy something locally, used, and with four-wheel drive. The hills are steep, and the roads are a bit "rustic". Not every used car is necessarily a bargain here, find a good mechanic and let them guide you. Many models have no available parts in Costa Rica. Gas is $4.75 to $5 a gallon here, so think economy.
Miscellaneous
Fitness is very popular here, and yoga and Pilates classes are about $10 a class. Housekeepers start at about $25 a day.
Groceries
The food here is not cheap. You will spend $400 to $800 per month depending on your tastes. Groceries the ticos (locals) use are much cheaper than those imported for gringos, so if you can learn to eat like the locals you will save quite a bit. Dairy products are expensive, cheese is a luxury.
Entertainment
Dining out is the chief amusement, usually in the $50 to $75 per person range, with wine. For home use, the Chilean box wines from Clos are reasonable and drinkable, as are the excellent Nicaraguan Flor de Cana rums. $1,000 a month will cover two to four meals out per week, plus the occasional charter fishing trips, overnight trips to Drake Bay, and other amusements. There are no movies or concerts down here, so dinner parties are popular, and a good way to get to know your neighbors, both tico and gringo!
Monthly Budget Breakdown for Ojochal, Costa Rica:
| | |
| --- | --- |
| Expense | U.S. $ |
| Rent | $1,500 to $5,000 |
| Utilities | $75 to $400 |
| Transportation | $50 to $200 |
| Miscellaneous (yoga, medical, housekeeper) | $255 to $330 |
| Groceries | $400 to $800 |
| Entertainment | $500 to $1,000 |
| Monthly total: | $2,780 to $7,730 |
Note: As Ojochal is such an upscale area, there are few monthly or yearly rentals available here. Most retirees desiring to eventually build or buy will likely decide to live up the road in Uvita, which is only 10 minutes north. Rentals in Ojochal are usually found by word of mouth after you have made some contacts.
Featured Image Copyright: ©David Bohn