By David Bohn
With the growing interest in Costa Rica's Southern Zone, the coastal town Uvita has become a destination that's clearly attracting its share of enthusiasm. Uvita is about a three-hour drive from the capital, San Jose, or an hour's drive south of Quepos after a short flight on Sansa, the local airline.
With the paving of the coastal road to the Panamanian border 10 years ago, Uvita became a center for commercial development. Uvita came into being when the Cruz family claimed 900 hectares back in 1957 and settled there to farm and raise cattle, but in 1962 the last family member died in a plane crash. After that, various interests briefly pursued development there until finally, in the 80s and 90s, about 90 families began to take advantage of Costa Rica's unique homestead laws and moved onto the land, effectively creating what would become the town of Uvita. The abundant opportunities to interact with nature have been attracting both tourists and expats ever since.
The expat culture is a lively mix of retirees and what's referred to locally as "Trustafarians," earnest young people attracted to the yoga/ecology movement, often financed by a trust fund somewhere back home.
Retire in Uvita, Costa Rica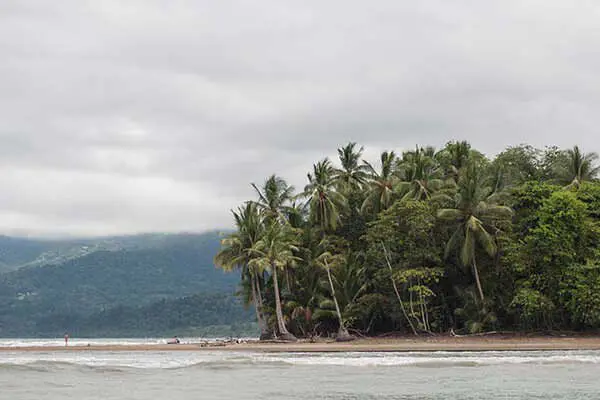 Retiring to Costa Rica isn't very hard, the government knows expats are good for the economy, so moving here is really just a matter of deciding where you want to live then hauling your stuff down. (Tip: Get rid of most of that stuff before you come!) Here's another tip: Do not buy a house until you've lived here for at least six months to decide if this is the place for you. Adjusting to a completely different culture, even one as friendly and welcoming as Costa Rica's, is a major undertaking.
Uvita stretches along the Coastal Highway for about two miles. There are two large, modern supermarkets, as well as two banks and two Home Depot-style home and hardware stores. Royal Palm Interiors, Muebles el Bosque Uvita, and Onda del Mar all offer a range of stylish indoor and outdoor furniture. You can always get a great haircut at Serendipia from Lindsay or Terry and get medicine from one of the two pharmacies in Uvita, located in the same center. The Uvita Information Center helps you stay in touch with the outside world by accepting your mail or renting postal drop boxes, as well as handling DHL and UPS shipments. The locals and their culture come on display on Wednesdays at El Mercado Farmers Market. There, with a backdrop of live, local entertainment, the Uvitans come together to select fresh produce, swap weekly gossip, and buy locally made products.
Things to Do in Uvita, Costa Rica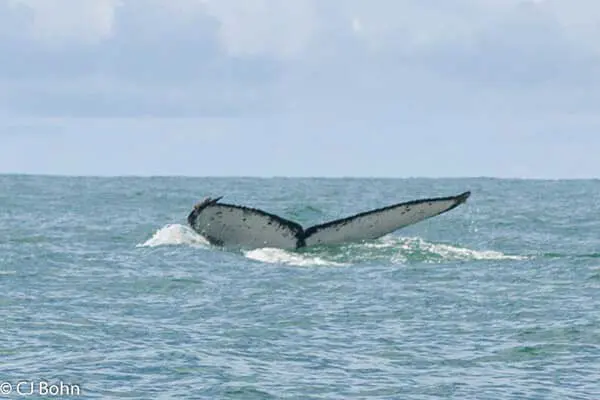 The major attraction in Uvita, of course, are the humpback whales who visit the area twice a year to give birth and raise their calves until they are old enough to travel back to the frozen lands they prefer. The southern hemisphere whales come up from Antarctica from late July to early September, then their cousins from Alaska take over in December through March. Because of this, Costa Rica has the longest whale season in the world, with Uvita as its epicenter. The Marino Ballena National Park was created to protect the waters around Uvita. This is where the mothers (no dads here!) nurse and teach their offspring to breach, dive, and feed. It's common to see them together, and the calves delight in jumping and splashing their fins. Several companies offer tours for around $75 for adults and $45 for kids aged four to nine years old, free for younger children.
The Whale Festival happens every September, attracting people from around the world to Uvita. The Marino Ballena National Park is also the site of the Whale's Tail, a giant rock and sand formation in the shape of a whale's tail located just where the whales show up every year! At low tide you can walk out a few hundred feet to the end and snorkel off the rocks, where a decent array of tropical fish shows off their stripes. Park entrance is about $6 for foreigners and $1.50 for residents. The view looking back to the shoreline and mountains from the tip of the Whale's Tail is magnificent. This is also the site of the largest coral reef in Central America, home of dolphins and both ridley and hawksbill turtles. Just offshore of the park is the massive Ballena Island, a volcanic eruption that resembles, you guessed it, a humpback whale. A boat ride around it will reveal blue-footed boobies and frigate birds, as well as large green iguanas and basilisks, who swim out to dine on the abundance of eggs.
Speaking of whales' tails, the Whale's Tail Brewery in Uvita is the spot for seekers of craft-brewed suds. Brewmaster Gian Michele makes eight kinds of really good beers, which are available at the brewery as well as many local restaurants. Gian Michele, aka Mick, can also be seen singing and playing guitar regularly at the night spots in town, such as Al Chile Que Si where handsome Irishman Dan Doyle offers tasty tropical dishes and live entertainment some nights. Overstuffed sandwiches and killer fish tacos are part of the hearty fare available at Bar Restaurant Los Laureles, where Cindy runs the friendliest dining room in town, featuring her chef/husband German's very tasty creations. (Cindy's passionfruit margaritas are perfection.) Sibu is the morning spot for gourmet coffees and exquisite pastries and other yummy breakfasts. Vegetarians are treated to one of the best vegetarian/vegan restaurants in Costa Rica at Indomitos Costa Rica, where the delightful Osvaldo and Melissa offer breakfasts and lunches, which are both truly creative and delicious, in a charming outdoor setting. Just across the street, Mosaic Wine Bar and Café boasts over 30 wines, as well as a selection of sushi, fusion cuisine, artisanal salads, and paninis. Authentic Italian food is at Gusto, a few miles' north of Uvita, where Luca and Francesca specialize in very fresh ingredients, cooked according to the recipes they brought from Italy. From their mountainside location, the view of the ocean and offshore islands is magnificent and a favorite sunset spot.
Other worthy forms of recreation include jungle ATV, where you can take a tour on a quad or in a side-by-side vehicle up some of the most pristine trails in Costa Rica, over lush mountain ranges and into misty jungles. For $4 you can enjoy the Uvita Waterfall, just a few minutes from the center of town, where you can not only slide down a natural slope into a pool but get sandwiches and smoothies in the café above the falls! Rancho Merced offers tours on horseback, where you can ride along the beach, into the woods, and to a waterfall where you can cool off with a quick dip. Tours run from $50 to $60.
Cost of Living in Uvita, Costa Rica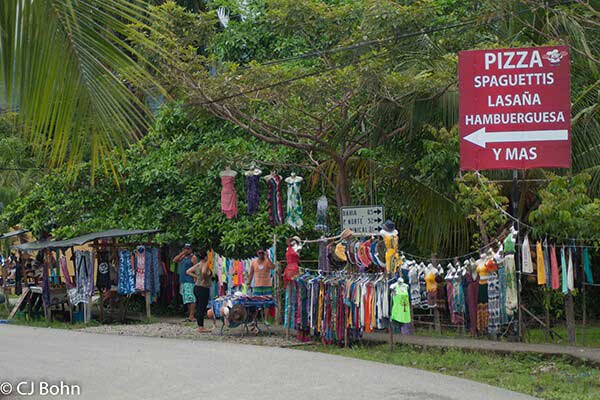 Housing: Rental homes are available in Uvita, ranging from roughly $800 a month for furnished, basic housing with two bedrooms and a bath to $4,000 for a mountain villa with a pool and an expansive ocean view. If you have decided to live here, you can buy a lot and build, or purchase an existing home. There are pros and cons to each, but remember an existing home usually has all the small problems that come with construction worked out. You can buy homes here for between about $275,000 and $2,900,000. Lots start about $50,000 and go up to $250,000. Building a home can cost between $100,000 and $500,000.
Utilities: It's a lot warmer at the beach than just a few hundred feet up into the mountains, so consider that you'll need A/C if you're at the beach, but that you may be fine with a few fans if you're up higher. Electricity is expensive here. Propane gas is cheap, so gas stoves and gas dryers are recommended. Most communities have high-speed fiber-optic cable now. Internet may cost you $50 to $100 per month.
Medical: Medical care is always a big concern. You'll be pleased to know that there are three medical buildings in Uvita with fully licensed physicians and a modern hospital about 30 minutes south of Uvita in Cortez. Socialized medicine is quite good in Costa Rica. As a temporary resident, which is the first step to permanent residency, you will participate in their medical program for a monthly fee based on the amount of income you declare when you apply for residency. You must show a minimum income of $1,000 a month to qualify as a resident, and at that level you will pay approximately $75 for full coverage for you and your spouse. There is no copay or other fees. Most of your medications will also be included if they are on the approved list.
Transportation: The cheapest way to get around is by bus. The buses here are all fairly new, clean, and comfortable. It's a great way to spend some time around ticos (what Costa Ricans call themselves) and get to know what kind and sweet people they are. (Having some Spanish before you get here will really help you and shows respect to the ticos.) Taxis are always available, and within the $5 to $25 range. Cars are really expensive here, mostly due to the high import taxes. DO NOT bring your car with you! Parts are in short supply and, even if they exist, they may be for a model not imported into your home country. Aged Suzukis are plentiful and so are their parts. (Get your choice checked thoroughly by a mechanic you trust. Car maintenance here can be sketchy.) You can get one between $5,000 and $8,000. It's ok, it's what most of us drive here. (Newer cars stand out as tourist rentals and are the targets of thieves.) Gas is also expensive, expect to pay $4.75 to $5 per gallon.
Miscellaneous: Yoga is available everywhere, averaging $10 per class. A good once-a-week housekeeper can be found for $25.
Groceries: Food here is not cheap. You will spend $400 to $800 per month depending on your tastes. Groceries the ticos use are much cheaper than those imported for gringos, so if you can learn to eat like the locals you will save quite a bit. Dairy products here are expensive, cheese is a luxury.
Entertainment: Good, hearty meals in tico cafes called "sodas" can cost you about $10 per person, finer dining in the $50 to $75 per person range, with wine. Alcohol is fairly expensive, the Chilean box wines from Clos are reasonable and drinkable, as are the local rums. $1,000 a month will cover two to four meals out per week, plus the occasional charter fishing trip, overnight trips to Drake Bay, and other amusements. There are no movies or concerts down here, so in-home socializing is quite popular, and a good way to get to know your neighbors, both tico and gringo!
Expect to spend $2,000 to $4,000 a month here, depending on your tastes.
Monthly Budget Breakdown for Uvita, Costa Rica:
| | |
| --- | --- |
| Expense           | U.S. $ |
| Rent | $800 to $4,000 |
| Utilities | $75 to $400 |
| Transportation | $50 to $200 |
| Miscellaneous (yoga, medical, housekeeper) | $255 to $330 |
| Groceries | $400 to $800 |
| Entertainment | $500 to $1,000 |
| Monthly total: | $2,080 to $6,730 |
Featured Image Copyright: ©iStock/CampPhoto