Guide to Quepos, Costa Rica - Cost of Living, Things to Do and More
By David Bohn
Quepos is that sort of gritty waterfront town where you expect to see Humphrey Bogart walking along the street in a captain's hat and khakis, carrying a sea bag and a marlin gaff. Fishing is what you do here, whether it's pulling in yellowfin tuna with a hand line off the side of a 20-foot open boat or trolling for billfish in a deluxe fighting chair, with a mate handing you cold beverages while he baits your line. For years, Quepos was just a sleepy port town, shipping bananas for the United Fruit Company. In those days, most travelers arrived via the ferry from Puntarenas, as the coastal road was just a wide graveled path with ancient wooden bridges. After they paved the coastal highway 10 years ago, tourists and anglers could drive down from San Jose, the capital, in two and a half hours.
Named for the Quepo, the Indigenous people who lived here until the Spaniards arrived, this town has become a sportfishing capital and is the site of the annual Offshore World Championship. Many of the Quepos townspeople work in the fishing industry or care for the vacationers just up the hill in Manuel Antonio, whose famed national park is the top tourist draw in Costa Rica. It's a busy little town, laced with narrow one-way streets and confusing dead-end alleyways. Most of the locals use buses to get around, causing some amusing traffic snarls around the bus station in the center of town at rush hour.
Retire in Quepos, Costa Rica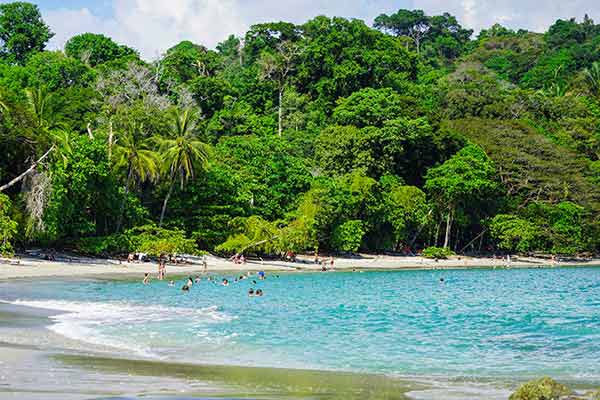 Retiring in Quepos is for people who love to fish and for nature lovers who enjoy great beaches and want to see wild animals regularly (but want it to happen in a safe and controlled environment, i.e., Manuel Antonio). Remember that it's extremely important to spend time exploring Costa Rica to find the lifestyle that suits you best! Try to bring as little as possible with you when you move, as storage in most homes is limited, so empty those attics and closets before you come.
Being at sea level, Quepos is usually quite warm year-round, so you will want to have air conditioning, at least in your bedrooms, which will increase already expensive electric bills a good bit. The neighborhoods of Quepos are generally narrow lanes with small, modest houses, crowded together and fronting the streets. There are some modern supermarkets, mostly serving the yachting crowd from the marina, whose live-aboard crew members stock up while in port. A few small restaurants are available to serve the backpackers and tourists who choose the less expensive hotel accommodations available in Quepos, as opposed to the tonier hotels and B&Bs up the road in Manuel Antonio. A standout is the Restaurante Café Tentacion, featuring fancy coffees and smoothies, breakfasts, delicious lunches, and salads, all under $10. The place then becomes a lively tavern after dark. An open-air affair just across from the waterfront, Tentacion is a great place to watch the crowds saunter up and down the street. Nearby, there's a Friday and Saturday farmers' market where you can buy locally grown produce, handmade goods, or just enjoy wandering among the locals.
If you're on a limited budget or are just looking for a place to base your long-term search, Quepos is an accessible place to start, where everything you need is available in the commercial shopping area near the bus station.
Lifestyle in Quepos, Costa Rica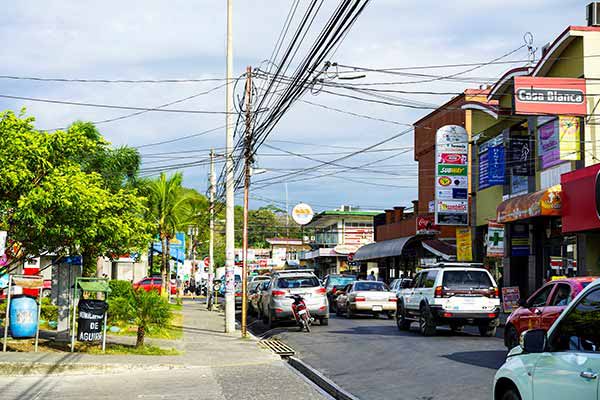 Life in Quepos is an authentic Costa Rican experience. The only glamor here is at Marina Pez Vela, otherwise, this is just a working town. Seafood lovers, of course, will be thrilled by the selection of fresh fish coming off the docks every day, with numerous fish markets selling very fresh fish at very reasonable prices. Dining choices are limited, most in-town restaurants are small carry-out affairs with a few tables. Food is quite reasonable here, with most meals costing less than $10 per person.
More upscale dining is available at the marina, with corresponding upscale prices aimed at the boating crowd. There are four restaurants with a full menu and bar, of which Cuba Libre is a standout. It features Cuban and other Latin cuisine, a great sunset view overlooking the marina, plus a well-stocked, little cigar store in the front for those who indulge! You can have a Caprese salad for $9, a fresh tuna salad for $11, or an authentic Cuban sandwich for $8. Gelateria Amorosi offers delicious gelato, coffee, and snacks, while Emilio's Café has amazing pastries, coffees, and a lunch and dinner menu.
There are many upscale clothing stores in the marina featuring smart sportswear and accessories. Hospital Metropolitano has a branch in the marina. It is a full-service clinic associated with the large Hospital Metropolitano in San Jose, where more serious cases are transferred.
Things to Do in Quepos, Costa Rica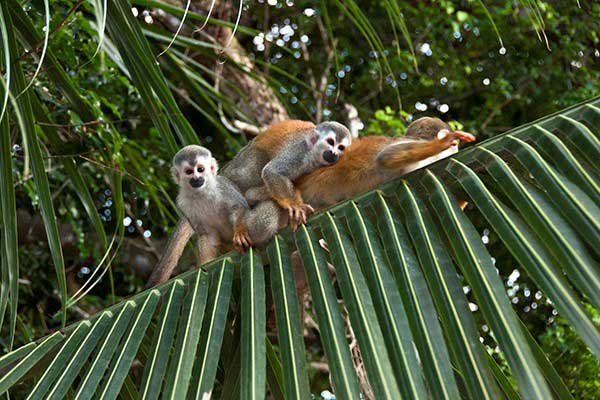 Two very attractive leisure opportunities are available in Quepos. First, there's the park at Manuel Antonio, where easily navigable trails through a tropical forest offer a glimpse of sloths, monkeys, macaws, toucans, iguanas, coatimundis, and other jungle inhabitants. At the end of the walking trail is an expansive and beautiful beach. There's no dining available until you leave the park, where there are many food options. It's advisable to hire a guide. Most are very well trained and will help you spot camouflaged creatures you probably would have walked by otherwise. Manuel Antonio is typically a must-see for anyone coming to Costa Rica.
The other gem here is Marina Pez Vela. This world-class marina features 195 slips and can handle vessels up to 200 feet. It features a two-story, upscale commercial plaza with shopping, a medical clinic, and a number of casual restaurants with fantastic sunset views! You can also book tours here to go whale watching in season, snorkeling, and my favorite, the catamaran tours. There, you can choose from a variety of large and comfortable boats, which cost about $80 per person for a three-and-a-half- to four-hour tour. The tours take you out around the magnificent volcanic rocks protruding from the sea surrounding the Quepos/Manuel Antonio area, stopping to allow you to snorkel (gear provided), and enjoy the giant water slides, or jump off the top deck of the boat! All tours include a tasty buffet and an open bar to add to the merriment.
There are nine major fishing tournaments every year, which are delightful opportunities to see the contestants bring in their catch every afternoon, then stay for the nightly festivities! The only cost is whatever you want to eat or drink. If you'd like to try your luck at sportfishing, there are several boats available for charter. Benn Gilmour, of Jackpot Sport Fishing, is a standout choice for exciting fishing action, both inshore fishing for grouper, snapper, roosterfish, and other reef species, or offshore to try your hand at big billfish, yellowfin tuna, and mahi-mahi. Benn, a frequent tournament winner, is both owner and mate, and always provides a fun and memorable outing aboard the Good Day. Nothing tastes better than his fresh sushi, made onboard from your yellowfin tuna catch! Most marina restaurants will also be happy to cook your catch for you to enjoy with your tall fishing tales.
Cost of Living in Quepos, Costa Rica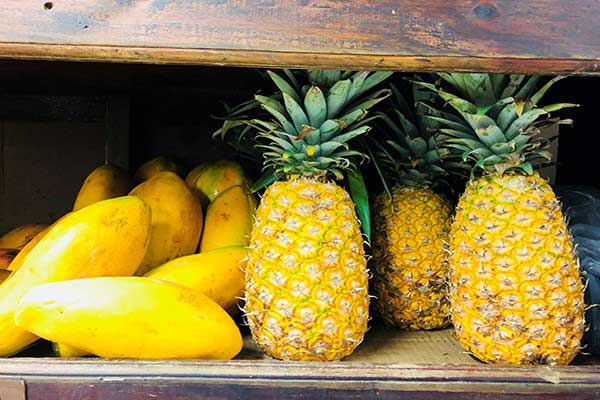 Housing
Housing is quite modest in Quepos. Typical tico houses are available between $39,000 and $69,000. Monthly rentals are available for $300 to $400.
Medical
Medicine is readily available in Quepos. Aside from the Hospital Metropolitano clinic at the marina, there is a modern public hospital just outside of town. The socialized medicine is quite good in Costa Rica. As a temporary resident, which is the first step to permanent residency, you will participate in their medical program for a monthly fee based on the amount of income you declare when you apply for residency. You must show a minimum of $1,000 a month income as a pensionado (retiree) to qualify as a resident, and at that level you will pay approximately $75 for full coverage for you and your spouse. There is no copay or other fees. Most of your medications will also be included if they are on the approved list.
Transportation
You don't need a car in Quepos. You can walk almost anywhere. Very few ticos in Quepos own cars, most buy small motorcycles or take the bus. You can find a bus here to take you almost anywhere in Costa Rica, or even to Panama or Nicaragua. Local busses cost less than $1 and run frequently. Local taxis will cost a few dollars in town. For special trips, rental cars can be had for as little as $33 per day. A very nice feature of Quepos is the local airport, where a newly repaved airstrip can now handle small private jets and features Sansa's daily 20-minute flights to San Jose for about $80 one way.
Miscellaneous
Many ticos like to stay fit, so you can find yoga and Pilates classes here for about $10 a class. Housekeepers charge about $25 per day.
Groceries
The BM and CoopeAgri supermarkets are both new and very modern. The MiniPriceStore makes purchases of food, liquor, and non-grocery items at the PriceMart in San Jose, which is a membership store like Costco, and resells them at a small mark-up. Shoppers there will find many items from the U.S. not usually found in Costa Rican supermarkets. Food is not inexpensive in Costa Rica; you will spend between $400 and $800 monthly. If you buy the staples the ticos use you can save money, but if you must have the imported items you enjoyed back home, you'll find they come at a hefty price.
Entertainment
Going down to the docks and enjoying the sunset is the best entertainment in Quepos. A dinner in a small café for two can cost you between $20 and $30 with a cocktail or glass of wine. Upscale dining, drinking, and live entertainment is available ten minutes up the road in Manuel Antonio. Liquor is expensive in Costa Rica, but the Chilean box wines from Clos are very drinkable and are priced at less than $5 per liter. The Nicaraguan Flor de Cana rums are well made and reasonable. Spending $500 per month will cover two to four meals out per week, plus an occasional fishing trip or a Manuel Antonio or catamaran adventure.
Monthly Budget Breakdown for Quepos, Costa Rica:
| | |
| --- | --- |
| Expense               | U.S. $ |
| Rent | $300 to $400 |
| Utilities | $75 to $175 |
| Transportation | $25 to $150 |
| Miscellaneous (yoga, medical, housekeeper) | $150 to $275 |
| Groceries | $400 to $800 |
| Entertainment | $200 to $500 |
| Monthly total: | $1,150 to $2,300 |
Featured Image Copyright: ©Aloya3/iStock