By Kathleen Evans
Limón Province encompasses the entire 130-mile Caribbean or east coast of Costa Rica from the Nicaraguan border on the north end to the Panamanian border to the south.
The economic center, the provincial capital, and the largest city (est. population 62,000) is also called Limón, or known as Puerto Limón. This is the major port for the country—receiving and exporting a whopping 80% of Costa Rica's international shipping services.
The large area north of the city to the Nicaraguan border is protected land encompassing Tortuguero National Park and the Vida Silvestres Barra del Colorado National Refuge. This pristine piece of land has a network of beaches, rivers, and marshes popular with anglers, wildlife ecotourists, and sea turtle conservationists. In fact, the province of Limón boasts more acreage of protected land than any of the other provinces in the country.
The vast majority of the expat population in the province reside along the beautiful beaches south of Puerto Limón, on the 18-mile stretch from Cahuita to Manzanillo. The main town along this beach road is Puerto Viejo (est. population 29,500) and, outside of Limón City, this is where you will find your day-to-day conveniences such as grocery stores, clinics, pharmacies, banking, rental car agencies, and numerous resto-bars.  Other inland small towns of note include Guápiles (est. population 38,000) and Siquirres (est. population 18,000), located in the tropical lowlands along route 32—the main "highway" to San José.
Although the distance between San José and Puerto Limón is only about 75 miles, the drive will take approximately three hours. The two-lane road crosses the continental divide in a mountainous zone that is prone to mudslides during heavy rains. Sometimes that drive will take quite a bit longer or be shut down for an entire day. SANSA, the national airline, flies into Puerto Limón and Tortuguero National Park, making this easier route popular with tourists.
Retire in Limón Province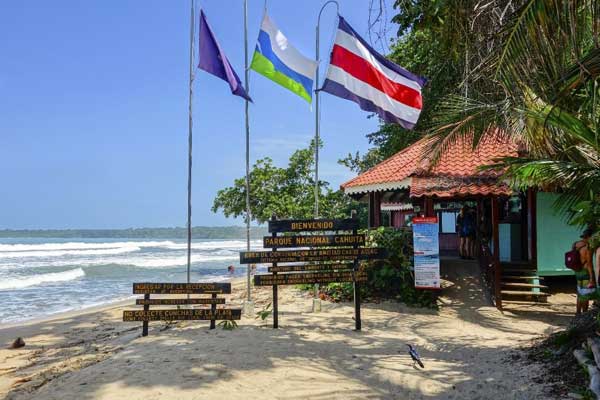 As one of the country's most geographically diverse regions, Limón features everything from mangrove wetlands and waterways to imposing jungle mountains, pristine beaches, and flat lowlands near the sea—rich in soil for growing bananas, pineapples, and coconuts. The province is home to over 8,000 different species of plants. A wide range of exotic animals also exist in Limón Province. Nearly 700 different types of birds and 10% of the world's butterfly population delight all who witness them.
Colorful and Caribbean, Limón is known for its largely Creole and Black population.  Many were brought forcibly to Limón during the slave trade and then, later on in the 19th century, a good number of workers were hired from nearby islands like Jamaica. This Afro-Caribbean influence is found all over the province, adding an entirely different, multi-cultural dimension to this part of Costa Rica's culture, found in cooking, architecture, music, and the local language.
Like much of Costa Rica, Limón offers many outdoor activity options such as hiking, snorkeling, surfing, scuba diving, biking, birding, mountain climbing, angling, white-water rafting, etc. There are also a number of tourist attractions— including all of the national parks, the jaguar rescue center, a local chocolate maker, visiting the Bri Bri (Costa Rica's largest indigenous tribe), plus small museums and colorful architecture in Limón City. The annual 12-day Carnival festival takes place in mid-October and is a great way to experience the blending of cultures in this region.
Cahuita National Park protects 55,000 water acres and encompasses 600 acres of 35 species of living coral (one of only two reefs in Costa Rica) and 400 species of fish. The park is also home to turtles, monkeys, sloths, and a slew of other Central American wildlife. The Gandoca-Manzanillo National Wildlife Refuge is located just at the end of the coastline, almost at the border with Panama. This refuge protects almost 11,120 acres of beaches and sea, for the spawning of four species of sea turtles.
The majestic Talamanca mountain range is shared by both Costa Rica and Panama. Untouched by Spanish colonization, these mountains are still home to indigenous groups. This is part of the Chirripó National Park. Cerro Chirripó is the country's highest peak at 12,533 feet.  The other national parks as part of Talamanca are the Cordillera de Talamanca and Amistad National Park—both UNESCO World Heritage sites.
The Caribbean side does not have a defined rainy season like the rest of the country—which is relatively dry December through April and moist May through November. It can be sunny in Limón whilst it is pouring on the other coast and, conversely, it can rain any time on this side of the country. Therefore, you will find more tropical humidity here year-round for the most part, with temperatures ranging from the mid-70s F to mid-80s F. The humidity makes it feel warmer, but the coast does have cooling ocean breezes.
Lifestyle in Limón Province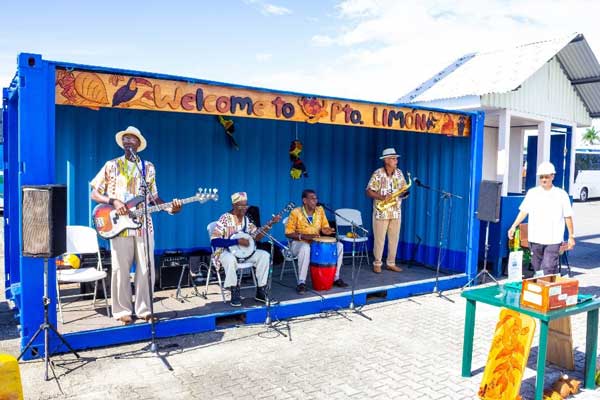 To this day, the Caribbean side is still considered remote compared to the west coast of the country and the popular Central Valley. You will not find large-scale development—no towering condo buildings, no massive gated communities, no mega-resorts, and no fast-food restaurants (except for a handful in Puerto Limón). It is a wonderful place for those who prefer to be off the grid and embrace a laid-back lifestyle. However, on the flip side, multiple administrations over time have channeled funding to other provinces, therefore residents find infrastructure, road works, some modern creature comforts, and access to major medical care lacking in comparison.
If you plan to move to Limón Province, there are definitely some considerations.  You will not find blazing-fast WiFi networks and, in some places, not even cell phone service. Although you will still be able to connect to the real world, be prepared for slow connection speeds and unreliable service. If you are a digital nomad, Limón may not be the best fit for your business needs.
Limón, per capita, statistically has some of the highest crime and unemployment in the country.  Although fairly concentrated in Puerto Limón, there are instances of criminals targeting rental homes and eco-lodges.  Although the majority of violent crime involves drug gangs, petty crime can also be disruptive and costly. Expats should consider all warnings and connect with locals (not just their realtor) before relocating to a specific area.
Even if you speak some level of Spanish, in Limón you may find linguistic challenges. Creole has blended with English and Spanish, so if you want to have relationships with locals or even do your errands, you will want to learn some of the local language.
If you have school-aged children or grandchildren living with you, Limón may not be ideal for their education needs, as there are not many choices for schooling. You will find the best concentration of international schools in the San José area or on the Gold Coast in Guanacaste. With fewer people in the region, there are fewer socialization and extracurricular activities, as well.
Retirees and seniors also need to consider their medical needs as they age. There are not many healthcare options in the entire province, certainly nothing to address major medical issues. It is a long drive to San José for emergency or ongoing treatments.
However, the province is a fantastic place for youthful, free-spirited people and naturalists. There are some great indie artists playing hip-hop, reggae, and reggaeton, and the music scene is quite good.  Limón offers lots of independence with fewer rules and regulations for a more unrestricted lifestyle. If you want to enjoy privacy in the jungle, this might just be the place for you.
Cost of Living in Limón Province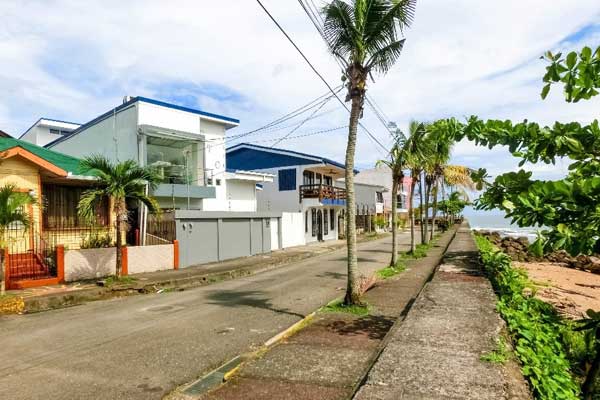 Real Estate Examples:
Manzanillo: Just 650 feet from the Caribbean Sea, a local-style, colorfully painted, basic wood bungalow is listed for $88,000, furnished. It features three bedrooms and one bathroom with wood floors and supports. It has a water holding tank, hot water, a laundry room, a front porch with hammocks, a real landline hardwired with DSL internet. Plus, walkable to the beach, stores, and local services.
Puerto Viejo/Playa Negra: Steps to the beach and town, a two-story, furnished 2BR/1BA lists for $198,000. The open floor plan features an eating area, a kitchen with a bar, and a laundry room. Upstairs houses two bedrooms with an open porch overlooking the property. The property is flat and offers the opportunity for other structures or expansion.
Cahuita: A four bedroom, five-and-a-half bathroom, 2,454-square-foot home lists for $220,000 in the rainforest, only two minutes to the beach. The basic design, wood-structured home features a fully equipped kitchen downstairs, a separate bath for each bedroom, and a large jungle terrace running the length of the home.

Sample Monthly Budget for Limón Province, Costa Rica:
| | |
| --- | --- |
| Expense | U.S. $ |
| Rent (furnished two-bedroom) | $600 |
| Utilities (phone, electric, water, internet, cable/dish TV) | $200 |
| Groceries | $500 |
| Weekly housekeeper | $60 |
| Entertainment (two people dining out 8x/month or other entertainment) | $400 |
| Healthcare (private plan) | $400 |
| Car/transport (gas, insurance, upkeep) | $150 |
| Unexpected expense fund | $50 |
| Total per month: | $2,360 |
For less than $2,400 per month, a couple can live a comfortable, but not necessarily extravagant lifestyle in Limón province.
Featured Image Copyright: ©iStock/Marcus Olszak