Sarchi: Art Nestled in History
By Lou Kritz
In the northwest of Costa Rica's Central Valley is the arts and crafts center town of Sarchi. There are 200 stores and family-run woodworking factories, making everything from trinkets to very high-quality furniture. Firmly planted between the neighboring towns of Naranjo to the west and Grecia to the east, it's known for the relaxed attitude and country charm. First settled in 1863, it has lived up to its Aztec name, "xalaci," which means "relax place."
Route 118 runs through Grecia to Sarchi then to Naranjo to the west. Near Route 1, there is easy access to the capital of San José and Alajuela, and the airport. Located on the slopes of the Central Mountain Range, at 3,180 ft. (970 m.), the climate is balmy with days averaging year-round at the high 70s F and low 80s F. Nights are cooler in the mid-60s F.
The smallest of the three connected towns, Sarchi is not struggling for attention. It is the center of Costa Rica's arts and crafts production, and the custom furniture industry. The town is busy and the 7,500 residents enjoy being an almost-rural urban community, laidback, and keenly aware of developing trends.
Traveling to Sarchi you'll notice many stores with the word muebles on their sign. That simply means 'furniture.' These showrooms hold beautiful furnishings, both wooden and upholstered. Under or behind the store is the furniture factory where craftsmen are building each piece by hand, often to your specific order. With everything you may need for your home available, you'll find prices are extremely reasonable and service is fast and efficient.
Here too, are the artists who design and manufacture pottery and ceramics, wooden artistic pieces, toys, wall decorations, paintings of Costa Rica subjects, even jewelry, and of course, oxcarts! All are sold through small individual shops, or in larger co-ops with wide assortments.
Retire in Sarchi, Costa Rica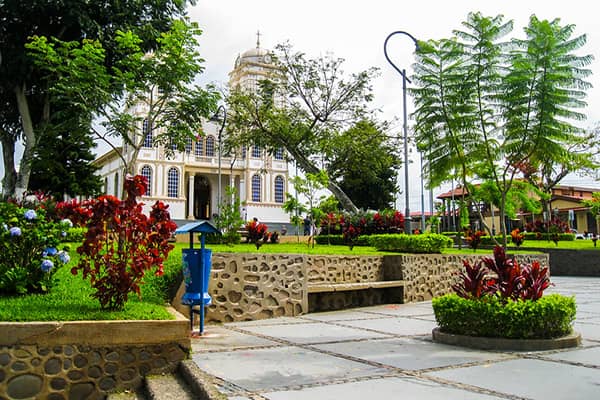 Sarchi is a good option for retirees, having all of the day-to-day needed amenities, but without the hustle and bustle of a larger town. Three to four miles to either Grecia or Naranjo, it's an easy drive. Frequent and comfortable bus service, with fares less than $2, and taxi fares at about $3 to $4, are good options. Buses run every thirty minutes to Grecia or Naranjo. You can continue to Alajuela, the airport, or San José, the capital. Taxis are clean, available, and inexpensive. Use only the government-regulated red cabs with the yellow triangle on the door.
Driving in Sarchi is good, well-paved but hilly and curvy. You're in mountain terrain, so straight roads are difficult to construct. San José is about an hour away, and the airport about 45 minutes.
Medical care is readily available in Sarchi. CAJA, the government-backed healthcare system has a clinic in Sarchi, and there is a full-service hospital in Grecia. You may also choose independent medical services available in all three towns.
Housing prices in Sarchi are a bit lower than either Grecia and Naranjo, and certainly less than areas like Alajuela or Escazu, for both rentals and homes for purchase. There is the mistaken perception that there are not as many amenities and services here. These rural areas are still very well supplied.
Rentals range from an in-town studio apartment for $450 a month, a one-bedroom house on the edge of town for $550. For a comfortable two-bedroom home, rents start at $650. Two and three-bedroom homes for sale, whether close to town or somewhat more rural begin around $125,000 to $140,000. Newer, more luxurious homes, range into the $200,000 to $300,000-dollar range. Homes with acreage, gaited and private, can go higher.
Lifestyle in Sarchi, Costa Rica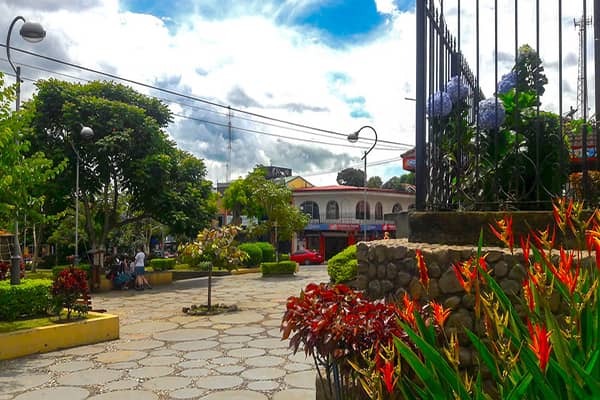 The 7,500 people living in town and the close surrounding area are both ticos and expats, with the expat percentage just slightly lower than the surrounding average. That is changing fairly rapidly as gringos learn the advantages of this artsy area's much to do, and at a slightly lower budget.
The town and surrounding area is a mix of urban and rural living, both relaxing and well-supplied with all your needs. There are more than just adequate shopping opportunities. Grocery stores are plentiful, and services, such as banking and health providers, are in abundance. The calm rural parts and fresh-aired nature are just a step away.
Crime in Sarchi, and all of Costa Rica, has declined markedly. Civil authorities realized over five years ago that it was mainly due to high drug problems. The national effort to attack the drug scene has led to repeated declines in drug-related events by 5% or more per year. Sarchi has benefitted greatly and is generally considered a safe area. Common-sense precautions, like locking your car and not flashing a lot of cash, are still important and help to prevent petty crimes, however.
Shopping is convenient, supplying food, clothing, and sundries. You can step it up a bit by going to either Grecia or Naranjo for larger stores and more selection. A trip to Alajuela with friends will take you to a large mall, a very big downtown area filled with specialty shops, a membership warehouse, and more.
For great dining out options, tourist-oriented entrepreneurs provide everything from small tico sodas, to larger local eateries serving the Costa Rican specialty casados, and ethnic offerings of all varieties. There are Chinese, Italian, Mexican, Japanese, and seafood, to name just a few.
An extremely unique food option is the feria, or weekly farmers' market. Every town in the country has one, and some, like Sarchi's are remarkable. It's loaded with the freshest, just-picked selection of local fruits and vegetables, meats, baked goods, and more. It's also a sociable gathering place with several small sodas serving everything from fresh-brewed coffee to full plate lunches.
Cost of Living in Sarchi, Costa Rica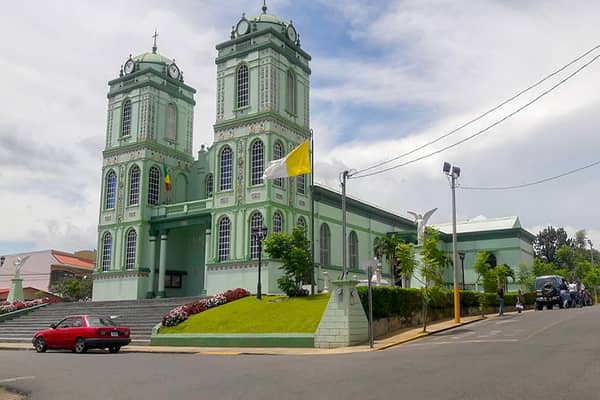 Cost of living can be affected by so many variables, all based on your personal choices. Consider this example:
| | |
| --- | --- |
| Item | Cost in USD |
| Rent for two-bedroom apartment or house |  $650 |
| Utilities: electric, water, cable/internet, phone |  $95 |
| Groceries |  $385 |
| Medical/Caja |  $120 |
| Dining/Entertainment |  $120 |
| Transportation |  $130 |
| Household Help & Incidentals |  $150 |
| Total | $1,740 |
Notes: 
Local Sarchi markets will be a little lower, and will include everything you need. Shopping at the feria will increase savings.
Medical through CAJA, the national health system, is about 8% of a retiree's monthly income. But, only one spouse must provide a verifiable monthly income of at least $1,000, and it covers both husband and wife. Expect to pay $95 to $100 per month for complete CAJA medical care.
Dining/Entertainment at $120 is based on one moderate-cost meal per week for two. However, a casado, the national full-plate meal, with a drink, will cost $6 to $7 per person.
Transportation is highly variable. The $130 a month above is low—reasonable, based on your usage. Eliminating a car, and taking two bus trips and two cab rides a week would bring that figure to less than $100. Also, over 65s ride buses for free.
Things to Do in Sarchi, Costa Rica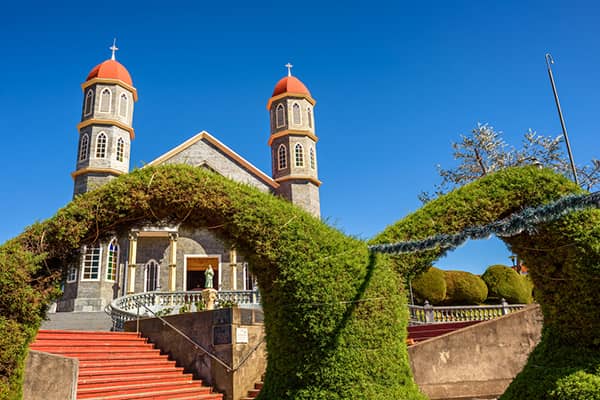 1. Feel the Town's Vibes
Begin your tour of Sarchi at the Central Park, where you will see the world's largest oxcart. Built in 2006 by the Eloy Alfaro Shop for the Guinness World Records, it brought notoriety to both the town and the oxcart. It is the most photographed spot in town. The beautiful park is the site of the July 25 party honoring the patron saint, Saint Jack. On September 15, it's a dance festival of Typical Dances.
Above the park is the Inglesia de Sarci, or the church of Sarchi, called the "Wedding Cake Church" because of its unique decoration. The inside features a hardwood-carved ceiling created by local artists.
2. Costa Rica's First Factory
Walk north of the park to the Fabrica Carretas Eloy Alfaro, or the Eloy Alfaro Oxcart Factory. Started in 1920, the first legally recognized business organization, making all the parts, forging the metals items like the wheel rims. A river-fed water wheel that continues to today, provides all of the power to run the equipment.
As the oxcart became a decorated item, artists were brought in to do the ornamentation. Watch them today and they will happily explain what they do. The factory remains, and a large souvenir shop now sells oxcarts, t-shirts, and souvenirs at very reasonable prices.
3. Rest, Relax, and Enjoy Nature
On the north side of Sarchi is the Jardín Else Kientzler, or Else Kientzler Botanical Gardens, containing over 2,000 types of plants, both local and international varieties, in 17 acres, with over a mile of walking trails. There are succulents, fruit trees, palms, heliconias, orchids, and more on display. More than a garden, it is a space to reconnect with nature, amidst the quiet beauty.
4. Spend a Day With the Craftsmen
On the west side of town, see the Coopearsa Mercado de Artisimos, or the local artists' co-op store. You can purchase hand-made pottery and household items, all made by the local art community. Relax in one of the wood and leather rocking chairs. You'll think, "I just gotta have one of these!"
Then, go around to the left side of the store and visit Mariposa Sarchi, the Sarchi Butterfly Farm. See the operation that supplies butterflies to stores and tourist sites. They also sell stuffed butterflies and plants to attract beautiful insects to your yard. Out their door, turn left and have a bite at Restaurante La Finca Sarchi, the Sarchi Farm Restaurant, a full-service tico eatery. Try a casado, empanada, or gallo pinto.
5. See the Birthplace of the Decorated Oxcart
Joaquin Chaverri, began making oxcarts in 1902 in his Fabrica de Carretas, or Oxcart Factory. He began to beautify his family's cart, used on Sunday outings, the rest, as they say, is history. The cart decorating business grew and today you can watch artists hand paint these interesting vehicles. 
6. It's Time to Get Out of Town!
Sarchi's location places it close to northern attractions and touring the mountains. Explore the northern sites here:
Bajos del Toro, 12 miles north of Sarchi, is a nature area of waterfalls and hiking trails, with a quiet town with inns, hotels, and dining spots.
Zarcero, 18 miles outside of town is a dairy area, famous for queso palmito (white cheese), and is the gourmet cheese capital of Costa Rica.  See the topiary gardens in front of the pink and blue church.
Arenal Volcano and nearby La Fortuna combine to make this a top tourist destination, with resorts, inns, hotels, fine dining, and outdoor activities. The many volcano-warmed mineral baths make it special.