Playa Hermosa on the Papagayo Peninsula in Costa Rica
Playa Hermosa, which translates to beautiful beach, is located in the northern Guanacaste province, on the Papagayo Peninsula in Costa Rica. At a short 25-minute drive from Liberia's Daniel Oduber Quirós International Airport, Hermosa is one of the closest beach communities to an international airport in the entire country. The Costa Rican capital, San Jose, is approximately a five-hour drive away.
Retire in Hermosa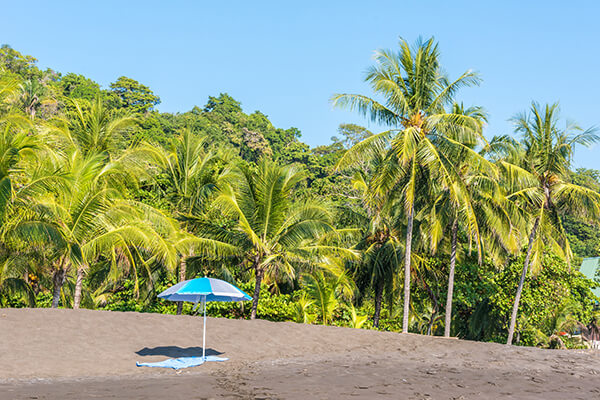 Hermosa is a place strongly worth considering if you desire living in warm temperatures, with high 80s F to low 90s F by day, and high 70s F to low 80s F at night, nearly year-round. Add in frequent sunshine—the rainiest months being August to October, with only a few stray showers and occasional downpours—and, you have in this little piece of the tropics, one of the driest places in the country.
Situated in a protected cove, the town of Hermosa resides between lively Playas del Coco to the south, and Playa Panama to the north. Approximately one mile long, Playa Hermosa is lined with almond and palm trees, with the beach in the shape of a horseshoe. As the sand is volcanic in origin it has a salt and pepper color and a fine, soft texture. A path meanders around the beach for easy walkability and features shaded picnic tables, benches, and a children's playground.
Since the cove is protected, the waves are small and without riptides or undercurrents. This makes conditions for swimming and water sports ideal. SUP paddleboarding, skimboarding, and snorkeling are popular water sports here. Playa Hermosa also consistently holds a bandera azul (blue flag) status, the highest rating a beach can acquire for cleanliness and water quality.
The Papagayo Peninsula is prolific for deep sea fishing for varieties such as mahi-mahi, tuna, rooster fish, marlin, and other catch and release big game fish. These seas are especially good during "green" season because the rains wash dead wood from the hills into the ocean. This natural wood creates a multitude of nutrients for sea life and hiding places for fish to spawn and nest. Therefore, the fish are closer to the shore and to the surface making it an angler's dream.
Lifestyle in Hermosa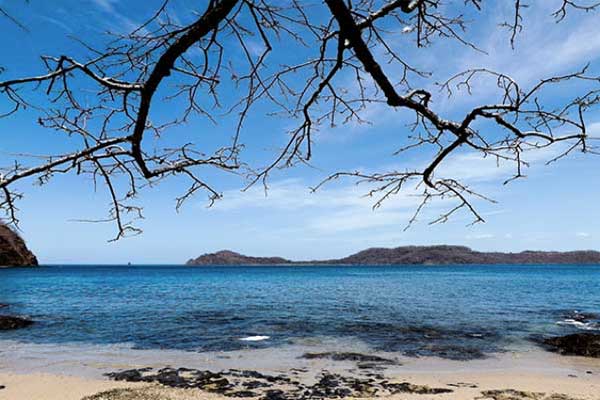 Although this quaint and peaceful community itself is small, with the population fluctuating seasonally from high 100's to the low 1000's, it is well developed and boasts all the basic amenities you would need to live comfortably with high-quality boutique hotels, bars with live music, and international open-air restaurants dotting the oceanfront. The population consists of an equal mix of expats, mainly North Americans and Europeans, ticos (Costa Rican natives), and vacationers.
The residents here are generally tightly knit and are willing to donate money for various fundraising efforts to make the community a better place. In fact, Hermosa has a recycling program and residents routinely volunteer for beach clean ups. There is also a Salve Monos (Save the Monkeys) program in place, working in conjunction with the University of Costa Rica to preserve, document, save, and enhance the dwindling Howler Monkey population in Hermosa.
Hermosa town is situated in a valley with much of the real estate development in the surrounding hills. It is one of the few Costa Rican towns with a miniature golf course, and also has a pharmacy, a spa, a hair salon, an ATM, plus a grocery store in the center of town to satisfy shopping needs from fresh produce to imported wines. As Hermosa is fairly concentrated and on the bus line, you do not have to own a car here.
However, if you do have a car, you will open your world to the nearby restaurants, bars, and bigger grocery stores of Playas del Coco and to the provincial capital, Liberia. Many coastal-loving expats prefer to call this area home because of the nearby amenities in Liberia such as the private Hospital San Rafael Arcángel, and the central hub of commerce including shopping, banking, attorneys, a migration and fingerprinting office for residency, a COSEVI driver's license office, as well as car dealerships and big-box stores like Pricemart, Walmart, Universal, and Pequeño Mundo.
Many of Costa Rica's national parks and tourist attractions are within an hour's drive from Hermosa, including Rincon de la Vieja National Park, Palo Verde National Park, and Santa Rosa National Park. These parks provide a great opportunity to see wildlife and experience a few of Costa Rica's diverse ecosystems, including an active volcano. The Papagayo Peninsula also boasts multiple 5-star luxury resorts near to Hermosa, such as the Four Seasons, Andaz, Secrets, El Mangroove, and Planet Hollywood.
Real Estate in Hermosa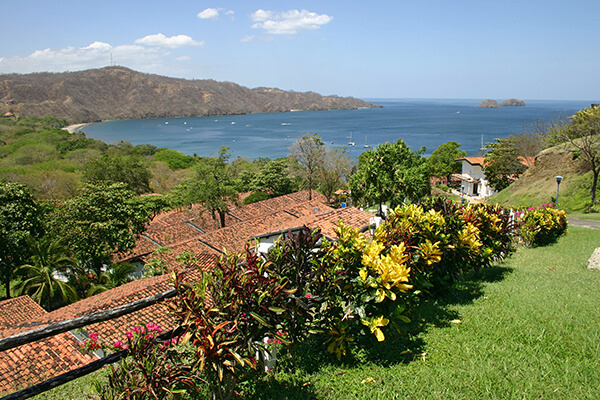 Like anywhere in the world, the price of real estate varies greatly based on whether the property has a view, the distance from the beach, and the square footage. Given the small size of the community here, there are a surprising amount of choices in Hermosa, from condos to single-family homes.
For example, a small, two-bedroom, two-bathroom home with a community pool, but without a view, can be found for under $200,000. With a better view comes a higher price, so if you want a view, you would need to double that price and increase it as you move up the hill. These houses serve up more spectacular views and increased square footage. Lots and gated, planned communities can be found in the $80,000 range.
Long-term rentals are becoming more challenging to find because most owners want the big dollars associated with short-term vacation rentals. However, there are still places available to rent long term-often they are found in the local community by asking around, not advertised on websites. Hermosa's accommodation mainly caters to mid- to high-end. Rents for a modest two-bedroom, two-bathroom condo can be found for $800 a month. If you are looking for something a little larger like a three-bedroom, three-bathroom home, you are likely to pay around $1,500 and upwards.
Cost of Living in Hermosa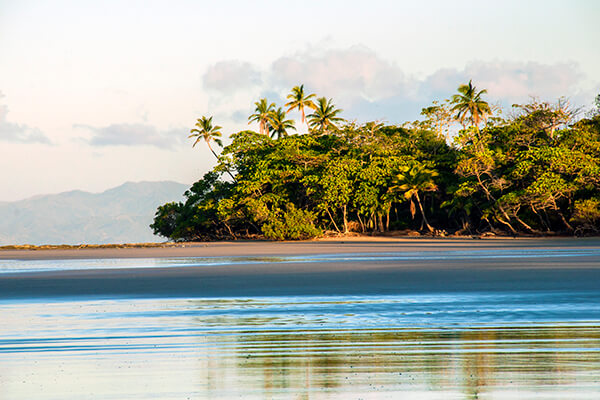 Below is an example of a monthly budget for a couple renting in Hermosa, including groceries transport, and day-to-day expenses. These numbers can vary widely depending on the lifestyle you choose to live.
Monthly Budget Breakdown for Hermosa, Costa Rica
| | |
| --- | --- |
| Expense | U.S. $ |
| Rent | $800 |
| Utilities (electricity, water) | $110 |
| Cable/internet | $60 |
| Cell phones | $25 |
| Groceries (including alcohol) | $400 |
| Car/transportation | $120 |
| Health insurance/medicine (private policy) | $400 |
| Dining out/social activities | $400 |
| Misc. | $100 |
|  Monthly total: | $2,415 |
If you're a seeking a small, safe, and tranquil piece of beach paradise with plenty of sunshine, stunning views, and proximity to big-city amenities, Playa Hermosa may be the perfect place to start your new expat life.