The Bustling Beach Town of Tamarindo, Costa Rica
"Buenas!" "Hola!" "Pura Vida!" Common greetings among friends and strangers alike. Despite a surge of growth, Tamarindo still offers that "place where everybody knows your name, " small-town vibe.
Historically this Pacific coastal town nestled along the Nicoya Peninsula of Costa Rica's Guanacaste region, just two-and-a-half hours south of the Nicaraguan border, was a quiet fishing town. A few boats in the bay and not much else other than lush flora and native wildlife.
Not until the 1970s did some curious surfers stumble upon this otherwise undiscovered beach town and recognize the incredible surf break that exists just offshore. Shortly after, in 1974, Coopeguanacaste (the electric cooperative servicing the Nicoya Peninsula) brought electricity to Tamarindo–while the arrival of landline phones was still far ahead, not arriving until 1996.
Pun intended, Tamarindo caught its big break when its once secret surf breaks, scenic beaches, and pura vida lifestyle starred in the 1994 surf movie Endless Summer II. The film has been renowned since its release for attracting a cult-like following of surfing nomads and nature lovers to seek the idyllic spots that had been scouted out by the filmmakers. Sure enough, just a few years following the film's release, Tamarindo began to evolve into a bustling beach hub.
With just over two miles of golden sand, the beach stretches from one end at the mouth of the Tamarindo estuary to the other, where a point formed from volcanic rock separates Tamarindo from its neighboring Playa Langosta. The palm tree-lined beach is postcard quality, with its pristine blue and turquoise waters. Drawing sunbathers, yogis, beach volleyball, soccer players, and surfers of all skill levels; there is plenty to do for those seeking an active lifestyle.
Beyond the palms, separating the beach from the town, the main road is lined by beachfront restaurants, bars, hotels, yoga studios, tourist shops, and probably the most prevalent: surf shops.
Aside from the world-renowned surf and paradise-like atmosphere, Tamarindo proved to be no one-hit wonder when it garnered international attention once again in 2004 for being located within one of the world's five "Blue Zones"—areas where people regularly reach the age of 100, and in good health.
Of course, this comes as no surprise. The Nicoyan water boasts the highest calcium content in the country, lowering rates of heart disease and strengthening bones. Also, the diet in the region is based on staples including rice, beans, and maize. Very few processed foods are consumed, fruits high in antioxidants are highly accessible, and people tend to consume fewer calories overall.
With one of the warmest and driest climates in the country, Tamarindo and the surrounding region experiences direct sunlight nearly every single day of the year. Temperatures are consistent year-round, fluctuating normally between 80 F and 95 F. Even during the "rainy" season, lasting approximately from May to October, a day without sunshine is rare.
All that said, it's easy to understand how this town has become one of Costa Rica's most popular beach towns; popular among Ticos (a native Costa Rican), but also a large expat community and tourists from around the world. With a growth in popularity has come a growth in amenities and infrastructure.
Located just over an hour from Daniel Oduber Quirós International Airport in Liberia, accessible via a paved road the whole way, Tamarindo is about as convenient as it gets for a beach town that still allows you to "get away from it all." And if you need to head to the nation's capital of San José, you can drive along a paved highway and be there in about five hours. Scheduled daily bus service to and from San José and other larger cities is available and reliable too.
You'll find three banks in town, including Banco de Costa Rica and Banco Nacional (the country's two largest chains). There's a local hardware store for basic needs and a couple of shops offering services like printing, faxing, scanning, and copies.
So the question is, what if there were a place where you could enjoy the tranquility of the beach, yet the excitement of a busy little town? A place where both relaxed retirees or ambitious digital nomads can thrive. A place with just enough modern-day amenities to suit your everyday needs, but not so developed to hinder its slightly bohemian, off the beaten path charm. This place exists, in Tamarindo, and could be the perfect spot for someone ready to reinvent life as they know it with a daily dose of sun, sand, and a tropical ocean breeze.
Retire in Tamarindo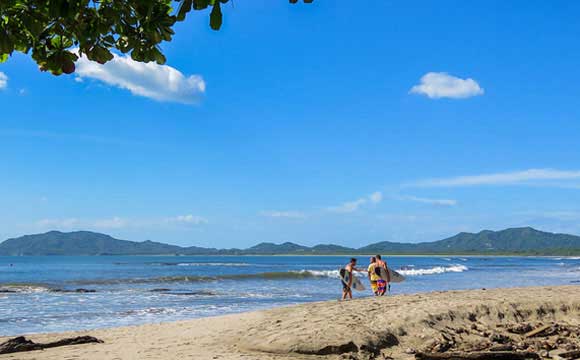 Tamarindo, Costa Rica offers a little something for everyone interested in an affordable, peaceful, and simple beachside retirement.
It's a town where everyone knows your name, but also offers plenty of places and spaces to enjoy time by yourself. A beach community offering modern amenities and day-to-day necessities, but also a slower pace and a bit of an old fashioned sentiment. A hot and dry climate offering sunshine nearly every day of the year, and welcomed tropical showers to bring out pops of color among the local flora. A haven for outdoor adventure seekers and nature lovers.
In comparison with many of the popular North American coastal retirement destinations, one of the most desirable attributes of Tamarindo is the affordable tropical setting. It is possible for a couple to live in Tamarindo on a monthly budget of $2,000, and unique from many other Central American destinations, Tamarindo also offers luxury living, should that be what you're looking for. Aside from housing, the two most costly budget items will be electricity and imported goods.
Sometimes the scariest part of retiring abroad is the thought of being far from family and friends, but amidst all the things that make Tamarindo a postcard-perfect destination, what many expats enjoy most is the instant sense of community they experience here. With a mix of locals, retirees, digital nomads, and surfers from around the world, people tend to be friendly and welcoming, and newcomers don't stay "new" for long. In addition to the ease and accessibility of air travel, this helps calm some of the common nerves before the big move.
For years now, Tamarindo has remained one of the most popular retirement destinations for North Americans not only in Costa Rica, but in all of Central America, and hopefully this overview provides a glimpse into the many reasons why.
Lifestyle in Tamarindo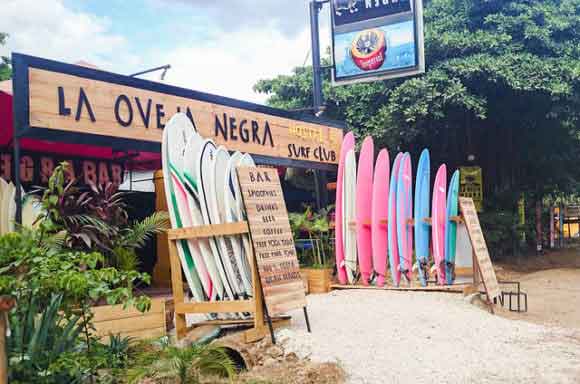 Modern Nicoyans have strong roots to the indigenous Chorotega, whose traditions have been hailed for enabling people to remain relatively stress free. Alas, the "pura vidalifestyle" people rave about after having been to Tamarindo.
For many, daily sightings of howler monkeys and a variety of lizards never gets old. Between the monkeys and the plethora of tropical birds found here, chances are you'll be waking to the tune of a different type of alarm clock.
Being able to get pretty much anywhere in town within 10 to 15 minutes on foot is a major draw for the roughly 1,000 year-round residents (a population that swells to 5,000 or so during peak times for tourists and part-time residents). If you need to take a taxi for any reason, it will usually cost between $2 and $4 and public bus fare to get you to surrounding cities are low. For example, to go to Santa Cruz (the local municipality center) would be $1.30, and a bus ride to Liberia will only cost $2.50.
While the nearest hospital is in Liberia, in town you do have access to doctors through local clinics as well as multiple pharmacies. There are five accessible grocery stores as well as the weekly feria (farmers' market) on Saturdays. At the feria you can purchase locally grown produce, and other local products like herbs and spices, cheeses, fresh fish, and eggs for a fraction of the cost you'd normally pay.
Whether you want to learn to surf, log some hiking mileage, catch your own dinner out at sea, lounge seaside in a hammock, or put a dent in your reading list, each day can be as action packed or relaxed as you choose and is guaranteed to come to a close with an extraordinary Pacific coast sunset.
Beach Living in Costa Rica at its Best
by Jason Holland
You couldn't accuse it of having a secluded, deserted beach. But living in Tamarindo, Costa Rica certainly has its rewards.
As one of the country's most popular beach towns with a large expat community, Tamarindo has a lot of advantages and amenities.
Where to Live
You'll find a variety of options when it comes to housing, from low-cost apartments and condos to large ocean-view homes. Three bedroom homes five minutes from the beach in and around Tamarindo can be had for well under $200,000; two bedrooms for around $150,000.
A plethora of vacation rentals also means you can easily visit for a month or two to try out living in Tamarindo, Costa Rica before you make a permanent move.
Tamarindo is a very walkable town. So no matter where you live the beach and town will be only, at most, 10 to 15 minutes away.
Medical Care
As a popular vacation spot, the medical care in Tamarindo isn't what you'd find in other communities. There are doctors and dentists in town, and a few minutes drive further inland.
But for treatment for serious conditions, you'll want to head to Liberia, the capital of the Guanacaste province. There you have a large public hospital (open to legal residents, including expats, only unless it's an emergency) and two private clinics, one associated with Clinic Biblica and the other with CIMAHospital. They are near the international airport outside of town.
Water Sports Galore
If you're into water sports, Tamarindo is your place. Surfing, of course, dominates. It's actually the perfect place for beginners, with tame waves along most of its length. There are also bigger breaks for more experienced wave riders. More than a dozen surf schools are strung along the beach, ready with boards and expert instructors.
Kayaking and stand up paddle boarding are also popular here.
Dining Out
For a town of about 4,000, it's surprising just how many different types of food you can find.
The many Italian expats here have brought several restaurants dedicated to their home cuisine. La Baula is an open air place specializing in my personal favorite, wood-fire pizza baked in a brick oven.
You can also find gyros and falafel (Middle Eastern food is very rare in Costa Rica) at Falafel Bar. Just $4.50 for a big pita sandwich – and they don't skimp on the ingredients.
Also try LongBoard BBQ, which has great American-style barbecue with awesome smoky sauce, another rarity in this country. It's cheap too, a pulled pork sandwich with side is just $5.
In addition to these choices, you'll find sushi, ceviche, American sports bar fare, gourmet sandwiches, Mediterranean, Asian fusion… the list goes on.
The Community in Tamarindo
Of course, there are several restaurants and bars right on the beach. It's the perfect place to enjoy sunset.
That's where the "not a secluded beach" part comes in. You'll soon learn living in Tamarindo, Costa Rica that the beach is the community gathering place. And sunset is peak time – a celebration of sorts.
People walk their dogs, surfers get one last session in, kids are playing, impromptu soccer games are held, cocktails enjoyed. It's the place to meet with friends or make new ones.
And that sense of community is one of the things that makes Tamarindo special.
Getting There
Getting to Tamarindo is easy. The Daniel Oduber International Airport in Liberia offers many flights from North America and Europe. It's just an hour taxi ($50) or bus ride ($3) to Tamarindo, with frequent service offered. You can also get private transport for $20 through the Tamarindo Shuttle (tamarindoshuttle.com).
From JuanSantamariaAirport in San Jose, the trip by bus is about four to five hours and costs less than $10. Private transport by van or shuttle will run you about $50 per person. You might consider renting a car for the trip.
Cost of Living in Tamarindo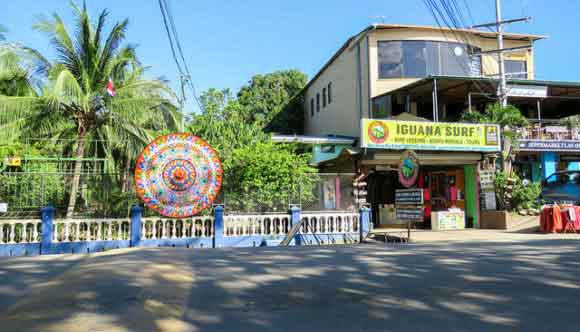 While many expats will find a lower cost of living in Tamarindo than in many coastal North American towns, it's important to have realistic expectations and know that with an influx of both North American and European expats in recent years, the cost of living has risen here. While the town is full of Central American charm, you will still have access to plenty of modern amenities including high-speed internet, upscale restaurants, and luxury condos.
A monthly budget in Tamarindo will be highly variable depending on the sort of lifestyle you lead. It's possible to keep things simple and live frugally, but if you plan to have a car and maintain a lifestyle that includes luxuries like frequent meals out and imported goods, a monthly budget could easily climb to between $2,000 and $3,000.
As with most places in the world, the closer you want to live to the beach and to town, the more you're likely to pay for housing. These locations, however, are often highly sought after, because in general many people enjoy the ability to live in Tamarindo without a car. Going further out of town for more affordable housing often means having to buy some type of vehicle.
Here is a sample monthly budget for a couple in Tamarindo. Included is the cost of a vehicle, although most expats find they don't need one.
| | |
| --- | --- |
|  Expense |  U.S. $ |
|  Housing (rental of a luxury two-bedroom, furnished apartment) |  $1,000 |
|  Utilities (including water/electricity, internet, and bi-weekly maid service) |  $300 |
|  Cell Phone (minutes and data for two people) |  $25 |
|  Groceries (including some imported goods and alcohol, also based on  buying all produce and fish from local market) |  $400 |
|  Maintenance and fuel for one car |  $140 |
|  Misc. (personal items, etc.) |  $80 |
|  Entertainment (two people dining out four times a month with drinks,  dessert, and tips) |  $200 |
|  Caja (social security) healthcare – for legal residents this cost is  7%-11% of the applicant's monthly income, which can also cover a  spouse or dependent. |  Variable |
|  Monthly total |  $2,145 + Caja  variant if  a  resident. |
|  Yearly total |  $25,740 + Caja  variant |