Buying your Dream Home in Costa Rica is Easy
Costa Rica has been a popular retirement haven for expats for years and when it comes to buying real estate, you'll be sure you find what you're looking for…no matter what your taste or budget.
And buying your dream home in Costa Rica is easy. Property laws are the same for nationals and foreigners. You don't need to live in the country to own land or property and the country has no property tax.
There are two important rules to remember when buying property in Costa Rica:
• No matter how much research you do, never buy real estate unless you've actually seen it in person.
• Once you find property that you want to own, don't delay in making an offer. Sure, you might get away with delaying, but there's usually no reason to take a chance.
Speaking of research, smart property shoppers always check out what the owner or developer tells them about the real estate. Many developers, for example, talk about plans for new roads, clubhouses, golf courses, or marinas. But a lot can go wrong, even with the best developments, not to mention the government's plans for new roads or other infrastructure. To protect yourself, find out about the developer's track record and speak with several residents.
Top Locations in Costa Rica
The Central Valley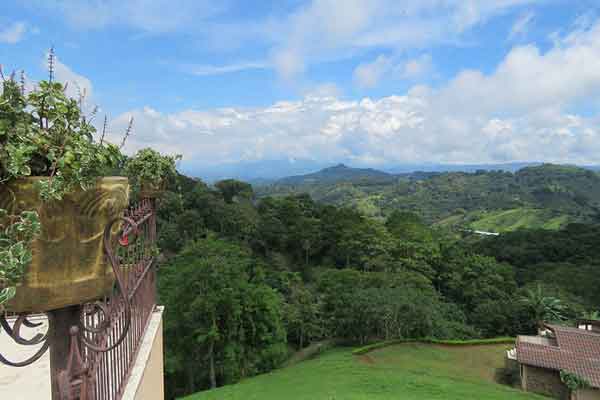 When most people consider moving to a tropical country, they have one thing on their mind: the beach. But while Costa Rica is a tropical country and has some beautiful beaches, not everyone wants to live a sand-filled life in shorts and flip-flops. The solution…the Central Valley.
Expats have been flocking to Costa Rica's Central Valley for decades and it's not hard to see why. The spring-like climate, central location, and ready-made expat community are just a few of the reasons more and more expats are deciding to make the Central Valley their overseas destination.
It's hard to beat the Central Valley when you're looking for a beautiful, friendly, and relatively inexpensive place to live. Parts of the Central Valley are positively alpine. Nestled among forests, mountains, and farms are villages where expats have been living side-by-side with Costa Ricans for many decades. As a result, supportive communities have formed, providing schools, clubs, sports, and a huge range of cultural activities.
A major draw is the comfortable year-round climate. The elevation, between 3,000 to about 4,500 feet, means temperature highs in the mid-80s F during the day to lows in the mid-60s F at night. The higher in elevation you go, the cooler it is on average. Many expat homes take advantage of this weather with large terraces or covered patios. No need for air conditioning or heat—windows and doors are left open to let the air circulate.
Like the name would suggest, the Central Valley is central. You can be in San José, the country's capital, and its suburbs within an hour to an hour-and-a-half at most from just about anywhere in the Valley. There you'll find the best shopping in the country, including North American-style malls and warehouse shopping clubs. It's quite common for expats living in the Central Valley to pop in to San José for shopping, dinner, and a movie. If you want to hit the beach, it's an hour or so to the Pacific.
The Central Valley—home to about two-thirds of Costa Rica's population—is also the place to find elegant residential communities, excellent medical facilities, splendid restaurants, luxurious hotels, and spectacular natural wonders, including volcanoes and rain forests. Expats and visitors alike won't be disappointed with what Costa Rica's Central Valley has to offer.
The most popular areas for foreigners are to the west of San José, including towns like Grecia, Atenas, San Ramon, Sarchi, Escazu, and Santa Ana.
Recent Central Valley property listings:
• A three-bedroom, two-bathroom home close to the town of Grecia, with a large yard and workshop area. Price: $119,000.
• Expats in Atenas tend to make their homes in the hills surrounding the town. A two-bedroom home, with large covered terrace, is available in the countryside with mountain and valley views. There is a share community pool. Price: $128,000.
• A two-bedroom home in the hills outside San Ramón with luxury finishes like custom cabinets. This house also has a large terrace, where you can enjoy mountain views, as well as a distant view of the Gulf of Nicoya and Pacific Ocean. Price: $249,000.
Lake Arenal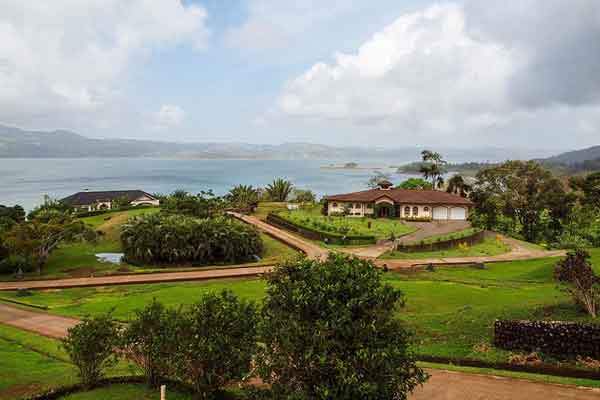 Located about three hours northwest of San José, Costa Rica's capital, the Arenal region has been drawing eco-minded travelers in search of opportunities in wildlife watching, jungle hiking, water sports, and other activities for decades.
But it has become much more than a tourist destination, attracting an increasing number of expats interested in making permanent homes here. The area is dominated by the 33-square-mile Lake Arenal. Also, looming above the landscape at the east end of the lake, is the 5,479-foot Volcan Arenal, a cone-shaped volcano that is active but not dangerous. Small villages dot the lakeshore along its 18-mile length, connected by a narrow, paved two-lane road that twists and turns its way around the lakeshore but the two main population centers are the charming villages of Nuevo Arenal and Tilarán.
Today the area—particularly around Nuevo Arenal—is also attracting property shoppers. Everything from luxury properties to more affordable but still beautiful homes are available. And many homes offer panoramic lake views. This new development blends in with the scenery and has not tarnished the unspoiled nature of the lake.
During the day, residents often enjoy fishing in the lake, horseback riding, gardening, or hiking in the forest amid rare plants and exotic animals. With the constant spring-like climate, it's comfortable to be active and outdoors any time of year. Although relatively small, the town has some great restaurants, nightclubs, and cafés as well as a health clinic, hotels, and banks. Tilarán is somewhat less developed.
For many residents, Arenal's remoteness is both an advantage and a drawback. The region is on the border of Alajuela and Guanacaste provinces, which is a drive of several hours from the Central Valley or from the airport in Liberia, although van service is readily available at the airport. On the plus side, the region is quiet and peaceful…a traditional Costa Rican agricultural community with a tight-knit expat community.
Lake Arenal is not for everyone—the pace of life is slow. But if you're looking for a quiet retreat with a small but active expat community and plenty of get-togethers, it's worth a closer look.
Recent Arenal property listings:
• Located on 1.5 acres of tropical landscape is a single-level, two-bedroom, two-bathroom, 1,400-square-foot home with mountain and partial lake and volcano views. This 2006-built home features an outdoor pizza/bread oven, a barbecue area, a 330-square-foot bodega, and two covered decks (one enclosed). Price: $149,000.
• A two-bedroom, two-bathroom, North American-style home with a panoramic lake view. It sits on 6.7 acres of pasture land and forest. Price: $185,000.
• There is plenty of land available too. Lots with electric and water hookups—ready to build. A 0.20-acre lot in an established community, flat land with a lake view, can be had for $40,000.
Tamarindo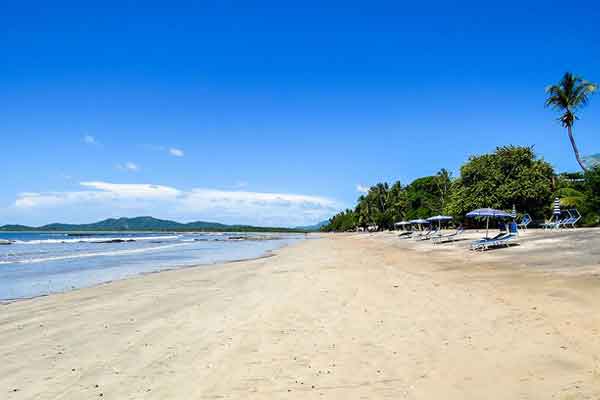 Historically Tamarindo, a Pacific coastal town nestled along the Nicoya Peninsula of Costa Rica's Guanacaste region, just two-and-a-half hours south of the Nicaraguan border, was a quiet fishing town. A few boats in the bay and not much else other than lush flora and native wildlife.
The in the 1970s some curious surfers stumbled upon this otherwise undiscovered beach town and recognized the incredible surf break that exists just offshore. Tamarindo caught its big break when its once secret surf breaks, scenic beaches, and pura vida lifestyle starred in the 1994 surf movie Endless Summer II. Just a few years following the film's release, Tamarindo began to evolve into a bustling beach hub.
With just over two miles of golden sand, the beach stretches from one end at the mouth of the Tamarindo estuary to the other, where a point formed from volcanic rock separates Tamarindo from its neighboring Playa Langosta. The palm tree-lined beach is postcard quality, with its pristine blue and turquoise waters. Drawing sunbathers, yogis, beach volleyball, soccer players, and surfers of all skill levels; there is plenty to do for those seeking an active lifestyle.
Beyond the palms, separating the beach from the town, the main road is lined by beachfront restaurants, bars, hotels, yoga studios, tourist shops, and probably the most prevalent: surf shops.
Located just over an hour from Daniel Oduber Quirós International Airport in Liberia, accessible via a paved road the whole way, Tamarindo is about as convenient as it gets for a beach town that still allows you to "get away from it all." And if you need to head to the nation's capital of San José, you can drive along a paved highway and be there in about five hours. Scheduled daily bus service to and from San José and other larger cities is available and reliable too.
If you're looking for a place where you can enjoy the tranquility of the beach, yet the excitement of a busy little town, where both relaxed retirees and ambitious digital nomads can thrive, and a place where there's just enough modern-day amenities to suit your everyday needs, but not so developed to hinder its slightly bohemian, off the beaten path charm…then Tamarindo could be perfect for you.
Recent Tamarindo property listings:
• A two-bedroom, two-bathroom town home a quick walk from the beach. The house, which is air-conditioned and features a community pool, is located near shopping, dining, and nightlife. Price: $129,900.
• The fully furnished, 900-square-foot condo in a development just 10 minutes from the center of town. It also has a walk-in shower, jacuzzi, and access to three shared pools and barbecue areas. Price: $157,000
• A three-bedroom, three-bathroom condo just 650 feet from the beach and a short walk from the center of town. It features air conditioning, a shared swimming pool, cable tv and internet and comes furnished. Price: $179,000.
What Every Costa Rica Real Estate Buyer Should Know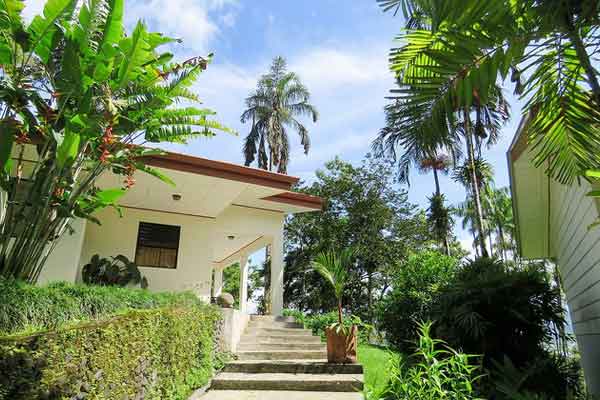 As you would do when buying property elsewhere, don't hesitate to ask for a reduction in price if parts of the house are in disrepair or look as though they may need repairs in the near future. In Costa Rica, ask for a discount—perhaps as much as $2,000—if the residence lacks a telephone. New phones are difficult to get.
Buying restrictions?
There are no restrictions on foreign property ownership as such, although no one can own property within 50 meters (164 feet) of the ocean, and for the next 150 meters (492 feet) real estate comes under Maritime Zone laws. These laws permit development only under government "concession." This means that anyone shopping for property should be doubly cautious about buying oceanfront real estate, including condos. Before entering into a transaction, insist that your attorney verify that the title is legally consistent with Maritime Zone regulations. Titled beach-front land is extremely rare due to these laws, although it does exist in some spots on the Central Pacific coast and elsewhere. Check with a trusted attorney in Costa Rica for details and for help with due diligence on coastal properties.
Residency Requirements
Depending on how often you plan to visit or live in Costa Rica, it can be necessary to establish legal residency. (Tourist visas are valid for 90 days.)
Many owners of second homes choose either Pensionado or Rentista status. For Pensionado status, you must show proof of monthly income from a qualified pension plan or Social Security benefits of at least $1,000.
For Rentista status, you must show proof of at least $2,500 monthly unearned income (in other words, it cannot be from a job but rather interest, savings, or dividends) for at least two years or a $60,000 deposit in a Costa Rican bank approved by immigration authorities.
Title Issues
Costa Rican law requires that all documents relating to an interest and/or title to property be registered in the property section of the National Registry. Most properties have a title registration number known as the folio real, and the records database can be searched with this number or by name index.
A National Registry report provides detailed information on the property, including the name of the title holder, boundary lines, tax appraisal, liens, mortgages, recorded easements, and other recorded instruments that would affect title.
Since Costa Rica follows the doctrine of "first in time, first in right," recorded instruments presented to the National Registry are given priority according to the date and time in which they are recorded. Obviously, every situation differs, and in some cases a review of the National Registry record will not be enough to uncover all encumbrances. That is why it is important for the buyer to have his or her own attorney conduct an independent title search and investigation rather than rely on the seller's attorney.
Costa Rica Title Insurance
Until recently, title insurance for residential properties was available in Costa Rica through several firms. The ability to get title insurance for your home, just as you would in the U.S. or Canada, provided an extra layer of protection for you as a buyer, and we at International Living always recommended that you get it.
However, these firms have decided to largely withdraw from the Latin American and Caribbean residential markets. There's no secret agenda here—it's purely a business decision. These firms prefer to focus their limited resources elsewhere, where they can maximize revenue.
But with title insurance no longer available, it's even more important that you find a good, solid attorney who will do a thorough title search for you.
Real Estate Taxes in Costa Rica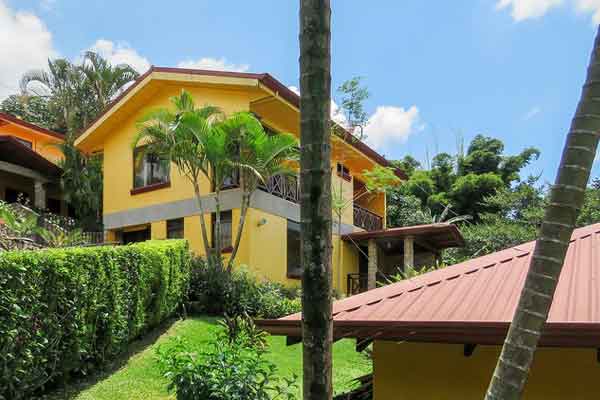 Property Tax Registration
Your property deed is recorded in the National Registry. However, you pay your property taxes at your local municipal government office where your property is located. Many buyers assume that the local property tax information will be automatically updated with the recording of the deed in the National Registry but the buyer should file a copy of the property transfer deed directly with the municipal government office where the property is located to ensure they update those records.
The current property tax rate is 0.25% of the recorded tax base of the property per year.
For properties that are valued at 126 million colones or more (about $233,500 at the current exchange rate), a luxury property tax is also due. The tax rate is on a sliding scale, ranging from 0.25% to 0.55%.
Property Transfer Tax
A property transfer tax of 1.5% is payable by the purchaser on the value of real estate purchased. This tax is triggered with the transfer of the property.
Municipal property tax
The municipal government where the property is located will levy a property tax on the cadastral value of the property as assessed by the tax authorities. These taxes are levied by the municipalities at the flat rate of 0.25%. The real estate tax is calculated on a calendar-year basis and must be paid annually, semi-annually, or quarterly, depending on the municipality.
The Cost of Closing a Real Estate Deal in Costa Rica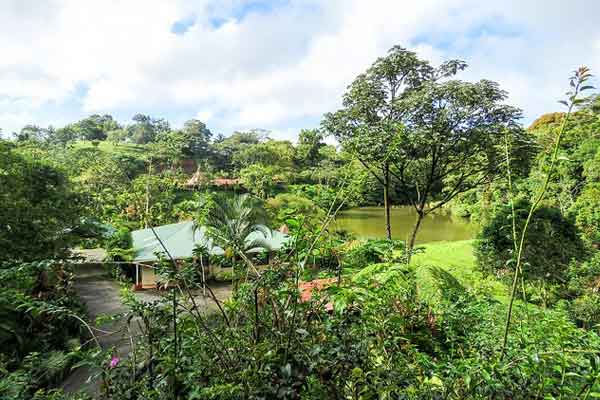 The general custom is for the buyer and seller to share equally in the closing costs. This can be modified by agreement and usually depends upon the particular transaction. Closing costs involve three things: government transfer taxes and registration fees, notary and legal fees, and mortgage costs, if any.
Real estate transfer tax
The government collects a property transfer tax (Impuesto de Traspaso), which is equal to 1.5% of the registered value of the property. The National Registry will not record a transfer deed unless the transfer taxes and documentary stamps have been paid.
Documentary stamps
The government also requires that documentary stamps be affixed to the deed. These stamps include the following: Municipal Stamp (Timbre Municipal), Legal Bar Association Stamp (Timbre del Colegio de Abogados), Agricultural Stamp (Timbre Agrario), National Archives Stamp (Timbre del Archivo Nacional), and Fiscal Stamp (Especie Fiscal). The National Registry also imposes its own tax of 0.5% on documents presented for recording to the National Registry (Derechos de Registro).
Notary fees
The notary who drafts the contract for sale, carries out the real estate closing, and records the property title transfer is entitled by law to a fee that is based upon a percentage of the value of the transaction:
Up to 11 million colones: 2% of the value of the transaction.
• On the excess of 11 million colones to 16.5 million colones: 1.5%.
• On the excess of 16.5 million colones to 33 million colones: 1.25%.
• On the excess of 33 million colones: 1%.