Once voted the "Cleanest Town in Latin America" Grecia is a jewel of the Central Valley
Once voted the "Cleanest Town in Latin America," Grecia is a jewel of the Central Valley of Costa Rica. Far enough away from the hustle and bustle of Costa Rica's largest cities, Grecia is a quiet hamlet.
The center of town, both literally and figuratively, is the beautiful Catholic church, Iglesia de la Nuestra Señora de las Mercedes. Made entirely of prefabricated steel, it is known as one of the most unique churches in the country.
Adjacent to the church is a large central park where residents and visitors talk, relax, gaze at the many exotic birds that fly by, or just people watch. In the center of the park is a band shell that hosts frequent performances. Everything from the town's youth orchestra to rock bands have performed here.
Grecia is a farming town, mostly coffee and sugarcane, but also some produce and citrus. The people are friendly and welcoming and love to celebrate during holidays.
The downtown is bustling with activity as the residents shop, do business, and drive through town on their way to another city. Most inhabitants, expats and ticos (as the Costa Ricans call themselves) live outside of downtown. There are multiple communities a short drive from the town center that provide easy access to the conveniences of town, but without the traffic. There are also five inclining mountain ridges that run for about 10 miles out of town. These ridges provide the coolest temperatures and best views.
Covid-19 in Grecia – A Bad Time Handled Well
Three years ago, the COVID-19 pandemic hit Costa Rica. The first struggle was trying to understand what it was and what could be done. The national effort began immediately, and with research by the world-leading institute for anti-venom research, the national universities designed ventilators for treatments, then gave the plans, at no charge, to capable manufacturers. While these efforts missed the mark, they were efforts by the government to protect the populace, businesses, and the medical system.
The people of Grecia joined the fight in quiet, subtle ways. Companies started work from home efforts earlier than just about anywhere in the world. Farmacias (pharmacies) and the government hospital started delivering medicines and prescriptions to homes. The list goes on and on.
Businesses began struggling, and the owners started working to find ways to stay open. While the small city has lost some old standbys, new start-ups have appeared. In many cases, new businesses have been created by old competitors who joined together to create unique dining, shopping, and service ventures. We now have an authentic Japanese restaurant, several new Italian ones, new computer and technology stores, and more. One young doctor closed his office to eliminate the possibility of sick people infecting each other. Now, making only house calls, he is so busy that his schedule is full.
No, Grecia has not solved all the problems, but rather than sit back in self-pity, the mood has changed. People smile through their masks at each other and look for ways to keep moving forward. We buy our delicious coffee from a small local plantation that roasts the beans. The son tells us that they trade with one farmer for eggs, another for chicken, a third for potatoes, and others for vegetables. In our community of six expat rental houses, there are six households enjoying the dark roast goodness, and José makes one delivery here. We have worked together and the outlook is positive and bright.
It is Pura Vida, Pure Life, in action.
Retire in Grecia, Costa Rica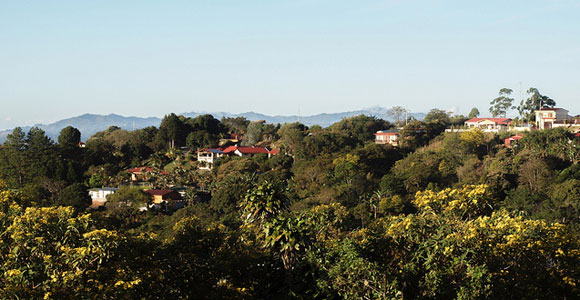 Grecia is the perfect place to retire. The town is a medium-sized farming town of about 15,000 residents. It sits on the slope of Poás Volcano in Costa Rica's Central Valley, meaning it is surrounded by mountains. Elevations for Grecia and its environs range from 3,000 to 5,500 feet, providing ideal temperatures year round and stunning vistas from most places in the town. There are two seasons; dry season, or summer, from mid-December through April, and rainy season, or winter, from May to mid-December. Yes, it's upside down compared to northern climes!
In addition to the weather, Grecia is large enough to have nearly all the conveniences you might need. There are plenty of options for shopping in town. Multiple grocery stores provide everyday staples, and there are clothing stores, hardware stores, and even a mall.
For healthcare there are multiple pharmacies, each with a nurse on staff. The town has many general practitioners to choose from, as well as some specialists. There are at least three dentists and a couple of optometrists too. Many of the doctors are U.S. trained and speak English. Grecia also has its own hospital and Caja office (Costa Rica's national medical program). The cost for the average expat couple will be in the $90 to $100 per month range, based on your retirement income, and it pays for everything from prescription to tests to hospital stays. There is also an independent cash system of private doctors and hospitals, at rates 15% to 50% lower than U.S. rates.
Another great thing about retiring to Grecia is the town's proximity to other conveniences. The international airport in Alajuela (along with other excellent shopping options) is only 40 minutes away. And the capital city, San José, which provides cultural activities as well as excellent restaurants, is only an hour away.
Get Your Free Costa Rica Report Here:
Learn more about Costa Rica and other countries in our daily postcard e-letter. Simply enter your email address below and we'll send you a FREE REPORT – Costa Rica: The Land of Pura Vida
This special guide covers real estate, retirement and more in Costa Rica and is yours free when you sign up for our IL postcards below.
Lifestyle in Grecia, Costa Rica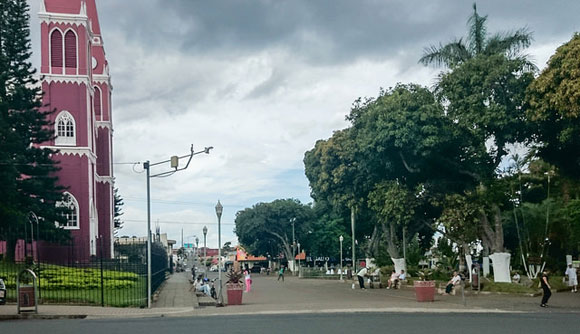 Grecia provides a great lifestyle for those exiting the rat race of the U.S. and looking for a slower pace of life. Grecia's perfect temperature encourages outdoor pursuits like walking or hiking, bird watching, and photography.
Beaches, on both ocean's shores, range from pleasant, laid-back idylls that are peaceful and picturesque to some of the top surfing opportunities in the world, especially on the Pacific side. Beach life can be as simple as a tent under the stars or lavish digs at full-service resorts. Fishing has the same variety of options, from single line casting from the shore to all-day boat tours and excursions.
La Fortuna, beside Arenal Volcano—considered by many to be Costa Rica's top tourist vacation spot—is only two to three hours away from Grecia. Here you'll find hot spring resorts and nature at its best, as well as a small town filled with top restaurants and attractions. In Grecia, B&Bs, inns, and cabinas with views join all classes of hotels in the town. And now, with the reawakening from the COVID scourge, new eateries are opening to join the already incredibly long list of things to do. The fun lies in the effort to find your favorite.
The expat community in Grecia is large and active. There are many clubs and activities that allow for socializing and there are also many volunteer opportunities for those that wish to give back to the community. The locals are warm, welcoming, sincere, and willing to share their culture with you. Learn to make tamales at Christmas time with your tico neighbors, or enjoy the warmth of a summer cookout.
The town has multiple restaurants, some even feature live music provided by local expat bands. And then there is the feria, or farmers' market. One of the best in the Central Valley, Grecia's feria is a great place to meet up with friends and find great deals on produce.
Real Estate in Grecia, Costa Rica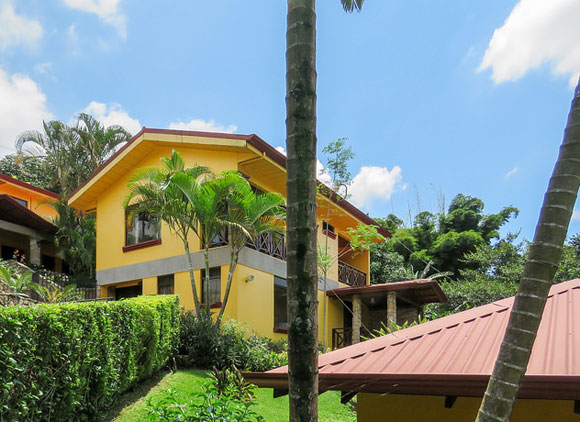 Real estate in Grecia is still affordable. Basic homes are available for around $100,000. A typical two- or three-bedroom, two-bathroom home will cost between $150,000 and $300,000. There are also many high-end homes over $500,000 and a few over $1 million, if that is what you are looking for.
A typical rental range for a home that has two-bedrooms with one or two bathrooms is $700 to $1,000 a month.
Cost of Living in Grecia, Costa Rica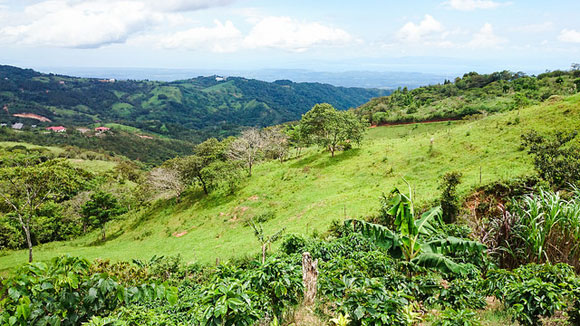 Since Grecia is a farming town and consumable goods are priced for residents, not tourists, prices for daily living are some of the lowest in the country. Produce is much cheaper than in the U.S. and meats are about the same. Each weekend farmers set up there stalls at the feria and shoppers can get deals like three pineapples for $2 or a huge bunch of bananas for $1.
Grecia has a mall with retail stores and a movie theater showing new releases. A pair of movie tickets will cost about $12. The mall also has a North American style food court with a McDonalds, KFC, and Taco Bell restaurant, among others. A combo meal will cost between $7 to $9.
For a sit down meal you can hardly beat the prices at a soda (a small family owned restaurant). The price for a casado, a typical Costa Rican meal of meat, rice, and beans, along with a beer will cost about $8. A meal at a larger restaurant will be more in line with prices in the U.S. For example, a meal for two with a glass of wine can run $40 or more.
Household help is affordable in Grecia as well. Cleaning staff or gardeners for your property will run $3 to $4 an hour.
A typical monthly budget for a couple runs between $2,000 and $3,000, with two of the largest factors being if you have a vehicle and whether you rent or own your home. Here's an example of a monthly budget for a couple living in Grecia without a car and renting a two-bedroom, two-bathroom home:
| | |
| --- | --- |
| Expense | U.S. $ |
| Rent | $800 |
| Electricity | $75 |
| Gas & water | $20 |
| Cell phones (x2) | $25 |
| Groceries & household items | $600 |
| Insurance | $100 |
| Internet | $50 |
| Dining out | $200 |
| Taxis, buses | $40 |
| Extra | $100 |
| Total: | $2,010 |
Get Your Free Costa Rica Report Here:
Learn more about Costa Rica and other countries in our daily postcard e-letter. Simply enter your email address below and we'll send you a FREE REPORT – Costa Rica: The Land of Pura Vida
This special guide covers real estate, retirement and more in Costa Rica and is yours free when you sign up for our IL postcards below.
Things to Do in Grecia, Costa Rica
By Kathleen Evans
Grecia, Costa Rica, is located about one hour northwest of the capital, San Jose, in the Central Valley region. Grecia is the self-proclaimed "cleanest city in Central America" and possess a certain charm all its own. Situated at approximately 3278 feet (999 meters) in altitude, the area boasts eternal spring-like weather, rarely needing air conditioning or heat.
With a population of 16,000, many expats find it the perfect size—small town living yet close to the big city's shopping, culture, and medical care. Grecia is also firmly entrenched as Costa Rica's used car capital, boasting 63 car dealerships. Although it is not considered a tourist hot spot, if you find yourself there it is not difficult to discover plenty to do and see in the area. Here are my tip picks:
Nuestra Señora de las Mercedes Church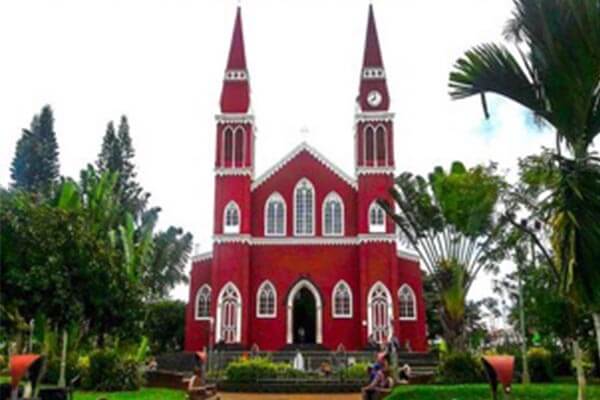 Adjacent to Grecia Park you will find one of the most unique churches in the country. The main church is not your typical brick or stone, but is actually constructed of sheets of metal imported from Belgium in the 1890s. Painted a dark red with brilliant white trim, the church is quite striking. The gothic style interior is also worth stopping in to see. Its architectural features include stained-glass windows, vaulted ceilings, and gingerbread trim. Even if you are not Catholic, it is a lovely historic building to tour and enjoy a little reflection time.
Grecia Central Park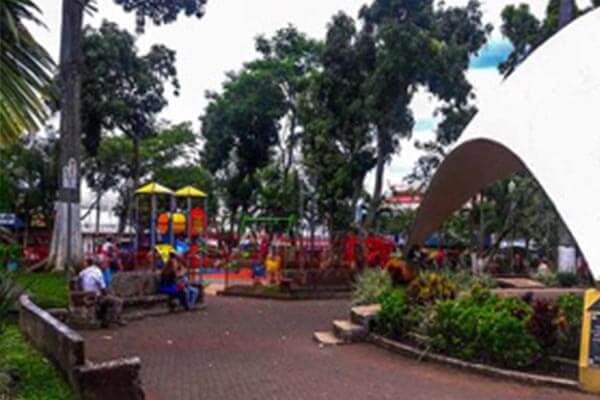 Nearly every town in Costa Rica has a central park, and Grecia is no exception. The park spans a full square city block in downtown Grecia bordered by shops, restaurants, the cathedral, and municipality buildings. Shady and quiet, the park offers a great place to chill out on one of the many concrete benches. There is also a kid's playscape and a small pavilion for events, plus an iconic "Grecia" sign by the fountain for your social media photo requirements.
Sarchi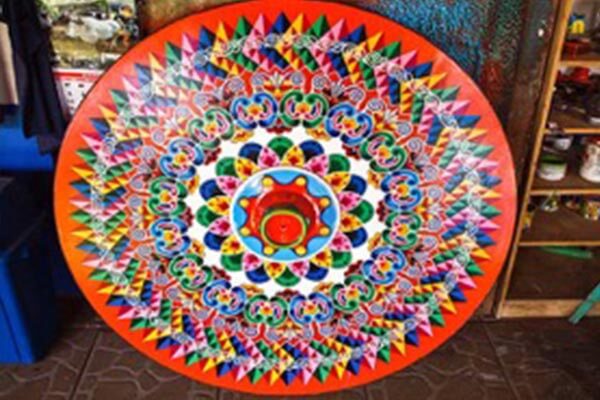 Just a 12-minute drive west of Grecia you will find the Guinness Book of World Record's largest oxcart in the world. Oxcarts have long been a part of Costa Rican history and culture, used to transport coffee beans and other goods to markets throughout the country. Local artists in the quaint town of Sarchí keep the oxcart making craft alive. Here you can see them carefully carving wood and painting colorful wheels in different workshops throughout town. You can even buy smaller replicas in many shops to decorate your home. These talented artisans additionally produce fine wood furniture from native woods. Sarchí also features a charming central park (where you will find the largest oxcart) and an adjacent cathedral— both are worth a look.
Los Chorros Waterfalls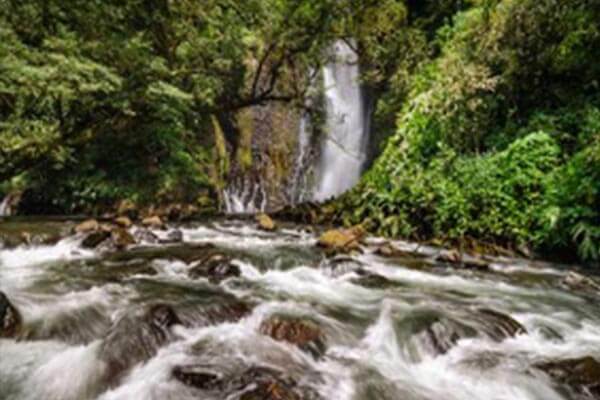 Located 15 minutes east of Grecia you will find Los Chorros (meaning the jets) Municipal Recreational Park. The park is a protected piece of jungle between the tiny towns of Chilamate and Tacares. You will find a parking area with an attendant who can point you in the right direction. It is a relatively easy 15 to 20-minute hike (initially steep and then partially flat) to the falls. The name comes from the many 'jets' of water that pour or jet from the hillside, but the main attraction is the two magnificent falls called Catarata Zamora and Catarata Prendas. There is an area for picnics too, if you want to make it a day trip. Be sure to wear water shoes.
Doka Estate Coffee Tour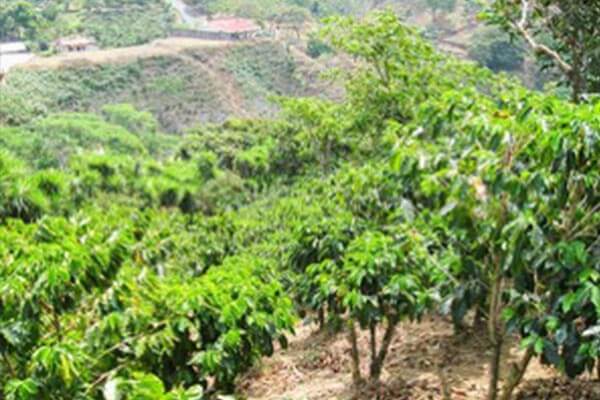 Spending time in the Central Valley would not be complete without a coffee tour. On the slopes of Poás volcano, about a 40-minute drive east of Grecia, you will find Doka Estate, one of Costa Rica's largest coffee plantations. Here you will learn the art of the coffee making process from seed germination and cultivation to the roasting process, culminating in that perfect cup of java.  You will also have the unique experience of visiting the oldest wet mill in the country, now a UNESCO site.
Poás Volcano National Park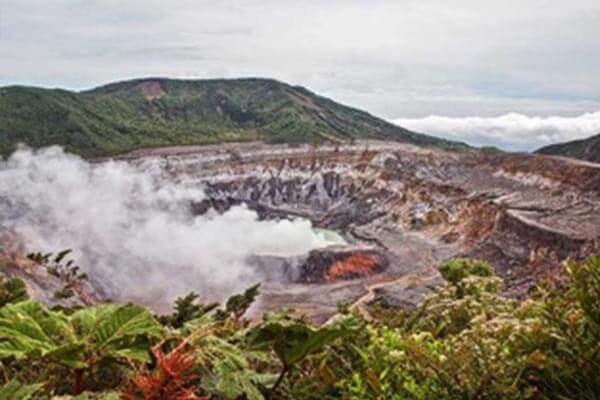 Grecia sits in the shadow of Poás Volcano, but it is about an hour's drive trip to the National Park. As the road climbs into the clouds towards the volcano's 8,885 ft. peak, not only will you pass a colorful tapestry of strawberry, flower and fern farms but you will feel the temperatures quickly drop. The active volcano has a spectacular bubbling green crater emitting sulfur fumaroles. It measures a mile wide and 1,050 feet deep. Because Poás is an active volcano, you cannot hike around the crater, but rather see it from the viewing platform. I recommended you go early in the morning before the clouds cover it later in the day. During eruptions, the park temporarily closes, so be sure to verify it is open before you go.
Get Your Free Costa Rica Report Here:
Learn more about Costa Rica and other countries in our daily postcard e-letter. Simply enter your email address below and we'll send you a FREE REPORT – Costa Rica: The Land of Pura Vida
This special guide covers real estate, retirement and more in Costa Rica and is yours free when you sign up for our IL postcards below.
Small-Town Living in Costa Rica's Central Valley
by Greg Seymour
Grecia is a popular town in Costa Rica for expats, and for good reason. The town is large enough to have enough variety in shopping to meet almost every need, but it is small enough to be comfortable.
When you go shopping or to eat out at a restaurant, you'll likely run into a friend. In addition to its size and level of convenience, Grecia has what many consider to be the perfect weather—with daily temperature ranges from 60 F to 80 F, most homes do not have a heater or air-conditioner; they are just not needed—and wonderful views of the Central Valley.
There's so many places to eat and get a coffee in Grecia, too. For breakfast, my wife, Jen, and I love going to Soda la Perla, a hole-in-the-wall restaurant with room for only about 10 guests. We love the way they serve their coffee con leche, filtered through an espresso machine. It is a great place to practice your Spanish and eat where the locals eat, too. For lunch, we love Mas Q Sabor as much for the friendly owner, Jonny, as the tasty Mexican food.
Upon entering downtown Grecia, visitors will see the famous red metal church and the adjacent idyllic central park. There are multiple urban legends about how the church mistakenly ended up in Grecia, but they are just that, legends. The church was purposely commissioned and built in the late 1800s and is the centerpiece of the community.
In addition to the church, visitors will see a bustling town with traffic and noise and may wonder why so many people want to live in Grecia.
The reason is that most residents don't live downtown. And while there are communities near downtown, most expats chose to live on one of five roads that follow ridges up the slope of Poas Volcano. These ridges are three to nine miles outside of town and are at a much higher elevation. Grecia Centro sits at an elevation of 3,000 feet while the mountain ridges range from 4,000 to over 5,000 feet. The higher elevation provides breathtaking mountain vistas, and smaller, less busy, coffee farming communities.
The five ridges are: San Luis, El Cajon, San Miguel, Carbonal, and San Isidro. Each ridge radiates from Grecia like fingers from an outstretched hand. Because the ridge roads are often many miles long, there are typically multiple communities (church, soccer field, convenience stores) on each ridge. For instance, El Cajon is about five miles long and includes the communities of Los Angeles, El Cajon, and El Cajon Arriba.
The ridges provide many different property types and prices. One I came across, located at 4,800 feet, is a beautiful home on the manicured grounds of a half-acre lot. The yard is planted with tropical flowers and fruiting trees including, mango, lemon, and banana. The house has two-bedrooms, two-bathrooms, and an office. The master suite has a door leading to the patio. The large kitchen is made for a chef and includes all stainless steel appliances. Just a 15-minute drive from Grecia, this home is listed for $279,000.
For just $137,000, in the hills above Grecia, a cozy wood paneled home sitting on one-third of an acre of land is available. I really love this one. Not only is the price right but the house has a warm feel to it, like a log cabin in the mountains. Have your coffee on a patio overlooking the breadth of the Central Valley—from San Jose to Sarchi. Enjoy the crisp cool mountain air while smiling at the deal you got on your home. The home has two very large bedrooms and one bathroom. All of this just 20 minutes from town.
High up on the El Cajon ridge sits a newly constructed home for the budget-minded. With three bedrooms and one bathroom, this small house has 900 square feet and a small yard. The home and yard might be small but the views are big—looking toward San José, Turialba Volcano, and the airport. The home sits just steps away from a bus stop and the bus to Cajon runs every hour, on the hour. All this for just $73,000.
Rentals are also available in Grecia and a two-bedroom, two-bathroom home would typically run from $700 to $1,200 depending on amenities. Many of the rental properties come fully furnished.
You can find rental properties available close to town available for long-term. I found one for $750 with two bedrooms and two bathrooms in a fully furnished home. The home is already set up for cable and WiFi.
Grecia is a great small town to live in. The people are friendly, the weather is nice, and the size is right. Make sure that if you check out the town, that you also look at the hills surrounding the town. You'll be glad you did.
[kathleen-evans-bio]


Popular Articles You May Also Like