Liberia, Costa Rica: A Working City With Hidden Gems
Decades ago Liberia, Costa Rica did not show up on tourist's radars, however with the region's fast-paced growth and booming international airport, times are changing. Liberia is the largest city of Guanacaste province, located northwest of the capital city, San José, a four-hour drive away. Liberia has been nicknamed La Ciudad Blanca (the white city) because of the white gravel that was once used to "pave" the city's streets and for the whitewashed colonial houses from a bygone era.
History
To talk about Liberia, one must regress a bit to understand the province itself. Guanacaste has a rich history and culture unlike the rest of the country. The name Guanacaste is derived from the indigenous quahnacaztlan, a native word for the Guanacaste tree which is now the national tree of Costa Rica.
This cultural heritage originates from the first indigenous groups who populated the area 10,000 years ago. According to history, the first humans who found Costa Rica (thousands of years before Christopher Columbus) arrived on the peninsula of Nicoya. During colonial times, Guanacaste was not part of Costa Rica. Given an option, the inhabitants of Nicoya, Santa Cruz, and Cañas decided that they did not want to belong to Nicaragua, but to Costa Rica and they announced their Anexion on the 25th of July 1824—now a national holiday. Culturally diverse, Guanacastecos are fiercely proud of their unique heritage.
With approximately 60,000 inhabitants, Liberia is the regional hub of the Costa Rican northwest. It was known as the resting place for travelers between San José and Nicaragua (and beyond) for hundreds of years. Offering heat-escaping shade under its giant Guanacaste trees, and rich grazing land for the herds of cattle. Guanacaste, to this day, is still beef country
Services and Amenities in Liberia, Costa Rica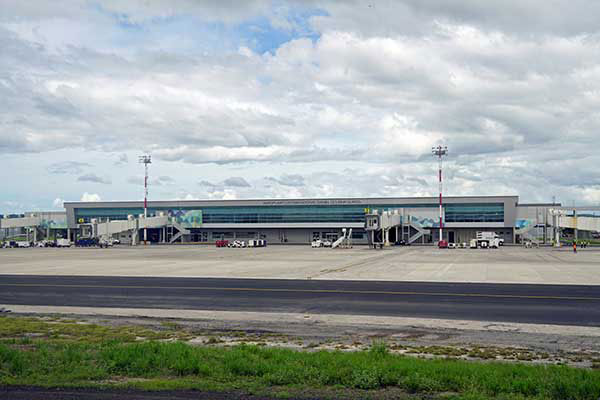 Growth in the last decade has made Liberia a major hub for commerce, that previously was only accomplished in San José. Two private hospitals have also opened: CIMA and San Rafael, so many treatments can be taken care of in Liberia rather than taking the long drive to San José.  Progress also continues with the opening of the migration office, which helps with the residency process, as well as a COSEVI office for driver's license renewal.
This is also the region's main shopping location, since nearby communities have a population of only around 5,000 and lack major stores. Everything from home furnishings to a meat market, restaurant supplies to a hardware store can be found in Liberia. The first Wal-Mart in the entire province opened in 2017 to great celebration. There is even a mall with a multi-screened cinema. And, if you are looking for restaurants, you can find everything from your favorite fast-food brands to unique and inexpensive eateries tucked away downtown and on the road to the airport.
Although Liberia is the major city in the north and home to the international airport, there is not much variety in terms of house design, unless you prefer to live like a local. In that case, you can find new two-bedroom, one-bathroom homes for as little as $55,000, but without many North American amenities. English is not widely spoken in these neighborhoods and there is not the expat support groups you will find on the coast. Though, things are changing as new developments are popping up north and south of the city.
Liberia is a perfect launching point for all the stunning Guanacaste beaches (Coco, Las Catalinas, Flamingo, Conchal, Tamarindo, Nosara, Sámara, to name a few).  In fact, Playa Hermosa is one of the closest beaches to any international airport in the entire country. That means once you have collected your bags, you are just 20 minutes from toes in the sand. This part of Guanacaste is commonly called the "Gold Coast" and between the great number of beach towns, you can find one which fits your style, all within two-hour drive or less from the airport.
The modern Daniel Oduber Quirós International Airport is located eight miles west of the city center. This is the second international airport in the country, and daily serves a variety of international gateway cities on major North American airlines including; United, American, Delta, Southwest, JetBlue, Alaska Air, Frontier, Air Canada, WestJet, Areoméxico, and several charters. The two national airlines (Sansa and Aerobell) also fly daily to Liberia. The airport was completely rebuilt (2012) and expanded (2018) to accommodate the demands of regional growth.
Things to do in Liberia, Costa Rica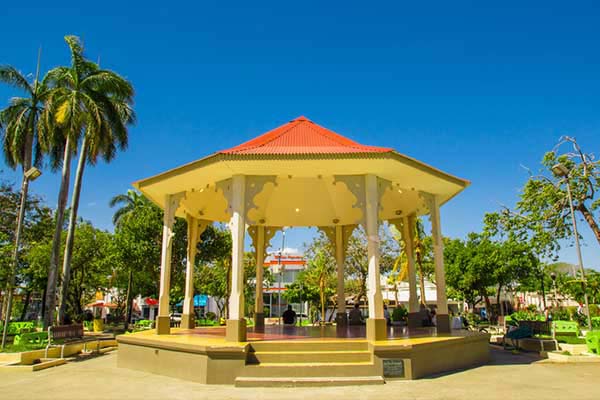 Just because Liberia is more of a "working" city, that doesn't mean it's completely lacking in treasures for a traveler to explore. In fact, many tourists are surprised about the attractions in and around the city.
Liberia's bustling downtown features a modern Catholic church, a big plaza, and park surrounded by small shops and restaurants. Central Park is a popular gathering spot for locals and often hosts live music on weekends. Vendors sell refreshing pipas (coconuts) from a pushcart, and park benches offer a shade on the great number of hot sunny days which Guanacaste is famous for.
Also located in the heart of town, the Museo de Guanacaste (Guanacaste Museum) represents the rich culture and history of this proud part of Costa Rica, displaying work from local and national artists.
Two blocks north of the park there is a building called the Casa de Vico (newspaper house) where locals plaster it with newspaper clippings.  The building allows residents of Liberia to express themselves uniquely. Many articles are ancient, and it is not uncommon to see a Liberian pasting over older pieces with more exciting and recent news.
An African safari attraction called Ponderosa Adventure Park (formerly Africa Mia) is just a few miles south of town. Here you can interact with exotic African animals in a controlled environment.  It has now expanded to 173 acres and is home to 297 animals, both exotic and native. You can also zipline, horseback ride, swim, and white-water raft.
Llanos de Cortés is one of the most spectacular waterfalls in the country, just 20 minutes south of Liberia in a little town called Bagaces. It is a short, steep trail (newly paved with steps for the most part) to a spectacular 40 feet high, 49 feet wide waterfall. The falls drop into a tranquil, natural pool with a sandy beach perfect for swimming and sunbathing. There is a small entry fee and facilities available at the top.
Liberia is also home to an expo that takes place for 11 days in the latter part of July, celebrating the annexation of Guanacaste province. The expo or fiesta is rich in traditional horseback and bull riding, calf roping, as well as kiddie rides, a car show, food, local music, and dancing similar to the atmosphere of a state fair in the U.S.
Featured Image Copyright: ©Eq Roy-Dreamstime.com