Costa Rica has excellent healthcare
By almost any standard, Costa Rica has some of the best healthcare in Latin America. There are two systems, both of which expats can access: the government-run universal healthcare system, Caja Costarricense de Seguro Social, known as Caja, and the private system. Both health systems are constantly being upgraded—new hospitals, new equipment, and improvements in staff training.
Despite the advancements, costs are low in comparison to those in the U.S. and even some European countries. Healthcare costs are about a third to a fifth of what you'd pay in the U.S., depending on the treatment. Many doctors, especially in private practice, speak English and have received training in Europe, Canada, or the U.S. Drugs are also much less expensive.
Private healthcare is also available, which is affordable and high quality. There are three large, private hospitals that most expatriates use: CIMA hospital in Escazú, Clínica Bíblica in San José, and Hospital La Católica in San José-Guadalupe. All these facilities are in and around the capital of the country, San José.
In this private system you can pay cash or use insurance, including some policies from the U.S. and Europe, international policies, and insurance from Costa Rican companies. Health insurance from the Costa Rican government monopoly Instituto de Seguro Nacional (INS), for example, is available to legal residents, affiliated with doctors, hospitals, labs, and pharmacies in the private sector. Even if you pay cash, costs are low. Doctors, for instance, rarely charge more than $60 a visit, even for house calls. And visits to see a specialist, of which there are many in the country, will run you $80 to $100. Tests like ultrasounds are $75. And even major surgeries are half to a quarter of what they'd be in the U.S.
A new full-service hospital from CIMA opened a couple of years ago in Liberia, capital of the Guanacaste province. It's just an hour or so away from northern Pacific coast beaches like Tamarindo and Playas del Coco, home to many expats. It joins a Clínica Bíblica medical center already in town.
Statistics from the World Health Organization frequently place Costa Rica in the top country rankings in the world for long life expectancy. Arguably, one reason for this is the slower pace of living in Costa Rica. And, of course, the healthy, fresh, non-preservative-laden foods found there, and the welcoming tropical climate. Costa Rica just seems to be a healthy place to live. In fact, the Nicoya Peninsula region, on the northern Pacific coast, has been found to be one of the world's Blue Zones. Researchers have discovered that the residents there live longer on average thanks to a combination of climate, diet, and other factors.
Costa Rica's Government-Run Healthcare System
With a government-sponsored network of hospitals and clinics throughout the country, the Caja Costarricense de Seguro Social (CCSS) has primary responsibility for providing low-cost healthcare services to the Costa Rican populace. Although sometimes overburdened, this system has worked well for Costa Ricans for the past 60 or so years. Foreigners living in Costa Rica—legal residents only in one of the residence progams like pensionado or rentista—can join the CCSS and get free treatment (everything from check ups to prescription drugs to major surgeries) by paying a small monthly fee–based on income. Tourists and visitors can use Caja facilities only in emergencies.
In 2010, the government made it mandatory for residency applicants to become members of Caja. The monthly payment is 7% – 11% of the applicant's monthly income. A dependent spouse is also covered and able to join Caja under that payment.
Costa Rica's Private Healthcare System
Many of the country's highly trained physicians and some dentists work in the mornings for the CCSS and operate their own offices and clinics in the afternoons and evenings. While private healthcare in Costa Rica is more expensive than that offered by the same doctors and surgeons through the CCSS, the price is still far below that of the average office visit in the U.S. Cost for continued treatments for diagnosed problems will vary, but will almost always be considerably less than comparable treatment in the United States. Dental work, too, is provided at a much lower cost than in the U.S.– prompting a phenomenon known as "medical tourism." Knee replacements, hip replacements, and cosmetic surgeries are some of the most popular procedures done in Costa Rica. On the dental side, implants and teeth whitening are popular. Many patients find that the entire cost of the trip to Costa Rica (including a vacation before or after treatment), including the procedure, is much cheaper than having it done in the U.S.
Three well-known private hospitals, Clínica Bíblica, CIMA hospital, and Hospital La Católica, where many CCSS doctors practice in the afternoons and evenings, offer first-class, ultra-modern services. Affiliated with U.S. hospitals and certified by Joint Commission International, these three private providers have costs somewhat higher than the public providers but still considerably below anything found in the U.S.
Many expats elect to use a mix of public and private care due to the wait times for certain procedures and treatments in the public system. For example, if a Caja doctor requests an ultrasound but the Caja testing facility has a wait time of a couple of weeks, the patient can get the test done at a private clinic and bring the results back to the Caja doctor. Also, many private doctors who also work in the public system can write prescriptions for Caja pharmacies so there's no cost to the patient.
Cosmetic Surgery in Costa Rica
A full range of cosmetic and reconstructive procedures are available in several modern clinics. With the addition of contemporary laser technology, the ability of Costa Rica's plastic and cosmetic surgeons to provide world-class services has been enhanced. Prices are sometimes 50% lower than in the United States, but it is important to note that each case is different, and prices are quoted on an individual basis after a consultation.
Dental Procedures in Costa Rica
From simple fillings to complicated multiple implants and periodontal work, Costa Rican dentists are as qualified and skilled as dentists anywhere–and the prices are far less. This is another growing area of health tourism–foreign patients seeking dental work arrive in Costa Rica in greater numbers every year. Laboratory work, too, is much cheaper in Costa Rica, and materials used are all FDA-approved and imported from the U.S.
*Prices as of 2015
Travel to Costa Rica for Low-Cost Dental Care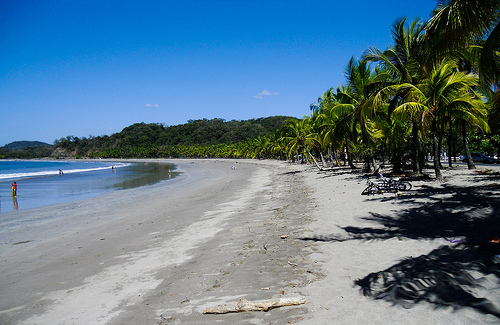 It was the most spectacular view I have ever seen. One entire wall of the room opened onto a direct view of the Arenal volcano, framed by the lushest vegetation imaginable. I gasped in delight when I saw the hot tub on the terrace, and I'd never seen anything like my shower: a rock wall with plants in the crevices and water pouring out from a basin at the top. And this was just my hotel room!
My recent trip to Costa Rica was an amazing experience. And to think it only happened because I needed expensive dental work, and that traveling to Costa Rica for it actually paid for most of my vacation.
Let me explain… In recent years, dental costs have risen faster than inflation. And since only 55% of U.S. residents have dental insurance, that means half of us are paying cash out-of-pocket for dental work. Even if you have insurance, you are probably paying 50% of your costs when you factor in deductibles and co-pays. Make that 100% if you go over the usual annual allowance of $1,200.
So if you need a significant amount of dental work done, the answer could be treatment out of the country, where costs run about 30% to 50% of U.S. prices.
In my case, I lost my dental insurance along with my job in the recent recession, and I needed over $2,000 in dental work. Solution: I went online to check out my overseas options.
What I found was amazing. Dental care in countries like Mexico, India, or Costa Rica is a fraction of the U.S. cost. And no, you won't be taken to a jungle hut to be treated by a medicine man. The care is modern and often exceeds standards in the U.S.
Since I live in the Midwest, in Ohio, I decided on Costa Rica, as it's only one time zone over from me. And being just a few hours south of Florida, it's easy to get there. I sent inquiries to several medical tourism businesses and researched all the doctors and accommodation they offered. Then it was decision time. I could either go to my home-town dentist, just 10 minutes from my house, and spend $2,100 in a few hours—or I could get the same work done in Costa Rica and have a 10-day vacation for about $2,600…just $500 more…with  everything arranged for me. The way I looked at it, it added up to travel money I didn't know I had!
I went with a medical tourism firm, which turned out to be an excellent choice. From the time I landed at the airport in the capital, San José, until I left from that same airport 10 days later, everything was taken care of perfectly. The staff not only made my dental appointments and got me there and back, but they planned my vacation in between.
When I arrived in Costa Rica, I was taken to the dentist, where the receptionist greeted me by name and spent a few minutes verifying my personal information. Five minutes later I was with the dentist, who spoke flawless English.
He confirmed the work I needed, and I was given an appointment for the next day. The crown that was going to cost me almost $1,200 at home was just $400. With several additional fillings and cleaning, my cost was $730 in full. Just over 35% of the total price at my dentist back in Ohio. Plus, the facilities were spotless and the X-ray technology was more modern than what I've seen in the States.
With the dental work done, I got to travel while the new crown was made. My first stop was Arenal, about three hours from San José. When the bus got to my hotel, everyone aboard gasped at the beauty of the location. It was the most exotic place I've ever visited. It's an experience of a lifetime to lounge at the foot of a volcano, bathe in thermal waters, and enjoy all the flora and fauna of the native rainforest.
The hummingbirds were so plentiful that they sounded as though they were powered by little jet engines. Two days later I boarded the bus again for the beach at Tamarindo, just a few hours away. I felt sad leaving the stunning volcano region, but when I arrived on the coast I was so inspired by the ocean views that I booked my first-ever snorkeling excursion. And what an amazing experience it was…swimming in calm waters where natural volcanic formations rise from the ocean floor and angel fish, milk fish, little barber fish, and blue eels swim. I never dreamed of such an adventure!
Again, I was sad to leave paradise, but soon it was time to finish the dental work. Back in San José I discovered I wasn't the only one exploring Costa Rica on my dental savings. I met a U.S. couple from New Hampshire. The husband, Maurice, was getting a complete mouth restoration, including bone grafts. What would have cost him $55,000 and taken two years in the U.S. was being done in Costa Rica for about $24,000, including all travel costs for him and his wife for two month-long trips. Now I'm home in the U.S. And while I'm not hoping I need another dental procedure anytime soon, at least now I know it can come cheap and with a super vacation!