Maps of Costa Rica: Best Beachside and Mountain Towns
Costa Rica is one of the most popular retirement havens in Central America. But when it comes to choosing a location to live, there are a lot of choices. With diverse climates and landscapes, Costa Rica offers you the opportunity to kick your shoes off on white-sand beaches, hike through lush lowland jungle or mountain cloud forests, and bask in volcanic thermal springs.
Here is a quick look at some of the best beach and mountain towns in Costa Rica.
Three Great Mountain Destinations in Costa Rica
By John Michael Arthur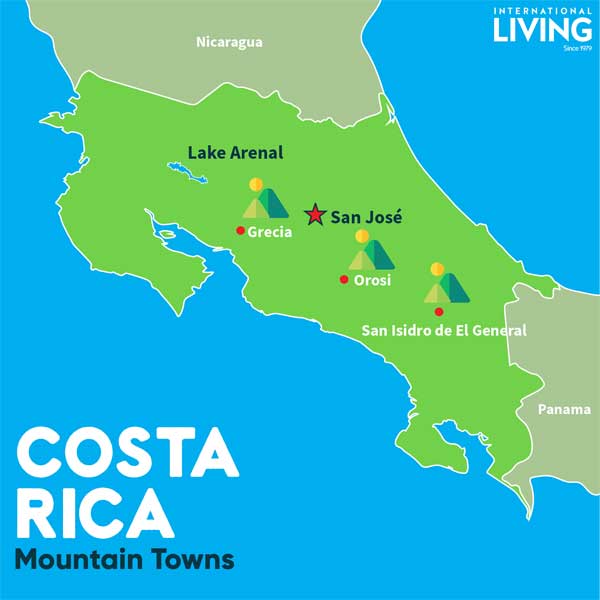 Costa Rica is a beach-lovers paradise, but I think it is the mountain towns that make up the heart and soul of the country. After all, the vast majority of the population live in the mountains of the Central Valley. Inland the climate is temperate (no heating or air conditioning is needed,) and you have quick access to the best shopping and medical care in the country.
Or you can choose more rural living if you want it. Another big advantage is that the cost of living is much less in the mountains than on the beaches….a typical couple can live well on about $2000 per month. And for anyone who doesn't want to miss out on what those picture-postcards always show—sparkling white sand and crystal blue oceans—you can be at the beach in around two hours.
For me, there's no better place for full-time living, than the mountain towns of this Central American jewel.
Grecia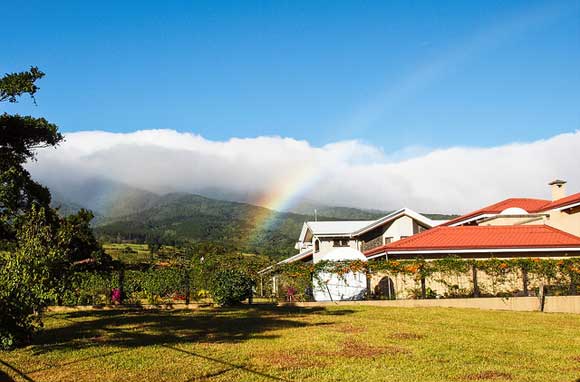 The happy pueblo (town) of Grecia, with a population of about 16,000, in the Central Valley has been the site of an active expat community for several years—and for good reason.
This beguiling mountain paradise is conveniently located just a few miles off the Pan American Highway, less than an hour from the Costa Rica capital of San José with its top-notch medical care at the country's best private and public hospitals. And it's only 30 minutes from the Juan Santamaria International Airport.
Grecia, like most of the other towns in the Central Valley, boasts a nearly perfect climate. With temperatures in the low 80s during the day and the low 60s at night, it's never too hot and never too cold. Grecia's elevation is to be thanked for the extraordinary climate—it ranges from 3,000 feet to 5,000 feet above sea level.
Every Friday and Saturday you can take advantage of Grecia's massive feria (farmers' market.) Not only can you get the freshest produce—it's true farm to table—but you'll save a bundle to boot.
There's always something going on in town, so there's plenty to do. And the large expat community is always involved in clubs, gatherings, or events. The Club de Leones (Lions Club) is very active, or you might find yourself joining the Grecia Sports League or the Nature Club.
With lush, rolling hills of sugar cane, coffee plantations set atop the mountain ridges, stunning views of the valley below, the famous and now iconic red metal church and its tree-filled central park, it's no wonder that Grecia has attracted expats from around the world.
San Isidro de El General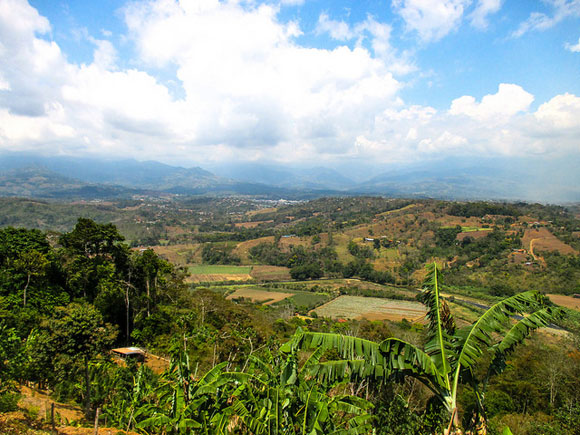 Farther away in Costa Rica's Southern Zone (about 80 miles south of San José), you'll find an area well-known for maintaining a true Tico experience—San Isidro de El General. San Isidro is the unofficial capital of southern Costa Rica. It is a bustling city with good shopping, services, quality medical care, and a great climate. It's also the fastest growing area in Costa Rica. There is a sizable expat population in the zone, encompassed of people from around the world.
It's also one of the largest agricultural areas in the country, be it farming or ranching. So there's no wonder that, as the regional center, it has one amazing farmers' market.
With a population of about 50,000, the town itself is surrounded by primary forests, blue-green hills and mountains, and vast fields.
Expats with an interest in farming, even just hobby farming, have flocked to the area surrounding San Isidro because of the rich soil and ideal growing conditions. Apart from the mountain vistas, it's often likened to Texas in the spring.
While it is indeed a mountain town, it rests at a lower elevation of about 2,300 feet. So, for anyone looking for a mountain experience with slightly warmer temperatures, this is it.
As a curious aside, the gentle folk of San Isidro de El General are widely regarded as the prettiest in Costa Rica.
Orosi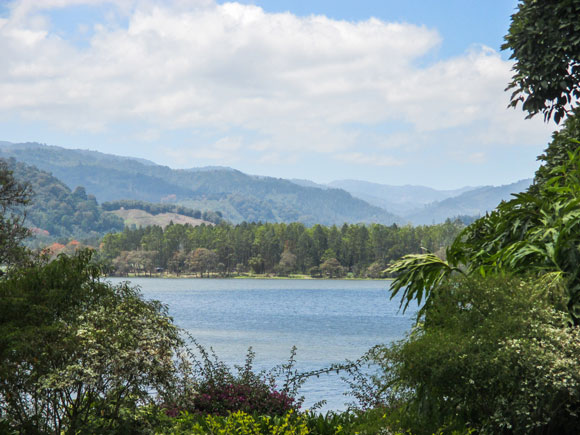 The lush mountains and rich, volcanic soils around Orosi make it a real-life Shangri-la.
Somewhat undiscovered by tourists (but just 20 miles from San José,) this hidden jewel in the province of Cartago offers a peaceful setting in an unusual mix of palms and pines. Many call it home simply for the rural, off-the-beaten path feel, while still having the conveniences of city-life nearby.
It is a favorite getaway spot for the upper and middle class Costa Rican. This is due not only to the area's naturally arresting beauty and agreeable climate, but also because there are myriad higher-end restaurants, spas, thermal pools, state parks, historical ruins, and the scenic Lake Cachí—covered in a lacework of water hyacinth.
Orosi is one of the oldest communities in Costa Rica. The verdant valley, with its rain forests, volcanoes, and rows upon rows of coffee plants and sugar cane, offers some of the richest
The 3 Best Towns in Costa Rica for Beachside Living
by Jackie Minchillo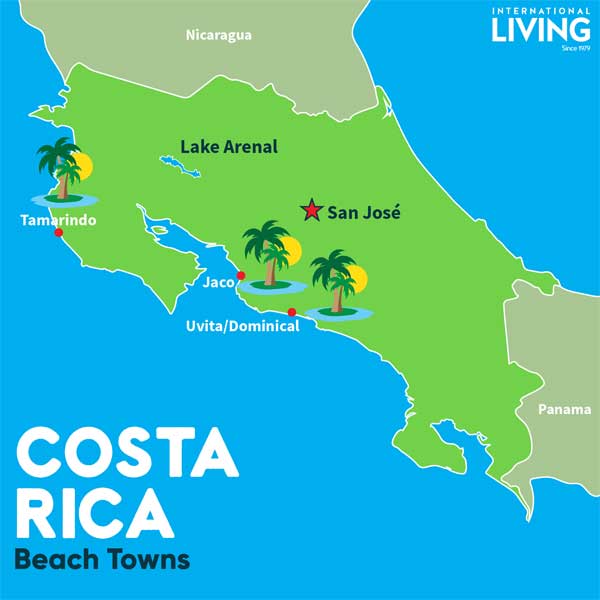 I've lived in Tamarindo and surrounding communities on Costa Rica's Pacific Coast for three years now, and whilst it's an idyllic lifestyle in many ways, in that time, I've also learned that there are typically three types of expats who move to the beach in Costa Rica.
Those who are looking for a small, tight-knit community of like-minded people and a simpler, peaceful life while soaking up the sunshine. Those who love the warmth and scenery of the beach, but don't want to be too far from the city. And those who really want to remove themselves from the hustle and bustle of modern-day life and be surrounded by nature.
The one thing they all have in common of course is a love for slightly salty air, sun on their face, and the feeling of their toes in the sand. Here are my top beach towns for expats in Costa Rica.
Tamarindo: Easy, convenient, and fun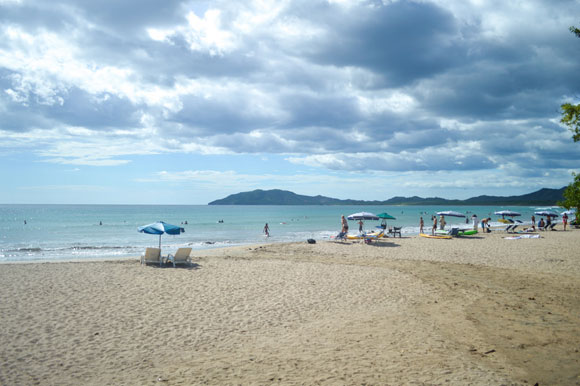 Nestled along the heart of what's known as the Gold Coast, on the country's northern Pacific, Tamarindo is one of the first beach towns that started drawing expats to Costa Rica decades ago. Over the years this area has managed to maintain small, rustic beach town characteristics but has grown enough to include everyday conveniences that make daily life much easier.
This is Costa Rica's hottest, driest region—so it's a stretch of beach towns for those who really love the sun and heat. Located just over an hour from the international airport in Liberia, Tamarindo is a great location for those whose lifestyle will include travel, and those who will be expecting plenty of visitors. It's one of very few places in the world where you can find a true tropical dry forest landscape and ecosystem, and you still have mountains in the countryside as well.
The community in this region is extremely well-organized. You have several internationally recognized schools in the area that draw families from all over the world, organized charitable groups, and social groups that make the process of settling in relatively easy. The area attracts many outdoor enthusiasts—any kind of water sport from surfing to scuba diving is available, plus hiking, mountain biking, or just chilling in a hammock enjoying the ocean breeze.
For those who want to be a bit outside of the hustle and bustle, but also want to be close enough to Tamarindo which is the hub of the area, communities just to the north like Playa Potrero, or just to the south like Playa Avellanas are worth a look. Cost of living in this area for a couple is generally between $2,000 and $2,500 per month. 
Jaco: The heartbeat of the Central Pacific coast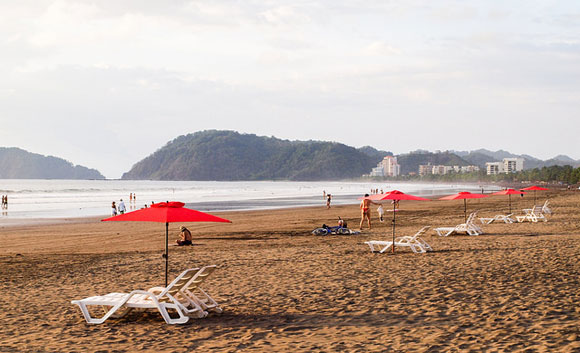 This happening beach town is one in Costa Rica that closest resembles the beach towns you might see somewhere like Florida. The heartbeat of the Central Pacific, here you will find luxury resorts, high rise condos, and a developed town with commerce, restaurants, and activity galore.
Because of its location along the coast you still have sunshine most of the year, but you are getting into a more intense rainy season and a more jungle-like landscape. This area of the coast is home to the Manuel Antonio National Park—one of the country's most famed parks for spotting an abundance of wildlife.  This is also the area of the coast where you're likely to find the greatest mix between expat influence and local Tico culture, as it's the most easily accessible portion of coast from the popular Central Valley, where the vast majority of the local population lives. This is the area people who live in the city come to visit for weekends and holidays.
While Jaco is a busy town, there are much quieter, less populated, and more rustic beach towns nearby to the north and south—so you're not completely surrounded by development. And the unique benefit to this area is the easy access to the country's capital of San Jose and surrounding towns. If, for example, you need regular access to the country's top medical care, or you know that you love the beach, but will also want to visit a shopping mall every now and then—Jaco to San Jose is around a one hour drive—so it exponentially increases the convenience of beach life given its location.
This is a stretch of coast where it would be possible for a couple to live on less than $2,000 per month—both rentals and real estate tend to be cheaper than other coastal areas and it's probably the easiest stretch of coast to live without a car, which also eliminates that added expense.
Uvita/Dominical: Bohemian vibes and magnificent wildlife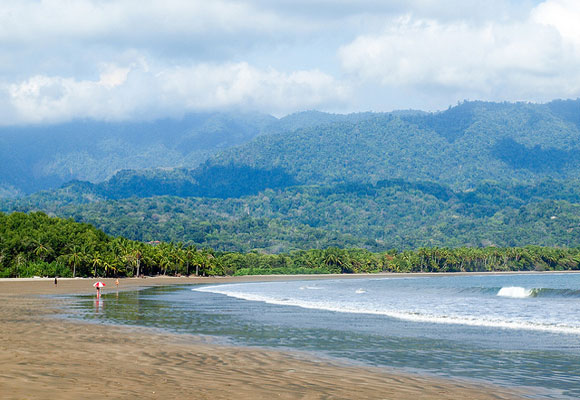 These are two beach towns right next door to one another and while they each have some unique draws all their own—they're so close by, they're worthy of mentioning together. These two towns serve as the sort of epicenter for the country's southern zone…and while that description may make them sound big and grand, they're still tiny and more remote than popular beach towns farther north along the coast.
The Southern Zone is for those who are headed to Costa Rica primarily to enjoy the splendor that is the country's incredible biodiversity. This part of Costa Rica's coast is where you can truly enjoy all the landscape this retirement haven has to offer—known as the region where the mountains meet the sea, you can climb thousands of feet in elevation just minutes from the sand.
This area delivers an intense rainy season and as a result a dense, lush, picture-perfect jungle landscape. There's a small population that lives in this area, but you will certainly find yourself with plenty of peace and quiet. These two towns have a bit of a bohemian vibe, and while there's daily accessibility for the things you'll need—if you find yourself in need of anything slightly out of the ordinary, you may need to plan to travel to find it.
While you'll find this to be the most remote portion of coast, your daily wildlife sightings will be sure to spark some friendly jealousy amongst your friends and family back home. This is the place you can expect to see pretty much any and all of the magnificent creatures featured in Costa Rica tourism ads.
Cost of living here for a couple is likely to be very similar to the Gold Coast—while some daily things may be cheaper, it will likely be necessary to own a car here.