The early-morning sun casts long shadows as it illuminates Armenia's Garni Temple. With its colonnades and position atop a rocky outcrop, the 1,900-year-old building is reminiscent of the Parthenon in Athens.
Inside the grey-stone temple, a man plays a duduk, a woodwind instrument made from the wood of an apricot tree. With impressive acoustics, the temple's austere interior seems tailor-made for such a performance.
This Greco-Roman temple at Garni has pagan origins and was originally built to honor the sun god, Mihr. However, today, Armenia is known as being one of the
first nations to adopt Christianity as its official religion. Indeed, Garni Temple's history, much like that of Armenia and the Caucasus region as a whole, is layered and complex.
My husband, Shawn, and I spent 10 days in Armenia and used the capital city of Yerevan as our base. We were only able to scratch the surface in our exploration of this ancient country. However, we came away with a great appreciation for Armenia's cultural heritage, its food and wine, and its welcoming people.
Yerevan: Armenia's "Pink City"
Yerevan is the dynamic capital of Armenia and is believed to be one of the oldest inhabited cities in the world. But while Yerevan has a history that goes back millennia, much of its architecture has 20th-century origins. Many of the city's Soviet-style buildings are crafted out of pink tuff, a type of lava rock. This rare construction material gives Yerevan's buildings a rosy appearance.
Though it's home to just over one million people (about one-third of Armenia's population), Yerevan's center is relatively compact and walkable.
The striking Cafesjian Center for the Arts is a great place to start your exploration of Yerevan. Known locally as "The Cascade," this 20th-century complex has a tiered design that cuts into the hillside. Quirky statues, terraced gardens, fountains, and a symmetric pair of staircases define the exterior. There is no cost to enter the Cascade's interior (which features modern works), but tickets to temporary exhibitions are 1,000 Armenian dram ($2.15).
When you ascend the Cascade's 572 steps, you encounter welcome benches for resting, as well as fabulous views of Yerevan and Mount Ararat. Twin-peaked Mount Ararat has volcanic origins and is a beloved symbol of Armenia. Historically, this mountain was located in Armenian territory, but today, it is in Turkey. According to Christian tradition, Noah's Ark landed on Mount Ararat after the flood.
Republic Square is located in the heart of Yerevan. Attractive government buildings, a traffic roundabout, fountains, and the History Museum of Armenia intersect here. In the past, the square has hosted parades, protests, and concerts.
Inside, you'll find the world's oldest shoe.
After you've done a bit of people watching on Republic Square, and soaked up the architecture, venture into the History Museum of Armenia. Inside, you'll find the world's oldest shoe, a leather specimen dating back 5,500 years. You'll also discover intricate bronze sculptures and wooden chariots. Incredibly, the chariots remain mostly intact despite having been inside burial tombs for about 3,400 years. Entrance to the museum is 2,000 dram ($4.30).
It's also worth returning to Republic Square by night to see Yerevan's delightful fountain show. During this festive spectacle, the square's fountains dance to a variety of choreographed music, attracting spectators of all ages.
The Vernissage Market is a great spot to shop for Armenian handicrafts and vintage items. In one section of the market, you'll find colorful rugs draped over the hoods of classic cars and hanging from lines. Other aisles are filled with old books, tapestry purses, handmade dolls, Soviet-era medals, pottery, copperware, paintings, duduks, and chessboards. (Chess is immensely popular in Armenia and is a mandatory component of the country's elementary-school curriculum.)
If you'd like to take home some edible souvenirs, stop by the GUM Market, an indoor space brimming with food and photo opportunities. Inside, we discovered fresh produce, aromatic spices, beautifully arranged trays of dried fruit, honey, cheese, pickled vegetables, and lavash flatbread.
Mystical Monasteries
Armenia adopted Christianity as its official religion in the 4th century. Today, the country is home to an abundance of historic monasteries and churches. Though the settings and histories of these buildings differ, unifying architectural elements include conical domes, stone exteriors, and khachkars.
Khachkars (cross-stones) are memorial stones that have been carved with crosses and other symbols. They are said to be similar to snowflakes because no two are alike. Khachkars are inscribed on UNESCO's List of Intangible Cultural Heritage.
While in Armenia, we visited three of the country's most famous monasteries: Geghard, Khor Virap, and Noravank.
Geghard Monastery is located in a scenic gorge and partly carved out of a cliff. Founded in the 4th century, the monastery comprises several dark and mysterious chapels and tombs. Geghard is only a few miles from Garni Temple, making it easy to explore both sites in one day.
One of the most popular pictures of Armenia features a snow-capped Mount Ararat towering over the Khor Virap Monastery. When we visited in the autumn, Mount Ararat was concealed by clouds, so if you can, visit on a clear day.
Noravank Monastery is tucked into a remote, red-hued canyon. Its churches are more than 700 years old. To enter one of the churches, we had to climb a steep and extremely narrow staircase that lacks a proper railing. However, you don't need to climb these steps for incredible views. Simply wandering the grounds offers fantastic photo opportunities.
Ancient Winemaking and Culinary Traditions
Armenia has one of the world's oldest winemaking traditions. In the Areni-1 Cave Complex, located about 70 miles from Yerevan, archaeologists have excavated a winery that's believed to date back more than 6,000 years. Inside the cave, they found the remains of pressed grapes, as well as winemaking vessels. This is also where they discovered the famous leather shoe that's now housed in the History Museum of Armenia in Yerevan.
With Eastern Mediterranean, Russian, and Persian influences, Armenia's cuisine is also delightful. Whether you opt for barbecued meat or freshwater fish, your meal will undoubtedly be paired with lavash, a flatbread popular in the region. It is made in a below-ground clay oven called a tonir.
Dolma (vegetables stuffed with rice, herbs, and meat) are also ubiquitous. Depending on what's in season, you might encounter grape leaf, cabbage, tomato, or eggplant dolma.
To familiarize ourselves with Armenian cuisine, we participated in a cooking class with Traveling Spoon. It's a company that allows travelers to go into locals' homes for cooking classes and traditional dining experiences.
Our Yerevan host, Manya, whipped up a flavorful spread that included fish, potatoes, lavash, white cheese, and vibrant salads. The dishes were dressed with pomegranate seeds, purple basil, cilantro, and parsley, giving them an irresistible appearance. Manya's offerings range from $30-$72 per person.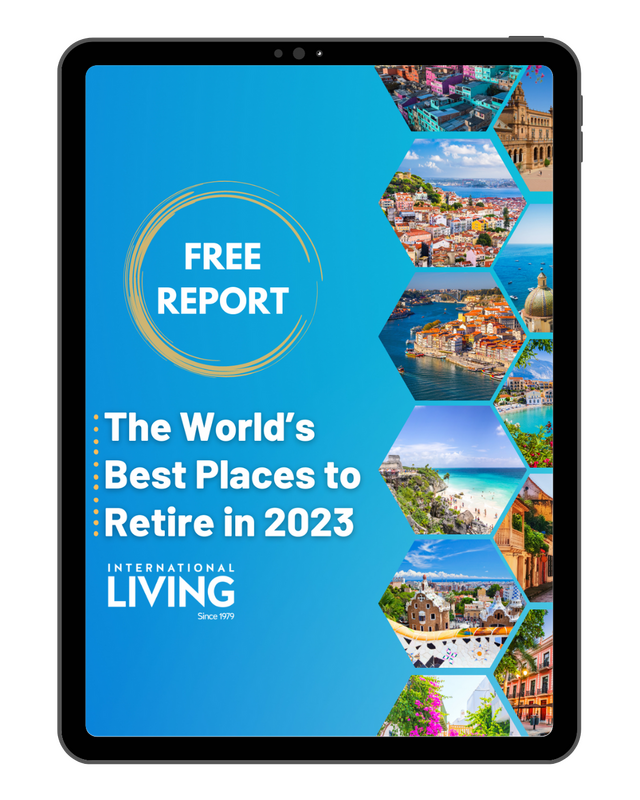 Get Your Free Report on the World's Best Places to Retire:
Learn more about the best places in the world to retire in our daily postcard e-letter.
Simply enter your email address below to sign up for our free daily postcards and we'll also send you a FREE report on The World's Top 10 Retirement Havens, plus access to over 10 more free reports. Our gift to you, on our favorite destinations.
Related Articles
The Cheapest Places in the World to Live
Europe's Top 5 Affordable Retirement Havens