If you've had enough of this lunatic political season in the U.S…and you're not looking forward to another cold winter either, the news is good: You have some great-value coastal options today in nearby Latin America.
Here are five welcoming, low-cost "snowbird escapes" on Pacific and Caribbean beaches. They're easy to get to and offer warm weather, laidback communities of friendly locals and expats, and living costs that won't break the bank. You'll find rents from $500, beer from $2, and monthly living costs for a couple from $1,200.
Whether you're looking for a one-month hiatus, a three-month escape, or a six-month sabbatical, these five top snowbird destinations—all within easy access of the U.S.—are worth your attention…
Dominical, Costa Rica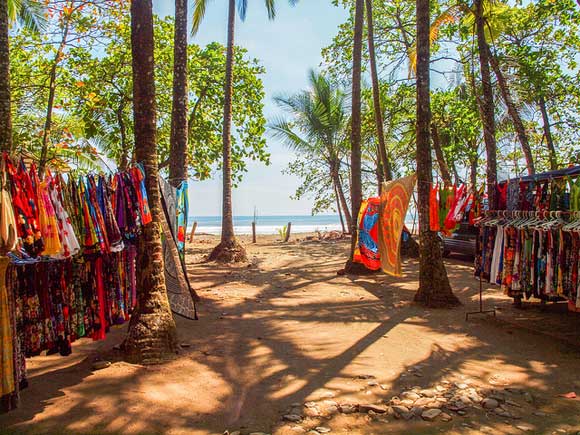 With low costs, good-value real estate, and a great climate—highs in the mid-80s F to mid-90s F during the day year-round and cooling off at night—Costa Rica has a lot to offer. Here you can enjoy Pura Vida. It translates literally to "pure life." But it's more like "life is good," and it's an attitude locals and visitors alike share.
The coastal town of Dominical is where the Central Coast ends and the South Coast, also known as the Southern Zone, begins. It's a village that has often been described as a gem because of the bluish-green water surrounded by tall palms and lush countryside. Surfers and snowbirds have been coming for years.
Easy going Dominical has remained a haven for those looking to lounge on crowd-free beaches, enjoy a $2 Imperial beer at a beachfront bar (Tortilla Flats is a favorite; try the blackened mahi fish tacos), or check out the world-famous Costa Rican wildlife without a tour group on their heels.
It's a simple, relaxed place, worlds away from the trendy tourist traps with overpriced restaurants, sprawling resorts, and obnoxious crowds. Friendships form fast among the select few who have stumbled upon this little oasis.
On the palm tree-lined, sandy track fronting the beach, you'll find several cozy open-air bars and restaurants. Lazing away most of the afternoon is recommended—that's what Dominical is all about, after all. Have a beer, cool off in the ocean, and come back for a second round.
In the mountains outside the beach village of Dominical you can rent a two-bedroom villa for $600 per month, fully furnished. For a furnished two-bedroom ocean-view home set on a jungle-covered hill, with private pool and large deck, you'll pay $1,200 a month.
Playa del Carmen, Mexico
Mexico is the most popular expat destination for North Americans in the world. And, not surprisingly, the country is also a popular snowbird destination.
Mexico has a lot to recommend it. Convenience, for one thing: From the U.S. and Canada, you can drive to Mexico—in your own car—or fly there in a few hours in most cases. Mexico offers many of the First-World conveniences we're used to—including good highways, plenty of airports, reliable telephone service, and fast internet connections.
The city of Playa del Carmen is attractive for many reasons. There is warm weather year-round, which is especially nice in winter. At that time, December to April, the city also plays hosts to snowbirds, or winter residents, who escape the cold back home to spend time by the beach.
The city is safe and clean. An active police force keeps an eye on things and the local government is committed to community improvements. The medical care, at the several doctor's offices, as well as clinics and hospitals, is world-class and affordable. And there are housing options—both to buy and rent—to fit any budget. And if you like to stay fit, there are plenty of gyms, yoga studios, and fitness clubs.
For Kim Nowak, having two homes on opposite ends of North America is completely normal. "I'm a snowbird and it's the perfect lifestyle for me," she says. "I've been doing it so long that I can't imagine my life in any other way."
Kim owns a lovely, multi-level condo in Playa del Carmen that's only a two-minute walk from the beach. She spends every winter there, arriving in November and returning to Canada in the summer.
It's not only sun, sand, and sea that keep her coming back. It's also the community of friends she's built up over many winters here.
For Kim, Playa del Carmen was an easy choice. "Playa is not only beautiful, sitting right on the Caribbean coast, but it's also a very safe place. I can walk anywhere. They have great medical clinics and a hospital, modern infrastructure, more restaurants than I'll ever be able to enjoy, with plenty of shopping options."
Round-trip airfare between Calgary and Cancún varies between about $350 and $900. Kim estimates her monthly living expenses to be between $1,500 and $1,800 a month, beyond the costs associated with her condo ownership.
Salinas, Ecuador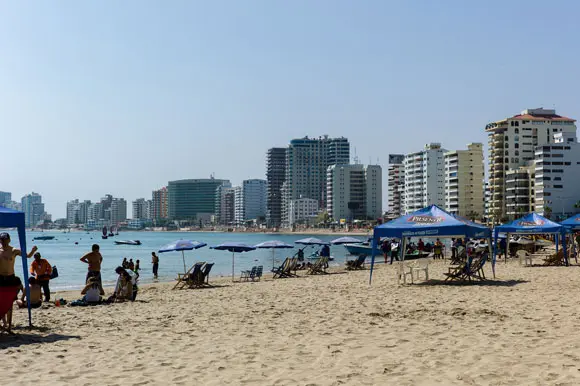 About 90 miles from Ecuador's largest city, Guayaquil, and situated on the South Pacific coast, Salinas has long been a vacation home destination for Ecuadorians, and is becoming increasingly popular as a retirement location for expats too. Here, glittering high-rise condos line the beach road. Fashionable seafood restaurants and trendy clubs come alive at night.
Some call it a "little Miami," but except for the sun, sand, and surf, it's really nothing like Miami. Salinas is a relatively small town with a population of under 50,000. The beach is divided almost perfectly in half by a jetty where you'll find the docks of the Salinas Yacht Club. The club's picturesque yacht basin is filled year-round with a glittering array of ocean craft, some taking a break from round-the-world journeys.
The weather in Salinas is also a big plus. You'll experience warm beach weather with cloudless blue skies and low humidity year-round here. Situated on a peninsula, it benefits from long hot sunny periods for most of the year, and the ocean is always invitingly warm. As a result, Salinas is the type of resort town that never tires. The beach is popular in both low-season and high-season with sunbathers basking in the baking sun, and swimmers and surfers enjoying the warm water and sizable waves.
There are supermarkets, a large produce and seafood market, restaurants and cafés, a movie theater, banks, clinics, and hardware stores. Plus, there's regular bus service to Guayaquil, only two hours away, which has an international airport.
For the past four years, International Living's Ecuador Coastal correspondent, Jim Santos, has lived in Salinas with his wife Rita. They report monthly expenses of around $1,500 a month—and that's for a comfortable lifestyle. At the time of writing, you could rent a fully furnished three-bedroom, two-bathroom 1,100-square-foot condo a block from the beach, with utilities included, for $550 per month.
Roatán, Honduras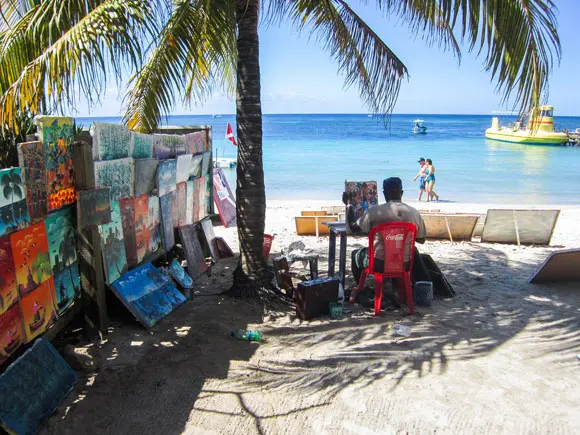 Long a sleepy emerald escape in the western Caribbean, Roatán has quietly graduated from secret divers' getaway to liveable island haven. Just 50 square miles, this dollop of sand off Honduras' northern coast is long and skinny, fringed by a reef rich with sea life and garnished by white-sand beaches.
Life is laidback, lived in rhythm with the sun and the surf. No big-name resorts. No "spring break" strips. No high-rise developments. This is old-school Caribbean…though fitted out with modern conveniences…
English is widely spoken. That, along with an established expat community, makes it a relatively easy place to settle in.
"We love the culture and the people in Roatán," say snowbirds Bill and Ann Addison.
"The quality of life is fantastic here and it's really just so affordable. We couldn't afford to do everything we do in Roatán in most other Caribbean locations," Bill explains. "I'm a member at Pristine Bay Golf Course, we own a beachfront condo, and we own a boat that we can take out for a joy ride anytime. That's not something we could do in Florida or on most other islands. We spend probably about $3,000 per month, between HOA fees, utilities, groceries, and all of our fun activities.
"Roatán has a fantastic climate. We come usually the second week in December and stay until April. You can't beat the weather at that time: It stays in the low 80s F while everyone back home is freezing."
Roatán has enjoyed an incredible surge in popularity over the last decade. The addition of two cruise ship ports, plus the increase in direct flights to the island, has allowed more people to visit easily. Many of those visitors turn into expats themselves after seeing the island's natural beauty and easy lifestyle.
Bill and Ann enjoy the best of both worlds in their retirement: They benefit from warm Caribbean weather and lots of outdoor activities during the winter months, and then head back to the U.S. to visit friends and to spend quality time with family the rest of the year.
San Juan del Sur, Nicaragua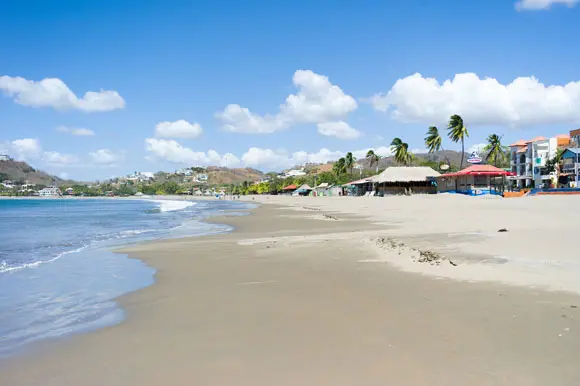 Located on Nicaragua's Pacific coast, the town of San Juan del Sur has successfully secured its title as Nicaragua's tourism capital.
Laid out over three square blocks, the town center these days is bursting with wooden homes; local and international restaurants; little shops stocking tropics-wear, beach gear, and artisan jewelry; banks with ATMs; internet cafés; spas, fitness and yoga studios; real estate shops; tour operators; locally run convenience stores; a central market; Spanish schools; coffee shops; hotels; bars; and much more.
Today, San Juan del Sur is a booming town whose activity is fueled by a mass of eclectic, fun-loving tourists, snowbirds and expats. In the last 10 to 15 years, San Juan has gone from a sleepy fishing village and port town licking its wounds from the civil war of the 1980s, to a fun-loving, fun-living city in paradise. Depending on the night of the week, you can hear live music (rock 'n' roll, reggae, jazz, blues, salsa, merengue, and more) or join in at an open-mic night or karaoke in various venues around town.
If you're more into relaxing than party-going, not to worry. The many surrounding beach communities offer a true sense of retreat and reconnection with nature. And with 22 beaches surrounding the town (most of them not mentioned in the guidebooks), San Juan del Sur also offers deep-sea fishing, diving, boating, and has world-class surf beaches that host international competitions.
Even though it's a popular tourist town, the cost of living remains low here. Many couples live comfortably on $1,200 a month. Spend $2,000 and you're living in high style. Rent of a one-bedroom apartment will cost about $500 a month.
Get Your Free Report on the World's Best Places to Retire:
Learn more about the best places in the world to retire in our daily postcard e-letter.
Simply enter your email address below to sign up for our free daily postcards and we'll also send you a FREE report on The World's Top 10 Retirement Havens.
Get Your Free Report Here