Traveling and living abroad has many advantages including stunning scenery and a lower cost of living. However, living abroad can pose some interesting challenges when it comes to practicalities like handling money.
For example, ATM fees can range from $1 to $7, while withdrawal and bank transfers can be as much as 8% of your total. Those fees add up fast.
A local bank account can make life easier but this isn't always an option. Read on to discover the best options for money transfers as well as the best credit cards for international travel.
Wire Transfer
Transfer fees, currency conversion fees, and both incoming and receiving fees can cut into your money. Most banks will charge up to $35 to send or receive a transfer, and it can be more for international transfers. However, you do have instant access to the money so if you're in a bind, this may be your best solution.
ACH Transfer
If you've ever received direct deposit payments, it was probably through ACH. The fees are low or nonexistent, though it can take two to three days for the money to clear your account. This is convenient for regular payments like insurance.
PayPal
First used to pay for online purchases safely in the early days of the web, PayPal has emerged in to an online financial powerhouse.
Not only do they operate like a bank account complete with debit card, but there's also an online money transfer feature where you can send money to family and friends without paying any fees at all.
To use it, both parties need to have PayPal accounts linked to their respective bank accounts. Then, you can transfer money using the "send money to friends and family feature." A couple of clicks and you've sent money without incurring fees. Your friend or family member will receive a "you've got money" email and then can transfer it to their own bank account without fees.
You can also get a PayPal debit card and use it like any bank debit card, including ATM withdrawals.  The benefits of PayPal are; no fees, convenience, and easy to use interface. However, there is a waiting period of one to five days before you have access to your money. Be mindful larger amounts (over $3,000) can cause red flags and tie your money up longer.
Xoom
PayPal bought up Xoom in 2015 to facilitate cash transfers abroad similar to Western Union. For a flat fee, you can send money abroad. Every town has retail locations like a supermarket where you can pick up the cash, so you'll need to check your area to find out the pick-up locations. Bank deposit is also available from U.S. banks to foreign banks. A benefit of using Xoom is its flat fee pricing. Currently, it's only $4.99 to send up to $2,999 to Mexico.
Be aware, it can take up to four days for the transfer to clear. Some reports say the agents ask a lot of questions and sometimes want to see bank statements resulting in further delays.
Transferwise
This is a bank to bank transfer service that claims to reduce fees by conducting two local transfers rather than one international one. For example, if you wanted to send dollars to Mexico and have it converted in pesos upon delivery, you'll transfer the dollars to Transferwise, and they'll handle the currency conversion and send the pesos from their account saving the international fees. One of the cheapest options that's a combination of a flat fee and up to 1% of the total. If you use a debit card to send the money, the recipient will have it within minutes. Otherwise, it can take one to three days to clear. It is important to remember if you need phone support, then it's best to use it during weekday daytime hours.
Zelle
Send or receive money via an email address or mobile phone number. Zelle is already connected to many of the major banks and credit unions so check your banking app to see if it's listed. If so, there's no need to download another app. Zelle is easy to use and already has an established relationship with many banks. It is only for U.S. based banks for both sender and receiver. There may be additional fees with your bank.
ATM's
Even if you bank with a local credit union in the U.S. or Canada, you can usually use a local ATM throughout most of the world. The advantage is that you'll withdraw local currency at your nearby ATM, usually at a favorable exchange rate. However, you will want to watch the ATM fees. They can go as high as $7.
Credit Cards
Credit cards are convenient tools. Use them wisely and you can even get free air travel and upgraded hotel rooms.
The Takeaway
Traveling and living abroad requires a proactive approach when it comes to money management. For starters, much of Latin America is a cash-based society. It's not uncommon to pay cash for everything from lunch to the rent. This can be an adjustment for those reliant on cards.
As you can see, you have multiple options when it comes to transferring money and choosing rewards points credit cards.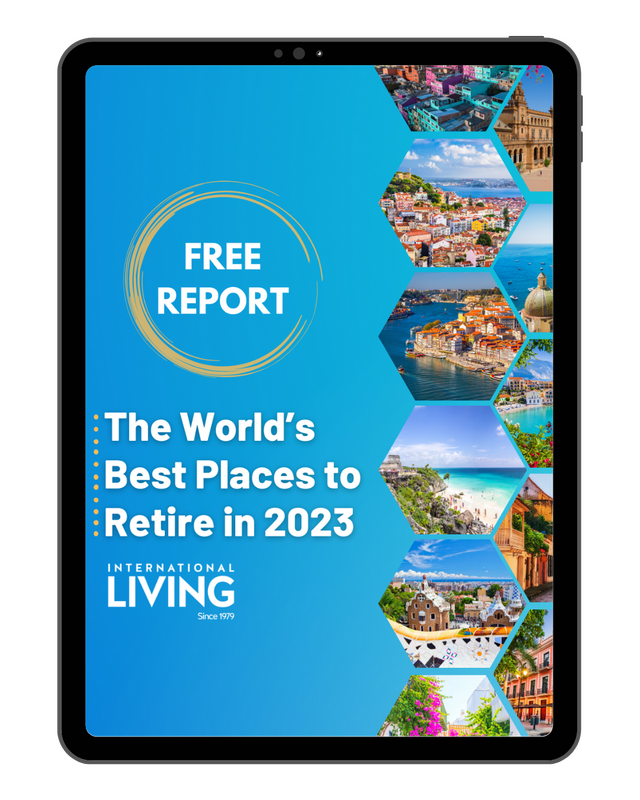 Get Your Free Report on the World's Best Places to Retire:
Learn more about the best places in the world to retire in our daily postcard e-letter.
Simply enter your email address below to sign up for our free daily postcards and we'll also send you a FREE report on The World's Top 10 Retirement Havens, plus access to over 10 more free reports. Our gift to you, on our favorite destinations.
Related Articles
The World's Best Places to Retire
The Cheapest Places in the World to Live