When planning your retirement overseas, many factors come into play. Low costs, affordable real estate, and high-quality healthcare are some of the main concerns…but what about being able to mix well with the community or make friends with the locals and other expats? Can you pick up your favorite familiar comforts when you need them? How easy is it to adapt to the local culture?
Our Annual Global Retirement Index takes all these aspects into account when rating and ranking its top retirement destinations. The Fitting in and Entertainment category of our Annual Global Retirement Index 2020 points to the locations where it's easiest to get comfortable quickly, make friends, and connect in the community.
The countries that rank the highest in the Fitting-in and Entertainment category are….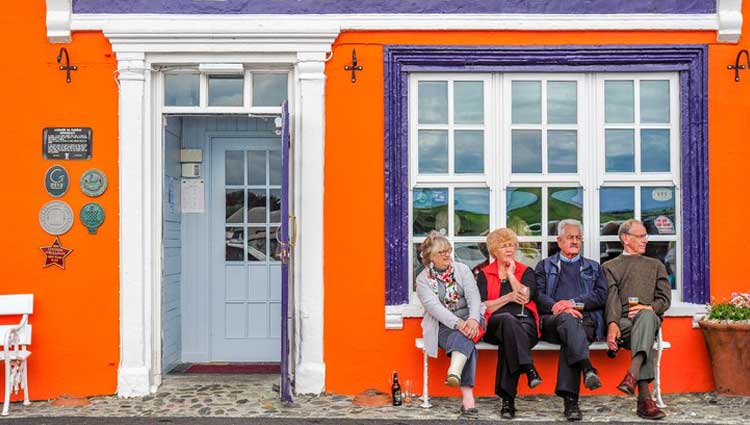 Ireland is a small island situated in northwestern Europe. It has so many wonderful locations, but the great thing about living here is that it's a fairly compact island. So whether it's for a day-trip or a weekend break, you'll never be too far away to go and explore a fishing spot, a golf course, or a literary gathering.
Ireland takes the fourth spot in the Fitting-in and Entertainment category of International Living's Annual Global Retirement Index in 2020, scoring 88 out of 100. Known as the Land of a Thousand Welcomes, it's not surprising to see the country score highly.
"Getting along well in a new country isn't just about the cost of living or the climate," says Sean Keenan, International Living Magazine Editor. "Those are important, but it's no use living in a place with perfect weather and low costs if you feel unwelcome, uncomfortable, or just plain bored. Can you go to a movie in English? Is there a diverse choice of restaurants and bars? What about a symphony orchestra performance, or a rock concert by a band you've heard of? Can you get the TV channels you're used to?
"All these are important details—the type that can make or break your time overseas.
"And then there are the intangible aspects of a place. Are the locals friendly and welcoming? Do people speak English? Can you meet up with other English-speakers and have a social life?
"When we ran the numbers and weighed everything up, we weren't surprised by how well Ireland did in the category.
"Famous for both its welcome and for its energetic nightlife, the Emerald Isle is an English-speaking European nation, so you can get involved in the everyday life of the people around you without feeling you're in an expat ghetto. Join local clubs, societies, chat with your neighbors, and immerse yourself in the community. And don't miss the chance to pop into the pub for a pint and a chat. Although once it gets started, you might find it hard getting a word in."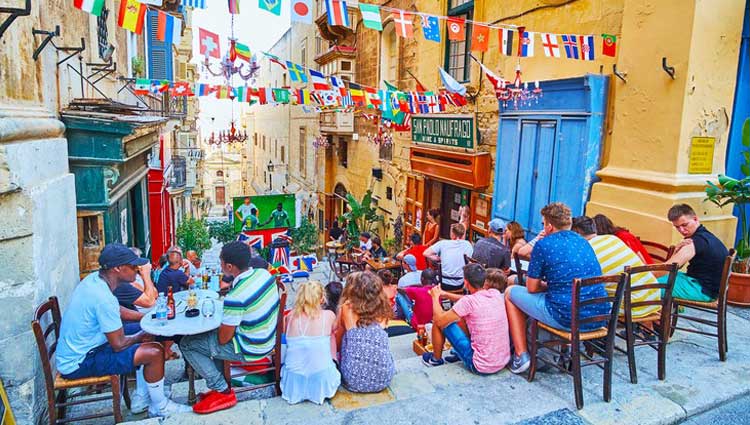 Picturesque Malta is anchored almost in the center of the Mediterranean Sea, 60 miles from the Italian island of Sicily. Malta is known for its warm and sunny climate, peaceful lifestyle, and rich cultural offerings—a coveted destination for centuries.
Malta takes third place with 90 points in the Fitting-in and Entertainment category of this year's Annual Global Retirement Index.
Owing to its time as a British colony, locals speak English—which, together with their warm and welcoming attitude, makes for easy integration.
"It's super easy to fit into the Maltese lifestyle from day one," says IL Contributor Kevin Casey..
"Everyone here speaks good English and the scenery, infrastructure, and food scene exceeds expectations. People are friendly, down to earth, and eager to show you how to live like a local. And the sunny climate is heavenly—Malta's capital, Valletta, has the warmest winter temperatures of any capital city in continental Europe.
"Entertainment-wise, there's so much going on. You can indulge in everything from opera, rock concerts, foodie festivals, and craft beer tastings to boat charters, arts events, and a buzzing nightlife. Malta's café culture has a distinctly Italian flavor, so prepare yourself for plenty of cannoli, cappuccino, brilliant pizza, and fresh seafood—the quality is amazing."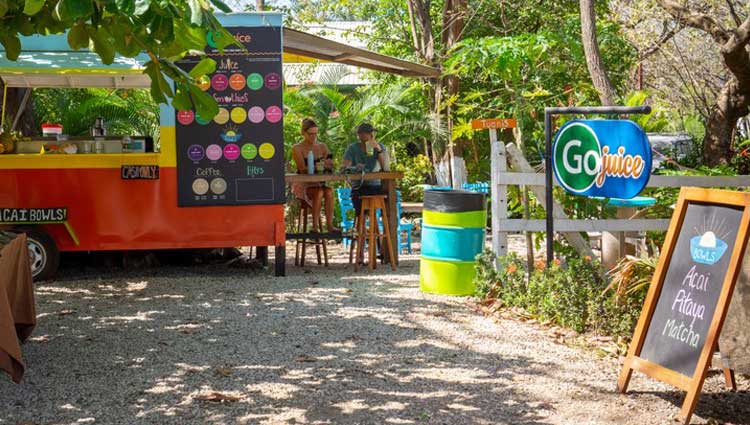 Costa Rica is a Central American country with stunning coasts along both the Pacific Ocean and the Caribbean Sea.
"There are several factors working in your favor when searching for your 'tribe' when you initially move to Costa Rica," says Kathleen Evans, IL's Costa Rica Correspondent.
"First, this beautiful Central American country has been on the radar for expats for decades. You won't be a pioneer if you decide to move here. That means there are expat communities in much of the country—especially in the Central Valley and the beach areas. All of these people were once new here, trying to learn the system and looking for a social network. So you will find most to be quite friendly and helpful.
"Secondly, the native Costa Ricans (ticos) are by nature very welcoming. It is not unusual for the new gringo in town to get invitations to the local festival or birthday party. Especially when you are open to speaking Spanish and embracing their traditions.
"The third factor is social media—something that didn't exist for the early expat pioneers. It is easy to join various groups online to learn about all of the upcoming events locally. If you enjoy keeping busy, you will have no lack of entertainment. From volunteer opportunities to listening to live music…card games to yoga classes…fundraisers to pickleball tournaments. The expat community likes to keep active. In fact, you may find your social calendar filling up even more than back home!
"If you are a lover of the arts, in Costa Rica you will want to live in or near San José, the country's capital. This is the epicenter for museums, theater and ballet, art galleries, sports, fine dining, and extreme shopping."
Not only that, but the country offers a great climate year-round, no-hassle residence programs, excellent healthcare, a stable democracy, and safety and security.
Portugal and Costa Rica are tied for second place with 91 points.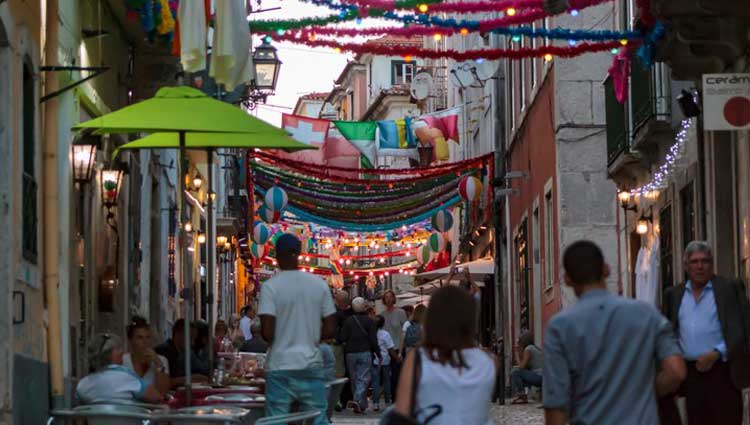 Portugal is located on the Iberian Peninsula, in the southwest corner of Europe. It's bordered by Spain on the north and east, and the Atlantic Ocean on the west and south. Its bustling capital, brilliant sun, tantalizing beaches, and verdant valleys are more appealing than ever to a growing number of people.
Long an under-the-radar destination, today Portugal's low costs, historic towns, warm weather, and varied landscapes are attracting North Americans in increasing numbers.
Rich in culture, Portugal offers many adventures—cruise a river past the terraced landscape of one of Portugal's finest wine-growing regions…view a Gothic church with 650 pounds of gold plating…step back in time at Portugal's best-preserved Roman ruins.
Or stretch out on the sands of the Portuguese Riviera and, atop a mountain in a national forest, embrace Romanticism in a flamboyant palace…sip award-winning wines, dine on fresh fish and aged beef, and marvel at the variety of breads and pastries available in aromatic padarias and pastelarias.
"Even in the tiniest town you might stumble on a former home or factory converted into a museum or exhibit hall," says IL contributor Tricia Pimental. "It could cover a craft like lace-making, or a process like the production of olive oil or cheese.
"Culture is everywhere. Speaking of which, music figures prominently in the culture. In the most modest of villages, festivals with marching bands and pop singers spring up regularly. At the opposite end of the spectrum there are concerts featuring the likes of Maroon 5 and Aerosmith in major arenas in Lisbon and Porto.
"Health clubs and spas are scattered around the country, in both big cities and rural regions, where you'll also find folks outdoors running, biking, boating, surfing, etc.
"Finding your North American comforts ranges from ridiculously easy to somewhat challenging depending on where you live in Portugal. You don't have to grocery shop in Lisbon, Porto, or the Algarve to find familiar brand names, organic items (called "bio" here), restaurants offering gluten-free options, etc. You do have to work a little harder in the northeast and central zones, but once again, as there are several major supermarket chains throughout the country, it's generally not an issue."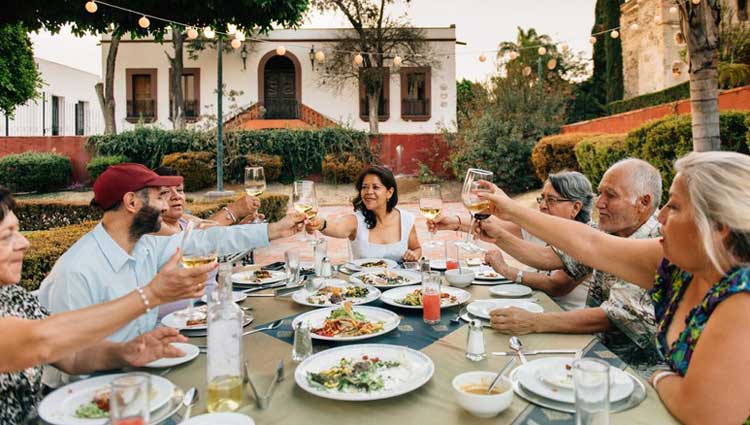 Mexico shares part of its southern borders with California, Arizona, New Mexico, and Texas. From the U.S. and Canada, you can drive to Mexico—in your own car—or fly there in a few hours, in most cases.
Mexico claims top rankings in the Fitting in and Entertainment category of this year's Annual Global Retirement Index, scoring 96 points.
Mexico is, by large numbers, one of the most popular retirement destination on the planet for U.S. expats. Some move here full-time and some live in Mexico part-time—spending winter months in vacation homes where the weather is always warm and the cervezas are always cold. U.S. citizens can stay for six months at a time in Mexico on a tourist visa, which makes it logistically easy to snow-bird there.
"With more than 1.5 million American and Canadians calling Mexico their full-time or part-time home in dozens of destinations around the country, you'll have no trouble making friends and finding things to do just about anywhere you choose to settle down," says IL Roving Latin America Editor Jason Holland.
"The expat community is welcoming and eager to help newcomers… and your Mexican neighbors will be warm and friendly. There is always something going on, from traditional celebrations and festivals to live music, clubs for every activity, sunset happy hours, holiday dinners, social gatherings, and much, much more."
Jon Sumple and his wife Karen moved from Seattle to Akumal on Mexico's Caribbean coast. Karen and Jon are fortunate that their writing and marketing careers, respectively, allow them to work remotely.
"Instead of shelling out for a two-week vacation every year, we now get to live and work abroad every day," says Jon. "And we're actually saving money by doing it.
"From time to time, we need to remind friends and family we're not on a permanent vacation. We work five days a week. However, in the evenings and on the weekends, we enjoy amazing adventures. There are a limited number of restaurants in Akumal, but a 30-minute drive north to Playa del Carmen or south to Tulum provides a multitude of dining options. We fell in love with the food scene in Tulum and found ourselves heading south frequently.
"During one of our many visits to Tulum, we befriended a taxi driver who ended up being our go-to driver for weekend excursions. We'd contact him on WhatsApp and make plans for day trips to cenotes (amazing above and below ground swimming holes), Maya archaeological sites, and the waters of Bacalar near the Mexico-Belize border."
Related Articles
Cheapest Places to Live in the World
International Living's Annual Global Retirement Index