Gozo: Siren Of The Mediterranean
By Mary Charlebois
Calypso's Cave sits above the red sand beach of Ramla Bay, providing a captivating view of the bay, the astonishingly blue hue of the Mediterranean, and the green Ramla Valley. On a clear day, you can see Sicily, 60 miles to the north. Is it really the cave where the nymph Calypso kept Odysseus a prisoner of love in Homer's The Odyssey? Local legends say it's true. But one thing is certain—that Gozo has the influence of a siren. It seduces all who visit to stay on her captivating shores.
Gozo is one of the three inhabited islands in the Mediterranean archipelago of Malta. This tiny isle is 4.5 miles wide by nine miles long. It has been inhabited by man since 5900 BC. Neolithic farmers migrated to Malta from Europe, bringing a new age evolving from hunter-gatherer to farming and animal husbandry.
After about 1500 years, the Neolithic settlers became known as 'The Temple Builders.' Gozo and Malta are littered with the remnants of temples and burial vaults, large and small. On Gozo, the Megalithic temple, Ġgantija, is one of the oldest standing buildings on Earth. It's just one of many archeological parks where you can walk in the footsteps of ancient man.
Modern Gozo values and protects all that remains of the first human settlers. But modern history is also treasured. Museums and monuments are plentiful. One of the most fascinating is The Cittadella. Since the bronze age, man has inhabited the ground where the Cittadella now stands. Over the centuries, it became a fortified place of protection for citizens and animals when invaders threatened.
When to Visit Gozo
The best time to visit Gozo is spring or fall when temperatures are moderate (60 to 70F), yet the sun shines daily. Additionally, it's the off-season when rates for airfare and accommodations are at their lowest. If you love hot weather (80 to 90F), come for the lowest airfares in the summer.
There are no direct flights from the US to Malta. Your flight will connect to Malta in a European city. Most major airlines partner with Air Malta from an EU city to get you to the islands.
Getting Around Gozo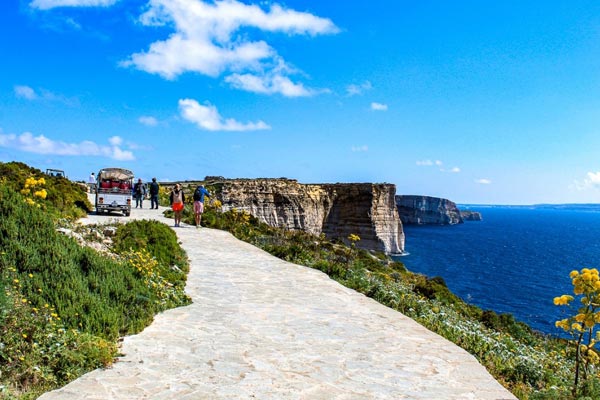 A car isn't needed on an island 4.5 wide by 9 miles long. Gozo is small and easy to get around. I suggest leaving the driving to buses and taxis. Walking or cycling are two great ways to get from place to place. Trails and paths crisscross and circle the island. It's one of the best ways to get up close and personal with the landscape, flora, and fauna.
Airport Transfers: When you arrive at Malta International Airport (MLA), you will be on the island of Malta. You will need to take a bus or taxi to the ferry terminal, then take a ferry to Gozo.
The best way to get a taxi is to use the Taxi Booth at the airport. It can be found in Welcomer's Hall. Go to the cashier and tell them your destination. You pay the fare in advance either by cash or card. A driver is on hand to assist with your luggage and get you safely to the ferry terminal.
For buses, the Malta Public Transport booth is also in the Welcomers' Hall. A representative is there to help you with routes and to assist in purchasing a bus card.
Ferry Travel: You travel to Gozo by ferry. The Gozo Channel Ferry sails to Gozo from Cirkewwa Ferry Terminal. The trip takes about 20 minutes. Ferries run 24 hours a day. Foot passenger and cyclist is $5.25 roundtrip. Fare is paid in Gozo upon your return to Malta.
Gozo Highspeed sails from Valletta. The modern, high-speed hydrofoil trip will take 45 minutes. You'll enjoy comfortable seating, complimentary Wi-Fi, and picture windows. One-way standard fare is $8.25, $5 for students, $3.30 for seniors and children, and $0 for infants.
Buses on Gozo: Gozo and Malta have excellent public transit that runs most routes 24 hours a day. You can be assured of clean, efficient, and safe travel. Outside the Gozo ferry terminal, you will find a Malta Public Transport hub. Buses cover every part of the island with connections at the Victoria hub. You can buy bus passes from a vending machine at the Gozo Highspeed waiting area. Bus fare is free to residents. For others, the cash fare is $2.25 per trip, with a transfer good for two hours. Special bus passes for visitors can reduce fares to $3.25 for unlimited rides daily.
Retire in Gozo, Malta (Full- or Part-Time)
Gozo's relaxed pace of life makes it a popular retirement destination for Americans, Canadians, Australians, and British expats. Because Malta is a dual language country—English and Maltese—it's very popular with English speakers. Some folks came here on holiday and fell in love, returning year-after-year, until retirement when they make Gozo their home. Others immigrated to America, Canada, Australia, and England, then returned to retire in the house of their ancestors.
The village of Nadur is known as 'Little America.' American expats are common. Many balconies fly both an American and a Maltese flag. Expat groups are available on Facebook and the Internet. Some groups have social gatherings from time to time. Others offer a source of information for newbies to the island.
Residency
Residency permits are available for Non-EU Third Country Nationals living in Gozo. Residence permits exist for investors, workers, and retirees. Look at the different options on the Identity Malta Expatriates Unit website, where you'll find the most up-to-date information about eligibility, taxes, and application documents.
Additionally, Malta's Digital Nomad program attracts folks from all over the globe. Still, English speakers seem to be the most frequent people taking advantage of this easy, fast, and inexpensive way of obtaining a Gozo resident permit.
Healthcare
The World Health Organization has listed Malta as #5 in the top 200 global healthcare systems. Malta has one of Europe's most sought-after medical universities, educating healthcare professionals with modern facilities and leading-edge procedures and technologies.
Malta and Gozo are popular medical tourism destinations, with procedures costing 40% to 70% less than the US. And best of all, you are in the Mediterranean to recuperate.
Residents of Gozo qualify for the State Health System. It is provided at no cost for citizens and those with residency permits. Healthcare insurance is very low cost for expats before qualifying for residency. An annual no-deductible comprehensive policy for two is about $1,500.
Climate
Malta's Mediterranean climate is guided by the sea—the water temperature averages 70F annually, with a low of 61F and a high of 81F.
There are 3,000 hours of sunshine yearly. The average temp is 67F. The thermometer in Malta rarely drops below 55F or above 85F. Summers are hot and dry, while winters are cool and wet.
Location
The archipelago of Malta is located in the middle of the Mediterranean Sea. Encircled by Europe, Asia, the Middle East, and Africa, it's the perfect location to travel to those bucket list destinations quickly and inexpensively.
Lifestyle in Gozo, Malta
Gozo's quiet, slow-paced lifestyle focuses on family, faith, tradition, and rest. Village life centers around a parish church, typically positioned at the head of the village square. Family, friends, and neighbors spend time conversing, eating, and playing together in the square and on the church's steps.
Shops close at noon, reopening at four, permitting time for a meal, rest, time with family, and personal business.
Holidays are frequent and enthusiastically celebrated, involving the entire village in food, entertainment, decorations, and fireworks.
Diverse Culture
Over the centuries, 12 civilizations have controlled Malta— the Phoenicians, Carthaginians, Romans, Greeks, Byzantines, Arabs, Normans, Sicilians, Spanish, Knights of St. John, French, and British. Each brought their own language, food, art, music, religion, myths, and architecture. Traces of all 12 remain in modern Malta, creating the vibrant and exciting culture of the Maltese.
Gozitan Diet
Fresh, inexpensive, locally produced food is everywhere and an essential part of daily life. The food in Gozo is exceptional, whether in eateries, street markets, small village food stores, or supermarkets.
Gozo grows an incredible number of fruits, vegetables, and farm animals on a fairly small amount of farmland. Olives, dates, figs, lemons, tomatoes, potatoes, broad beans, arugula, fennel, pumpkins, and melons are grown and used in many dishes.
Seafood can be found on every menu, in fish markets, and from fish hawkers driving from village to village selling fresh catch. The clean Mediterranean waters offer Lampuka (Mahi-Mahi), seabass, swordfish, grouper, sea bream, shrimp, mussels, clams, oysters, and urchins. Most are available all year.
Gozitans have made wine and beer for millennia. A rare variety, Girgentina is widely cultivated. It has been grown on Gozo for centuries. The origin of the grape is unknown. Girgentina is used for white and bubbly.
A wide variety of Maltese wines—red, white, and sparkling, are served and sold everywhere. Food shops are good places to fill your wine rack or picnic basket with local wine at budget-friendly prices.
When you say beer in Malta, you say, "Cisk." The Pilsner has been Malta's favorite since 1929, when it was brewed for the British soldiers stationed in Malta for WWI. Six styles are available, but the most popular is Pilsner. It pairs with most foods and makes a lovely afternoon cooler. Find Cisk everywhere food is served—bars, kiosks, and shops.
Best Things to Do in Gozo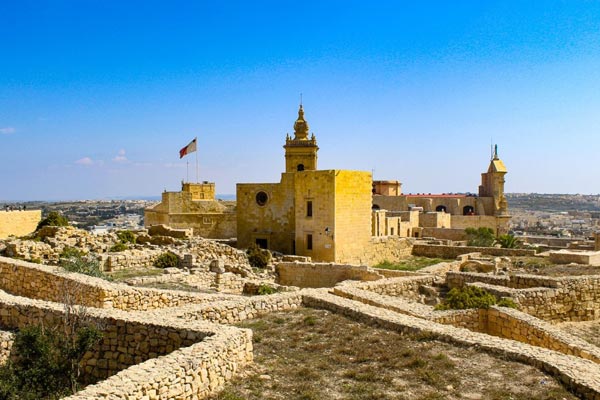 Beaches
Gozo's beaches are popular yet not overrun with crowds. Ramla Beach is very popular. Crescent-shaped Ramla Bay is skirted by reddish sand. Some parts of the beach are covered in smooth pebbles, shells, and other beachcombing treasures. There is a boardwalk, umbrella/lounge rental, public toilets, showers, and a sea-view restaurant with a full menu and bar. Vendors are on the road to the beach selling floats, hats, towels, sunglasses, and that all-important sunblock.
Daħlet Qorrot Bay is a unique place on Gozo near Nadur. Ingenious fishermen have carved boat shelters in the sandstone cliffs surrounding Daħlet Qorrot Bay. The small fishing fleet still goes out to sea daily, weather permitting. The occasional tour boat will drop in, offering tours of the island.
This is a great swimming area with deep, calm water. There is a small pebbly beach, free public toilets, and picnic tables. A food truck with food and libations will be on hand in late spring and summer. This beach has no bus service; most folks walk from Nadur, cycle, or drive.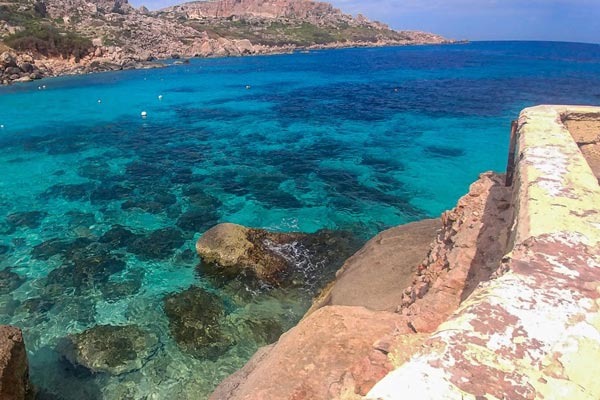 Hondoq is my favorite beach and swimming place. There's a small sand beach, rocky beaches, and swimming by the seawall. There are boats and jet skis for hire here, but swimmers have a protected area. Lounge chairs and umbrellas are available to rent for the day. There is a stand for buying floats, hats, snorkeling gear, and boat tours.
Hondoq Kiosk is one of the best on the island. You can get a wide variety of eats from snacks to full meals. I love their bruschetta. A full bar plus beer and wine are also available.
Gozo Temples and Megalithic Sites
The Xagħra Stone Circle is a burial site with underground burials dating from 4000 BC. Located in Xaghra, it has been a treasure trove of sculptures and jewelry now on display at the Gozo Archeological Museum at the Citadel in Victoria. This site is available by appointment only.
Said to be the oldest free-standing building on earth, Ggantija was built between 3600 and 3200 BC. The structures are much larger than most temples found on the islands. When first unearthed, locals believed the massive stones could only be moved and constructed by giants. Thus, the name Ggantija comes from the Maltese word for giant, ggant. An excellent museum shows how the people who built Ggantija lived. Ggantija is in Xaghra.
Cittadella
The Cittadela in Victoria is an immense bastion used for centuries to protect citizens when invaders and pirates came to the islands. Standing at the base of the Cittadella is awe-inspiring. The honey-colored sandstone walls rise hundreds of feet above Victoria, Gozo's capital. The walls show their history. The stones bear its history proudly: hospital and jail buildings erected by the Knights Templar, ornate houses and gardens constructed by the Gozitans, and various scars from Second World War bombardments.
The walled city is a UNESCO World Heritage site. It has museums, galleries, shops, a cathedral, and eating places. You can spend an entire day here exploring. Start at the Visitor Center; your small entrance fee includes tickets to other attractions.
Gozo Churches
Every village has a church, and many have two of the most magnificent structures anywhere in Europe. While there are 46 churches and chapels, these are two of the favorites.
Basilica of the National Shrine of the Blessed Virgin of Ta' Pinu
Ta Pinu National Shrine is one of the most visited churches on Gozo. This inspirational church is a masterpiece of stone and marble filled with priceless art and sculpture.
The Cathedral of the Assumption of the Blessed Virgin Mary
The Cathedral of the Assumption of the Blessed Virgin Mary is called Gozo Cathedral. The Baroque church is built on the site of a Roman Temple. The cathedral has no dome. Instead, the ceiling is a
Trump L'oeil of a dome. You'll certainly believe it's real.
Feasts, festivals, and carnivals
Maltese and Gozitans alike love to celebrate. Throughout the year, villages hold celebrations for everything from patron saints to changing of the seasons. Before Easter, the carnival season begins with parades, floats, food, dancing, and all-night parties. Of course, any celebration calls for fireworks.
Day Trip to Sicily
Hop on a ferry and travel 60 miles to Sicily. You can go for the day or take a long weekend. Want to venture a bit further? Flights to all major EU cities depart daily. Try a long weekend in Paris, or visit Big Ben in London.
Cost of Living in Gozo
A reduced cost of living is the number one reason most folks cite for retiring abroad. Gozo definitely fulfills that requirement. The general cost of living in Gozo is 18% lower than in the U.S. With rent coming in at a whopping 42% less than in the U.S., it's easy to see why so many North Americans are retiring in Gozo.
But rent isn't the only budget-friendly reason to consider Gozo. The cost of food is surprisingly low in restaurants and shops.
Dining Out for two adults—$4 for coffee and pastries at a café, $17 for lunch, $28 for dinner. $13 will add a bottle of imported prosecco, and $8 will add a bottle of local red or white wine. With a Malta Discount Card, you receive 50—25% off at selected eateries.
Entertainment: $67 annually for two Heritage Malta memberships. As Heritage Malta members, you have unlimited entrances to over 90 museums, archaeological sites, historic inns, palaces, catacombs, forts, parks, UNESCO-listed Neolithic temples, monuments, and underwater cultural heritage sites. Members can also access openings, talks, tours, and celebrations not open to non-members.
| | |
| --- | --- |
| Expense per month | US$ |
| Rent (Two-bedroom furnished apartment) | $700 |
| Electricity | $40 |
| Water | $10 |
| Gas | $3 |
| Household help (six hours per week) | $60 |
| Highspeed Internet | $25 |
| Cellphone (5G network) | $25 |
| Cable | $55 |
| Healthcare for two adults | $133 |
| Public Transit (Ferrys to Malta – Buses are free) | $12 |
| Groceries and household products | $360 |
| Entertainment for two—dining out, historic sites, museums, concerts, festas, tennis, and day trips. | $360 |
| Misc. | $100 |
| Monthly Total: | $1883 |
Why Retire in Gozo?
Gozo has a culture that deeply respects family, community, faith, the land, and the sea. Three thousand hours of sunshine a year, an easy-going Mediterranean climate, and a clean blue sea are irresistible. Combined with exciting art, music, history, spectacular food, and a reasonable cost of living, Gozo offers the dream retirement we all desire.