If you love culture, history, and excellent weather you'll love living in Malta
Located about 50 miles south of Sicily in the Mediterranean, Malta is a small archipelago that boasts a Mediterranean climate, a top-ranked healthcare system, and an English-speaking population. Malta is also home to some of the world's best diving and has been growing as a tourist destination year after year.
Popular destinations in Malta include the lively port city and capital of Valletta—home to ancient architecture, a bustling pedestrian shopping area, exceptionally good restaurants, and an international community.
Another expat-favorite is Sliema, just across the water from Valletta, where you'll find a wealth of newly built property options. On the north shore of the main island, the seaside resort area around St. Paul's Bay attracts its fair share of expats with its ocean-view promenades.
For those looking to get away from it all, the pretty, natural northern island of Gozo offers a slower pace of life; a range of quiet sea-view walking paths; rustic, Mediterranean landscapes; and fields of aromatic, wild thyme. And Gozo isn't all tranquil nature. For those looking for a balance between tranquility and convenience, the island's capital—Victoria—is a lively place with shopping, restaurants, health facilities, and just about anything else you might need.
If you're a Europhile who dreams of spending retirement immersed in the rich culture and history of the Old World, yet craves warm days filled with brilliant sunshine, blue skies, and al fresco dinners by the sea, then think about retiring to Malta, a multi-island archipelago in the heart of the Mediterranean Sea.
Just 100 miles off the coast of Sicily, Malta is the smallest country in the European Union, but it offers far more than its tiny size would suggest: spectacular centuries-old towns with every modern convenience, a wealth of year-round cultural activities and attractions, a large international community, and an affordable, laidback lifestyle. Best of all, despite having the atmosphere of continental Europe, the island is largely English-speaking.
The British have long identified Malta as a sublime retirement haven, but North Americans are just beginning to discover its charms. If you've heard anything of these islands, perhaps you're most familiar with Valletta, Malta's stunning capital, whose extraordinary medieval cityscape and elegant flagstone streets instantly whisk you back to the 16th century.
But famous landmarks like this are just the beginning of what's wonderful about Malta…
Living Here is Affordable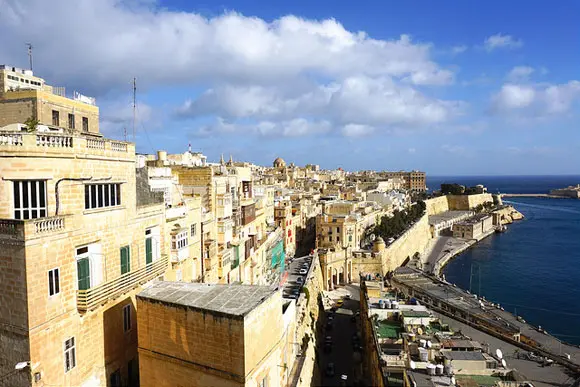 You might think that living on a beautiful sun-soaked Mediterranean island is something only the very wealthy could afford. Not so in Malta. Your dollars can go surprisingly far. Some retired expats say they live comfortably on as little as $2,600—or even less—per month.
In Malta, you can find furnished two-bedroom apartments, just a 10-minute stroll from the sea, for as little as $550 per month. For a furnished two-bedroom with a sea view, look to spend at least $1,100 per month…which isn't bad considering that we're talking about a view of the Mediterranean. Prices fall if you'd prefer living inland or on the smaller island of Gozo.
Groceries, dining out, and other common expenses cost far less than you might imagine. For example, you can get a delicious seaside three-course meal for as little as $23 per person—including a glass of local wine. Also, given the island's small size and extensive (and reasonably-priced) transportation system, some expats happily live car-free, saving thousands on car payments, insurance, and garage costs.
Plenty to Keep you Entertained
While it's true that the Maltese archipelago consists of only three inhabited islands—the largest of which (Malta) is only 122 square miles—you'll find that these islands offer a seemingly never-ending stream of activities. There is simply always something happening.
Naturally, the Mediterranean Sea offers a wealth of diversions, from snorkeling in crystal-blue waters, to splashing around in secluded coves, to sailing, canoeing, or kayaking. History lovers will be in paradise, as the islands have a greater density of historical sites than anywhere in the world. You could spend years exploring the Megalithic Temples of Ggantija, Roman ruins, medieval castles, ramparts, gardens, World War II shelters, the islands' hundreds of glorious baroque churches, and still keep discovering "new" things.
Then there are Malta's legendary festivals. All year round, people spill into the streets to celebrate scores of intriguing colorful festivals, exhibitions, feasts, or other forms of entertainment. As a Catholic country, many of these celebrations are based in religion, but you'll also find that most Maltese towns have some kind of special festival of their own (like the town of St. Julian's "Gostra," where locals attempt to climb to the top of an oiled pole hanging over a bay, while crowds cheer them on).
The island also hosts many cultural events such as the Malta Jazz Festival, the International Fireworks Festival and the Notte Bianca—a celebration where the museums and palaces of the island fling open their doors and welcome visitors to see special exhibits and performances all night long.
A Lively International Community
Not only do you have plenty of things to do if you retire in Malta, you've got a large, active English-speaking expat community with whom you can enjoy these activities. The 2011 Maltese Census found that more than 6,000 British expats live in Malta, along with 4,000 Australians and nearly 2,000 Canadians. A welcoming bunch, the island has multiple organized expats groups, who regularly get for coffee mornings, evening drinks, and dinners out and about. You'll also find organizations by activity such as a Ramblers' Club, several running clubs, horse riding clubs, books clubs, and more.
Access to the Rest of Europe
If you ever do feel the need to get away from the island for a while, the rest of Europe is just a short flight—or ferry ride—away. Sicily is 90-minute catamaran ride away, while Rome is less than an hour by air. Major cities such as Paris, Geneva, and Athens are all just a two-hour direct flight from Malta's International Airport. Both EasyJet and Ryanair, budget airlines, service Malta, and you can get flights to the continent for as little as $60.
Why Live in Malta?
For those who want to live in Europe, with easy air travel to cities like Rome and Paris, the ability to travel freely in the European Schengen (borderless) zone, and have access to high quality European healthcare—but who also want year-round sunshine and warm weather—Malta is a shoo-in. It boasts the warmest capital city in Europe and some of the best overall temperatures and overall sunshine-hours, too.
It's also up-and-coming, with the EU currently funding a long list of restoration and growth projects, all of which are making the islands prettier, cleaner, more organized, and more attractive to tourists and residents.
Malta also has an extensive and affordable public bus and ferry system, so while many residents do choose to own a car, it isn't essential.
It's a sunny summer's day, and a man in a bathing suit is climbing a ladder out of the sea. He clambers onto the cream-colored stone, grabs his towel, and throws it over his shoulders. As he faces toward the ocean his gaze takes in scudding sailboats, a bright blue ferry, and—across the harbor—a cityscape of cream-colored buildings and a marina bristling with masts.
There's no beach here for sunning—except for the boulders he's standing on, the limestone rises in nearly sheer cliffs to the ancient battlements of the city above. But the waters are the cool, blue Mediterranean, and the sun almost always shines. Friends tell me that, last summer, at this very spot, they swam nearly every day after work, walking the few blocks from their apartment. Early evening swims, as the lights go on in the harbor, are pure magic.
I'm in Valletta, capital of the small island nation of Malta. The smallest country in the European Union (just 122 square miles), Malta has long been a vacation spot for sun-starved northern Europeans and a tax haven for the wealthy. Multi-million-dollar yachts fill Malta's marinas. Yet you'll find great bang for your buck here. It has one of the lowest costs of living in the EU, a high quality of life, and stunning real estate. Though Valletta's property prices are rising, they are still extremely affordable, especially by European standards.
And these days there is change in the air and a new excitement, especially in Valletta. The city has been named European Cultural Capital for 2018, and in the run-up to the big year the government is burnishing its baroque public buildings and revamping infrastructure, while Europeans and other expats and investors snap up and renovate Valletta's historic buildings. New shops are opening, and activities fill the calendar.
Malta is five islands but only Malta and Gozo have substantial populations (there's a proposal to link them by bridge). Comino, the third-largest, is home only to a few people. And the islets of Cominotto, off Comino, and Filfla, off the Dingli Cliffs, are uninhabited. Let's start in the capital…
Ancient Roots, Modern Amenities
Stand in St. George's Square, in central Valletta, and you can snap pictures of the changing of the guard, just as you can at Buckingham Palace. The uniforms here are white, not red, and the guards are more slightly built, with olive complexions.
But the military precision, the little guard boxes, and the ceremony itself betray its heritage: John Bull Was Here.
The British—from whom Malta gained independence in 1964—were the last in a string of empires to covet Malta. Just 60 miles from Sicily and 180 from North Africa, Malta sits at the crossroads of East and West. Phoenicians, Romans, Arabs, and Normans all set up shop here. Most famously, so did the Crusades' Knights of St. John, who made Malta their base. They ruled here for over 250 years and founded Valletta.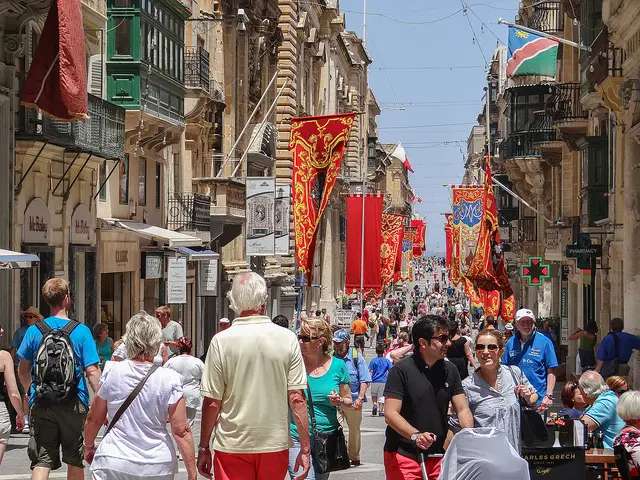 This rich history and mix of cultures is part of day-to-day life here. Though European and English-speaking, Malta has a touch of the exotic, a slight feel of North Africa. Partly it's the light, and the sunny, hot days. Partly it's the sound of the Maltese language (still commonly spoken though most people have fluent English), liquid and slightly rasping. Partly it's the strange place names and road signs (Maltese is a Semitic language, akin to Hebrew and Arabic—though it uses the Roman alphabet).
Malta's legacy from the Crusader Knights includes the outstanding architecture of Valletta, Mdina and other cities, most of it in warm, cream-colored limestone. The British left their language, their driving style (left side of the road), three-pronged electric outlets, and the knack for brewing a proper cup of tea. The nearby Italians, bless them, left their stamp on the food. (Don't even think of dieting here…)
And the Maltese themselves are warm, welcoming, and clearly proud of their country. Here you'll find all the timeless, traditional Mediterranean values, with their emphasis on food, family, and personal relationships.
Yet Malta very much lives in the 21st century. Today it's an international center for banking, online gaming, and animation for film studios. Telephone and Internet services are fast and reliable. It's well-connected by air with Europe and Africa, and by sea with Sicily. Bus service is frequent and the routes extensive, on both Malta and its sister island of Gozo.
I spent 10 days exploring Malta and Gozo earlier this summer, checking out the lifestyle and the real estate. I soon discovered that, for Malta, 10 days is not much time. This is one of the most densely-populated countries in the world. It is rich in villages that, in many cases, are hundreds of years old, with winding lanes, historic houses, and enticing shops.
Throw in Malta's agreeable climate, its many coastal towns and beaches, its ancient ruins, and the Mediterranean itself, and you have a country that rewards a leisurely exploration. Part-time expats will have plenty to keep them busy; full-timers have plenty to savor.
Up-and-Coming Valletta
If you're looking for urban living in Malta, with access to shops, theaters, restaurants—and all of these in a physically beautiful city—there's nothing that can touch Valletta. And right now is possibly the best time in decades to be here. In the last few years, the city has thrown off its reputation as a musty, dusty destination where there is little to do but go to museums.
Today Valletta offers concerts, films, open-air exhibitions, yummy dining, and more. Those living here—both Maltese and locals—are eager to welcome new faces. If you have any networking skills at all, you'll soon have a slew of new acquaintances and a full social schedule. (This is made even easier by the city's small size—total population is only about 8,000.) One Friday evening, for instance, I went with friends to hear jazz at St. Ursula's steps. The free, weekly, open-air event—held where a staircase of centuries-old steps descends toward the sea—is barely publicized. Yet word has gotten around.
"It's not our secret anymore," a friend remarks dolefully, looking at the crowd. We've arrived late—we've just come from a folk festival, where we heard traditional Sicilian singing and untraditional Ghana hip-hop. It's clear that many of the locals had prior commitments, too—they've turned up in formal wear, straight from a government "do" in St. George's Square.
The city itself, badly bombed during World War II, is looking good. The bare bones of it have always been superb: Built by the Knights in the late 16th century, Valletta is almost entirely baroque and neo-classical, its buildings of creamy limestone. The city is laid out on a grid, with straight streets. At places along Republic Street, which runs like a spine down the city's center, you can look down side streets directly to the sea. Between its grid layout and its small size—you can walk Valletta from end to end in about 20 minutes—it's impossible to get lost.
UNESCO declared Valletta a World Heritage site in 1980, and since then facades and some buildings have been beautifully renovated.
Today the city attracts young Maltese, as well as foreigners, who are keen to renovate a building to live in or as an investment.
And no wonder. Right now there simply isn't enough quality accommodation in Valletta to meet tourist demand. Outside a few high-end hotels, there is relatively little to choose from. (I know; I looked myself.) And what discerning tourists increasingly want—especially if they plan to stay a week or longer— is not a hotel room, but rather an apartment or townhouse they can call their own during their stay. (And if it brims with local color, so much the better.)
The Maltese use the term boutique hotel to describe these large buildings that have been converted into mini-apartments for short-term rental. Guests share an entranceway and, sometimes, common areas like patios and sea-view terraces. The apartments themselves usually include a sitting room and kitchen. Sometimes the building's owner even has an apartment in the building and lives on site, making it similar to a Bed & Breakfast.
I viewed two palazzos in Valletta that could be converted into living and rental space. Both were unrenovated but looked to be structurally sound. The first, a very large, four-story palazzo on Merchant Street—one of Valletta's main shopping streets—would convert easily into a boutique hotel of at least five apartments. The asking price is €850,000 (about $1.1 million). You'd probably need at least $1.5 million to cover purchase and renovation, but it would be a tidy little business.
The second property, a smaller three-story palazzo, is for sale for €330,000 (about $429,000). The space can be easily partitioned to create a common downstairs patio space, ample upstairs living quarters—and a separate apartment that could be rented out for cash flow. Renovations would put the all-in cost at perhaps $800,000.
Good short-term rentals in Valletta right now stay pretty constantly booked. If you're looking to stay three months or less, your rent will usually work out to the equivalent of the daily rate. (For reference, my rent worked out to about $80 a night, which is at the low end; $100 to $120 is more the average.) The longer the stay, obviously, the less you pay per night. And for long-term stays—six months or more—the price drop can be considerable.
These days, a long-term rental in Valletta normally runs you from €450 up to about €750 a month for a mid-range apartment—that is, about $585 to $975. (Of course, if you want huge space or a sea view, the sky is the limit, pricewise.) While some parts of the city are more desirable than others, you're seldom more than five minutes from anyplace.
For rental prices in a European capital, these are very reasonable. Likewise, the sale prices of apartments like these are also reasonable. One apartment I particularly liked was a one-bedroom in a neo-classical building. In a prime area—just steps from St. George's Square—the apartment is beautifully renovated, with hardwood floors, ultra-modern kitchen and bath, a large living room, and a traditional Maltese windowed balcony that looks out on the street. The asking price is €175,000—about $227,500. See here for more information.
If you aren't looking to live in Malta full-time, you, too, could become a landlord and rent this apartment out short-term. You'd get around €550 a month for it—that's just over $700. And in Valletta there is no "off season"—you could likely keep it rented year-round.
Near Valletta
For the younger crowd, St. Julian's and Paceville, about half an hour away, have always been huge draws. These towns are where you'll find nightclubs, bars, students, and tourists. These delights may have limited appeal for those over 40. But nearby Sliema has a very pretty boardwalk, where I strolled one evening to enjoy the late-afternoon sun on the sea, along with locals and tourists. (Sliema is also where you'll find a mall.)
Across from the boardwalk, facing the water, is a string of busy restaurants and bars, all with outdoor tables. In the late afternoon and evening this area is jam-packed. It gets a bit noisy, but the view is lovely and the ambience is classic sea-side.
Walk inland just half a block, though, and you are on pleasant, quiet streets of neoclassical buildings, Malta's distinctive enclosed balconies at their upper stories. Small, ground-level stores provide some local shopping, but most of the buildings are residential.
However, if I wanted digs outside Valletta, my first choice would probably be the Three Cities: Cospicua, Vittoriosa, and Senglea. Like many cities in Malta, each one runs into the next indistinguishably, more like neighborhoods or boroughs. All three are just across the harbor from Valletta, almost literally a stone's-throw away.
In the Three Cities you'll find stair-stepped passageways, hilly streets, and tall, cream-colored buildings with sea views. There are local shops, and the area looks more purely residential than Valletta.
The Three Cities' waterfront area was once Malta's shipyards. Only remnants of this past remain, however. The government is converting this entire waterfront into usable pedestrian space, with a pleasant boardwalk all along the water. (Part of the boardwalk is already finished; the remainder is in progress.)
Restaurants are springing up opposite the boardwalk, offering outdoor tables with a harbor view. For right-by-the-water ambience, this beats anything Valletta had to offer.
For now real-estate sales and rental prices in the Three Cities are somewhat lower than in Valletta. But once Valletta's property market peaks, the Three Cities are likely to boom.
Right now, the big downside to the Three Cities is transportation. Without a car, the area is a half-hour or more from Valletta by bus. And though they're so close to each other by sea that you can practically swim the distance, there are only occasional ferries.
Mdina and Around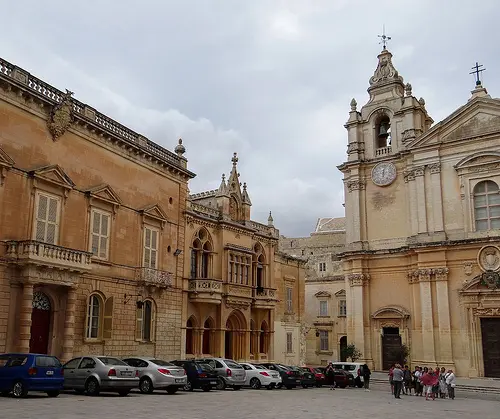 Inland Malta is a land of vineyards, dry, rocky landscapes, and small towns. It's also home to the ancient walled city of Mdina, Malta's former capital. St. Paul is said to have lived here after being shipwrecked on Malta, and the Phoenicians first fortified the city. The Moors designed the street layout and the Normans widened the moat. But most of Mdina's look today is baroque, thanks to the Crusader Knights, who made it their capital until they built Valletta.
Mdina is known as "the Silent City," and silent it is, with numerous signs asking tourists to keep down noise and respect the privacy of Mdina's residents…all 300 of them. Though Mdina is beautifully preserved, with soaring facades, romantic windowed balconies and narrow, cobblestone lanes, it's hard to picture actually living here. It looks more like a film set (and is sometimes used as one, most recently for HBO's Game of Thrones). I did actually see one two-bedroom, one-bath town home in Mdina listed for sale. The asking price is €350,000 (about $455,000).
For a shot of modern-day reality (and any shopping), cross Mdina's moat and enter Rabat. This city of about 7,000 people has shops, restaurants, banks, and other modern conveniences. But it also has traditional neighborhoods along narrow, cobbled lanes, and the occasional baroque church. You can find small, traditional houses ("houses of character") here for sale starting at about €100,000 ($130,000). Rents start at about €450 a month (about $585); realistically, expect to pay €600 to €700 (about $780 to $910) for a two-bedroom house. If you prefer apartments, you'll have more luck in Rabat's modern outskirts. Sale prices start at about €75,000 ($97,500) and monthly rent at €350 ($455).
Rabat and Mdina are traditional Malta, but they're hardly remote. Running right between the cities is a two-lane highway that connects them to Valletta, the international airport, and the coasts.
Gozo—Laidback and Cheaper than Malta
Tourism is big business here—every year, Malta gets about 1.2 million tourists, about three times the country's population. And many of them—especially Europeans—come for the beaches.
Much of Malta's coastline consists of rocky shore and dramatic cliffs, with the occasional small, perfect, sandy cove. Many of Malta's sandy coves are home to former fishing villages that now cater to the tourist trade. Rocky areas offer dramatic sea views but no swimming.
The smaller island of Gozo, too, is hilly. It's a classic "get-away-from-it-all" destination. The pace of life here is slower. Even the island's largest city, Victoria (population about 6,500), is laidback, with elderly locals whiling away the afternoon on shady park benches. Gozo's beach towns, such as Marsalforn, are busy during the high summer season but less so at other times. And the island's interior, with its vineyards, farm houses, and rugged landscape, seems to belong to an earlier time.
Victoria offers far and away the most urban living on Gozo, with shops and cinemas. Its winding streets open onto little squares where locals dine under the shade of umbrella-covered tables. Flowers brighten balconies and vines trail down walls. Walk up to the fortress of Il-Kastell, where the locals took refuge during corsair raids in earlier centuries, and look out on the blue Mediterranean.
Here in Victoria you can rent a one-bedroom, furnished apartment long-term for as little as $325 a month, or a four-bedroom farmhouse near town for $900. Rent in beach towns will run you slightly higher. You can buy apartments in Victoria—even furnished ones—starting at about $130,000.
Gozo also has a number of pretty villages in the interior. The two largest, Xaghra (which is near Victoria) and Nadur, have a nice feel to them, with some traditional neoclassical buildings. And both have relatively easy access by bus to the ferry terminal. But realistically they're too remote for most people.
In fact, its remoteness is probably Gozo's biggest drawback. It genuinely takes time and a bit of effort to get here. You can take either a twice-daily seaplane from Valletta (round trip about $115) or a ferry from Cirkewwa (round trip about $5.85), at the island of Malta's western end. Feasibility studies on a bridge or tunnel to connect Malta and Gozo have recently been authorized. We'll be watching.
The Cost of Living in Malta
A couple could live well on a budget of $2,000 a month. Spend $500 to $600 of that budget on groceries and you'll get plenty of wine, cheese, good cuts of meat and fish, and more. Utilities average $120 a month. Delicious meals in small, local eateries run $15 a person and up, while you'll pay $40 to $50 for a splash-out meal. And rent of $780 to $910 a month gets you a comfortable, mid-range, two-bedroom apartment in Valletta and some coastal areas. Pay less in Gozo and inland Malta.