Sliema, Malta: Where History Meets Nouveau Chic
By Kathleen Evans
Sliema, Malta is a town that has experienced a stunning metamorphosis. What was once a quiet little fishing village now boasts bustling streets brimming with upmarket shops and trendy restaurants. Throngs of people come for its rugged seaside coast—with a long and breath-taking 3.8-mile promenade on the seaside and the strand along the harbor on the other side of the Sliema peninsula, facing the Valletta skyline.
Along with its fashionable modern atmosphere, Sliema boasts a rich history. When the Ottoman Empire attempted to conquer the island in 1565, the area of Sliema was used as an encampment for Turkish troops. Dragut, who led the Turkish troops, was killed at the tip of the Sliema peninsula from a bombardment from Fort St Elmo across the water in Valletta. The Knights of St John later built Fort Tigné on that point.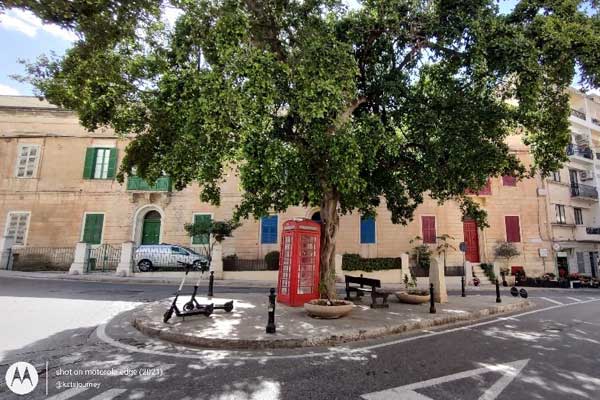 During the years of British colonial control, Sliema began its massive transformation. In 1855, Sliema developed into a "town" after the Our Lady Star of the Sea (Stella Maris) church opened to the public. The population continued to grow, and by the second half of the 19th century, Sliema started to be used as a summer residence for the wealthier inhabitants of Valletta, traveling over by ferry and used as the "posh" part of the island for the British residents.
Are you interested in retiring abroad? Yes | Not Sure Yet
Today, you can see the strong influence that the British had on the architecture in Sliema and the neighboring towns of Gzira and St Julians. The British continued to use the Tigné Fort and built more structures to protect the island from invasion.
Sliema's current population is approximately 23,000 residents.
Officially, Tas-Sliema, meaning "peace, comfort" in Maltese,
Traveling to Sliema
The best time to visit Sliema—and Malta in general—is during Europe's spring (April-June) or fall (September-early November). Winters tend to be cool, damp, and windy (with highs struggling to get out of the 50s F and lows in the 40s F), while summer can get extraordinarily hot (with daytime highs soaring into the high 90s F). Summertime offers festivities in full swing (from festas to fireworks), and is teeming with tourists. If you don't mind the heat, summer can be an exciting time on the islands. Fortunately, homes are built with both air conditioning and heat.
There are no direct flights from the Americas to Malta, so at least one connection is required. Malta has one airport, Luqa, in the south-central part of the main island. Easy connections include British Airways through London, Lufthansa through Frankfurt or Munich, Air France through Paris, Turkish Air through Istanbul, ITA through Rome and Swiss Air through Zurich.
Other direct destinations are served by Europe's low-cost carriers, such as Ryanair, Easy Jet, Wizz Air, and Malta's flagship airline Air Malta (which will be folding at the end of 2023 and rebranding as a new airline, the name of which is to be determined).
Because the island is so small, it's a quick trip to Sliema upon arrival. With a normal traffic flow, it takes about 20 minutes to reach the airport. App-based cars (Bolt, eCabs, Uber) are waiting at the airport, and a trip will typically cost around €20. The airport has car rentals on-site if you choose to drive. Prices for a compact car start as low as €60 weekly (remember to keep left).  Or you can take the Malta Transport bus. Although quite a bit cheaper at €2, it could take up to three times as long. The buses through Sliema run frequently and are a popular mode of transportation to anywhere on the island. Malta does not have a train system.
Retire in Sliema
Sliema is a town with a rich expat community, including part-time investors and digital nomads, from nations around the world. While primarily British and other Europeans, you'll find people from every corner of the earth, including North Americans, North Africans, Middle Easterners, and Asians. This melting pot of expat cultures and tourists makes for a fascinating experience as you assimilate. Plus, English as an official language eases any angst about accomplishing business, joining social activities, and enjoying day-to-day life. English is the common language across the expat and interacting local community (even as a second or third language) since expats typically don't speak Maltese.
While there's no "bad" location to live on these charming islands, Sliema tops the charts for many expats. It's an easy 10-minute ferry to Valletta or a 15-minute drive. And a short drive, as noted previously, to the airport. The public bus system rolls through Sliema on a regular basis, making ease of travel a reality without a car. The town is relatively compact and walkable, albeit a bit hilly in places with narrow, uneven sidewalks—don't text and walk!
The seaside apartments (condos) along the strand and promenade are popular locations—the sea views are unparalleled. But these neighborhoods are also more expensive and noisier due to road traffic and popular eateries below on street level. If you can live without the sea views, just a few blocks inland will reveal more traditional Maltese neighborhoods with charming balconies and window box flowers.
If you choose to live closer to Gzira—one town over, you'll find more affordable housing. Tigné Point is also popular for expats because the apartment blocks are built as a Special Designated Area (SDA). That means foreigners can purchase property in Malta with the same acquisition rights as Maltese citizens and without the need to obtain an AIP (Acquisition of Immovable Property) permit.
There are several visa options, including the digital nomad visa or work visa if you are, for example, working for many of the I-gaming companies on the island. If you're a retired third-country national (non-EU), you can apply for permanent residency through the Malta Permanent Residency Programme (MPRP). Or, as a part-time expat, Canadians and US citizens can stay in Malta and the EU Schengen region for 90 days without a visa or up to 180 days per year (90 days in/90 days out).
If you have any health needs, the best private hospital on the islands is in the heart of Sliema— St. James Capua Hospital and is in line with the EU's excellent healthcare standards.
Lifestyle in Sliema
The island lifestyle in Sliema can be fast-paced and exciting, but it can also be quite relaxed. This area offers so much – from pool clubs and fine dining to upmarket shopping. Lovely seaside parks, playgrounds, outdoor gyms, and restaurants dot the coastline on both sides of the Sliema peninsula.
Like the rest of Malta, Sliema is one of the safest places in the world. You won't hear about mass shootings nor armed robberies. They simply don't happen in Malta. One can walk down the streets alone safely after dark. However, it's always good to exercise caution as, on rare occasions, you will hear about petty theft or bag snatching, especially in nearby Paceville—a party zone in St. Julian's near Sliema, where it can get quite rowdy in the wee hours of the morning.
Because Malta is so small, 124 mi² (320 km²), with a total coastline of 122.4 mi (197km), it's easy to make a day trip from Sliema to anywhere on the island and the neighboring island of Gozo.
Things to Do in Sliema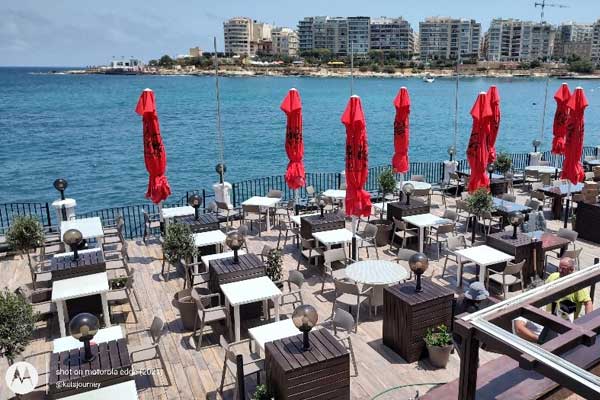 The Sliema Promenade along Tower Road links the entire town as it weaves around the rocky coast from Tigné Point to the vibrant bays of Saint Julian in the north. The locals call it "The Front." It's the main gathering spot where joggers, dog walkers, café hoppers, and cocktail sippers meet after work and on the weekends.
The walls of Fort Tigné have been keeping watch over the entrance to Marsamxett Harbour since the late 18th This walled fortress was built by the Knights of St John—right before Napoleon attempted to conquer the island in 1798.
The area around Fort Tigné has now been totally redeveloped. Chic apartment buildings now tower over the Mediterranean, surrounded by parks, and promenades. It's the perfect place to perch for sunset since the panoramic views of Valletta from this point are second to none.
Manoel Island juts out into the middle of the harbor just south of Sliema. It's an unusual piece of the city that seems to have resisted modern development. The island features a restaurant, a large marina and yacht yard, and interesting pieces of history. This includes the buildings of the Lazzaretto and Fort Manoel. The first was built in the 1500s as a place to quarantine victims of the Black Death. The second was an addition to the great fortifications of the Knights of St John, and later a British barracks.
Balluta Bay on the northern edge of Sliema welcomes the blue waters of the Mediterranean to roll over a sandy, white pebbled beach. Across Tower Road from the beach is a bustling piazza where you can sit with a coffee or a cold Cisk (the national beer of Malta) and people-watch. Balluta is also a favorite swimming bay in the summer months.
The Fond Ghadir is a series of manmade bathing pools in Sliema. While often referred to incorrectly as the Roman Baths, the pools actually date to the 1800s. They are carved into the coastline on the northern edge of Sliema, just beneath the ramparts of Tower Road. Originally salt pans, today they act as fabulous sea-water swimming pools to cool off on hot summer days.
The Point Shopping Mall is hailed as Malta's largest all-in-one shopping mall. It's located just behind Fort Tigné on the point—thus the name. If you're in need of retail therapy, you will find high-end names and haute couture boutiques to electronics and niche stores. After a hard day of shopping, sitting out at one of the many al fresco cafes on the elegant square outside the main entrance is lovely.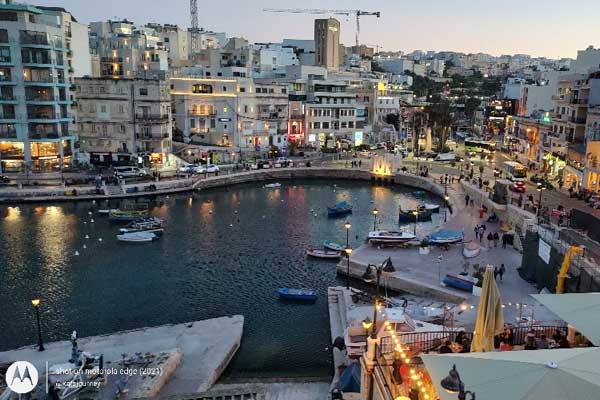 Neighboring Saint Julian's is also one of Malta's most popular locales. It's a 20-minute walk along the main promenade to the north of Sliema, where you'll find Malta's famous casinos and sleek champagne bars open on the terraces above the sea. Nighttime is when Saint Julian's really hits its peak. After dark, crowds flock to the venues around Spinola Bay, clinking wine glasses and eating Maltese platters (like a charcuterie board). The extreme late-night crowd moves to Paceville (located within St. Julian's boundaries), but it can get unpleasant with raucous pub crawlers.
Cost of Living in Sliema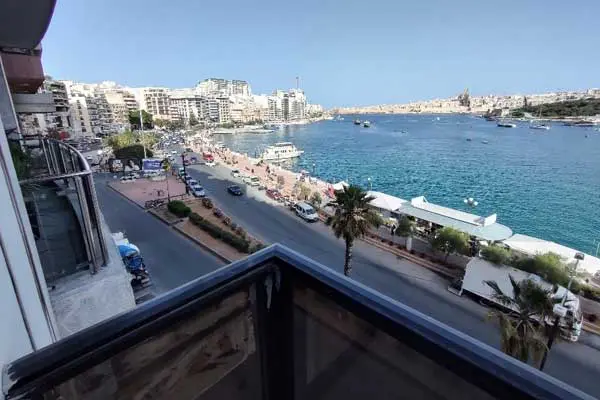 Malta is part of the EU trade agreement, which means that products imported from other EU countries are not subject to tariffs imposed from other places—helping to keep costs low.  Lower than most places in North America. You will find dinners out and things like entertainment to buying clothing to be less expensive, as well as the overall cost of living.
However, Sliema is one of the island's most expensive places regarding real estate prices and rentals, albeit cheaper than housing in trendy cities in the U.S., where you can find rentals and real estate for sale at approximately 25-40% cheaper than in the States.
Here is a sample lower-end budget for monthly expenses for a couple living in Sliema. Of course, your lifestyle and housing requirements can vary widely.
| | |
| --- | --- |
| Expense | US $ |
| Rent (furnished, two-bedroom apartment/home) | $1,200 |
| Electricity | $120 |
| Water | $10 |
| Gas | 0 |
| Household help (weekly maid) | $140 |
| Internet | $30 |
| Cellphone | $10 |
| Cable/Pay TV | $50 |
| Healthcare (for two people) | $350 |
| Transportation | $50 |
| Groceries | $500 |
| Entertainment | $250 |
| Miscellaneous | $100 |
| Monthly Total: | $2,810 |