Retiring in Malta is easy and affordable
Malta! Some folks assume it is part of Italy. Others think it's still a British colony. A few have absolutely no clue where this tiny European island republic is located on a map.  Sure, it doesn't have the name recognition of other EU powerhouse countries.  It is hard to compete with the reputation of French cuisine (but Malta has great food), the wines of Italy (yet Malta produces delicious wines), the breathtaking views of Portugal (Malta has sheer limestone cliffs into the Mediterranean), or the rich history and architecture of Spain (occupied and influenced by the Phoenicians, the Carthaginians, the Romans, the Byzantines, French and British, Malta has a rich history).
As the popularity of the European nations continues to soar for North American retirees and digital nomads, many potential expats are looking for lesser-known alternatives, yet still desire an EU lifestyle.
The archipelago of the Maltese Islands consists of three major inhabited islands: Malta, Gozo, and Comino with a total population of approximately 525,000—living on Malta and Gozo, almost entirely.  The islands are situated in the middle of the Mediterranean Sea—approximately 58 miles south of Sicily and—179 miles north of north Africa. With a landmass of only 122 square miles, Malta is the EU's smallest country.
The islands consist of rugged limestone and with the backdrop of the deep blue sea, it makes for stunning vistas at every turn.  From the crystalline aquamarine waters of Comino's famous blue lagoon to the labyrinth of prehistoric caves and tunnels, there is much to explore in the natural splendors of Malta.
Malta continues to rank in the top 15 countries in the International Living Retirement Index of Best Places to Retire.  Here are some reasons why:
English is an Official Language
The British occupied Malta for over 150 years—up until 1979. You will find their relatively modern-day influences in many ways; for example, driving on the left side, red phone boxes, British three-pronged plugs, and an efficient postal system. But none so significant as the English language.
Besides Maltese, you will hear English spoken just about everywhere you go on the islands. Including all signage and official documents. Most of the popular expat countries IL covers feature a different language than English. Many retirees find the necessity of learning a new language, on top of everything else, to be daunting. Although studying and speaking a new language is a terrific exercise for the brain, it also takes time and work to become proficient.  Malta eliminates the frustration of being misunderstood, so you can focus on learning the new culture and fitting in.
Sunshine and Mediterranean Climate
Valletta, Malta's capital, is the sunniest European capital with 3000 hours of sunshine in an average year.  One of the warmer places in Europe, Malta enjoys a mild spring, winter, and autumn—it quintessentially embodies what you would think of when you hear the term "Mediterranean climate."
Leave your snow shovels at home. The last time Malta experienced snow was in January 1962, when a few centimeters blanketed the islands briefly.  Average winter highs climb into the 50s F to low 60s F but tend to be the rainiest time of the year. Spring and autumn are weather crowd-pleasers seeing highs in the 70s F and 80s F—with expats reporting going to the beach into November. Summers tend to be hot and dry with temperatures soaring into the 90s F.  Maltese homes are built to keep cool in the summer, but come with both heating and A/C systems.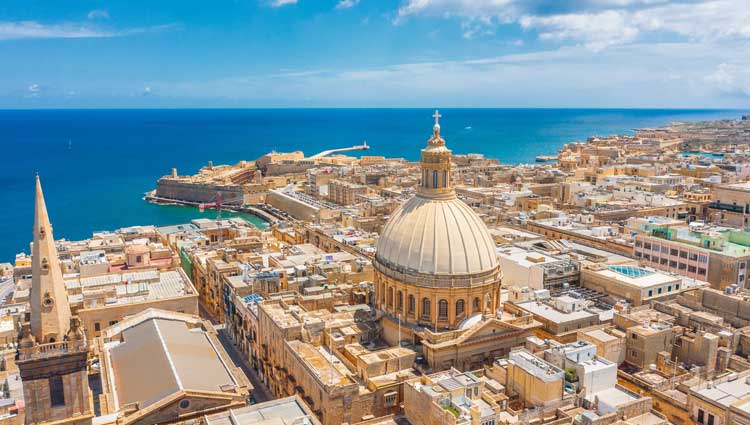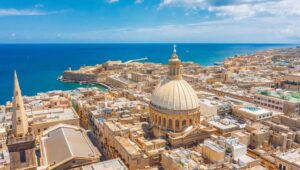 Ease of Fitting In
You already know that English is an official language in Malta. That makes communicating with locals an instant success and an easy way to start making friends with your neighbors immediately.
Malta also boasts a large expat community. You will find a good number of British and Italians. But it is also common to meet Australians, French, Irish, South Africans, Ukrainians, and a number of refugees who have found a new home in Malta. You will also find a nice mix of singles, families, and retirees—allowing a little something for everyone to find their tribe.
There are many ways to meet people. Several expat groups are active on the islands.  Internations (an international expat club with chapters around the world) is one of the most popular in Malta– where you can join and find something to do several times a week—from book clubs to cooking classes and watersports to music events.  Other groups include Malta Social and 246 Expats Malta.
If you like to golf or play tennis or just want to be part of a social scene you can join the Royal Malta Golf Club—the only one in the country. It is not a stuffy, exclusive club and they offer different and affordable levels of membership. Visitors are also welcome if you want to check it out.
Affordability
If you have researched living on an island, you have probably noticed that prices for goods and services, in general, are higher than on the mainland. Be it Hawaii, the Bahamas, or Ibiza. Importing via air and sea is costly. And many governments, for example, Costa Rica (not even an island), have levied significant import tariffs—passing on those costs to you, the end consumer.
However, that is not the case in Malta. Because of its proximity to Italy, several ferries accommodate large trucks filled with products and food from all over the EU—a massive free trade zone.
Although the entire world is seeing inflation at record levels, Malta on average remains affordable compared to several EU countries and considerably cheaper than the metropolitan areas of North America. Monthly expenditures vary greatly depending on the type of lifestyle one desires, but it is realistic to be able to live in Malta with a $2,500-$3,000 monthly budget, and many do it for less!
Attractive Tax Laws
If you choose to purchase real estate in Malta, a huge plus is that there are no annual property taxes. However, you do pay a 5% tax at the purchase of the property and an 8% tax on the sale.
If you have your Maltese residency, you become a tax resident. Taxes are set at 15% for the money remitted annually to your Maltese bank.  But only that money.  If you have investment income sourced in your home country, you are not taxed on that. Malta does not tax on capital gains. Nor do they currently have a gift tax, wealth tax, or inheritance tax.
Malta has in effect a Double Taxation Avoidance Agreement. Therefore, if you have already been verifiably taxed on pension income in your home country, you can qualify for relief from double taxation from the Maltese government.
Malta has become an attractive location for foreign business owners—especially in the sectors of iGaming and Cryptocurrencies. Maltese corporate tax is approximately a 35% flat rate, which is one of the highest rates within the European Union. However, business owners can potentially reduce it to a rate of 5% or 7% by legally distributing company profits to holding companies.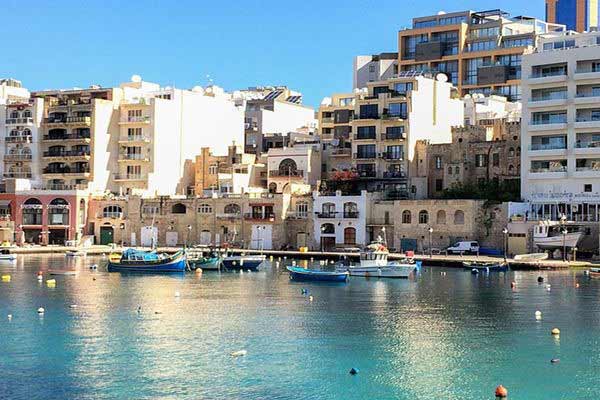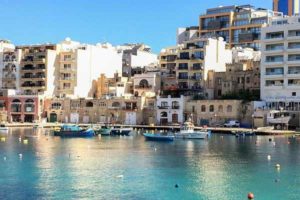 Popular Expat Communities
Remember, the islands of Malta and Gozo are quite small, so it is easy to travel short distances and research what life is like in different regions. Most destinations are less than a 30-minute drive. We always recommend renting first before locking into a long-term lease or plunking down hundreds of thousands of euros to buy property. You will find desirable communities throughout the country. These are arguably the most popular for expats:
Valletta
The UNESCO World Heritage walled city of Valletta is historic, hilly, and best-traversed on foot due to its narrow streets and lack of parking. It has become popular to buy old traditional Maltese townhomes and renovate them, so it is now increasingly expensive to live there. Valletta is also breathtakingly charming with its cobblestone streets, fortresses, and traditional architecture. It is the heartbeat of the arts scene and boasts a gorgeous natural harbor (beware of cruise ship days).
Sliema/St. Julian's
Sliema is a short 15-minute ferry ride across the bay from Valletta. And St. Julian's is just beyond Sliema. This area was established during the British occupation and became "the" place to live at that time. It has only gained popularity with posh sea-view apartment blocks, high-end shopping, and trendy restaurants dotting the strand. St. Julian's is more of the same and quite popular with tourists and the young, party crowd. Both are vibrant and picturesque, but come with a higher price tag. Here, you will find more digital nomads and fewer retirees.
Gozo
The locals will tell you the island of Gozo is what Malta was like 50 years ago. It is quieter than its sister island with a slower pace and allows more proximity to nature—which is diminishing in Malta due to the density of its population. You can find everything you need to live in Gozo and typically cheaper real estate, but it can feel rather remote compared to the main island. There is no bridge, so you must take the frequent car ferry that connects the two islands.
St. Paul's Bay/Mellieħa
In the northern part of Malta, you will find a significant number of expats residing full and part-time in St. Paul's Bay and just to the north in Mellieħa.  Aside from summer tourism, this part of the island is quieter and real estate prices tend to be a bit more affordable vs. the inner harbor area around the capital. There are also nicer beaches in this part of the island.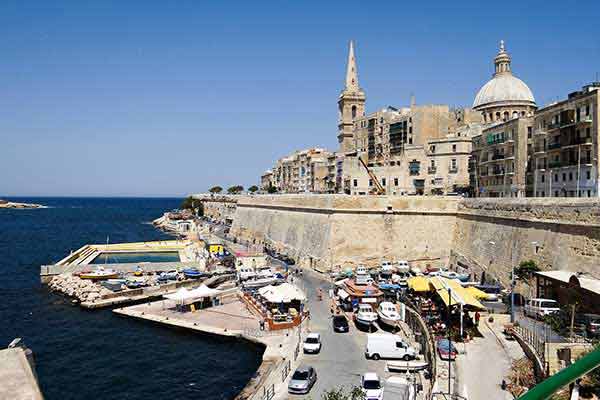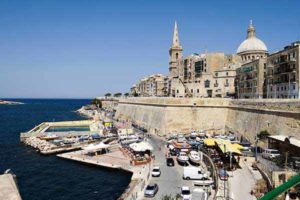 Visa and Residency
U.S. and Canadian citizens are allowed to visit Malta for up to 90 days during each 180-day period with a valid passport. Upon arrival, you will receive a Schengen short-stay C-Visa. If you want to extend your visit, you can apply in person (before the initial 90-day expiry) at the Maltese Ministry of Foreign Affairs for a long stay D-Visa; which can allow you to stay up to a year. Whether you receive this extra time, however, is entirely at the discretion of the Maltese authorities.
If you want to stay in Malta even longer, you will have to apply for a temporary or permanent resident visa under one of Malta's residence "schemes" or programs.  Note that the details of each program are subject to change. These are options for Third Country Nationals (non-EU citizens).
Nomad Residence Permit
This program offers working Third Country Nationals a 12-month visa which is renewable annually, if you continue to be in good standing.
You will need to prove a minimum of $32,400 (calculated on an equal exchange rate to euros) annual income from a registered entity abroad, have approved healthcare insurance, and have a long-term lease covering the period of the visa or a purchase agreement. The nonrefundable application fee is $350.
Malta Permanent Residence Programme (MPRP)
If you are affluent, this program may be of greater interest. Under this scheme, non-EU citizens may receive Maltese residence indefinitely, which is renewed every five years.  You will need to have official statements proving your capital assets are no less than $500,000 and proof that you have stable, ongoing financial resources to sufficiently maintain a life in Malta, along with health insurance.
You are eligible under this program if you purchase property at a minimum of $300,000 for real estate located in Gozo or in the south of Malta, or $350,000 for property elsewhere in Malta (or a long-term rental agreement).  Plus, you will be required to pay other fees/contributions outlined in more detail on the link below (including $28,000 if buying or $58,000 if renting).
Most foreign applicants use an Advocate & Commissioner for Oaths notary with a residency agency to help navigate the application process, however, the paperwork can be filed on your own. The current administration and filing fees average $6,000.
Citizenship by Investment (MEIN)
Extremely high net-worth individuals may apply to be naturalized as Maltese citizens and acquire that coveted EU passport. To qualify for this program you must, among other things, be a citizen of excellent standing with a clean Interpol record, and possess international health insurance. It is required to make a $600,000 contribution if you have resided in Malta for 36+ months or $750,000 if living in Malta for 12 months. Property purchase must be a minimum of $700,000 in value.
Further details regarding these programs can be found here or on the visa and residency section on Identity Malta.