Guide to Mellieħa: The Quieter Side of Malta
Malta is one of the most popular European islands perched in the Mediterranean Sea—and for good reason. A great location offering easy access to the rest of Europe, beautiful warm weather, English as an official language, cheaper cost of living, and a welcoming community all await you in Malta. These enticing pull factors see tourists and expats alike flock to Malta.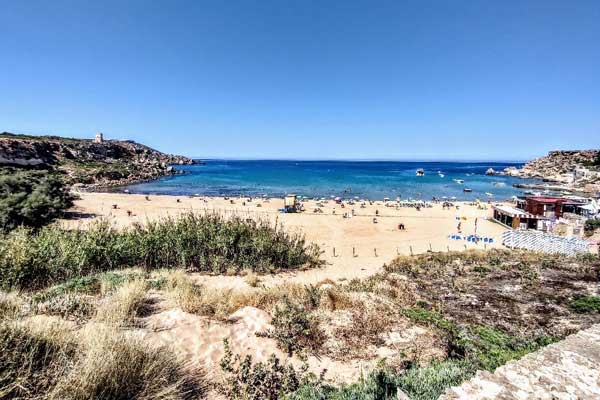 But there is a quieter side to this gorgeous island. Mellieħa is a large, hilly village in northern Malta—a family-friendly tourist resort, popular for its beautiful golden sandy beaches and natural environment. While Mellieħa's population of 11,0000 swells in the summer months with long-term holidaymakers, most short-term visitors to Malta don't make it that far north, since it often lands further down the bullet points on the "Malta Must-See" lists.
Are you interested in retiring abroad? Yes | Not Sure Yet
Lifestyle in Mellieħa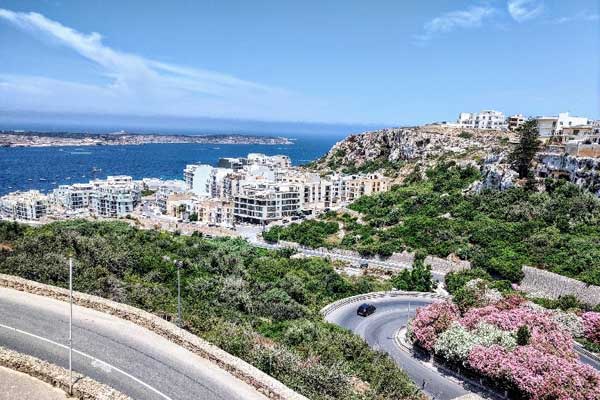 The town of Mellieħa is situated on a group of hills on the northwest coast of Malta. It's far from the hustle and bustle of the Inner Harbour District—where you find most of the population and commerce around Valletta and the popular surrounding suburbs of Sliema, Gzira, St. Julian's, etc.
Mellieħa proper consists of the areas of Mellieħa Heights, Santa Maria Estate, il-Qortin, Ta' Pennellu, Ta' Masrija, and Tal-Ibraġ. The nearby villages of Manikata and Selmun also fall under Mellieħa's jurisdiction.
The town itself has everything you need for day-to-day living—supermarkets, restaurants, pharmacies, small health clinics, spas, and boutiques.  For medical care you would most likely need to travel to nearby St. Paul's Bay (a 10-minute drive) or the larger hospitals (St. James Private Hospital in Sliema or Mater Dei public hospital in L-Imsida) in the Harbour District.
Because Mellieħa is quite hilly and somewhat isolated from major commerce (shopping, healthcare), it's recommended to have a vehicle – whether a small car, a quad, or a motorcycle or scooter.  Malta does have a fairly reliable bus system with many stops throughout Mellieħa. Retired persons 60+ can ride the bus for free with a resident ID and bus card.
Safety is not a concern in Mellieħa, where hearing about petty criminal activities is rare. Your car or scooter is safe and even your belongings on the beach are safe. You can walk the streets alone day or night. In fact, locals are known to even leave their doors unlocked. (Although it's probably best to practice common sense—best to keep doors locked and valuables secured in today's world! )
Mellieħa and the entire northern district with its hills, cave systems, and beaches are excellent for hiking, biking, and beach hopping. The top trails, according to AllTrails.com include:
Ghajn Znuber Tower Loop. (Easy, 4.4 mi)
Coral Lagoon (Easy, 4.0 mi)
Ras il-Qammieħ (Difficult, 4.3 mi)
Mellieħa Circular via Tal Mistra Battery (Moderate, 3.8 mi)
Paradise Bay – Il-Latnija (Moderate, 4.4 mi)
Ghadira Bay and Armier Bay (Easy, 3.7 mi)
Retire in Mellieħa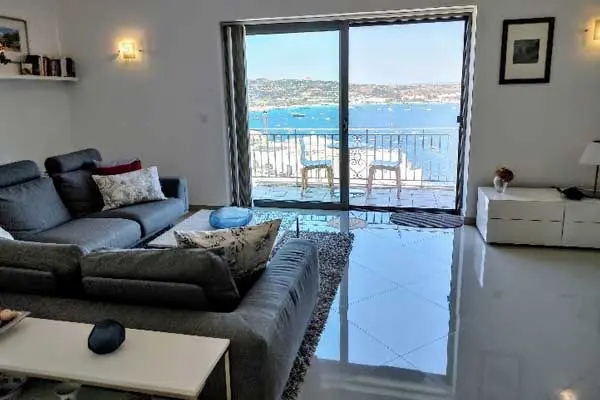 Mellieħa's population is a melting-pot of both expats and Maltese. Expats are primarily from Britain and other European nations, but you find people from every corner of the earth.  This blend of cultures and tourists makes for an easy experience as you assimilate. The fact that English is an official language eases any angst about accomplishing business, joining social activities, and enjoying day-to-day life. The common language is English across the expat and interacting local community (even as a second or third language), since expats typically don't speak Maltese.
The popularity of Mellieħa for expats is clear by three large upmarket Special Designated Area (SDA) developments: Southridge, Mistra Heights, and Tas-Sellum Residences. This designation means foreigners can purchase property within these developments and have the same acquisition rights as Maltese citizens without needing an Acquisition of Immovable Property (API) permit, as required for buying in other areas.
Besides the SDA developments, there are many housing options in Mellieħa. You can find upmarket homes in Santa Maria Estate. Perched on top of a hill with winding neighborhood streets, many homes have commanding views of the sea, the nearby valley and the stunning parish church complex lit up each night. You will find dozens of apartments for sale or lease down the hill, closer to the sea and off the main street in town.
There are several visa options, including the digital nomad visa or a work visa if you are, for example, working for many of the I-gaming companies on the island. If you are a retired third country national (non-EU), you can apply for permanent residency through the Malta Permanent Residency Programme (MPRP). Or, as a part-time expat, Canadians and US citizens can stay in Malta and the EU Schengen region for 90 days without a visa (for now) or up to 180 days per year (90 days in/90 days out). The new ETIAS visa for the EU goes into effect in November 2023.  It is a simple form that can be completed online in a few minutes. Moving forward, they will be required to enter the Schengen Zone for third country nationals.
The History of Mellieħa
Although the name almost sounds Hawaiian, Mellieħa is derived from the semitic root meaning salt. This likely stems from the ancient Roman salt pans in Mellieħa Bay, which today are part of the Għadira Nature Reserve.
Mellieħa was first inhabited around 3000 BC, during the Neolithic period. Several megalithic remains have been found, including the temple of Għajn Żejtuna, as well as caves and tombs containing rudimentary pottery fragments and tools.
According to the Acts of the Apostles, St. Paul was shipwrecked in Malta around 60 AD, in nearby St. Paul's Bay. Allegedly, St. Luke (St. Paul's companion) came across one of Mellieħa's caves and painted the figure of Our Lady on the rock face. In 409 AD, the cave was sanctified as a church, and is now known as the Sanctuary of Our Lady of Mellieħa.
Mellieħa was one of the first ten parishes of Malta. It still existed in 1436 but was deserted soon afterward since the north of Malta was considered dangerous due to raids from neighboring Islamic powers.
Malta was one of the first regions that Islamic entered in the Mediterranean. Their influence can be seen in the buildings and ancient relics of mosques. Plus, the fact that the Semitic Maltese language is rooted in Arabic.
Fortifications began sprouting on the northern coast of Malta in the early 17th century,  and the first to be built in Mellieħa was the famous Saint Agatha's Tower—completed in 1649. A series of coastal batteries and entrenchments were also built in Mellieħa in the 18th century. Several of these still survive and are wonderful to explore when hiking around the area.
The Mellieħa of today was primarily developed during British rule (1800-1964). The village became a parish once again in 1844. It began to develop as the British encouraged people to settle in the area by giving leases to the residents in the rest of Malta. The British built additional forts and outlooks just before WWII to help warn of attacks from the Axis powers.
Traveling to Mellieħa
The best time to visit Mellieħa—and all of Malta—is during Europe's spring (April-June) or fall (Sept.- early Nov.). Winter tends to be cool, damp, and windy with high temperatures struggling to get out of the 50's F, and lows in the 40's F.
Summer can get extraordinarily hot with daytime highs soaring into the high 90s F. Summertime is a lively affair, with activities from fiestas to firework shows to fantastic water sports in full swing. If you don't mind the heat, summer can be a lovely time in Mellieħa, offering many places to take a dip and cool off. Homes are also generally built with both air conditioning and heat.
There are no nonstop flights from the Americas to Malta, so at least one connection is required. Malta has one airport, Luqa, located in the south-central part of Malta's main island.  Easy connections include British Airways through London, Lufthansa through Frankfurt or Munich, Air France through Paris, Turkish Air through Istanbul, ITA through Rome, and Swiss Air through Zurich.  Other direct destinations are served by Europe's low-cost carriers, such as Ryan Air, Easy Jet, Wizz Air, and Malta's flagship airline Air Malta (which will be folding at the end of 2023 and rebranding as a new airline, their name to be announced).
Mellieħa is about 15 miles (23.5 km) from Malta Airport (airport code MLA)—the furthest distance on the island after air arrival. This means a trip of about 45+ minutes by car or taxi or twice that by bus.
Best Things to Do in Mellieħa
Relax on Mellieħa Beach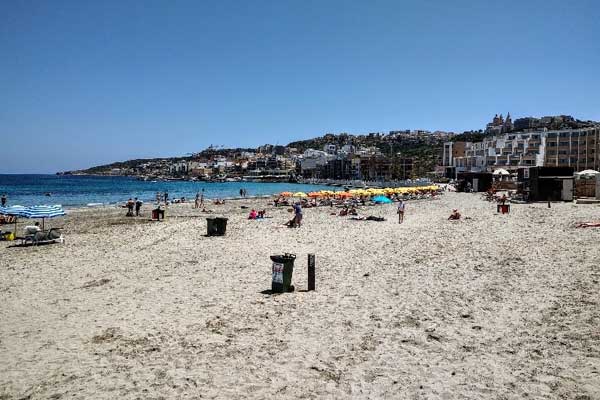 One of the top draws to Mellieħa is its wide, sandy sheltered bay with shallow waters—making it great for swimming and water sports. Mellieħa Beach makes up the entire Għadira Bay, which is lined with sun loungers and umbrellas. You can camp out and enjoy the day there for just €5 per lounge chair and snack at several beach restaurants. It's Malta's longest sand beach, so there's plenty of space, even during summer's high season. This beach is also a top pick for families due to the calm waves and the water theme park floating in the bay.
Spend the Day at Popeye Village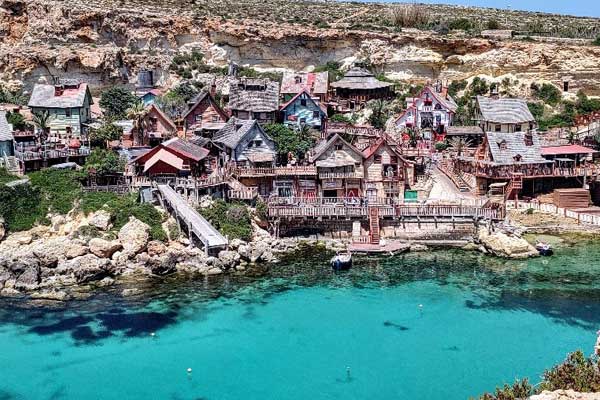 The Popeye Village is a film set turned theme park. Located in the nearby Anchor Bay, just a 10-minute drive from Mellieħa, it's a great spot for family outings. This was the real set used as Sweethaven Village in the 1980 film starring Robin Williams. Today visitors can explore this open-air museum and check out the attractions and shows. You can also swim in this stunning bay or find a perch for a perfect sunset on the cliffs facing west.
Explore the It-Torri L-Aħmar (Red Tower/St Agatha's Tower)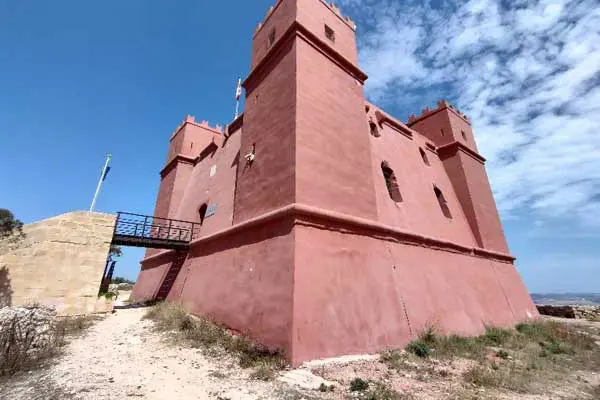 From the shores of Mellieħa Bay, it's hard to miss the striking red castle-like tower positioned on the nearby hillside. Known as Red Tower, St. Agatha's Tower, or the It-Torri L-Aħmar in Maltese, this fortified structure is strategically situated on one of the most scenic viewpoints on the island. You will see the entire northern peninsula from here, with views of Gozo and Comino islands to the north. Tours are available for a small entry fee. You can learn the towers history while climbing to the top for the unprecedented views behind the cannons.
Sanctuary Of Our Lady of Mellieħa
At the very top of Mellieħa off the main road through town (Triq Il-Marfa), it is difficult to miss the Sanctuary of Our Lady Mellieħa. This striking Roman Catholic Church is built on top of a natural cave.  The church acts as the centerpiece of Mellieħa, and is visible perched atop a hill from almost anywhere in town. The church complex is situated on a pretty plaza with al fresco cafes nearby.
Beach Hopping Near Mellieħa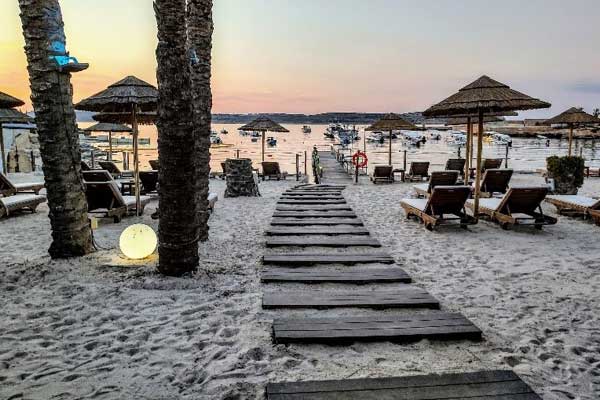 One of the main reasons tourists visit Malta is to experience their beautiful soft sand beaches and crystal-clear water coves.  Mellieħa is in an excellent region of Malta for beach-hopping, with several popular beaches and secluded strands just a short distance away. My top picks:
Armier Bay Beach – shallow bay that is great for snorkeling
Little Armier Bay – scenic cove just north of Mellieħa Bay
Paradise Bay Beach – beautiful beach tucked away behind the ferry terminal
Imġiebaħ Beach – secluded beach away from other tourists
Hola Beach Club – a private beach club with sun loungers and a nice restaurant/bar tucked away in Ramla tal Bir in the Ramla Bay Resort complex
Golden Bay Beach – perhaps the most famous beach in Malta. Known for its soft, red sands and a long, sheltered cove filled with clear waters with rugged limestone cliffs on either side.
Explore The WW2 Gun Posts & Air Raid Shelters
History buffs tend to fall in love with Malta.  Due to its strategic location in the Mediterranean, it has long been an archipelago of interest through the ages. Not only does Malta contain some of the richest ancient historical treasures, like the nearby world-famous Ġgantija Temples (in nearby Gozo), but it also holds several preserved structures from World War II. To the northeast of Mellieħa Bay, you will pass several gun posts that you can find on Google Maps. Most interesting of all, in the center of Mellieħa, visitors can tour the famous Mellieħa Air Raid Shelter. Residents of Mellieħa dug these underground shelters by hand during WW2 to protect themselves against enemy bombs. I highly recommend taking a tour.
Day Trip to Gozo and Comino Island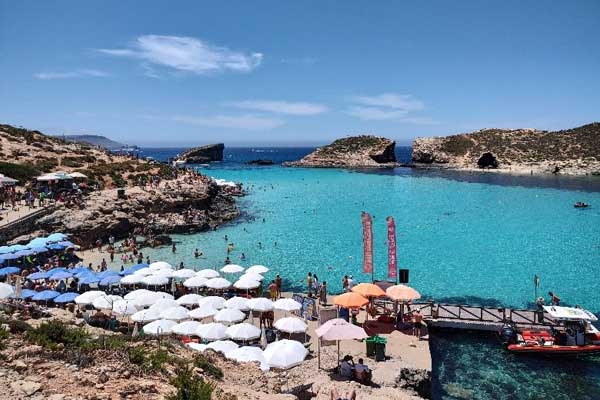 Mellieħa Bay is a great option for living and vacationing, since you are much closer to Malta's sister islands of Gozo and the natural wonder of Comino with its breathtaking caves and the Blue Lagoon.  You can explore either on your own, or take one of the many day tours leaving from Ċirkewwa ferry port, just to the north of Mellieħa.
Cost of Living in Mellieħa
Mellieħa is one of the less expensive options on the island of Malta offering real estate—many with sea views—at more affordable prices compared to North American waterfront cities and many places in Malta, as well. You can find rentals and real estate for sale at approximately 25 to 50% cheaper.  Currently, the going rate for a brand new two-bedroom/two-bath apartment for sale in Mellieħa for as little as €245,000.
Malta is part of the EU trade agreement. That means that products imported from other EU countries are not subject to tariffs imposed from other places—helping to keep costs low. Lower than most places in North America. You will find dinners out and entertainment to clothing to be less, as well as the overall cost of living.
Because Mellieħa is considered a resort town, going out to the popular tourist restaurants will cost similar in pricing (but wine/beer is always less) to North America. But after high summer season prices do tend to drop.  Find where the locals go, and your entertainment prices can drop 25%.
Here is a sample lower-end budget for monthly expenses for a couple living in Mellieħa. Of course, your lifestyle and housing requirements can vary widely.
Sample Monthly Budget
| | |
| --- | --- |
| Expense | US $ |
| Rent (furnished, two-bedroom apartment/home) | $1,100 |
| Electricity | $120 |
| Water | $10 |
| Gas | 0 |
| Household help (weekly maid) | $140 |
| Internet | $30 |
| Cellphone | $10 |
| Cable/Pay TV | $50 |
| Healthcare (for two people, including doctor visits, prescriptions, and private insurance) | $350 |
| Transportation | $50 |
| Groceries | $500 |
| Entertainment | $250 |
| Miscellaneous | $100 |
| Monthly Total: | $2,710 |
If you are looking for laid back island life in the Mediterranean without the hustle and bustle and traffic of the city, the hills, sea breezes, and sandy beach of Mellieħa might be just the ticket.