Everything You Need to Know about Johor Bahru, Malaysia
"Almost everything in Johor Bahru is one-third the price that it would cost back home. Those savings are represented in your bank account at the end of the year," says Jodie George. Johor Bahru (JB) is located at the tip of the Malaysian Peninsula.
Just on the other side of the Straits of Johor, less than a mile to the south, is the wealthy island nation of Singapore. Two bridges connect the countries and there is a great deal of daily traffic that flows in both directions.
A couple can live comfortably in JB with a monthly budget of around $1,700. That includes renting a modern and comfortable Western style apartment, owning a car, eating out several times a week, and all incidental expenses. Expats here can have a high standard of life on a very modest budget.
Expats are coming in increasing numbers to the city and surrounding areas. Expat Christine Hakkaart learned about JB by accident from a fellow passenger on a flight she took to Singapore. "It's quite a secret—no one tells anyone about it," she says. "It's a fabulous little place. The people are really friendly— everybody will help you. I just like it here."
You can get great value on housing in JB. Basic Malaysian style two-bedroom furnished apartments rent for around $300 per month and luxurious apartments cost up to around $1,000 per month.
Thousands of Malaysians commute to higher-paying jobs in Singapore and Singaporeans flock to JB to take advantage of Malaysia's lower prices. Many of them have purchased homes in JB and the area has become a popular, low-cost retirement destination.
This synergistic relationship has transformed JB from being just another border town to a modern, thriving metropolis with services that go far beyond those of a typical city of its size. Everywhere you look there are new developments and high-rises, grand openings, and festive events; you can sense the investment money pouring in like a tropical downpour. Upscale restaurants offer delectable meals for a fraction of the price of comparable restaurants in Singapore, large shopping centers are always full of day-trippers stocking up on necessities and extravagances, and the real estate market has been booming for several years now.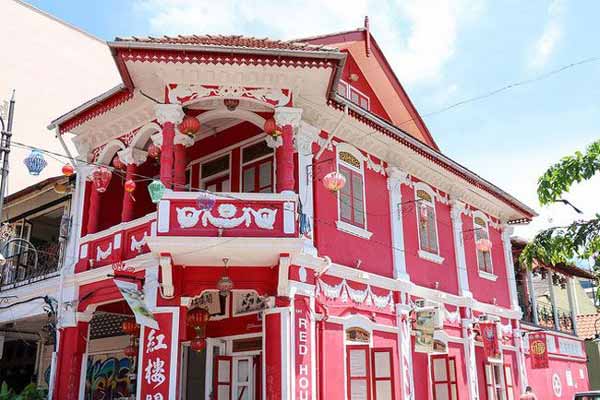 Pedestrian streets, ornate streetlights, and trendy bistros have breathed new life into the Old Town, while shopping centers and upscale subdivisions are popping up everywhere, giving JB an unmistakable upwardly mobile appeal.
A typical example of what is on the market is a 936-square-foot, furnished, two-bedroom apartment. It's on a high floor, with a good view of the city. The $460 monthly rental includes a swimming pool, gym, and security. It's within walking distance of the KSL City Mall, which has some of the best shopping and restaurants in JB.
Some of Johor Bahru's best food is found at the many hawker centers located throughout the city. A big plate of Chinese noodles and prawns, Malaysian beef satay, or Indian chicken curry and rice costs less than $1.50, the food is delicious.
Restaurants in JB serve excellent international cuisine. Jodie recommends an Italian restaurant, Gianni's Trattoria. "The food is spectacular and they have a great wine menu. You can get a set lunch at Gianni's for just $7."
There is an active expat community here. There are monthly "expat mingles" hosted by The Expat Group, and a busy International Women's Association, which has 85 members and has some event happening at least once a week. Many of JB's expats attend these meet-ups, and they're a friendly, welcoming group.
JB's small Senai International Airport is just 18 miles from JB's city center and Singapore's Changi Airport is only 21 miles away, so exploring other parts of Southeast Asia is easy.
Jodie said, "We're a 90-minute flight to Thailand and Vietnam, and the budget airlines are so inexpensive. We've been to seven countries since we've been here. The budget airlines are all amazing and travel is so affordable."