We all know that the housing market in the U.S. has gone crazy over the last 12 months.
There has been a meteoric rise in prices…according to the National Association of Realtors, the median existing home price in September was up 13.3% from September 2020. And according to Goldman Sachs, in the next 15 months—through the end of 2022—house prices will soar another 16%.
In this kind of climate, even having a budget of half a million or a million dollars, you might struggle to find a property that you'd want to live in!
But, as I'm always saying, if you look beyond your home borders, you'll find much more choice and opportunity. And a budget of half a million dollars can literally buy you a mansion.
For this weeks Cheap Homes Sunday, I'm upping the budget. When you have a bit more to spend, in places like France…Italy…Mexico…Spain, you can find a dream home with the WOW factor.
Today I'm focusing on France…and in particular, historic homes in the French countryside.
And while the properties my research team found below have a higher price tag, they offer incredible value for money…and the chance to live in a home that's full of historical character and charm.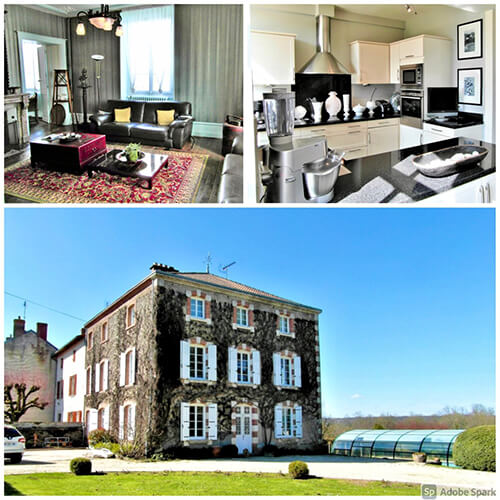 Dating back to around 1830, this character home is located just outside the town of Bellac, in western France. You're just under a three hour drive from Bordeaux. Located down a quiet country lane, this historic home has nine bedrooms and two bathrooms in just over 3,300 square feet of living space.
This home has new double-glazed windows and doors throughout, oil-fired central heating, and nearly all rooms have their original flooring. There's also a new modern kitchen with a dining area, a sitting room with original parquet flooring and a working fireplace, an office and a cellar. Outside there's a walled-in garden planted with mature trees and shrubs, a swimming pool that is enclosed but you can open the side panels, a pool house, and a covered terrace area.
Also included is a separate house with new windows and doors and a good roof. The interior, which consists of three rooms one the ground floor and two rooms on the upper floor, needs complete renovation.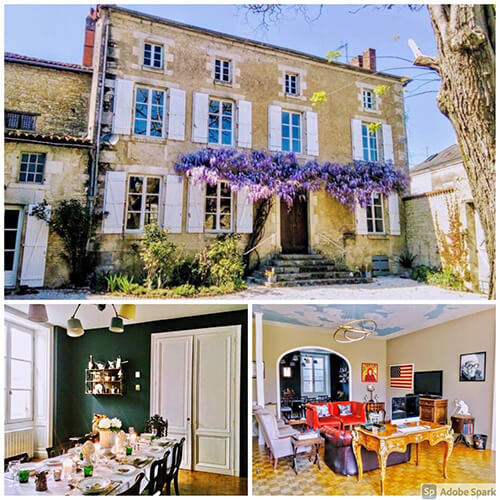 A grand, oak, spiral staircase…a formal dining room…a walled courtyard…a wine cellar…handmade floor tiles…you do feel like you've stepped back in time with this French mansion in the center of Champagne-Mouton, a small village in south western France.
Although it's been restored, his home retains many original features like parquet and wooden floors, handmade floor tiles and original oak staircases, doors and cornicing. It has five bedrooms, a fully fitted kitchen that opens out to the courtyard, a formal living room and dining room, a library that overlooks the village square, a study, and of course, a wine cellar. The very top floor of the house is an attic that could be converted into more living space and there is also a servants quarters which has been partially renovated.
The gardens are south facing and there's an orangery for outdoor dining as well as outbuildings and two garages.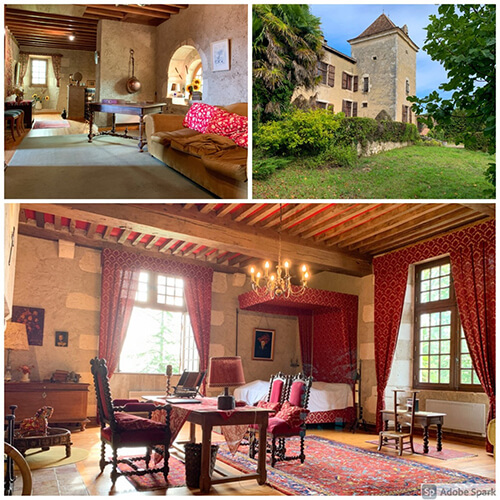 Walking distance from the center of town is this magnificent 17th-century home with five bedrooms and three bathrooms in 3,875 square feet of living space. The living room has a fireplace and French doors that lead out to the garden. There's also a kitchen and a study with exposed wood beam ceiling and a fireplace. On the ground floor is a guest wing which has a bedroom, living room and a bathroom.
A stone staircase leads to the upper floor of this house where you'll find the rest of the bedrooms, including the very opulent one in the photo above.
This historic home is surrounded by a mature garden with views of the surrounding countryside and there's also a barn and a workshop on the property.
Get Your Free Real Estate Report Now
Sign up for our free daily Postcard e-letter and get a valuable free report on the The 5 Best Places to Buy Real Estate In 2023.
Related Articles