My time in Europe is almost at an end. Latin America beckons.
In less than two weeks I'll board a plane in Lisbon and cross the Atlantic to Cancun. And from there I'll be spending some time in Costa Rica, Panama, and of course at my base in Cabo.
But it's been an eventful summer and fall here in Europe. I've spent time in my Silver Coast condo, a few weeks in Ireland, and checked in on opportunities in the Algarve and Portugal's second city, Porto.
And my team finally got to hit the road again too…Portuguese hill towns, Italian cities and Tuscan spa towns were explored in the search for bargain property in Europe.
And if you're a regular reader of this e-letter, you'll know that they uncovered plenty of bargains (and there'll be more to come).
As a global real estate investor of almost 20 years, I tend to focus on fast profits for myself and my readers.
But not every property has to throw off an income. Sometimes, you just want to buy for pleasure.
A place to kick back…enjoy some R&R…eat good food…and enjoy the quiet life away from the news headlines and frantic pace of life at home.
I bought my beachfront condo on Portugal's Silver Coast entirely for personal reasons…it gives me access to incredible golf…miles of pristine beach, often all to myself…and any time I want, I can head to a nearby historic town and villages for 70-cent coffee and fresh seafood. (Now, it did unexpectedly throw off an income this past summer when I rented it short-term, but that was not my intention when I bought it.)
By the sea…in the mountains…in the heart of a historic village…Europe not only offers a vast choice of locations for a life overseas, but right now, there's bargain property all around the continent.
Historic stone homes in timeworn villages for under $40,000.
Mansions with acres of land for less than $150,000, ocean-view cottages, and lock-and-leave apartments.
For years, migration from Europe's countryside has left a glut of character homes vacant and unloved, waiting for someone with some time and a little money. And that is where some of Europe's best bargains are to be found.
As a kind of farewell to Europe, I thought I'd share some European bargain homes I've come across recently.
(Note: Unless I say otherwise, I haven't seen the properties mentioned above in person nor have I conducted any due diligence. As always, it's critical you do your own due diligence on any real estate.)
Serra d'El-Rei, Portugal
1-bed villa: €69,900 ($80,800)
Last year, I spent over a month scouting Portugal for real estate opportunities. My trip took me from Lisbon to Porto and all the way south to the Algarve, with stops in several little-known towns along the way.
My biggest discovery, however, was at the very beginning of my journey, when I spent six days scouting Portugal's glittering Silver Coast. This is a stretch of Atlantic coastline just north of Lisbon, famous for its ancient towns, breath-taking beaches, and rugged cliffs. And it's a place where you can get serious bang for your buck.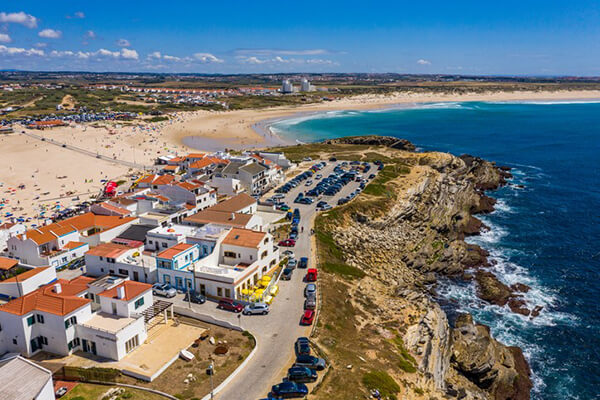 In the Praia d'El Rey Golf & Beach Resort, you can get a nice—albeit dated— apartment for €150,000 ($173,500). Go to the €200,000 to €250,000 ($231,400 to $289,200) range and you can get big, spacious, ocean-views.
Ten minutes back from coast, a one-bed villa I found in Serra d'El Rei, will set you back just €69,900 ($80,800). An hour's drive north of Lisbon, the town makes an ideal place for a bolthole. It's even said that the 14th-century King of Portugal, Peter I, lived here with his lover, Inês de Castro.
Arpino, Italy
3-bed apartment: €145,000 ($167,650)
In the medieval hilltop town of Arpino, Italy, you can own a lovely three-bedroom apartment that dates back to the 18th century for just €145,000 ($167,650).
This is the heart of the Lazio region, just a short drive from some of the biggest cities in Italy. On Saturdays you're exploring the farm-to-table market near Rome's Circus Maximus. And on Sundays you're chowing on the world's best pizza in Naples' Galleria Umberto I.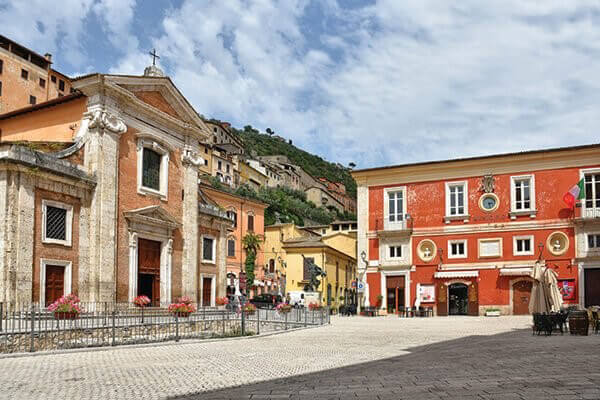 That's if you want to leave home. Arpino is a warren of cobbled streets, pretty piazzas, ancient ruins. The area is known for its culinary traditions, which derives from the bounty of the surrounding mountains. Fresh ricotta cheese, tender goat meat baked in wine and herbs, winter seasoned pork sausage, and truffles and mushrooms from nearby forests.
The home itself, (called Casa Orsini) is a remarkable piece of architecture. In the ancient Roman tradition, the walls are frescoed in an ornate Pompeiian style. Step out through decorated glass doors, onto a balcony held by large Doric columns, and you're overlooking Arpino's main piazza.
A large roof terrace gives you the perfect vantage point to enjoy the town's open-air concerts, processions, and festivals. Summer culminates in the annual "Gonfalone" competition, traditional games played out between Arpino's neighborhoods. With this distinctive home, you're right at the center of it all.
Languedoc, France
2-bed village home: €120,000 ($138,750)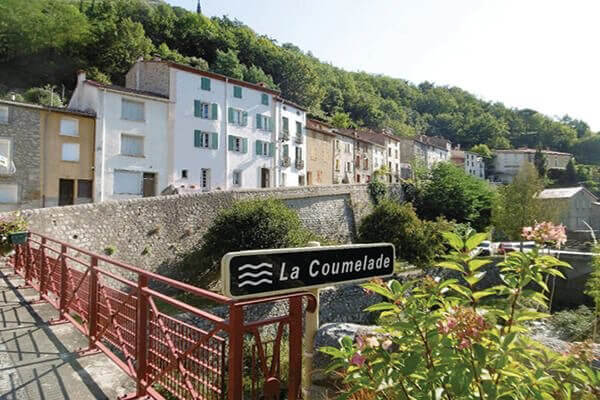 If you're looking for an affordable home in the South of France, you'd do well to look beyond Provence. My recommendation is to head west to the region of Languedoc.
Languedoc is Provence's less glamorous neighbor. You won't find the mega-rich or glitzy film festivals, but you will find everything that first drew the jet set to the South of France: fairytale castles perched on rugged mountain peaks and medieval villages where the food is amazing and the wine is local. If you yearn for Mediterranean views, long beach strolls and fresh seafood, then the Languedoc has that, too. Inland you'll find wild mountain ranges, dramatic gorges, and handsome hill towns.
For Francophiles, it doesn't get more authentic than the Languedoc. And like I say, it's very easy on your wallet too. An impressive two-bed property I discovered in the village of Le Tech, near the Spanish border, is available for just €120,000 ($138,750).
Situated on the hill overlooking the village and the Coumelade river, and boasting amazing views of the forested Pyrenees hills, it's a perfect spot to bask in the modest splendour of French country life.
Get Your Free Real Estate Report Now
Sign up for our free daily Postcard e-letter and get a valuable free report on the The 5 Best Places to Buy Real Estate In 2023.
Related Articles
The World's Best Places to Retire
5 Great Places to Retire Where it's Easy to Fit In