Costa Rica is a small country, about the size of West Virginia. But it does have an extensive coastline, with 780 miles on the Pacific Ocean, and 132 miles on the Caribbean Sea.
In terms of infrastructure, the Caribbean coast is much less developed overall. One of the few towns of any size is Puerto Viejo de Talamanca, just north of the border with Panama. It's just a few square blocks and surrounded by lush jungle.
Playas del Coco on the Pacific side is a major tourist destination for Ticos and international visitors, making it a very developed town that is constantly growing.
Of course, no matter where you go, the laidback Pura Vida lifestyle is what life at the beach is all about. But which coast is the right one for you? See below some comparisons between Puerto Viejo de Talamanca and Playas del Coco, and learn which side of Costa Rica suits you best…

Climate
Playas del Coco
Playas del Coco and its surrounding region, Guanacaste, is hot year-round (low 90s F during the day), with a very short rainy season.
Puerto Viejo de Talamanca
Puerto Viejo de Talamanca is lush and green thanks to periodic rainfall throughout the year (this is the rainforest, after all). Temperatures are in the 80s F, with humidity.
Cost of Living
Playas del Coco
As it is a popular tourist destination, Playas del Coco tends to be more expensive for meals. And because of the hot weather there's more AC use, meaning higher electric bills.
Puerto Viejo de Talamanca
Fresh produce and seafood abound in Puerto Viejo de Talamanca, as well as simple restaurants, keeping food costs down. A more moderate climate also means no AC, leading to lower electric bills.
Ease of Transition
Playas del Coco
This is a major expat destination, so things are "set up" for foreigners, meaning you should have no problem getting settled.
Puerto Viejo de Talamanca
Puerto Viejo de Talamanca is a bit rough around the edges, with regular power and internet outages, and not many services.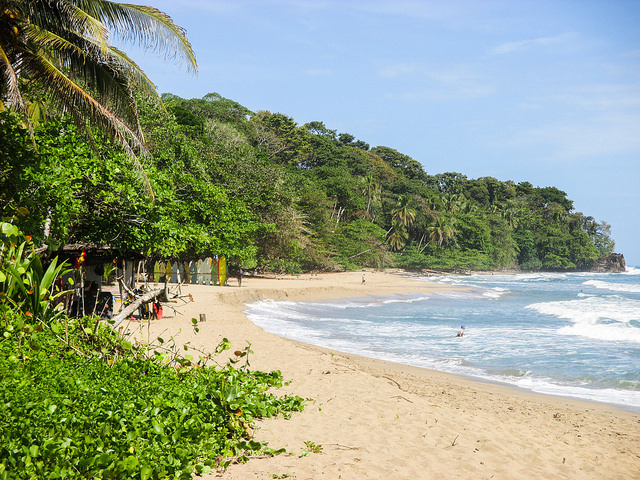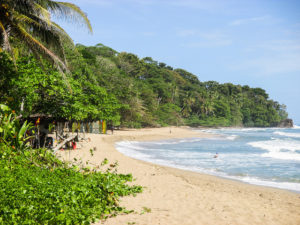 Geography and Landscape
Playas del Coco
Playas del Coco is on a wide bay and features a short malecón (boardwalk). Beach bars and restaurants with ocean views abound.
Puerto Viejo de Talamanca
In the town, the small cove is lined with simple restaurants. But nearby beaches are undeveloped, with palm trees lining golden-sand that leads to clear blue water.
Healthcare
Playas del Coco
There are doctors' offices and a dental clinic in town, with major hospitals within a 30-minute drive.
Puerto Viejo de Talamanca
Healthcare services are limited here. The nearest emergency room is a two-hour drive away. Most local expats go to the capital, San José, for specialist care.
Lifestyle
Playas del Coco
Playas del Coco is a bustling beach resort with beach bars, restaurants of every cuisine, nightlife, and live music…it's vacation time, all of the time.
Puerto Viejo de Talamanca
Puerto Viejo de Talamanca is home to a bohemian community, with a focus on natural foods, yoga, alternative healing, and living "outside the box."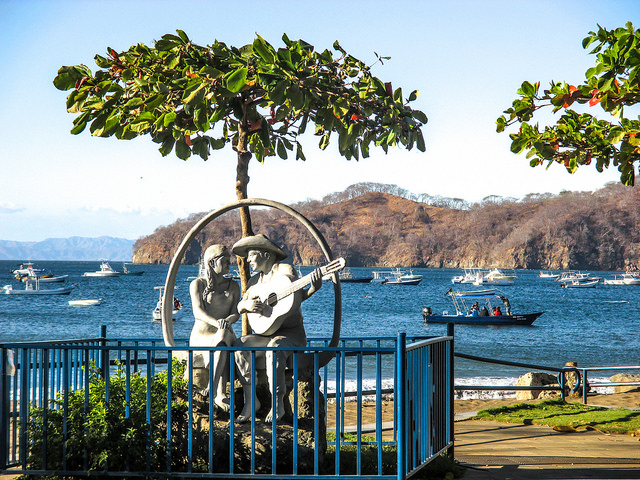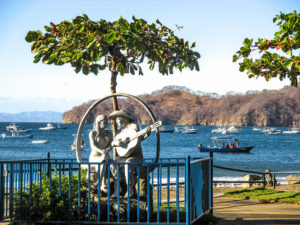 Culture
Playas del Coco
This is a major expat destination, with most coming from the U.S. and Canada. Because of this, the North American influence is pronounced here.
Puerto Viejo de Talamanca
The region was settled by Jamaican immigrants 100 years ago, so Afro-Caribbean culture is still seen in the food, music, traditions, and English language. There are expats of numerous nationalities.
Renting
Playas del Coco
There are many cheap short- and long-term rentals available in Playas del Coco. Rent a one-bedroom, walk-to-the-beach condo from $375 a month.
Puerto Viejo de Talamanca
Although rentals can be hard to find in Puerto Viejo de Talamanca, there are still properties available. Bungalows in the beachside jungle start at around $900 for two bedrooms.
Real Estate
Playas del Coco
Playas del Coco boasts a wide variety of good-value options, from condos to homes, and even luxury options. Walk-to-the-beach, two-bedroom condos in gated communities—with a pool—start at $65,000.
Puerto Viejo de Talamanca
Do your due diligence, as national parks, indigenous reserve, and restrictions on beachfront development making titled property hard to come by in some areas of Puerto Viejo de Talamanca. When you do find somewhere, expect to pay $79,000 and up for a two-bedroom home.

Get Your Free Costa Rica Report Here:
Learn more about Costa Rica and other countries in our daily postcard e-letter. Simply enter your email address below and we'll send you a FREE REPORT – Costa Rica: The Land of Pura Vida
This special guide covers real estate, retirement and more in Costa Rica and is yours free when you sign up for our IL postcards below.
Related Articles
A Peaceful Retirement in Atenas Costa Rica
There is More to Tamarindo Than a Perfect Climate
How We Fell for Costa Rica and Pledged to be Good Guests
Upcoming Conferences
Make 2023 Your Best Year Yet. Discover Panama with International Living

Panama has it all: beaches, mountains, a world-class capital city, top-notch, low-cost healthcare and the "World's Best Retirement Program" that makes the already low cost of living even more affordable.
Join us for International Living's Fast Track Panama Conference to see all that Panama offers. There's no better place to be and no better way to make 2023 your best year.
Most Popular Products