"To call something breathtaking around here is almost redundant," says Chuck Mollenkopf. Pay a visit to the home Chuck, 66, shares with his wife Anna, 73, and you'll probably agree with him. Just 10 minutes outside the town of Atenas, in Costa Rica's Central Valley, they enjoy priceless views from their spacious terrace.
"We get up early to watch the sun come up. We don't want to miss anything," says former educator Chuck. The couple then takes their morning tea, guanábana juice, and a mid-morning pastry before this backdrop. After a day of excursions—perhaps to a national park or a cozy restaurant—their evenings wind down to the same view. "While I'm cooking or Chuck is grilling, we watch the capital city, San Josè, light up, see planes drift in, and often we even catch fireworks," says Anna.
When they left the States in the spring of 2012, Chuck and Anna were determined not to settle for mediocre. They wanted their dream. "We were looking for a mild climate, better health care opportunities, and lower costs," says Anna. "We were looking for an adventure, amazing views, and lots of things to do," says Chuck.
They spent their first nine months in Playa Potrero, a beach town in Guanacaste with smooth roads that "you can ride your bike all day on," according to Chuck. "I loved the night sky there, full of beautiful stars against absolute black velvet," he says.
After making many friends and spending much time strolling one of Costa Rica's safest and cleanest beaches, they left to try out life in Atenas, about 45 minutes from San José on an excellent road.
"In Atenas we found everything. We rent our home for $1,500 a month, and along with the views, it has room for family and company, and easy access to local shopping and bigger stores when needed," says Chuck.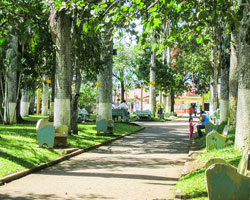 "Atenas is perfect for us, with its mildness and breezes. When the rainy season rolls in, the view from our patio is like a hundred shades of green from our yard to Volcano Irazú. Anna wanted cooler temperatures than we were experiencing on the coast. Even though the beach area is drop-dead gorgeous and 24/7 fun, it's hot—average temperatures are 85.5 F. But, with so many microclimates in Costa Rica, you'll have fun finding your own perfect spot. When the U.S. is in a deep freeze, we are sitting here with this gorgeous view."
You can find almost anything you want in Atenas by just asking around, says the couple. What they love most is their new style of grocery shopping at the local feria or farmers' market.
The couple also has fun with their new doctors. "One of my doctors is a hoot," Chuck declares. They have the country's Caja insurance, which gives them access to a local clinic just 200 yards from their home. The total cost for a retired couple is around $100 a month, and Chuck and Anna are very comfortable with their new doctors, who are highly trained and more than attentive.
"We made so many friends in Playa Potrero, we really wanted to continue that in Atenas. But I had no idea how easy and natural that would be," says Chuck. "Friends will come over and we'll have drinks. Like at Thanksgiving, sitting around until 11 at night, swapping adventure stories…quality time with people, quality time together…for me, that's what's special," says Anna.
"I never experienced peace until moving here," says Chuck. "People laugh about the 'Pura Vida'—the 'good life' that Costa Rica is famous for—but it's true, it's really here. All they have to do is accept it."
Related Articles
Best Places to Live in Costa Rica: Five Top Expat Havens