From the glittering lights of downtown Panama City, it's an hour's drive to the little beach hub of Coronado. In a matter of minutes, there's a drastic change of view. Zip past the gleaming skyscrapers that line the half-moon of Panama Bay and over the historic Bridge of the Americas, and suddenly, you're in the country.
Coronado is on the Arco Seco (Dry Arch) stretch of coastline, so named because of the remarkably low rainfall it receives each year.
Are you interested in retiring abroad? Yes | Not Sure Yet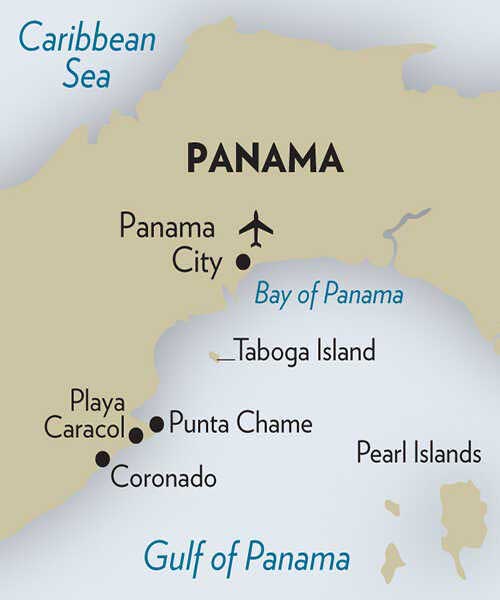 It's one of the more developed beach resorts along the Pacific coast. It caters for most First World needs and those living here can still enjoy many—if not all—of the conveniences of life back home…except at a reduced price. There is a country club, several full-scale supermarkets, an 18-hole George Fazio golf course, a mall, and numerous leisure amenities that you can enjoy, and all for a low cost.
For years it has been a getaway for Panamanians in need of a sun-soaked beach break, but recently it has flourished thanks to a thriving expat community that is growing here all the time.
I recently joined this growing community, buying an apartment in Coronado and moving from Panama City. I got a one-bedroom, 1,130-square-foot apartment on the 20th floor for $155,000. My cost of living here, including my mortgage payments, is just $2,700 a month to live in comfortable luxury.
My building—a single tower overlooking the ocean, golf course, and Campana Mountain National Park—is part of a vast gated community. There are houses and apartments, a fitness center with a pool, and two restaurants (one is a fancy supper club). A shuttle trundles back and forth between the onsite hotel and a private beach club, just a few minutes away.
There are lots of things I love about life here in Coronado, but the one that blows me away every morning when I wake up in this slice of paradise is the view that greets me.
Jessica loves the view from her balcony, and spends just $2,700 a month to live in her luxurious gated community in Coronado.
Ann and Peter Bradley moved here from New Hampshire, drawn by views, the wealth of things to do, and the cost of living. They'd visited several times, meeting residents who went on to help them find an attorney and even buy a car—it was parked at the building, ready to go when they returned with four suitcases, two golf bags, Pete's guitar, and very little else.
A former nurse and high-tech expert, the Bradleys have found that they can live on their Social Security here. "Our rent is $1,300 a month," says Ann. "You could never find anything in the U.S., with these amenities and this setting, for that amount. We pay $300 a month for our golf and country club membership. That includes unlimited golf for both of us, as well as pickleball, tennis, workout rooms, multiple pools, yoga classes, and more. And here you can play all year round. In New Hampshire you're lucky if you get six months…and the beginning and end of the season can be pretty chilly."
As she speaks, Ann glances about. We're sitting in the airy rooftop social area of their building, windows all around. The sun is a cheerful presence in the violet-blue sky. A stout breeze romps and rollicks through the room. She turns back to me, wearing a pixie grin. "I mean," she gestures at the view, "what's not to like?"
Ann's happiness and gratitude, for the life she's found here with Peter, are palpable. They prepare healthy meals with locally caught fish and enjoy dining on their balcony, which is strung with twinkling lights. Peter is an avid photographer and will, on occasion, play guitar for friends. Ann golfs in the ladies' league (the players call themselves "Chicks With Sticks") and is ever ready to help other newcomers with advice and introductions.
Another of Coronado's growing expat community, Linda keeps busy—she's vibrant and social, and though she says she wants to slow down, I have my doubts. But that's the beauty of the Coronado region. You can spend your days lolling on the beach or get involved and be as busy as you like. "It's amazing," says Linda. "I have more friends here than in California, where I grew up and spent the majority of my life."
Linda lived in the western Playa Blanca sector for years, but these days she rents in a beachfront building in Gorgona, 10 minutes east of the Coronado town center. As a single woman, she appreciates the extra layer of security provided in condo buildings here. Most have gated entrances and a doorman who acts as both security guard and concierge.
I ask her about her experience as not only a single expat woman but also as a Black woman abroad. Though this region isn't perfect, she says, she loves it. "Living here and learning Spanish is educational and enriching. And for the most part, I'm just another person. Truly. Not a Black person. Not a dark-skinned person. Just a person."
From the moment she moved into her building, the Biltmore, she felt welcomed. "There are people from the U.S. and Canada, Europe, South Africa…we consider ourselves the Biltmore family. And the Panamanian people are very warm. Very warm," she repeats with a smile.

Get Your Free Panama Report Here:
Learn more about Panama and other countries in our daily postcard e-letter. Simply enter your email address below and we'll send you a FREE REPORT — Panama: Easy, First-World Living and the World's Best Retiree Program.
This special guide covers insider advice on real estate, retirement and more in Panama. It's yours free when you sign up for our IL postcards below.
Related Articles
Coronado: A Popular Beach Town for Expats in Panama
An Overview of Traditions and Culture in Panama
Popular Articles You May Also Like