I'm waiting to catch sight of a lunar eclipse on this clear, starry night, and I'm shivering in my fleece jacket. I almost didn't bring it along. I just left the steamy, tropical weather of Galle, on Sri Lanka's beautiful southwest coast, six hours ago but that's OK—inside my pretty mountain guesthouse there's fragrant cinnamon wood in the fireplace, a steaming cup of hot tea, and homemade strawberry tarts waiting for me.
Nuwara Eliya (pronounced Noora-elya) is a small enough town that there's little light pollution, and the scenery is nothing less than spectacular. At 6,129 feet in elevation, the temperatures are always cool and the air is clean. Year-round temperatures rarely exceed 75 F, dipping into the 50s F at night. Mornings are often foggy, and rain can occur any time of the year.
The cool, humid climate is ideal for growing tea, and Nuwara Eliya is in the heart of Sri Lanka's famed tea estates. The teas produced in the mountains surrounding town—Lipton, Dilmah, Blue Field, and others—are exported around the world.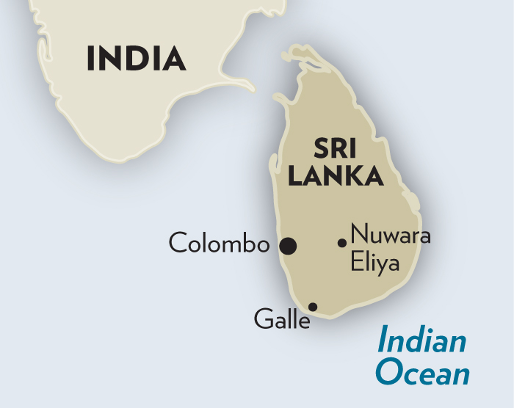 Nuwara Eliya is known as "Little England," and you can really see the legacy of British colonial influence that remains from the time when Sri Lanka (formerly Ceylon) was part of their Empire. The clock tower and red brick post office in the center of town were built in 1894 during this period, and and the buildings haven't changed much since then. The quaint clock tower still keeps perfect time, and the post office retains its original purpose. The interior is just as it was a century ago, right down to the oak trim. A portrait of young Queen Elizabeth graces the lobby. A formal garden of roses and prize dahlias on the grounds, and antique mailboxes that are still in use today, add to the charm.
Victoria Park is less than five minutes' walk from the post office. This lovingly maintained 27-acre park was built in 1897 to commemorate Queen Victoria's Diamond Jubilee. It's full of flowers and rose gardens, small ponds and lakes, rare birds, shady gazebos, and quiet pathways. Majestic old oaks imported from Germany and ancient twisted cypress trees give a feeling of permanence. Even during my visit in the July off-season, the park was bustling with visitors and young families.
You'll see more fine examples of British colonial architecture throughout the town. The Tudor-style Grand Hotel, built in 1828, was originally the holiday home of Sir Edward Barnes, the fifth Governor of Ceylon. This majestic building has been lovingly restored and is surrounded by a large garden in a park-like setting fit for a king. It's across the street from the oldest golf course in Sri Lanka, the 18-hole Nuwara Eliya Golf Club, established by British plantation owners in 1889. Nearby, several private homes with grand English-style lawns, stately trees, and neat gardens add to the Victorian-era ambiance.
Though Nuwara Eliya is not a huge city—its population is about 700,000—there are plenty of restaurants serving local and international cuisine, with dishes ranging from pub food and pizza to the omnipresent rice and spicy curry dishes that you'll find throughout the country. I developed a taste for kottu, a creamy pasta-like dish made from sliced godhamba roti (a Sri Lankan whole wheat flatbread), mixed with vegetables, cheese, and chicken; it tasted like a rich and hearty stroganoff. The ginger beer—Sri Lanka's favorite non-alcoholic beverage—was delicious and refreshing. If you eat where the locals eat, you'll rarely pay more than $3 or $4 for a meal.
The new District General Hospital opened in 2018, bringing improved medical care to the community, and its reviews have been positive. If you had anything serious or complicated, though, consider going to Asiri Central Hospital or one of the other JCI-accredited hospitals in Colombo, roughly three hours away.
Mount Pidurutalagala, Sri Lanka's highest mountain, towers above the town at 8,281 feet. Thundering waterfalls overlooking hills blanketed in neatly cultivated rows of tea bushes provide endless exploration opportunities, though just walking through town in the cool weather and chatting with the locals is quite rewarding. Many Sri Lankans speak English and language difficulties are rare.
Rentals here can be good value. I found a nicely furnished three-bedroom 1,200-square-foot house near the town center listed for $350 per month. (See: Lankapropertyweb.com) You can also find some lovely properties through Airbnb, and prices are often reduced for longer stays. I saw a fully furnished one-bedroom apartment for $600 per month and another apartment in a shared house for only $384 per month when the 40% long-stay discount is applied.
Dozens of hotels and small guesthouses are available for every budget. I stayed at the welcoming Lily Bank Cottage, where my spotlessly clean room with a fireplace (and a bundle of fragrant cinnamon wood) cost just $20 per night.
Nuwara Eliya is easily accessible by car, train, or taxi from Colombo. The 100-mile trip by taxi costs about $50. If you take the train, disembark at the Nanu-Oya station; from there, it's a 30-minute drive to town. It's easy to find taxis and tuk-tuks in town; most rides cost $2 or less.
A monthly budget of $1,500 would be adequate.
The only thing that Nuwara Eliya seems to be missing is expats. The cost of living is low; a monthly budget of $1,500 would be more than adequate for most couples ($950 for a single). It has everything you might want or need—I think it just hasn't been discovered yet. Nuwara Eliya is a perfect place for adventurous expats who are looking for a cool climate, great food, and inspiring scenery.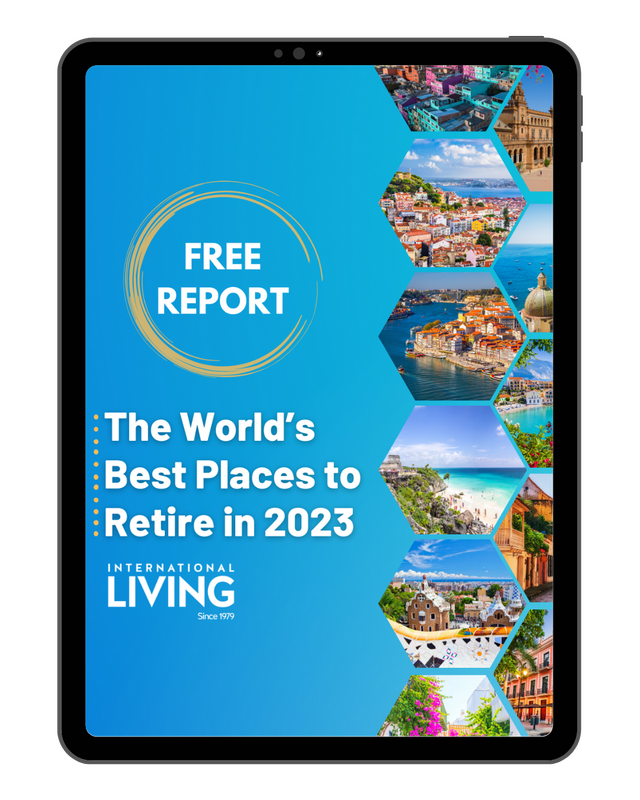 Get Your Free Report on the World's Best Places to Retire:
Learn more about the best places in the world to retire in our daily postcard e-letter.
Simply enter your email address below to sign up for our free daily postcards and we'll also send you a FREE report on The World's Top 10 Retirement Havens, plus access to over 10 more free reports. Our gift to you, on our favorite destinations.
Related Articles
The World's Best Places to Retire
The Cheapest Places in the World to Live
Your Overseas Retirement Calculator