Salud! Ching, Ching!
These three words are so simple, yet they hold so much meaning. Friendship, happiness, and a lifetime of health—that's what we toast to as we raise our sparkling Catalan cava to the blue sky.
A refreshing glass of sparkling wine is just what the doctor ordered to celebrate this sunny day with friends in Sitges, on Spain's coast. And you can get a gorgeous bottle from the region for only $14, so we do our best to find every reason to celebrate all 300 sunny days of the year.
That's right! This seaside paradise is sunny more than 80% of the year. That's because we're surrounded by the hills of the Garraf National Park, creating a microclimate like no other in Cataluña.
That means the weather here is quite pleasant year-round, ranging from 50 F to 80 F.
With so many beautiful days in Sitges, residents and tourists alike spend most of their free time outdoors. There is so much to do here, from hiking in the National Park and touring wine country, to spending the day at the beach.
This small fishing village boasts 17 different sand beaches to enjoy sunbathing, swimming, and paddleball almost year-round. You can also take a variety of classes, from beach yoga to surfing. Or you can rent a paddleboard, sailboat, or kayak to explore the crystal-blue water.
If you ever get tired of the sand in your shorts, the Paseo de la Ribera offers 1.5 miles of paved beachfront promenade lined with palm trees, perfect for running, biking, or rollerblading.
And when you finally work up an appetite, there are more than 250 delicious restaurants to choose from. Sitges is known for fresh Mediterranean seafood, but you can find a variety of dishes ranging from traditional Catalan favorites, like paella and pan con tomate, to Asian, American, French, Italian, and Thai cuisines.
During the weekday lunch hour (1 p.m. to 4 p.m.), you can get a three-course meal, including bread and wine, for only $14. Dinner (8 p.m. to 12 a.m.) usually starts at around $25 per person.
If you're on a smaller budget, you can opt for a local tapas bar. It's best to go with friends, so you can order a little bit of everything and then split the bill. You can eat and drink to your hearts content, while only spending about $10 per person.
A Healthy and Low-Cost Diet in Sitges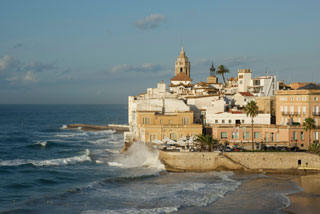 Eating in, however, is always the cheapest option for food. My husband and I eat like royalty and only spend about $150 a week—maybe a little more if we're entertaining guests.
We eat very healthily. That buys us a week's worth of fresh veggies and fruit—mostly locally grown and/or organic; lean meats, such as chicken breasts, turkey breast, salmon and other fish; a few dozen eggs and bottles of egg whites; fresh bread; granola; Nespresso coffee capsules; milk and yogurt; dried fruits and nuts; olive oil…
We don't go hungry, that's for sure!
That budget even covers cleaning supplies, like garbage bags, laundry detergent, etc. and we always have the cabinets stocked with wine, champagne, and beer in case we have visitors.
We enjoy having visitors on a regular basis, which is one of the many perks of living abroad. We host international travelers, which allows us to meet people from all over the world. And many of our U.S.-based friends have come to visit, like the guests we're entertaining today.
We have a three-bedroom, two-bathroom home on the beach with everything brand-new and all amenities (A/C, parking, and two terrazzas, for example). We pay about $1,800 per month (everything included—utilities, internet, phone, etc.) But we have a killer deal—and looking at listings now, a comparable apartment would go for $3,500/month.
But that doesn't mean you won't find something in your price range here. We have a friend with a very small, older two-bedroom, one-bathroom apartment and he only pays 500 euros ($665) per month, plus utilities.
If you have a budget of $1,000, you can get a pretty normal two- or three-bedroom, one-bathroom apartment in the center, close to the beach.
If you want a second bathroom, and some nice American amenities like A/C, then you need at least a $1,200 budget.
Whatever you decide to spend, take it from us, it'll be money well spent. As we sit together on our balcony overlooking the Mediterranean Sea, sipping cava and enjoying good company, I can hardly believe that this is my life.
I'm in paradise, and I'm not on vacation. I live here—and what a wonderful life it is.
Related Articles on Spain
7 Best Cities in Spain for Retirement
Traditions and Culture in Spain