Enjoy Architecture and Outdoor Living in the Catalonia Capital of Barcelona
By Sally Pederson
Art lovers, historians, beachgoers, sun seekers, foodies, and everyone in between come to Barcelona every year. The Spanish locals and visitors love outdoor life year-round in Barcelona. The countless plazas scattered throughout the city are the meeting points for locals and tourists. The famous Plaça de Catalunya, Plaça d'Espanya, Plaça Reial, and Arc de Triomf are the most popular in the city center. These plaças are all surrounded by restaurants and cafés that people enjoy outdoor seating year-round. In the winter months, they have heaters, and some have blankets for customers to use.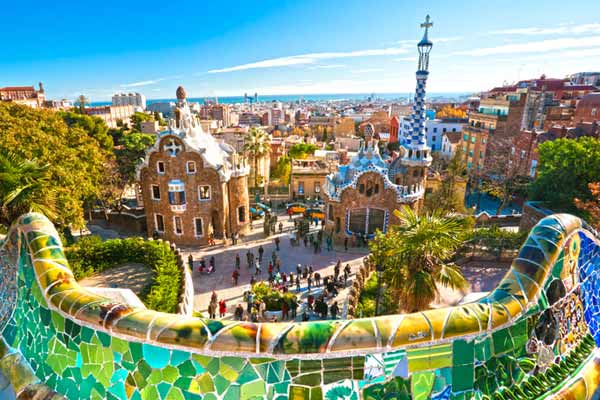 The history of Barcelona extends over 2,000 years. Originally called Barcino, it was founded at the end of the 1st century by the Romans. A sizeable defensive wall surrounded the small old town of a few thousand residents. Some of the original walls can still be seen today as you walk by Barcelona Cathedral. Barcelona and the entire Catalonia region has been conquered numerous times since being part of Rome thousands of years ago. These include the Visigoths, Arabs, and French, to name a few.
Since hosting the 1992 Olympics, the population and tourism have exploded in this area of Spain. The population of the city is almost 1.7 million people and just over 5.5 million in the greater metropolitan area. More than 17% of the city's residents are expats from other countries.
Violent crime in Barcelona is very low. However, with the increase of tourism, there has been a surge in theft and pickpockets. This is most common at the metro stations and tourists' hotspots, where people are too busy looking at the sights and not paying attention to their belongings. Always keep wallets in your front pocket, purses zipped closed, and be aware of people getting too close and "bumping" into you.
A big draw to Barcelona is the year-round sunshine and beaches. Barcelona gets hot in the summer, and thousands of people flock to the 10 beaches in the city. You will see people at the beach all year, even in the winter months. Sometimes you can enjoy the sun and sand in November with shorts and a t-shirt. December through March is colder, but some still enjoy the sun with some food and drinks and warm clothes on a blanket on the sand. If it is a little too chilly for you, there are restaurants along the beach with heaters to keep you warm.
Retire in Barcelona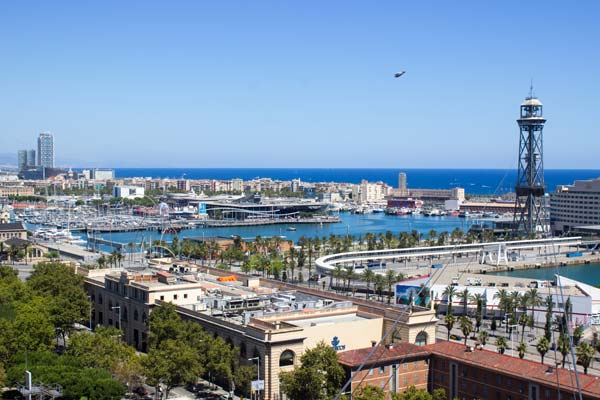 Things may seem a little easier if you are retiring to Barcelona with your spouse or significant other. However, I moved there as a single female and did not know one person when I arrived. In either situation, single or a couple, it is essential to make friends. Barcelona has hundreds of groups on meetup.com that you can join and immediately get to know people that have the same interests as you. There are also multiple Facebook groups that you can join. These groups are good for meeting new people and even asking where to find things or how to get something done if you don't know.
Barcelona is a melting pot of people from around the world. You can live here without speaking Spanish or Catalan as many people speak English. However, if you choose to live in another country that speaks another language, you should learn the language. Think about how you feel if someone moves to your country and does not try to speak your language. Not only is it a sign of respect, but you will also miss out on things if you don't know some Spanish. You may not participate in some group conversations, miss essential announcements on the trains or news, and not understand some great deals at stores or markets. There are several Spanish classes and language exchanges all over the city.
Healthcare in Spain is excellent. Several JCI Accredited hospitals can be found throughout the country, including four in Barcelona. One of the most technologically advanced hospitals in Europe, Hospital General de Catalunya, is also located in Barcelona. Several private healthcare companies are available. Premiums are lower than the amount U.S. citizens are paying. Retiring individuals are required to have private healthcare insurance. If you are working in Spain, you may be able to access the public healthcare system.
Commuting within Barcelona and to other Spanish cities is very easy. Within the city are the underground metro system, above-ground trains, and countless buses. If you want to travel to other cities or towns, you can catch a train or hop on a flight. The most popular trains run from Barcelona to Madrid ($70), Málaga ($69), Valencia ($26), and Sevilla ($83). The Josep Tarradellas Barcelona-El Prat Airport, known as El Prat Airport, has hundreds of flights a day arriving from and departing to various countries around the world.
Lifestyle in Barcelona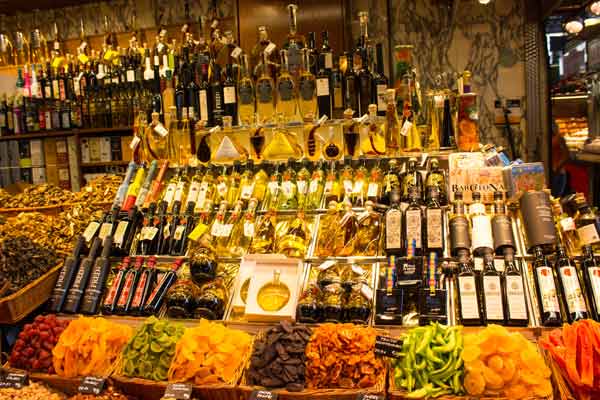 Barcelona has a relaxed and laidback lifestyle. People enjoy the outdoors and spending time with family and friends. When not working, locals take pleasure in spending time at the beach, socializing at a local café or bar in a Plaça, or having a long lunch with family and friends. Numerous festivals are held throughout the year in Barcelona.
Barcelona can be considered a city that never sleeps. Shopping, dining, and nightlife hours are very different than in most other countries. Most shops don't open until 10 a.m. and usually close for a few hours in the afternoon during lunch and siesta time. Lunch is generally the most substantial meal of the day. It starts around 2 p.m. and can easily last two hours or more. Many Spanish also take a siesta during the afternoon and therefore, you will find many shops closed.
Dinner time for Spanish and locals is rarely before 9 p.m. It is usually at 10 p.m., sometimes even as late as 11 p.m. After dinner people typically go for a walk to a nearby Plaça and sit at a bar or café for a drink and socializing. For those who want to enjoy the nightlife, clubs open at 12 a.m. but don't get busy until 3 a.m. and close around 6 a.m.
Real Estate in Barcelona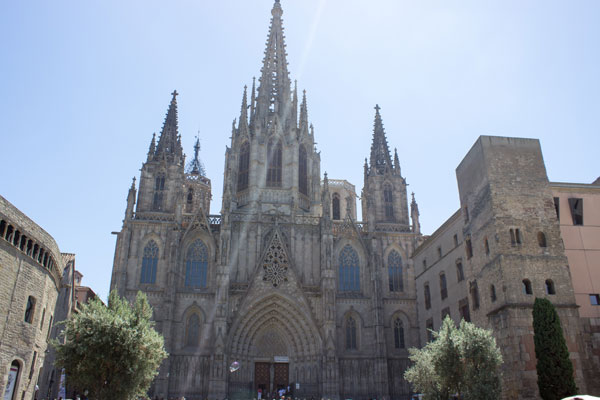 Barcelona is one of the more expensive places to buy or rent in Spain. The prices of an apartment can vary dramatically. You can live in the ancient and busy city center areas of El Raval, Gothic, or El Borne. The Eixample area was constructed in the 19th and 20th centuries. It bridged the gap between the old city and surrounding towns. With boulevards lined with palm trees, bistros, and wine bars, Gracia is a popular area of the city.  In all of these areas, rent will start at $1,350 up to $4,000 or more. The purchase price can range from $260,000 to in the millions. These vary due to size, amenities, and location.
Get Your Free Spain Report Here:
Learn more about Spain and other countries in our free daily postcard e-letter. Simply enter your email address below and we'll also send you a FREE REPORT - Live the Good Life in Sunny, Affordable Spain.
This report covers real estate, retirement and more in Spain and is yours free when you sign up for our IL postcards below.
Cost of Living in Barcelona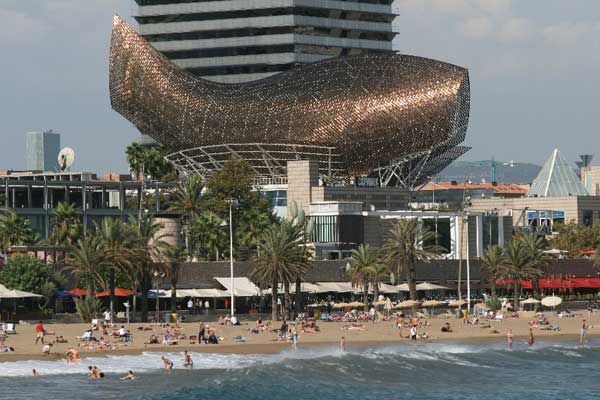 Millions of people come to Barcelona every year. Sometimes these vacations turn into desires to move there for the short term or long term. These things affect the cost of living in the city. I find Barcelona to be cheaper than many North American cities. However, it is not the most competitive city in Spain.
Here is a sample monthly budget for two people living in one of the areas mentioned above:
| | |
| --- | --- |
| Expenses | USD $ |
| Rent (two-bedroom apartment) | $1,350 |
| Utilities (electricity, cable & internet, water, mobile phone) | $200 |
| Groceries & Household Items | $380 |
| Entertainment (shows, eating out, concerts, etc.) | $200 |
| Gym Memberships – unlimited classes | $90 |
| Health Insurance | $252 |
| Unlimited bus and metro (as a senior resident) | $28 |
| Monthly Total | $2,500 |
 Featured Image Copyright: ©iStock/Brzozowska
IL's Guide to Barcelona
An Insider's Guide: 10 Best Things to do in Barcelona
By Justin Uselton
Barcelona, the capital city of Spain's Catalonia region, is a vibrant city, with both a historic and modern feel. And is a perfect place to sit still, as well as to keep your feet in constant motion, no matter what time of year. With a sun that shines over traditional cafes, world-class museums, and Gothic architecture, you are sure to move through the streets with a sense of awe.
In no particular order, here's our list of 10 things to do in Barcelona, beyond the ordinary.
1. Tour La Sagrada Familia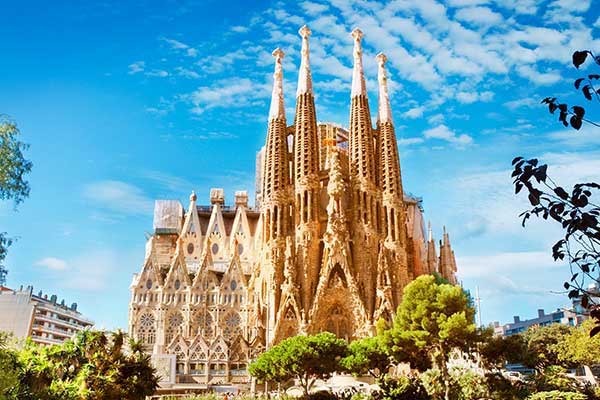 Without question, the most famous of all churches and attractions in Barcelona is La Sagrada Familia. Sagrada Familia is an ever-changing, towering Gaudi-designed magnificence over a city full of his whimsical creations.
After initial construction in 1882, Antoni Gaudi himself took over this architectural endeavor in 1883, well-knowing that it would never be completed in his lifetime. Located between the T Marti and Gracia districts, La Sagrada Familia is easily accessible via short taxi rides from the heart of the city, and for those who want to avoid the crowds, inexpensive skip-the-line tickets are available year-round.
Enter and walk through the forest of pillars designed for an ethereal, natural experience. Make your pilgrimage in the afternoon for the best views, when the rainbow of stained glass windows illuminates the white interior like a fantastical dream.
2. Peruse the Joan Miro Museum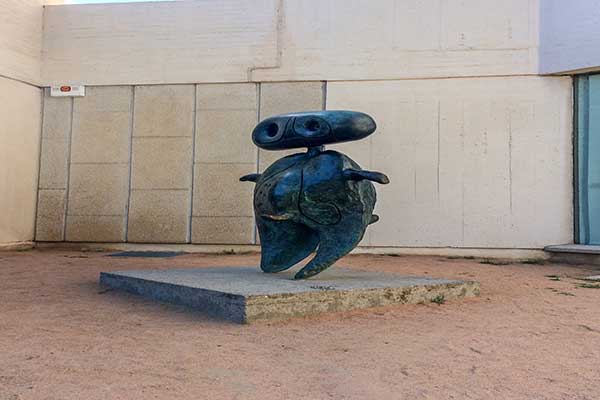 For fans of modern art, the Joan Miro Museum is not to be missed while visiting Barcelona. Grab a multi-lingual audio guide and meander through a personal tour of his most recognizable pieces, including more than 200 paintings and over 8,000 drawings.
Located just minutes from the Olympic Stadium, the white-washed, winding interior leads you through Miro's famous works and sculptures, as well as a fascinating fountain that continuously flows with mercury (behind a glass partition, of course). After strolling through the halls, make your way to the open-air roof of the structure to find a landscape of his surrealistic statues. Though photography is restricted inside, feel free to take a few pictures outside next to your favorite sculpture.
3. Visit the Olympic Stadium
Located on Montjuic Mountain, the Barcelona Olympic Stadium stands as a look back at Barcelona's hosting of the 1992 Olympic Summer Games, as well as an homage to the culture and depth of Barcelona. From one of the best views of the city, take a guided tour where Gold Medals were won and history was made.
Today, the complex hosts not only the original stadium that was built for the International Expo of 1929, but also the swimming complexes and numerous artistic spires built in celebration of the city's accomplishment in the hosting of the games in 1992. One of the most peaceful and serene locations in Barcelona, you can close your eyes and still hear the firing of starting guns and roars from the crowd.
4. Explore the National Museum of Contemporary Art
Called the Museu Nacional Art Contemporani (or, "MNAC") in Barcelona, this impressive, grand museum is one of the most popular in the city that celebrates modern Barcelona's artistic accomplishments. On one of the grandest stages in all of the city, sitting high above the parks of Montjuic, the MNAC opens its gates for free on Sundays and includes one of the most stunning views in all of Barcelona.
On weekends, tourists, locals, and vendors alike flock to this scenic property, including the massive fountain adorning its façade, to take in the food, art, and architecture of the setting. Not all the art is modern, however, as much of the collection is still dedicated to Barcelona's past, that is equal parts Gothic, Roman, and Renaissance.
5. View the City from High Above Mount Tibidabo
Mount Tibidabo, at more than 1,600 feet, is the tallest mountain in the Serra de Collserola. For photographers and nature-gazers, this splendid view of a scenic city is breath-taking from the beautiful Sagrat Cor church which adorns its pinnacle.
It's not all about the view from Tibidabo though, as the mountaintop boasts numerous hip bars, tapas restaurants, glamorous shops, as well as child-friendly attractions for daytime amusement.
6. Sip Wine Overlooking the City
One of the best, most intimate nights my wife Tracy and I experienced in Barcelona was sipping a sweet local wine on the rooftop of El Cercle (The Circle) restaurant, also centrally located very near Placa Nova. Though chilly up top during our visit, the outside heaters, the low din of the city, and the restaurant's excellent menu filled the night with warmth as we overlooked the quiet streets of the central shopping district. With an accommodating staff and idyllic view looking back toward the city center, it can be the perfect end to a beautiful day. Though the main streets below may move quickly from nine to five, take time to take a breath and a view under the silent Barcelona moon.
7. Take a Hop-on Hop-off Bus
Whether staying in Barcelona for one day or one week, we've found the best way to see most of the city is by taking advantage of their ever-popular hop-on hop-off buses. With stops all over town, this service is inexpensive and highly convenient in lieu of taxi cabs, given the sprawling landscape of an ever-growing Barcelona.
For about $37, depending on the vendor, this tour can take you along three different routes all day long, covering locations like La Sagrada Familia, the aforementioned Miro Museum, the streets of Gaudi architecture, and the Gothic Quarter. With 44 pick-up locations and arrival times around the clock spaced just between 10 and 25 minutes, you can stroll at your leisure. Choose a two-day pass if you're going to be in the city long enough to take advantage of the deal.
8. Enjoy the Fresh Local Markets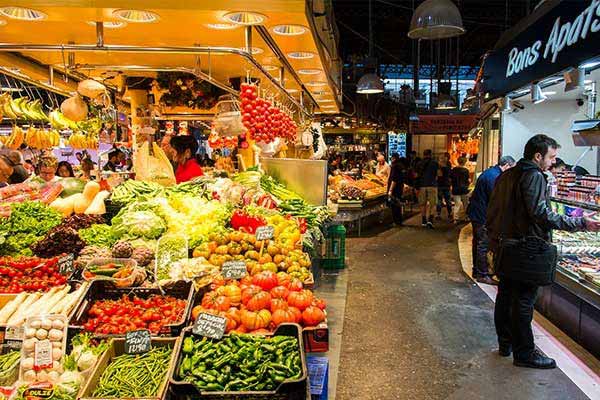 The bustling city of Barcelona doesn't stop in the easily walkable streets. Meander through Mercat de Santa Catarina, a short jaunt from Placa Nova, where you'll find an eye and palate-pleasing market buzzing nicely with vendors and purveyors alike.
Though you may not need to buy the fresh catch of the day for your dinner, take time to choose a few local fruits to carry with you, or a freshly made (and delicious) fruit smoothie. With a rolling, jewel-colored rooftop enclosing the large space, Mercat de Santa Caterina is a great repose from the midday Barcelona sun, a perfect place to take in the scents of the city's bounty, and to walk among locals.
9. Visit the Gaudi House Museum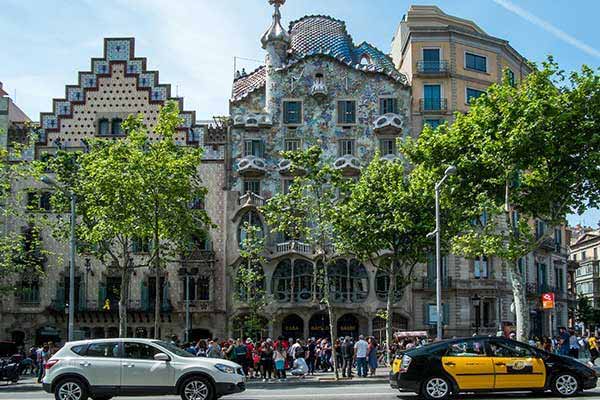 At Park Guell, you can get inside the mind and lifestyle of one of Spain's most celebrated geniuses—Antoni Gaudi. The former home of the legendary architect and designer, the mansion-turned-museum now displays what life was like at the turn of the century for the prized Barcelonan.
It's evident from the grandeur and elegance of the museum that Gaudi took his work with him, spending endless years in design and construction of the elaborate home, including intricately detailed furniture and an unmistakably Gaudian structure.
10. Watch the City Walk Along La Rambla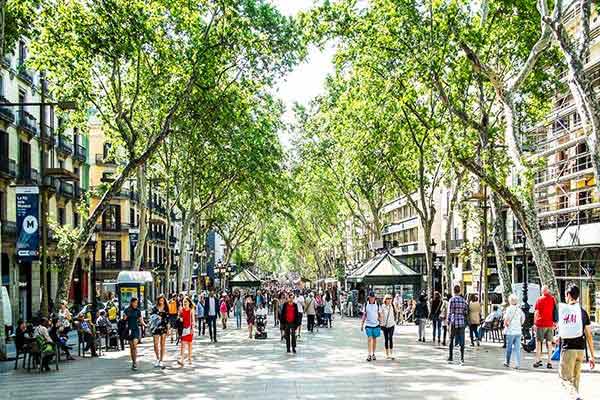 Along the stretch of road where La Rambla and Placa de Catalunya street meet, there is a quaint and central place to take a seat and watch the people pass by. At the Café Zurich, located just steps away from one of the many hop-on hop-off bus stops, take a long brunch, and enjoy the hustle of the mid-morning local Barcelona residents with a slow meal.
Try an espresso and a plate of delicious mussels, olives, and sardines for a truly local taste experience. Personally, I enjoyed their Estrella Damm beer for a different twist on a breakfast mimosa. With a kick of lemon, the crisp flavor complimented the seafood very well. Eat slowly, no matter the weather, and listen to the city move as you muse.
While there is no shortage of experiences to be had in the beautiful city of Barcelona, take time to make your way around leisurely but with purpose, and have fun. Grab that glass of vino, a plate of local fare, see the art that defines generations found only here, and you'll find yourself at home.