Enjoy Architecture and Outdoor Living in the Catalonia Capital of Barcelona
By Sally Pederson
Art lovers, historians, beachgoers, sun seekers, foodies, and everyone in between come to Barcelona every year. The Spanish locals and visitors love outdoor life year-round in Barcelona. The countless plazas scattered throughout the city are the meeting points for locals and tourists. The famous Plaça de Catalunya, Plaça d'Espanya, Plaça Reial, and Arc de Triomf are the most popular in the city center. These plaças are all surrounded by restaurants and cafés that people enjoy outdoor seating year-round. In the winter months, they have heaters, and some have blankets for customers to use.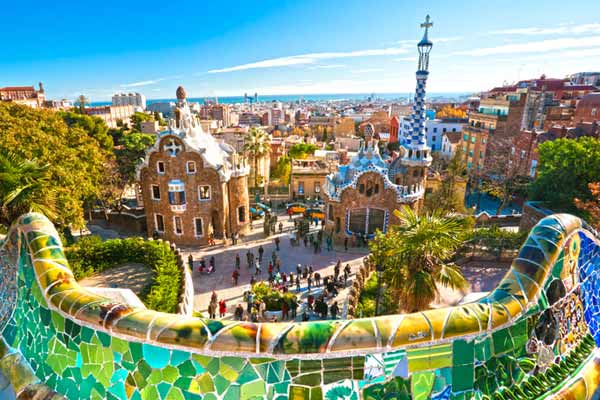 The history of Barcelona extends over 2,000 years. Originally called Barcino, it was founded at the end of the 1st century by the Romans. A sizeable defensive wall surrounded the small old town of a few thousand residents. Some of the original walls can still be seen today as you walk by Barcelona Cathedral. Barcelona and the entire Catalonia region has been conquered numerous times since being part of Rome thousands of years ago. These include the Visigoths, Arabs, and French, to name a few.
Since hosting the 1992 Olympics, the population and tourism have exploded in this area of Spain. The population of the city is almost 1.7 million people and just over 5.5 million in the greater metropolitan area. More than 17% of the city's residents are expats from other countries.
Violent crime in Barcelona is very low. However, with the increase of tourism, there has been a surge in theft and pickpockets. This is most common at the metro stations and tourists' hotspots, where people are too busy looking at the sights and not paying attention to their belongings. Always keep wallets in your front pocket, purses zipped closed, and be aware of people getting too close and "bumping" into you.
A big draw to Barcelona is the year-round sunshine and beaches. Barcelona gets hot in the summer, and thousands of people flock to the 10 beaches in the city. You will see people at the beach all year, even in the winter months. Sometimes you can enjoy the sun and sand in November with shorts and a t-shirt. December through March is colder, but some still enjoy the sun with some food and drinks and warm clothes on a blanket on the sand. If it is a little too chilly for you, there are restaurants along the beach with heaters to keep you warm.
Retire in Barcelona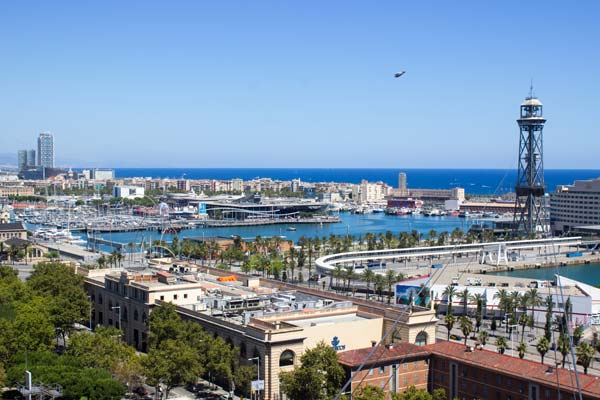 Things may seem a little easier if you are retiring to Barcelona with your spouse or significant other. However, I moved there as a single female and did not know one person when I arrived. In either situation, single or a couple, it is essential to make friends. Barcelona has hundreds of groups on meetup.com that you can join and immediately get to know people that have the same interests as you. There are also multiple Facebook groups that you can join. These groups are good for meeting new people and even asking where to find things or how to get something done if you don't know.
Barcelona is a melting pot of people from around the world. You can live here without speaking Spanish or Catalan as many people speak English. However, if you choose to live in another country that speaks another language, you should learn the language. Think about how you feel if someone moves to your country and does not try to speak your language. Not only is it a sign of respect, but you will also miss out on things if you don't know some Spanish. You may not participate in some group conversations, miss essential announcements on the trains or news, and not understand some great deals at stores or markets. There are several Spanish classes and language exchanges all over the city.
Healthcare in Spain is excellent. Several JCI Accredited hospitals can be found throughout the country, including four in Barcelona. One of the most technologically advanced hospitals in Europe, Hospital General de Catalunya, is also located in Barcelona. Several private healthcare companies are available. Premiums are lower than the amount U.S. citizens are paying. Retiring individuals are required to have private healthcare insurance. If you are working in Spain, you may be able to access the public healthcare system.
Commuting within Barcelona and to other Spanish cities is very easy. Within the city are the underground metro system, above-ground trains, and countless buses. If you want to travel to other cities or towns, you can catch a train or hop on a flight. The most popular trains run from Barcelona to Madrid ($70), Málaga ($69), Valencia ($26), and Sevilla ($83). The Josep Tarradellas Barcelona-El Prat Airport, known as El Prat Airport, has hundreds of flights a day arriving from and departing to various countries around the world.
Lifestyle in Barcelona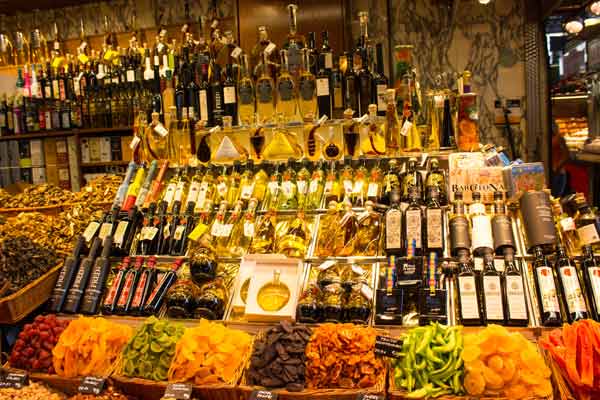 Barcelona has a relaxed and laidback lifestyle. People enjoy the outdoors and spending time with family and friends. When not working, locals take pleasure in spending time at the beach, socializing at a local café or bar in a Plaça, or having a long lunch with family and friends. Numerous festivals are held throughout the year in Barcelona.
Barcelona can be considered a city that never sleeps. Shopping, dining, and nightlife hours are very different than in most other countries. Most shops don't open until 10 a.m. and usually close for a few hours in the afternoon during lunch and siesta time. Lunch is generally the most substantial meal of the day. It starts around 2 p.m. and can easily last two hours or more. Many Spanish also take a siesta during the afternoon and therefore, you will find many shops closed.
Dinner time for Spanish and locals is rarely before 9 p.m. It is usually at 10 p.m., sometimes even as late as 11 p.m. After dinner people typically go for a walk to a nearby Plaça and sit at a bar or café for a drink and socializing. For those who want to enjoy the nightlife, clubs open at 12 a.m. but don't get busy until 3 a.m. and close around 6 a.m.
Get Your Free Spain Report Here:
Learn more about Spain and other countries in our free daily postcard e-letter. Simply enter your email address below and we'll also send you a FREE REPORT - Live the Good Life in Sunny, Affordable Spain.
This report covers real estate, retirement and more in Spain and is yours free when you sign up for our IL postcards below.
Cost of Living in Barcelona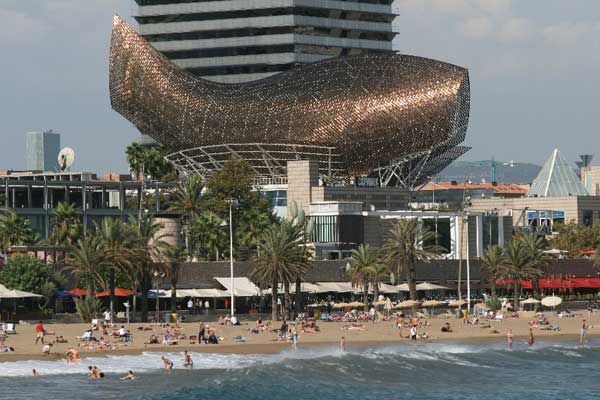 Millions of people come to Barcelona every year. Sometimes these vacations turn into desires to move there for the short term or long term. These things affect the cost of living in the city. I find Barcelona to be cheaper than many North American cities. However, it is not the most competitive city in Spain.
Here is a sample monthly budget for two people living in one of the areas mentioned above:
| | |
| --- | --- |
| Expenses | USD $ |
| Rent (two-bedroom apartment) | $1,350 |
| Utilities (electricity, cable & internet, water, mobile phone) | $200 |
| Groceries & Household Items | $380 |
| Entertainment (shows, eating out, concerts, etc.) | $200 |
| Gym Memberships – unlimited classes | $90 |
| Health Insurance | $252 |
| Unlimited bus and metro (as a senior resident) | $28 |
| Monthly Total | $2,500 |
 Featured Image Copyright: ©iStock/Brzozowska
IL's Guide to Barcelona
Safety in Barcelona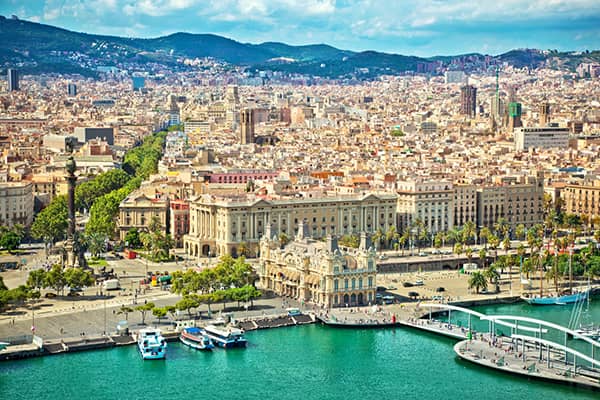 Barcelona is a city of contrasts: a place where medieval gothic meets ultramodern abstract architecture, a dense urban cityscape meets the bright sun and sea, and some stay up until sunrise to eat and drink. The single most visited destination in Spain is the city of Barcelona. It is globally famous as a center of cultural attractions, art, history, cuisine, beaches, and vibrant nightlife. Although the city is considered mostly safe, it is not without problems like other major cities.
First of all, violent crime is extremely rare in the Catalan capital. While there have been violent incidents, Barcelona is generally far safer than Paris or Rome, let alone major American cities. Gun crime is almost non-existent. However, no matter how safe a destination is, you should take basic precautions everywhere.
Petty crime is a significant problem in Barcelona, and pickpocketing is the most common. Some have said that Barcelona is "the pickpocket capital of the world," although no one knows if this is true. Almost every person I know that lives in Barcelona has been pickpocketed. I had my entire purse stolen, and it was next to me, resting on my leg while sitting on a park bench, talking with a friend. Neither one of us saw anything. The pickpockets in Barcelona or good at what they do, and they are bold. I know a male who had a watch stolen from his wrist on the metro. The busy, touristic central areas, such as the Gothic Quarter, El Born, and the Raval neighborhood, get the most visitors, and thieves. The city subway is also a popular magnet for pickpockets, as are famous bars and beaches. Wherever you're likely to go, the risk of petty theft will probably follow.
In these situations, the number one piece of advice is to always keep an eye on your belongings. In the bars and restaurants, on the beach, and in crowded locations like La Rambla—never leave your valuables out of sight, not even for a brief second. Don't leave your wallet or cellphone in your back pocket, don't bring more valuables than absolutely necessary, and don't leave your bag exposed to a snatch and grab.
Most importantly: don't make yourself a target by looking like an obvious tourist in public places.
Sometimes it seems that half of the people on La Rambla walk around head down searching Google Maps, but you will minimize the risk if you try not to look like them. If you need urgent help with directions, always be on your guard when someone approaches you with offers to take you to a specific place, if they ask you for directions, or are just standing too close to you. Another obvious guideline for safety, which many visitors surprisingly forget, is not to carry too much cash, only bring one credit card with you, and leave your passport in the hotel safe. Card payments are the norm almost everywhere in Barcelona; if cash is essential, spread it out between different wallets and pockets.
Finally, take the basic precaution of buying travel insurance before traveling to Barcelona. I have seen emergency situations with allergic reactions, stitches, broken bones, etc. Companies such as WorldNomads and Travelex are readily available to any traveler, provide comprehensive coverage, and allow you to buy insurance and claim online even after you're no longer at home. No matter where in the world you go, travel insurance is a must—even in the world's safest destinations, something might happen, and you will need an insurance policy to cover the costs. Once settled in, you can and will need to buy health insurance for at least one year while applying for residency.
Best Neighborhoods in Barcelona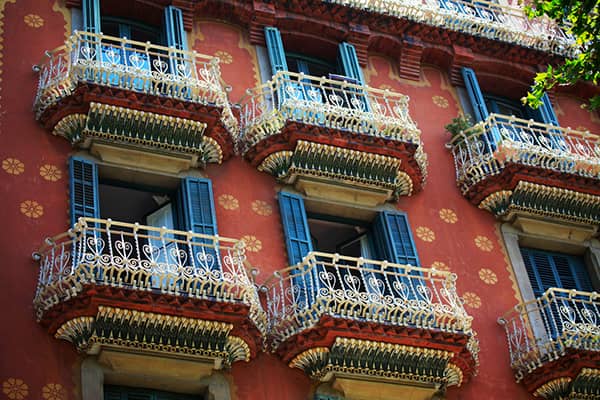 The vibrant Catalan capital is a beautiful, chaotic, bustling city that offers almost infinite things to do. Its neighborhoods are incredibly diverse, full of energy, and teeming with local and international options. This makes it challenging to decide which areas are the best to stay in during a trip or to live in. We will take an in-depth look at six of the best neighborhoods in Barcelona and provide some helpful information for you.
An area filled with baroque, neoclassical, and even medieval architecture, El Born is one of the oldest neighborhoods in western Spain. This part of the city begs urban exploration. El Born is a maze of gothic arches, vaults, and narrow, winding streets in deep shadows. Everything feels ancient and cramped together. Only the cobbled squares and beautiful public buildings are open to the bright sky. The neighborhood houses many museums and art galleries, including the world-class Picasso Museum. In fact, nearly all of El Born resembles an open-air museum of art. It also has a vibrant nightlife scene, ranging from high-end restaurants to corner bars. Best of all, the neighborhood is one the most well-connected in the city: the old Gothic Quarter and the beach at Barceloneta are within easy walking distance.
For a trendy neighborhood with an industrial aesthetic, Poblenou is the place to stay and live. A former industrial district turned into an energetic residential neighborhood; the area has gentrified very fast: the warehouses and factories are now some of the best, most spacious locales in the Catalan capital. The nightlife and restaurant options are varied and plentiful. Poblenou is well connected with the metro and many buses. However, I prefer walking to the Glories Mall, the beach, and many local shops and bakeries. It is also located close to the beautiful Bogatell and Marbella beaches, a far step away from the noisy crowds in nearby Barceloneta—which makes it one of the best neighborhoods in Barcelona to relax, lie back and enjoy the sun and sea.
For a centrally located residential area full of striking geometric architecture and some of the best shopping in Southern Europe, you would be well advised to investigate the Eixample area. The 19th-century neighborhood is one of the city's most unusual-looking areas: long, straight streets and buildings arranged into a geometric grid pattern. Eixample is divided in half by Passeig de Gracia, the golden road of Barcelona, which leads directly to Plaça de Catalunya and the best luxury shopping centers in the city. Not surprisingly, Eixample is one of the most expensive areas in Barcelona, but the convenience and location are hard to beat.
One of Barcelona's largest but least-known neighborhoods, Sarrià-Sant Gervasi is a place of upscale residential houses and stunning views of the city and sea. Formerly a separate village on the hills above Barcelona, the neighborhood is far removed from the noisy hustle and bustle of Barcelona's downtown. Yet it's one of the best areas to be with its cozy architecture, small churches, and neighborhood markets. Sarrià-Sant Gervasi resembles a charming Catalan village more than a proper urban neighborhood. The only downfall to this area for some people is that public transportation is not the best, and having a car would be advisable.
If a quieter residential area with a hipster sensibility is your preference, Sant Antoni is your best bet in the Catalan capital. A calm residential neighborhood within walking distance from the noisier El Raval area, Sant Antoni is full of coffeehouses, brunch spots, and organic vegetarian eateries of every kind. For those who love shopping at outdoor markets, this neighborhood offers one of the best: everything from fresh vegetables to vintage books is on sale here. Anyone who prefers a relaxed life in a walkable area without requiring a car and with an international hipster atmosphere instead of high-end luxury, would do well to choose this neighborhood.
Last but not least, the central neighborhood of El Clot has many things to offer people living in this area. One of the cheapest downtown areas despite its central location. El Clot is a quiet place of tree-lined streets, green parks, and geometric grids. With its bustling bars and restaurants, it has a more local flavor. The Glories Shopping Center, which houses mid-range shops including Bershka, Mango, H&M, Zara, and more, is located in El Clot. Additionally, several restaurants and the large Carrefour grocery store are located inside the mall.
Real Estate in Barcelona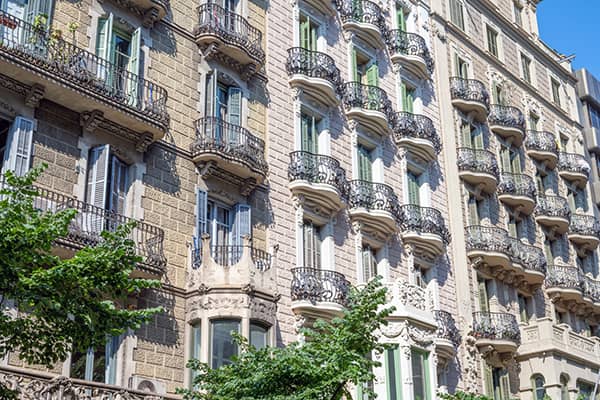 The average price of one square meter in the Barcelona municipality is roughly $3,300, with minor fluctuations over the past few years. Though noticeably more expensive than most of Spain, real estate prices in a few outlying parts of the greater Barcelona area are more affordable than in other Western European major cities.
The remote suburbs of Nou Barris and Sant Andreu have emerged as some of the best areas to buy less expensive property in Barcelona. Both are quiet, green, leafy neighborhoods with large parks and newly-built apartment blocks. The average cost of a two-bedroom apartment in Nou Barris is currently around $270,000, while a similar home in Sant Andreu is approximately $250,000. Both suburbs are roughly a twenty-minute drive from the downtown areas, but well-connected to Plaça de Catalunya by public transport lines.
If staying inside the city is a must, the Sants neighborhood is one of the best up-and-coming areas in Barcelona. In 1897, the once independent town of Sants was annexed to Barcelona, with a population of 19,105. While it lies a fifteen-minute drive from the central downtown, Sants is quieter, more residential, and somewhat less expensive than other areas: the average cost of a two-bedroom apartment in Sants is only $400,000, less than half the price in the Eixample. Furthermore, the neighborhood boasts the Barcelona-Sants station. This station rapidly connects you to any location in the city center and to other parts of Spain, nearby France, and other European countries.
Some consider Sarrià-Sant Gervasi to be the best area in Barcelona with lots of green parks, quiet streets, lots of shopping, and most importantly: clean. However, it is one of the most expensive areas, with the average price per square meter at just over $7,100. Depending on listing websites, prices start at $188,000 for a one-bedroom "shop conversion" (so it may not have a certificate of occupancy) flat. The average price for properties in this area is currently $1,430,000. However, there are several huge single-family homes in the area.
An Insider's Guide: 10 Best Things to do in Barcelona
By Sally Pederson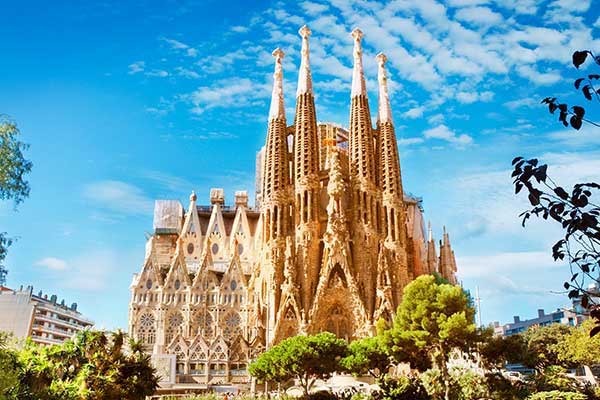 Barcelona is internationally famous for a reason. The capital of Catalonia is a city of contrasts: a place for relaxing, and keeping your feet in constant motion. You will be awed by the city's attractions with a bright Mediterranean sun that shines over bars, cafés, international restaurants, world-class museums, ornate Gothic architecture, and Gaudi's fantastical creations.
In no particular order, here's our list of 10 things to do in Barcelona:
1. Tour La Sagrada Familia
The Sagrada Familia is not only the most visited attraction in Barcelona but in all of Spain. In a city filled with Antoni Gaudi's surreal creations, the Sagrada Familia towers above them all. After initial construction began in 1882, Antoni Gaudi took over this architectural endeavor in 1883. He knew that it would never be completed in his lifetime. Located between the T Marti and Gracia districts, La Sagrada Familia is easily accessible via the metro, bus, or short taxi rides from the heart of the city. For those who want to avoid crowds, inexpensive skip-the-line tickets are available year-round.
I recommend entering and walking through the forest of pillars designed for an ethereal, natural experience. Make your pilgrimage in the afternoon for the best views, when the rainbow of stained-glass windows illuminates the white interior like a fantastical dream.
2. Visit the Numerous Museums
Barcelona has more than 80 museums, so there is something for everyone.
Fans of modern art will appreciate the Joan Miro Museum while visiting Barcelona. One of the most significant abstract artists and graphic designers in Spain's history, Miro's works include over 200 paintings and 8,000 drawings. Located on the slopes of Montjuic, only minutes away from the Olympic Stadium, the museum is itself an abstract piece of art. The winding interior holds all of Miro's visual works and surrealistic sculptures, including a fascinating fountain that continuously ejects mercury. Though photography is restricted inside the museum, feel free to take a few pictures outside next to your favorite sculpture.
The National Museum of Contemporary Art, called the Museu Nacional Art Contemporani (or "MNAC"), is an impressive, grand museum. It is one of the most popular in the city that celebrates modern Barcelona's artistic accomplishments. On one of the grandest stages in the city, sitting high above the parks of Montjuic, the MNAC opens its gates for free on Sundays and includes one of the most stunning views in all of Barcelona. On weekends, tourists, locals, and vendors flock to this scenic property, including the massive fountain adorning its façade, to take in the setting's food, art, and architecture. Not all the art is modern; however, much of the collection is still dedicated to Barcelona's past, equal parts Gothic, Roman, and Renaissance.
The Picasso Museum houses the works of Barcelona's most famous artist. The setting is unique: minimalistic white studios, brightly illuminated paintings downstairs, and beautifully painted rooms upstairs. Picasso's best and biggest works are sometimes absent as pieces are often on loan to other cities and countries. You might be slightly disappointed to miss Guernica (which resides in Madrid). However, there are more than 4,250 pieces of artwork, ranging from his "ethnic" art to his Cubist period; you will enjoy your time at this museum.
3. The View of Barcelona
There are several areas to enjoy the beautiful views of Barcelona.
Montjuic is far more than just a mountain. To fully appreciate the place, begin at the ground level. The roundabout at Plaça España at the hill's foot opens on a grand, ornamental staircase leading up the slope towards the National Museum of Catalan Art. The Magic Fountain in its front yard is spectacular at night—colorful water-light shows take place every summer night between June 1 and September 30. The upper half of Montjuic is covered with more galleries and museums, beautiful botanic gardens, and panoramic views of the city and sea from above.
Mount Tibidabo, at more than 1,600 feet, is the tallest mountain in the Serra de Collserola range. For photographers and nature-gazers, the mountaintop has a panoramic view of a scenic city. The most breathtaking scenery is from the baroque Sagrat Cor church, which adorns its pinnacle. It's not all about the view from Tibidabo, though, as the mountain boasts numerous bars, tapas restaurants, and charming shops, as well as child-friendly attractions such as fairgrounds and Ferris wheels for daytime entertainment.
The Carmel Bunkers is another area to view the city. Many people will bring a picnic and drinks with them as no services are provided, while they enjoy the 360-degree view of the city. It is not recommended to go mid-afternoon during the summer months as there is no shade, and it gets sweltering. It is over an hour's walk from Las Ramblas, so I recommend taking bus V17 from Port Vell or the Gothic Quarter.
If you don't want to leave the city center and still want an incredible view of the city, go to the top of the Columbus Monument at the bottom of La Rambla. The 60-meter tall monument contains a tiny elevator to take you to the top, where you can enjoy the spectacular 360-degree view of the city, harbor, and beaches. Tickets cost $6.
The Beaches

Barcelona is famous for its beaches, a coastal city with nine named beaches and approximately three miles of sand. However, these city beaches are just as varied as the city's diverse neighborhoods, ranging between relaxing getaways, sporty volleyball zones, and bustling party areas. On the latter end of the spectrum is the overcrowded Barceloneta, the noisy high-school cafeteria of the city's beaches, which we would not recommend unless the nightlife is your primary goal. Bogatell and Mar Bella are sportier and quieter yet sprinkled with seafood restaurants, beach bars, and clean amenities. Spending a relaxing day on the sand and having Catalan seafood beside the waves is an ideal way to finish up an eventful trip.
The Wine Bars

Barcelona would not be the same without its buzzing bar life and the incredible variety of local wines. Some of the city's best bars are not booming nightlife spots or tourist-oriented hipster bars, but traditional hole-in-the-wall bars that mainly serve wine. Can Paixano in the El Born neighborhood is one of the oldest and best; it specializes in Catalan sparkling wines and traditional meat tapas. Denassus (literally "on the nose"), a tiny bar with a terrace in the historic Poble Sec area, is also an excellent choice for finishing a busy day with a glass of the local vino and a view of the city.
Passeig de Gracia

The golden road of the Catalan capital is home to luxury boutique shops, high-end retailers, and countless restaurants. It also is home to two of Gaudi's finest works: the buildings of Casa Batllo and Casa Milla. Both are influenced by nature in their unique ways, and the result is world-famous. The former has been compared to Monet's paintings: covered in ocean-blue shards of stained glass, the fantastical fairy tale building shimmers and glitters like the surface of a sea. The latter is shaped like a rock formation and populated with surreal stone figures, leading to the nickname La Pedrera and the visual inspiration for the Star Wars films. Visit during the less crowded weekdays and take your time indoors in both houses.
Hop-on / Hop-off Bus

Whether staying in Barcelona for one day or one week, we've found the best way to see most of the city is by taking advantage of their ever-popular tourist buses. With stops all over town, this service is inexpensive and highly convenient in lieu of taxi cabs, given the sprawling landscape of an ever-growing Barcelona.
For about $37, depending on the vendor, this tour can take you along three different routes all day long, covering locations such as Sagrada Familia, the Miro Museum, the streets of Gaudi architecture, the beach districts, and the Gothic Quarter. With over forty pick-up locations and arrival times around the clock spaced just between 10 and 25 minutes, you can stroll at your leisure. Choose a two-day pass if you're going to be in the city long enough to take advantage of the deal.
Local Markets

The attractions of Barcelona don't stop with the art and architecture. Visit La Boqueria, the oldest and best-known food market in the Catalan capital, where you'll find an attractive and palate-pleasing experience. This busy market on La Rambla has everything you need to prepare a fresh homemade meal or enjoy a delicious meal at one of the indoor restaurants.
While you may not need to buy the fresh catch of the day for your dinner, take time to choose a few local fruits to carry with you or a freshly made fruit smoothie. With a jewel-colored rooftop enclosing the large space, the colorful Mercat de Santa Caterina is also a great rest from the midday Barcelona sun and a perfect place to take in the scents of the city's bounty.
Parc Güell

The world-famous Parc Güell covers more than 17 hectares of green space, gardens, and architectural designs. It is a look inside the odd mind and lifestyle of one of Spain's most celebrated geniuses: Antoni Gaudi. The former home of the legendary architect and designer, the mansion-turned-museum now displays artistic exhibitions and images of life at the turn of the century. The grandeur and surreal beauty of Park Guell are hard to surpass. The spiraling towers look like figures out of a fairytale, while the colorful mosaic lizards are famous from a thousand postcards. Entry tickets are time specific and start at $10.
La Rambla

The central tourist road of Barcelona is always overcrowded but worth a visit. The expansive center walking boulevard stretches 0.8 miles from the city's old port to Plaça de Catalunya. It is lined with trees, gelaterias, florists, countless shops, and restaurants. Along the stretch of road where La Rambla and Plaça de Catalunya meet, there is a quaint and central place to sit and watch the people pass by. Also, at the top of La Rambla is a "magic fountain." The legend of Font de Canaletes says that if you drink from it, you will fall in love with the city and always return.
While there is no shortage of experiences in the beautiful city of Barcelona, take time to make your way around La Rambla and have fun. Enjoy some of the delicious Catalan food and wine, relax on the beach, see the generation-defining art found only here, and you'll find yourself at home.